This website uses cookies to ensure you get the best experience while browsing it. By clicking 'Got It' you're accepting these terms.
11 Congressional Republicans Call for Climate Action Ahead of Pope Francis' Visit
Sep. 17, 2015 01:09PM EST
Climate
Responding to climate change shouldn't be a partisan issue. Eleven Republican members of Congress, led by Rep. Chris Gibson (R-NY), just demonstrated that this morning, when they introduced a resolution that put the climate challenge in the broader context of conservation, stewardship, innovation and conservatism.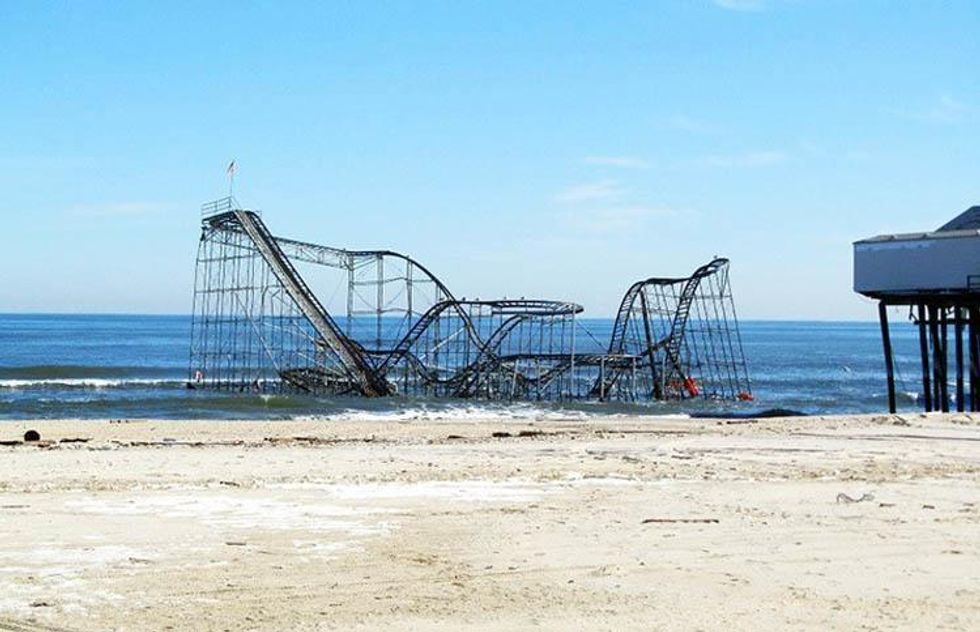 The resolution flags extreme weather, wildfires, heat waves and sea level rise as costly consequences of climate change and the members call on the House of Representatives to "work constructively" to address "measured changes to our global and regional climate."
To be sure, the resolution isn't a full-throated endorsement of the main findings from the Intergovernmental Panel on Climate Change or the National Climate Assessment, which federal science agencies produce for Congress about every five years.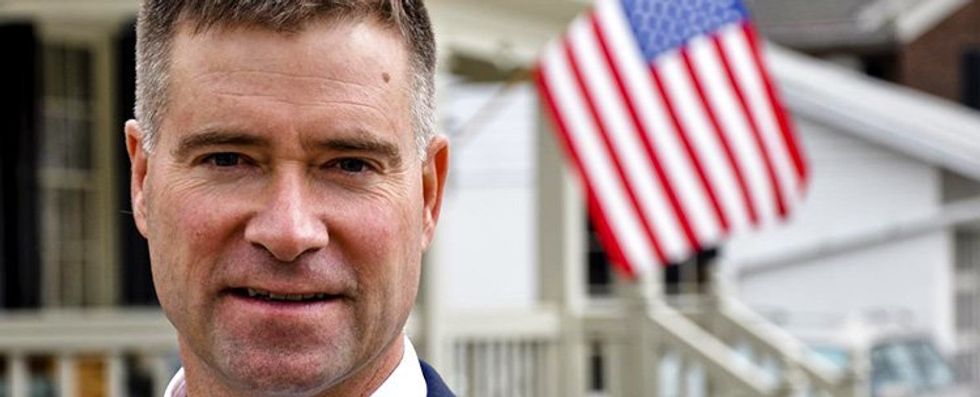 Rep. Chris Gibson (R-N.Y.), a former Army colonel, represents a district that was hit by significant inland flooding during Hurricane Irene. Photo credit: NYGOP
Instead, the members simply acknowledge the need to base policy in "science and quantifiable facts on the ground."
And rather than citing purely scientific reports, the resolution turns to the Pentagon's 2014 Quadrennial Defense Review, which itself drew from the scientific literature and concluded that climate change is a "threat multiplier."
The resolution comes just a few days before Pope Francis is slated to address Congress. The Pope has made climate change a priority and his own teachings on the topic are heavily informed by the Vatican's own academy of science.
Clearly, these members of Congress wanted to show that they are ready to constructively talk about climate policy, even if some of their own party leadership isn't.
Overall, the resolution is a positive sign and one that we should find encouraging. As my colleague Peter Frumhoff, Union of Concerned Scientist's director of science and policy put it:
"Congressman Gibson and his colleagues are right to call for science-based policies to address climate change. Climate risks and the costs of dealing with them, are growing and the American people deserve strong political leadership on these issues. Measures to reduce emissions from fossil fuels and increase our reliance on clean energy enjoy wide public support. We look forward to working with these members to strengthen America's response to climate change."
Partisan divisions on climate are a relatively new thing. We can and should overcome them.
When I worked for my member of Congress in New Jersey, I remember heading to Long Beach Island and taking pictures of erosion there. Houses were at risk of collapsing and the local townships wanted federal help to protect and repair their beaches.
Rep. Jim Saxton, who had served in Congress for nearly 20 years at the time, was deeply familiar with these issues. He also supported action to address climate change.
And he was a Republican.
That was the early 2000s, when political opinion on climate change didn't cleave so neatly along partisan lines in Washington.
But facts on the ground are starting to scramble those lines. Many aspects of climate change fundamentally come down to geography and economics, so it's not surprising that the growing costs of wildfires and coastal flooding are causing members of Congress to rethink how we pay for damage from these events in a warming world.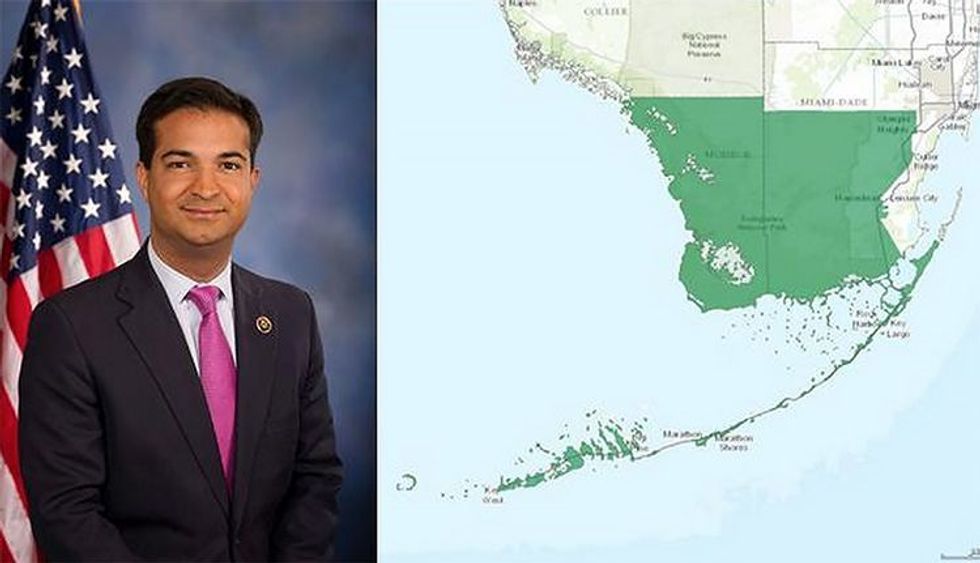 Rep. Carlos Curbelo (R), a co-sponsor, represents Florida's 26th district. It's obviously a district where planning for rising seas is simply common sense. By the time one of today's mortgages is paid off in 2045, Key West could face about 200 tidal floods a year, according to the Union of Concerned Scientist analysis. Photo credit: Wikipedia
A few months ago, I went to New Hampshire and learned about the state's bipartisan plan to deal with coastal flooding and sea level rise. It's one of many places where increased flooding and sea level rise are expected to pose significant challenges to local communities. It was wonderful to see leaders willing to put partisanship aside to tackle a common problem. After all, the ocean (and rising seas) don't care what party you support.
We need respectful cooperation like that at the national level, too. And that will mean encouraging our political leaders to have real, constructive debates about solutions so they can stop talking past each other when they talk about the problem.
Obviously, environmentalists and free market advocates won't always agree with one another—heck, they often disagree among themselves—but they can and should come to the table with an equal understanding and respect for what scientists know about climate change.
There are many conservative groups like Clear Path, Niskanen Center, RepublicEn and R Street Institute that are engaging in solid debates about energy and climate policy at the national level.
It's good to see more Republican members of Congress joining them. We need more voices on climate policy, not fewer, if we're going to adequately address the problem.
YOU MIGHT ALSO LIKE
'America Is Not a Planet': The Only Accurate Thing Said About Climate Change at GOP Debate
Bernie Sanders Slams GOP for Ignoring 'Planetary Crisis' of Climate Change
6 Youth File Constitutional Climate Change Lawsuit Against Gov. Tom Wolf
EcoWatch Daily Newsletter
A harbour seal on an ice floe in Glacier Bay, Alaska. A new study shows that the climate crisis has warmed waters, changing ecosystems and crippling sea ice growth. Janette Hill / robertharding / Getty Images Plus
Doctors report that only 1 in 4 children are getting the recommended 60 minutes of physical activity per day. Ronnie Kaufman / DigitalVision / Getty Images
By Dan Gray
Pediatricians are being urged to start writing "exercise prescriptions" for the children they see in their office.
A First Nations protester walks in front of a train blockade in Tyendinaga, near Belleville, Ontario, Canada on Feb. 21, 2020. LARS HAGBERG / AFP via Getty Images
An indigenous rail blockade that snarled train travel in Canada for more than two weeks came to an end Monday when police moved in to clear protesters acting in solidarity with another indigenous community in British Columbia (B.C.), which is fighting to keep a natural gas pipeline off its land.
A rainbow snake, a rare reptile spotted in a Florida county for the first time in more than 50 years, seen here on July 5, 2013.
Kevin Enge / FWC Fish and Wildlife Research Institute / Flickr
A Florida hiker recently stumbled across a slithering surprise — a rare snake that hadn't been spotted in the area for more than 50 years.
We need our government to do everything it can to stop PFAS contamination and exposure from wreaking havoc in communities across the country. LuAnn Hun /
Unsplash
By Genna Reed
The EPA announced last week that it is issuing a preliminary regulatory determination for public comment to set an enforceable drinking water standard to two of the most common and well-studied PFAS, PFOA and PFOS.
This decision is based on three criteria:
PFOA and PFOS have an adverse effect on public health
PFOA and PFOS occur in drinking water often enough and at levels of public health concern;
regulation of PFOA and PFOS is a meaningful opportunity for reducing the health risk to those served by public water systems.