This website uses cookies to ensure you get the best experience while browsing it. By clicking 'Got It' you're accepting these terms.
The 2016 Sustainia100 is out today and this year's solutions provide a glimpse into a global business landscape that is seizing a world of opportunities that arise from the UN's newly adopted Sustainable Development Goals (SDGs).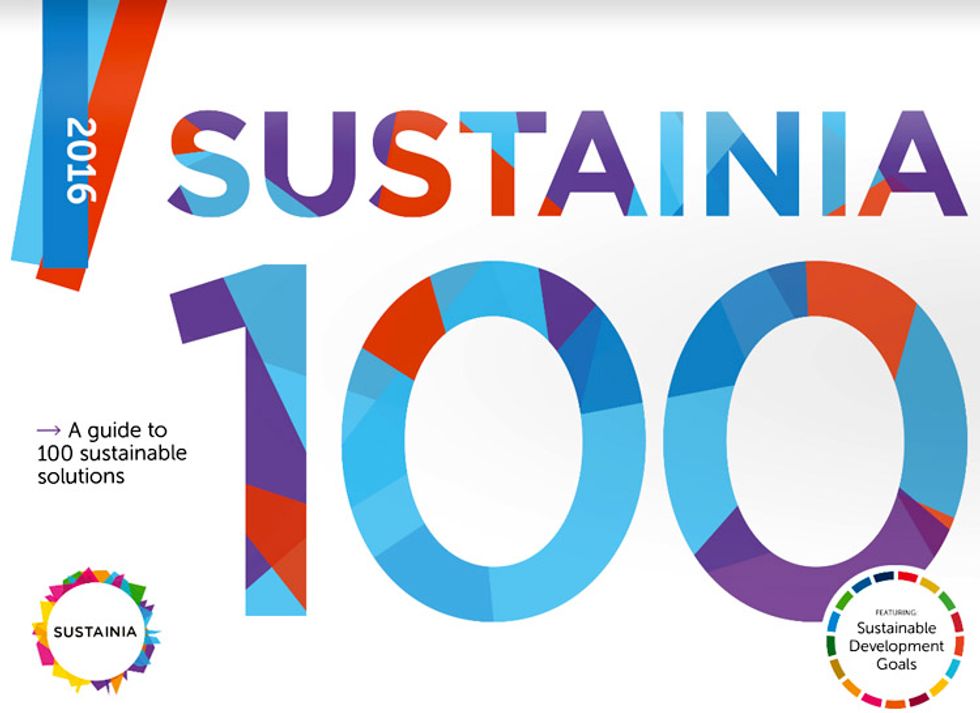 Get ready for an inspirational round-the-world trip to the 100 most innovative, available, scalable and sustainable solutions to the world's most pressing challenges. From health solutions that tackle climate change to renewable energy products that alleviate gender inequality, this year's Sustainia100 sets out the most outstanding solutions which respond to the interconnected global challenges addressed through the Sustainable Development Goals.
According to our findings, this is the year of "systemic opportunity" with more businesses around the world acknowledging the business case for solving global risks.
"The term 'systemic' often brings to mind intractable problems, such as systemic poverty or systemic corruption. The global goals give us focus and pace, so we think it's time to reclaim the word and talk about systemic opportunity, instead. The Sustainia100 shows us that the most compelling and successful solutions tackle multiple challenges and global goals, in one go," Morten Nielsen, managing director of Sustainia, explained.
The Sustainia100 is the fifth of its kind, behind which sits a database of more than 4,500 solutions from all over the world. This year's edition features solutions deployed in 188 countries and more than half come from the SME sector.
In her foreword to the Sustainia100, Lise Kingo, the executive director of United Nations Global Compact, reflects on the pace and direction set by the Sustainable Development Goals:
"The Sustainia100 offers us 100 reasons to be hopeful and inspired as we embark on this 15 year journey. The innovative thinking needed to accomplish the SDGs by 2030 already exists today. Now our task is to spread the word about these transformative solutions in order to help them scale and inspire new actors to take part in forging the path to a more sustainable future."
Since 2012, the Sustainia100 has tracked the rise of the circular economy, big data, leapfrog technologies, climate resilience and community action as some of the most defining trends within sustainable action. In 2016, the publication highlights four new trends that stem from the solutions identified.
Morten Nielsen continued: "The trends we've noted point to this new era of systemic opportunity. You can readily see this in the way that cities are becoming health facilitators or the disruption of the time-old electric grid, as just two great examples of big shifts in opportunity-spotting. It's exciting to see global markets respond favorably to this new landscape of sustainable action."
Here are the 100 solutions:
YOU MIGHT ALSO LIKE
Cleveland Soon to Be Home to the Nation's First Offshore Wind Farm in Fresh Water
The Book the Fracking Industry Doesn't Want You to Read
New Solar Loan Program Now Available in 14 States
Dubai to Build World's Largest Concentrated Solar Power Plant
EcoWatch Daily Newsletter
Ocean pollution concept with plastic and garbage.
Anton Petrus
/ Moment / Getty Images
Nestlé cannot claim that its Ice Mountain bottled water brand is an essential public service, according to Michigan's second highest court, which delivered a legal blow to the food and beverage giant in a unanimous decision.
A number of supermarkets across the country have voluntarily issued a recall on sushi, salads and spring rolls distributed by Fuji Food Products due to a possible listeria contamination, as CBS News reported.
A U.S. Border Patrol agent gathers personal effects from immigrants before they are transferred to a McAllen processing center on July 02, 2019 in Los Ebanos, Texas. John Moore / Getty Images
Poverty and violence in Central America are major factors driving migration to the United States. But there's another force that's often overlooked: climate change.
Retired Lt. Cmdr. Oliver Leighton Barrett is with the Center for Climate and Security. He says that in Guatemala, Honduras and El Salvador, crime and poor economic conditions have long led to instability.
"And when you combine that with protracted drought," he says, "it's just a stressor that makes everything worse."
Barrett says that with crops failing, many people have fled their homes.
"These folks are leaving not because they're opportunists," he says, "but because they are in survival mode. You have people that are legitimate refugees."
So Barrett supports allocating foreign aid to programs that help people in drought-ridden areas adapt to climate change.
"There are nonprofits that are operating in those countries that have great ideas in terms of teaching farmers to use the land better, to harvest water better, to use different variety of crops that are more resilient to drought conditions," he says. "Those are the kinds of programs I think are needed."
So he says the best way to reduce the number of climate change migrants is to help people thrive in their home countries.
Reporting credit: Deborah Jian Lee / ChavoBart Digital Media.
Reposted with permission from Yale Climate Connections.
Chris Pratt arrives to the Los Angeles premiere of "Jurassic World: Fallen Kingdom" on June 12, 2018 in Los Angeles, California. Michael Tran / FilmMagic / Getty Images

Chris Pratt was called out on social media by Game of Thrones star Jason Momoa after Pratt posted an image "low key flexing" with a single-use plastic water bottle.