100% Renewable-Powered World 'Technically Feasible and Economically Viable' by 2030

Many doubt the scientific, technical and economic feasibility of achieving 100 percent renewable energy in a single country or even globally. But this vision has never been more realistic than now, according to the latest International Renewable Energy Agency (IRENA) report and a paper written by Stanford University.
The first report by IRENA, RE Thinking Energy, points out that the transition to a sustainable energy future by 2030 is technically feasible and economically viable.
On the same day, Morocco announced its plan to launch a gigantic solar plant next month, capable of providing power to 1 million people.
IRENA's report offers five key points for making this a vision a reality:
Strengthen the policy commitment to renewable energy.
Mobilize investments in renewable energy.
Build institutional, technical and human capacity to support renewable energy deployment.
Harness the cross-cutting impact of renewable energy on sustainable development.
Enhance regional engagement and international cooperation on renewable energy development.
"The strong business case for renewable energy has made the energy transition inevitable," IRENA Director-General Adnan Amin said.
The Stanford University report goes a step further than IRENA, laying out roadmaps for 139 countries to go 100 percent renewable by 2050. According to the report, 100 percent scientifically doable. They even have a nifty interactive map showing all the countries and their plans.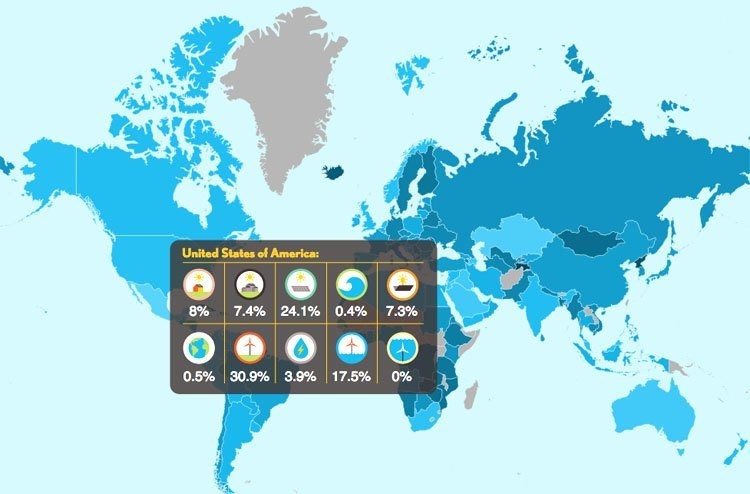 "I hope that the 139 country roadmaps, together with a just-published grid integration study for the U.S., will give confidence to leaders of the world that going to 100 percent clean, renewable energy for all purposes will not only provide reliable power at low cost, but will also create 22 million more jobs worldwide than it will cost, reduce international conflict over fuels because each country will largely be energy independent, reduce terrorism risk by providing more distributed power, eliminate the 4-7 million air pollution deaths annually worldwide and eliminate global warming," said Mark Jacobson, Stanford University professor and main author of the report.
This global 100 percent renewable transition would create 24 million 35-year construction jobs and 26.5 million 35-year operation jobs for the energy facilities alone, the combination of which would outweigh by 22.1 million jobs lost in the conventional fossil fuel sector.
Furthermore, this transformation would eliminate 4.6 million premature air pollution mortalities per year today and 3.3 million per year in 2050, avoiding $25 trillion per year in 2050 air-pollution damage costs (equivalent to 7.9 percent of the 2050 139-country GDP).
But this transition still has a long way to go. Indeed, as of the end of 2014, only three countries  [Norway (67 percent), Paraguay (54 percent) and Iceland (39 percent)] have installed more than 35 percent of their energy as renewables. The current world average conversion is 3.8 percent.
This is why Jacobson plans to attend COP21 in Paris next week and present the report to all the 139 governments. "The conversion to 100 percent renewables is technically and economically feasible. The main barriers are still social and political," the study concludes.
Now all we need is political will and feasibility to make this 100 percent renewable transition a reality. But have no doubt—our 100 percent renewables world starts now.
YOU MIGHT ALSO LIKE
100% Clean Energy is 100% Possible
Morocco's Giant Solar Plant to Bring Energy to 1 Million People
782 Richest People Could Power Half the World With 100% Renewable Energy
Mark Jacobson: Barriers to 100% Clean Energy are Social and Political, Not Technical or Economic
Bill Maher is sick of billionaires' obsession with Mars, more like "Mars-a-Lago," he said.
In a new animation produced by ATTN:, the popular talk show host of Real Time, discusses the perils of our planet, including how "climate change is killing us."
Keep reading...
Show less
Dr. Benjamin D. Santer, research scientist
A group of prominent climate scientists have written a study explicitly refuting statements made by the U.S. Environmental Protection Agency Administrator Scott Pruitt on climate data. During his Senate confirmation hearing, Pruitt claimed in a written response that satellite data shows a "leveling off" of warming over the past two decades.
Keep reading...
Show less
By David Pomerantz
The Nevada Assembly passed a bill Wednesday that would dramatically increase the growth of renewable energy in the state, but Sheldon Adelson, the casino magnate and major donor to Donald Trump, is attempting to prevent the bill from becoming law.
Keep reading...
Show less
Matt Crossick
By Yosola Olorunshola
Whether it's through fashion or protest, Vivienne Westwood is not a woman afraid of making a statement.
On May 23, she rocked up to the residence of the Archbishop of Canterbury in London with a special guest—the Grim Reaper—to issue a strong statement on the Church of England's position on fracking.
Keep reading...
Show less
Military veterans from across Virginia released a letter Thursday opposing two proposed fracked-gas pipelines: Dominion Energy's Atlantic Coast Pipeline and EQT's Mountain Valley Pipeline. These pipelines would cross through pristine areas of Virginia, taking private property by use of eminent domain, removing mountain ridgetops and threatening valuable drinking water resources. The veterans view this as contrary to their service to protect and defend the freedom and security of American citizens.

Keep reading...
Show less
By Paul Brown
The food industry and big agricultural concerns are driving climate change and at the same time threatening to undermine efforts to feed the world's growing population, according to GRAIN, an organization that supports small farmers.
Particularly singled out for criticism are the large chemical fertilizer producers that have gained access to the United Nations talks on climate change. GRAIN accuses them of behaving like the fossil fuel companies did in the 1990s, pushing false information in the hope of delaying real action on climate change.
Keep reading...
Show less
May. 24, 2017 06:55PM EST
By Sydney Robinson
President Trump has no doubt been given a long list of extravagant, elaborate gifts in his lifetime, but the gift given to him today by Pope Francis may not make it on his most favorite list.
Keep reading...
Show less
May. 24, 2017 07:17PM EST
By John Rogers
Maybe it's because I first started working on clean energy while serving in the Peace Corps he founded, or maybe it's my years of working on these issues from his home state. But I can't help thinking about the 100th anniversary of John F. Kennedy's birth, and connecting his stirring rhetoric to the energy challenges of our times.
Here's what our 35th president might have said about the challenges of energy transition and the opportunities in clean energy:
"Change is the law of life. And those who look only to the past or present are certain to miss the future."
Keep reading...
Show less


Get EcoWatch in your inbox