100+ March for Ban on Fracking and End to Democratic Governors Taking Dirty Money
May. 22, 2013 06:52PM EST
Energy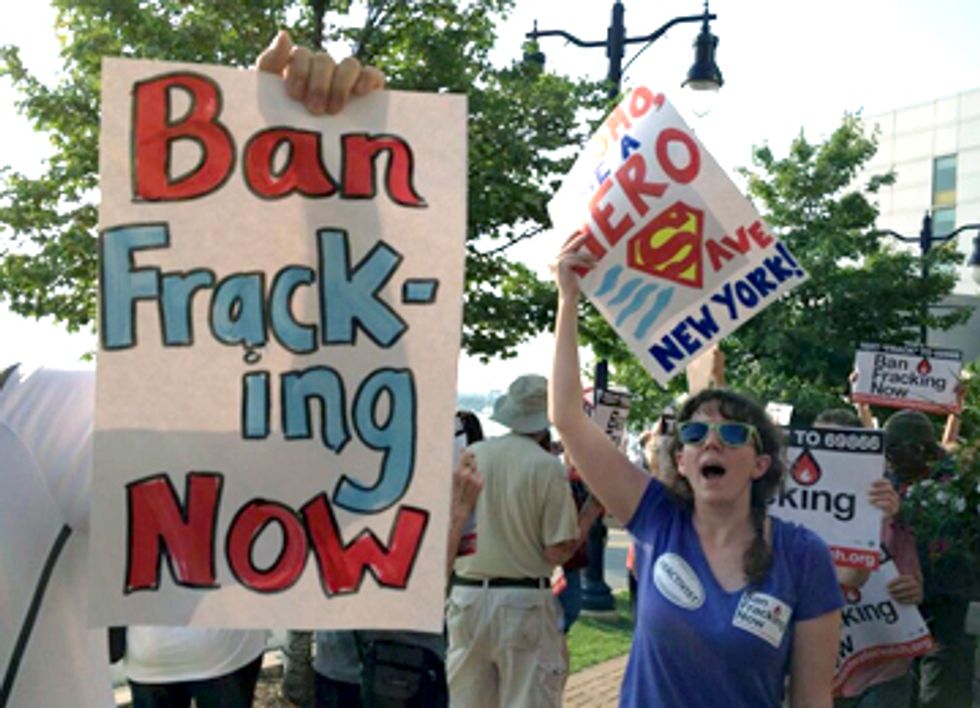 Today a coalition led by Americans Against Fracking, 350.org, Democracy for America and Food & Water Watch, among others marched at the Spring Policy Conference of the Democratic Governors Association (DGA) calling for a ban on fracking and demanding that the organization "Stop Taking Dirty Money," citing the more than $3.5 million the DGA has taken from companies in the oil and gas industry since 2008, according to analysis out this week by Food & Water Watch.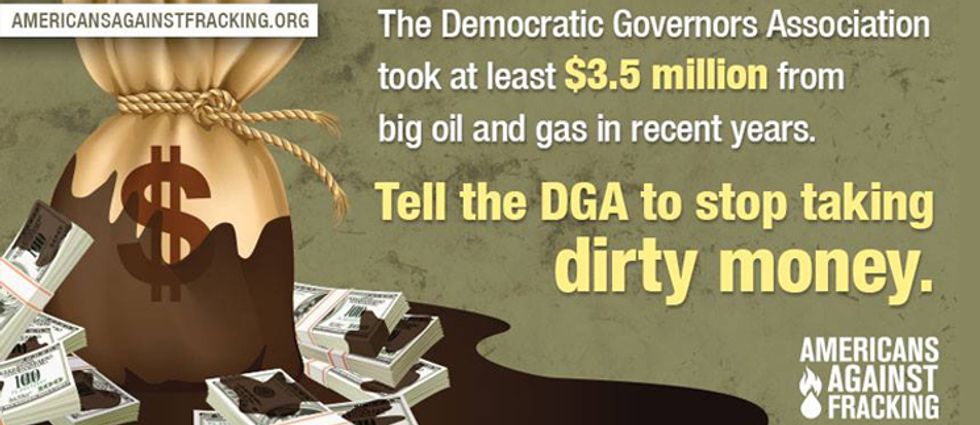 The march takes place in the wake of new research released by the Pew Research Center for People and the Press that shows that nationally, only 33 percent of Democrats polled favor the increased use of fracking.
The march is the beginning of a summer-long effort with planned actions at other DGA meetings in Colorado and possibly other cities to pressure five governors in particular— Maryland Gov. Martin O'Malley, New York Gov. Andrew Cuomo, California Gov. Jerry Brown, Colorado Gov. John Hickenlooper and Illinois Gov. Pat Quinn—who are currently facing stark opposition to efforts to frack for oil and gas in their states.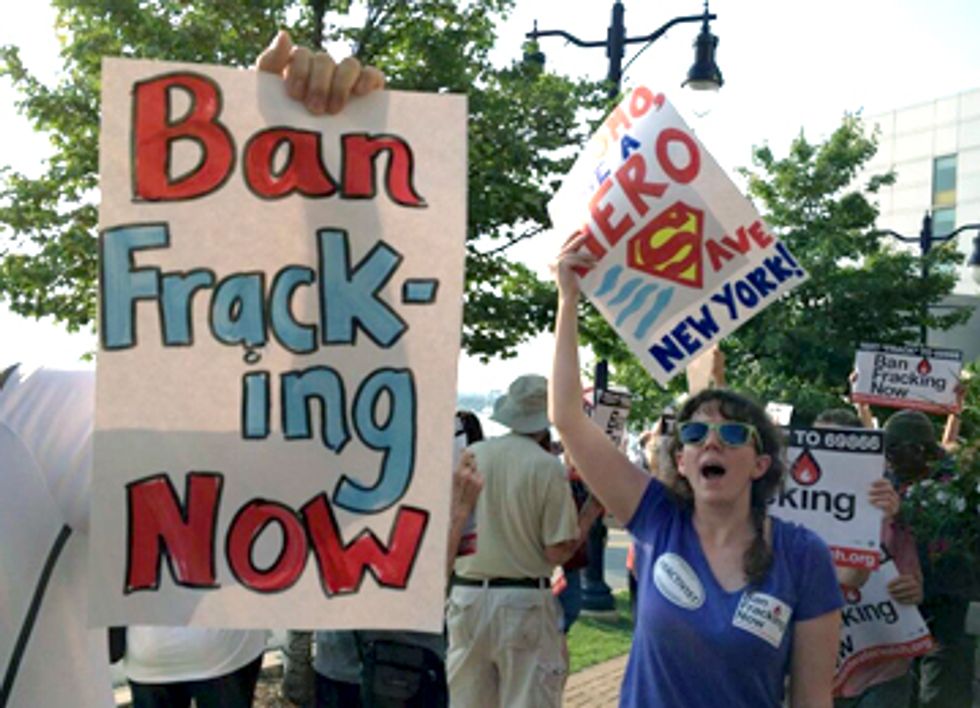 "While it's not surprising that the oil and gas industry is supporting a political organization, what is surprising is how much their support of the DGA has increased in the past five years—contributions are up more than 140 percent between 2008 and 2012," said Food & Water Watch Executive Director Wenonah Hauter. "We need to expose their support of this organization, many of whom are presently the key decision makers on whether or not fracking goes forward in their states."
Maryland Gov. O'Malley, the host of the DGA's Spring Policy Conference, has attracted criticism from activists for his failure to use science to guide his decision on opening up the state to fracking. Last April, the O'Malley-appointed Marcellus Shale Advisory Commission issued a draft report warning that fracking could have significant negative impacts in Maryland. Still, O'Malley and other Maryland leaders are pushing forward with drilling as if it is inevitable.
Opponents of fracking believe that through O'Malley's alliance with the Center for Sustainable Shale Development (CSSD), an industry group led by representatives from CONSOL Energy, Shell, Chevron, EQT Corporation and the Environmental Defense Fund, the governor is promoting the idea of industry-sponsored self-regulation. This week, Americans Against Fracking, Democracy for America and MoveOn.org will deliver to O'Malley more than 3,000 petitions urging him to ban fracking.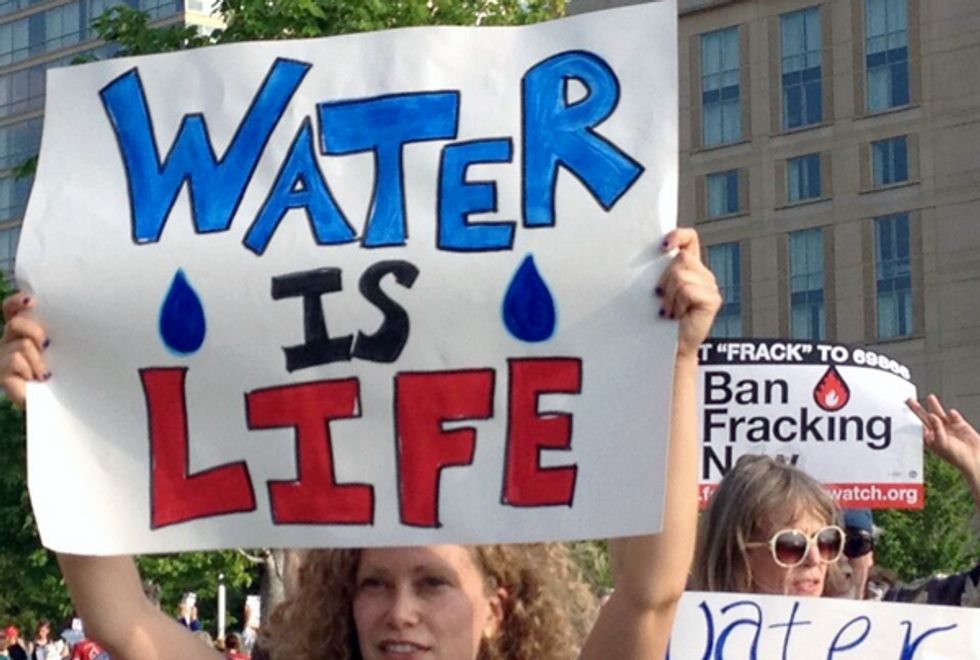 "We know, beyond a shadow of a doubt, that fracking causes environmental destruction that risks the health and safety of entire communities," said Jim Dean of Democract for America. "A handful of Democratic governors, including DGA Chair Gov. Peter Shumlin, have stepped up and led the charge to ban fracking in their states and they should be applauded. Other democratic governors need to be made aware that the people they're elected to govern want them to stop cozying up to the oil and gas industry and start proactively working to prevent fracking from poisoning drinking water, releasing potentially radioactive elements and jeopardizing our climate future."
In New York, Governor Andrew Cuomo, whose presidential ambitions are a poorly kept secret, has faced fervent opposition to fracking. He recently deferred a decision on the future of fracking in New York to state health commissioners. Some New Yorkers have expressed concern with the process, stating that any review of the cumulative health impacts of fracking should take place in a transparent manner, not through backroom deals. A Siena College poll released this week found that more New Yorkers oppose fracking than support it, with 41 percent of respondents stating that are against the process.
 
Mike Hersh of Progressive Democrats of America and MoveOn said, "Democratic Party leaders must realize the base strongly opposes fracking. We need clean, green, 21st century energy. We don't want to trade clean water and air for natural gas."
 
In Illinois, a coalition of grassroots organizations recently urged Governor Pat Quinn and Speaker of the House Michael Madigan to reject a bill that would lay the legal groundwork for fracking in the state, and instead pass a moratorium on the controversial energy extraction process. Although fracking is not currently taking place in Illinois, HB 2615 would bring regulatory certainty to the oil and gas industry and in effect open up the state to fracking. It would also endanger public health by establishing weak standards of operation for the oil and gas industry.
"Fracking raises genuine public health, safety, policy and environmental questions that have been completely pushed aside by energy industry influence. It is disheartening to see our elected officials so eager to take policy guidance from corporate donor interests and less so from the people who elected them. The problems facing America headed towards a 'fracking' future are very real and frightening and they won't go away just because we put our heads in the sand or pass weak regulations," said Fred Tutman, Riverkeeper and CEO of the Patuxent Riverkeeper.
 
With 47,000 fracked wells throughout the state, and the oil and gas industry looking to substantially expand that number in the next decade, many consider Colorado the epicenter of fracking in the U.S. Earlier this year, residents of Longmont became the first in the state to ban the process and many other communities are now following suit. Yet, Governor Hickenlooper remains an ardent fan of fracking. Earlier this year, he testified before Congress against rules to regulate fracking on federal lands, opining that the government should leave decisions on the process up to the states.
Momentum against fracking is building on the West Coast too. In April, three bills that would halt the process in California won key votes despite intense pressure from the oil industry. Oil and gas wells have been fracked in at least nine California counties without fracking-specific regulation or even monitoring by state oil and gas officials.
Visit EcoWatch's FRACKING page for more related news on this topic.
——–
Sign the petition today, telling President Obama to enact an immediate fracking moratorium:

Recycling and general waste plastic wheelie bins awaiting collection for disposal in Newport, Rhode Island. Tim Graham / Getty Images
Reduce. Reuse. Recycle. According to The National Museum of American History, this popular slogan, with its iconic three arrows forming a triangle, embodied a national call to action to save the environment in the 1970s. In that same decade, the first Earth Day happened, the EPA was formed and Congress passed the Resource Conservation and Recovery Act, encouraging recycling and conservation of resources, Enviro Inc. reported.
According to Forbes, the Three R's sustainability catch-phrase, and the recycling cause it bolstered, remain synonymous with the U.S. environmental movement itself. There's only one problem: despite being touted as one of the most important personal actions that individuals can take to help the planet, "recycling" – as currently carried out in the U.S. – doesn't work and doesn't help.
Turns out, there is a vast divide between the misleading, popular notion of recycling as a "solution" to the American overconsumption problem and the darker reality of recycling as a failing business model.
Tiffany Duong is an avid ocean advocate. She holds degrees from UCLA and the University of Pennsylvania Carey Law School and is an Al Gore Climate Reality Leader and student member of The Explorer's Club.
She spent years as a renewable energy lawyer in L.A. before moving to the Amazon to conduct conservation fieldwork (and revamp her life). She eventually landed in the Florida Keys as a scientific scuba diver and field reporter and writes about the oceans, climate, and the environment from her slice of paradise. Follow her on Twitter/Instagram @lilicedt.
EcoWatch Daily Newsletter
The coal-fired Huaneng Power Plant in Huai 'an City, Jiangsu Province, China on Sept. 13, 2020. Costfoto / Barcroft Media via Getty Images
Overall energy demand is expected to rise 4.6 percent this year compared to 2020 and 0.5 percent compared to 2019, according to the IEA's Global Energy Review 2021. Demand for fossil fuels is expected to jump to such an extent that emissions will rise by nearly five percent in 2021. This will reverse 80 percent of the emissions decline reported in 2020, to end emissions just 1.2 percent below 2019 emissions levels. Because the lockdown saw the biggest drop in energy demand since World War II, the projected increase in carbon dioxide emissions will still be the second-highest on record, BBC News pointed out.
"This is a dire warning that the economic recovery from the COVID crisis is currently anything but sustainable for our climate," IEA Executive Director Fatih Birol said in a statement reported by AFP.
Birol said much of that increase was being driven by the resurgence of coal use. In fact, coal demand is expected to increase by 60 percent more than all forms of renewable energy, according to the report. Overall coal demand is expected to increase by 4.5 percent in 2021. More than 80 percent of that growth is in Asia, and more than 50 percent is in China. While coal use is expected to increase in the U.S. and Europe as well, it will remain far below pre-pandemic levels. Still, global coal use is expected to rise to nearly its 2014 peak, BBC News reported.
Natural gas demand is also expected to rise by 3.2 percent in 2021, to put it more than one percent above 2019 levels, according to the report.
There are, however, two bright spots in the report from a climate perspective. The first is that oil demand, while up 6.2 percent from 2020, is still expected to remain around 3 percent below 2019 levels. This is because oil use for ground transportation is not expected to recover until the end of 2021, and oil use for air travel is expected to remain at 20 percent below 2019 levels by December of 2021.
"A full return to pre-crisis oil demand levels would have pushed up CO2 emissions a further 1.5%, putting them well above 2019 levels," the report authors wrote.
The second bright spot is that renewable energy demand is set to rise in all sectors in 2021. In power, where its rise is the greatest, it is set to increase by more than eight percent. This is "the largest year-on-year growth on record in absolute terms," the report authors wrote.
Renewable energy will provide 30 percent of electricity overall, BBC News reported, which is the highest percentage since the industrial revolution. The problem is that the increase in renewables is running parallel to an increase in fossil fuels in some places. China, for example, is also expected to account for almost half of the rise in renewable electricity.
"As we have seen at the country-level in the past 15 years, the countries that succeed to cut their emissions are those where renewable energy replaces fossil energy," energy expert and University of East Anglia professor Corinne Le Quéré told BBC News. "What seems to be happening now is that we have a massive deployment of renewable energy, which is good for tackling climate change, but this is occurring alongside massive investments in coal and gas. Stimulus spending post-Covid-19 worldwide is still largely funding activities that lock us into high CO2 emissions for decades."
To address this issue, Birol called on the world leaders gathering for U.S. President Joe Biden's climate summit Thursday and Friday to pledge additional action before November's UN Climate Change Conference, according to AFP.
"Unless governments around the world move rapidly to start cutting emissions, we are likely to face an even worse situation in 2022," said Birol.
From Your Site Articles
Related Articles Around the Web
A grizzly bear killed an outdoor guide in a rare attack near Yellowstone Park. William Campbell / Corbis / Getty Images
Representative Alexandria Ocasio-Cortez (D-NY) re-introduces the Green New Deal in Washington, D.C. on April 20, 2021. Mandel Ngan / AFP / Getty Images
By Brett Wilkins
In the latest of a flurry of proposed Green New Deal legislation, Reps. Cori Bush and Alexandria Ocasio-Cortez on Monday introduced the Green New Deal for Cities Act of 2021, a $1 trillion plan to "tackle the environmental injustices that are making us and our children sick, costing us our homes, and destroying our planet."
Offshore oil and gas drillers have left more than 18,000 miles of pipelines at the bottom of the Gulf of Mexico. Drew Angerer / Getty Images
Offshore oil and gas drillers have discarded and abandoned more than 18,000 miles of pipelines on the floor of the Gulf of Mexico since the 1960s, a report from the Government Accountability Office says.
The industry has essentially recovered none of the pipelines laid in the Gulf in the last six decades; the abandoned infrastructure accounts for more than 97% of all of the decommissioned pipelines in the Gulf.
The pipelines pose a threat to the habitat around them, as maritime commerce and hurricanes and erosion can move sections of pipeline.
The Bureau of Safety and Environmental Enforcement does not conduct undersea inspections even though surface monitoring is "not always reliable for detecting ruptures," according to the GAO.
For a deeper dive:
For more climate change and clean energy news, you can follow Climate Nexus on Twitter and Facebook, sign up for daily Hot News, and visit their news site, Nexus Media News.