This website uses cookies to ensure you get the best experience while browsing it. By clicking 'Got It' you're accepting these terms.
100+ March for Ban on Fracking and End to Democratic Governors Taking Dirty Money
May. 22, 2013 06:52PM EST
Energy
Today a coalition led by Americans Against Fracking, 350.org, Democracy for America and Food & Water Watch, among others marched at the Spring Policy Conference of the Democratic Governors Association (DGA) calling for a ban on fracking and demanding that the organization "Stop Taking Dirty Money," citing the more than $3.5 million the DGA has taken from companies in the oil and gas industry since 2008, according to analysis out this week by Food & Water Watch.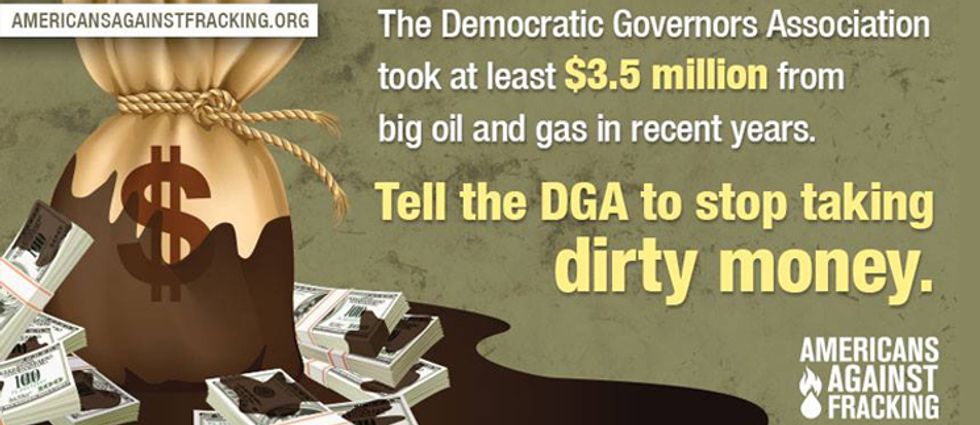 The march takes place in the wake of new research released by the Pew Research Center for People and the Press that shows that nationally, only 33 percent of Democrats polled favor the increased use of fracking.
The march is the beginning of a summer-long effort with planned actions at other DGA meetings in Colorado and possibly other cities to pressure five governors in particular— Maryland Gov. Martin O'Malley, New York Gov. Andrew Cuomo, California Gov. Jerry Brown, Colorado Gov. John Hickenlooper and Illinois Gov. Pat Quinn—who are currently facing stark opposition to efforts to frack for oil and gas in their states.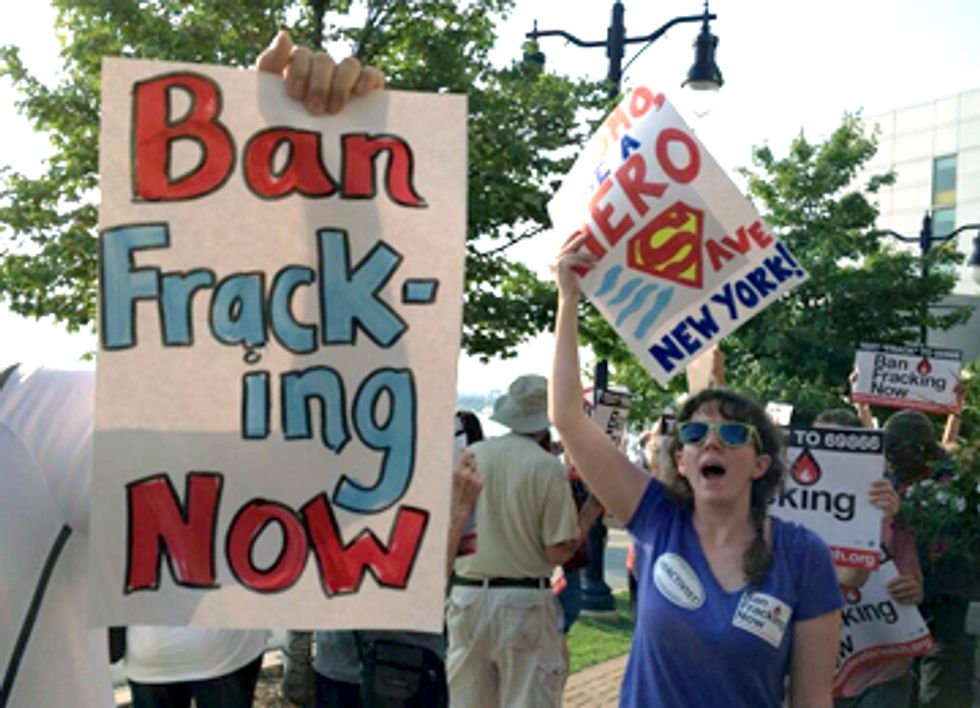 "While it's not surprising that the oil and gas industry is supporting a political organization, what is surprising is how much their support of the DGA has increased in the past five years—contributions are up more than 140 percent between 2008 and 2012," said Food & Water Watch Executive Director Wenonah Hauter. "We need to expose their support of this organization, many of whom are presently the key decision makers on whether or not fracking goes forward in their states."
Maryland Gov. O'Malley, the host of the DGA's Spring Policy Conference, has attracted criticism from activists for his failure to use science to guide his decision on opening up the state to fracking. Last April, the O'Malley-appointed Marcellus Shale Advisory Commission issued a draft report warning that fracking could have significant negative impacts in Maryland. Still, O'Malley and other Maryland leaders are pushing forward with drilling as if it is inevitable.
Opponents of fracking believe that through O'Malley's alliance with the Center for Sustainable Shale Development (CSSD), an industry group led by representatives from CONSOL Energy, Shell, Chevron, EQT Corporation and the Environmental Defense Fund, the governor is promoting the idea of industry-sponsored self-regulation. This week, Americans Against Fracking, Democracy for America and MoveOn.org will deliver to O'Malley more than 3,000 petitions urging him to ban fracking.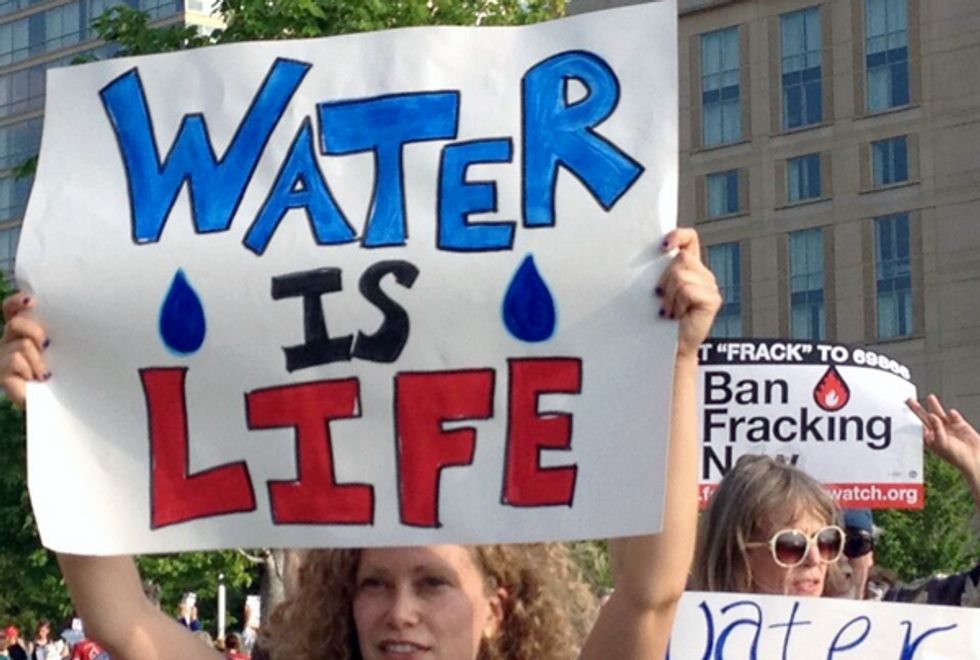 "We know, beyond a shadow of a doubt, that fracking causes environmental destruction that risks the health and safety of entire communities," said Jim Dean of Democract for America. "A handful of Democratic governors, including DGA Chair Gov. Peter Shumlin, have stepped up and led the charge to ban fracking in their states and they should be applauded. Other democratic governors need to be made aware that the people they're elected to govern want them to stop cozying up to the oil and gas industry and start proactively working to prevent fracking from poisoning drinking water, releasing potentially radioactive elements and jeopardizing our climate future."
In New York, Governor Andrew Cuomo, whose presidential ambitions are a poorly kept secret, has faced fervent opposition to fracking. He recently deferred a decision on the future of fracking in New York to state health commissioners. Some New Yorkers have expressed concern with the process, stating that any review of the cumulative health impacts of fracking should take place in a transparent manner, not through backroom deals. A Siena College poll released this week found that more New Yorkers oppose fracking than support it, with 41 percent of respondents stating that are against the process.
 
Mike Hersh of Progressive Democrats of America and MoveOn said, "Democratic Party leaders must realize the base strongly opposes fracking. We need clean, green, 21st century energy. We don't want to trade clean water and air for natural gas."
 
In Illinois, a coalition of grassroots organizations recently urged Governor Pat Quinn and Speaker of the House Michael Madigan to reject a bill that would lay the legal groundwork for fracking in the state, and instead pass a moratorium on the controversial energy extraction process. Although fracking is not currently taking place in Illinois, HB 2615 would bring regulatory certainty to the oil and gas industry and in effect open up the state to fracking. It would also endanger public health by establishing weak standards of operation for the oil and gas industry.
"Fracking raises genuine public health, safety, policy and environmental questions that have been completely pushed aside by energy industry influence. It is disheartening to see our elected officials so eager to take policy guidance from corporate donor interests and less so from the people who elected them. The problems facing America headed towards a 'fracking' future are very real and frightening and they won't go away just because we put our heads in the sand or pass weak regulations," said Fred Tutman, Riverkeeper and CEO of the Patuxent Riverkeeper.
 
With 47,000 fracked wells throughout the state, and the oil and gas industry looking to substantially expand that number in the next decade, many consider Colorado the epicenter of fracking in the U.S. Earlier this year, residents of Longmont became the first in the state to ban the process and many other communities are now following suit. Yet, Governor Hickenlooper remains an ardent fan of fracking. Earlier this year, he testified before Congress against rules to regulate fracking on federal lands, opining that the government should leave decisions on the process up to the states.
Momentum against fracking is building on the West Coast too. In April, three bills that would halt the process in California won key votes despite intense pressure from the oil industry. Oil and gas wells have been fracked in at least nine California counties without fracking-specific regulation or even monitoring by state oil and gas officials.
Visit EcoWatch's FRACKING page for more related news on this topic.
——–
Sign the petition today, telling President Obama to enact an immediate fracking moratorium:

EcoWatch Daily Newsletter
The CDC has emphasized that washing hands with soap and water is one of the most effective ways to prevent the spread of COVID-19. Guido Mieth / Moment / Getty Images
The Centers for Disease Control has emphasized that washing hands with soap and water is one of the most effective measures we can take in preventing the spread of COVID-19. However, millions of Americans in some of the most vulnerable communities face the prospect of having their water shut off during the lockdowns, according to The Guardian.
A California newt (Taricha torosa) from Napa County, California, USA. Connor Long /
CC BY-SA 3.0
Aerial photos of the Sierra Nevada — the long mountain range stretching down the spine of California — showed rust-colored swathes following the state's record-breaking five-year drought that ended in 2016. The 100 million dead trees were one of the most visible examples of the ecological toll the drought had wrought.
Now, a few years later, we're starting to learn about how smaller, less noticeable species were affected.
Disinfectants and cleaners claiming to sanitize against the novel coronavirus have started to flood the market.
Natthawat / Moment / Getty Images
Disinfectants and cleaners claiming to sanitize against the novel coronavirus have started to flood the market, raising concerns for the U.S. Environmental Protection Agency (EPA), which threatened legal recourse against retailers selling unregistered products, according to The New York Times.
A customer packs groceries in reusable bags at a NYC supermarket on March 1, 2020. Eduardo Munoz Alvarez/Getty Images
The global coronavirus pandemic has thrown our daily routine into disarray. Billions are housebound, social contact is off-limits and an invisible virus makes up look at the outside world with suspicion. No surprise, then, that sustainability and the climate movement aren't exactly a priority for many these days.
Ingredients are displayed for the Old School Pinto Beans from the Decolonize Your Diet cookbook by Luz Calvo and Catriona Rueda Esquibel. Melissa Renwick / Toronto Star via Getty Images
By Molly Matthews Multedo
Livestock farming contributes to global warming, so eating less meat can be better for the climate.