This website uses cookies to ensure you get the best experience while browsing it. By clicking 'Got It' you're accepting these terms.
100 Eco-Innovations Changing the Way the World Does Business
Jun. 11, 2015 08:32AM EST
In Brazil, they are producing solar-powered hearing aids, which are equal in price to disposable alternatives, but last up to three years. Non-sustainable alternatives, such as polluting zinc batteries, last approximately one week. Further North in the kingdom of Denmark, a young start-up saves parents up to $2,100 in the first year of their baby's life by renting out clothing and exchanging it for larger sizes as the child grows.
Published today, an annual sustainability study, SUSTAINIA100, names the top-100 eco-innovations 2015 after reviewing more than 1,500 projects and businesses from six continents. The 100 cases point to a paradigm shift in eco-innovation: More than half of this year's selected innovations are not only competing on sustainability criteria, but also on affordability and convenience with for instance new reuse, recycling and take-back models.
"It is the year for eco-consumers," says Laura Storm, CEO of think tank Sustainia behind the study. "In the new Sustainia100 study, it is remarkable to see how creative developments in particularly the circular economy are resulting in products and services highly competitive with non-sustainable alternatives. This empowers sustainability opportunities like never before."
"This year's Sustainia100 are fantastic, because they show how practical and affordable sustainable alternatives are for everyone," says Arnold Schwarzenegger, former Gov. of California and Honorary Chair of Sustainia. "As a matter of fact, anyone can be a champion for a healthy lifestyle and more livable communities, while demonstrating that none of us should wait for our governments to solve big challenges. Thank you Sustainia100 for showing us that the time for action is now!"
By identifying 100 readily available innovations for cities, corporations and consumers, the Sustainia100 partners wish to highlight the potential for bottom-up transformation ahead of the much-anticipated climate change negotiations, COP21, in Paris from Nov. 30 to Dec. 11. The partners behind Sustainia100 are UN Global Compact, Connect4 Climate, Regions20, WWF, DNV GL, Realdania, Storebrand and International Federation for Housing and Planning.
Two Factors Driving Competitive Innovation
The increasing competitiveness found among this year's leading sustainability innovations is especially seen in circular economy innovation and new business models for underserved markets.
"First of all, a growing private sector interest in circular business models is a vital explanation for the rise in competitive sustainability innovations. An increase in commodity prices over the last 15 years has erased the real price declines of the 20th century, giving businesses and consumers a good reason to break free of the linear model of resource use," says Storm.
One in five of the identified innovations are circular economy models, where businesses are exploring economic incentives attached to circular consumption. These innovations include food waste turned into biofuel; reused air-con filters; and 100 percent recycled workwear.
Additionally, the rising focus on underserved markets, in especially developing countries, is now beginning to create sustainable business models. With a large portion of the world's population living on around or less than eight dollars per day, also referred to as "the base of the pyramid," this represents an enormous global market. Twenty-three of the 100 innovations are making profit or providing affordable solutions directly addressing the need for reliable energy, sanitation, waste management etc. at the base of the pyramid. These innovations include insurances to protect West African smallholders against extreme weather by way of satellite data; and a low-cost cooking ingot made of recycled metal to treat people with iron deficiency.
The new Sustainia100 study is the fourth publication of leading sustainability innovation. The innovations are screened and selected by independent sustainability experts from 18 international research organizations including Yale University, World Resources Institute and the Acumen Fund. Over the past four years, Sustainia has identified more than 3,200 sustainability solutions.
Selected Cases from SUSTAINIA100:
Vigga (Denmark):
Danish startup Vigga.us is a subscription service that is leasing organic children's wear through a circular model. For a monthly fee, parents receive clothing and can return for bigger sizes as the child grows saving time, money, and resources. Vigga.us saves parents up to $2,100 in the first year of their baby's life.
Delta M (Canada):
The air-con filters from Delta M are 100 percent reused and recycled unlike disposable alternatives that create large amounts of solid waste. The company provides a service where used filters are picked up for cleaning and the customers are reimbursed with rebate credit for every filter they return.
Dutch aWEARness (The Netherlands):
Dutch aWEARness uses 100 percent recycled polyester fabric in their closed-loop manufacturing of workwear. No waste is generated from the production process, and water consumption is reduced by as much as 50% compared to conventional work wear manufacturing.
Solar Ear (Brazil):
Low-cost hearing aids with rechargeable solar batteries. The hearing aids are equal in price to disposable alternatives, but last up to three years. Non-sustainable alternatives, such as polluting zinc batteries, last approximately one week.
Olleco (UK):
Olleco collects organic waste from the food industry (cooking oil) to produce biogas, compost, and biodiesel that is looped back to companies, who also benefit by avoiding waste disposal fees. It recycles more than 100,000 tonnes of organic waste each year, which results in the production of 16 million liters of biodiesel as well as renewable heat and power.
ACRE (Kenya, Switzerland):
The Agriculture and Climate Risk Enterprise (ACRE) makes use of automated weather stations, satellite data, and mobile technologies to bring affordable insurance to smallholder farmers in East Africa. This technology makes it possible to reach thousands of remote farmers without amassing high transaction or delivery costs.
Lucky Iron Fish (Canada, Cambodia):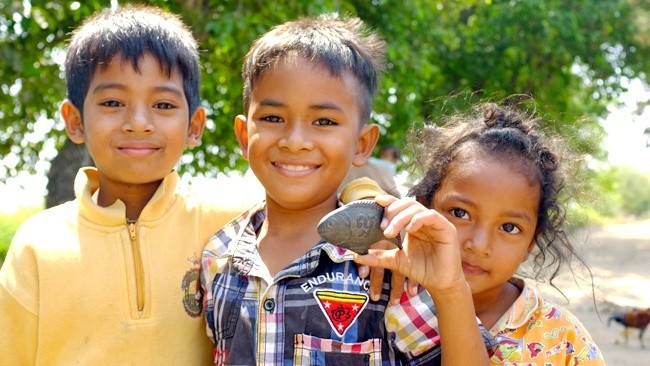 Lucky Iron Fish is an ingot made from recycled scrap iron packages in biodegradable or recycled material. Simply boiling a Lucky Iron Fish ingot for 10 minutes in water can release up to 75 percent of a person's required daily iron intake. One fish costs less than $10 and lasts for five years, benefitting an entire family with each use.
YOU MIGHT ALSO LIKE
IKEA Commits $1.13 Billion to Fight Climate Change and Invest in Renewable Energy
Game-Changing Lamp Powered by Gravity Could Provide Light to Billions
Giant Solar Floating Farm Could Produce 8,000 Tons of Vegetables Annually
Prince William and British naturalist David Attenborough attend converse during the World Economic Forum annual meeting, on January 22 in Davos, Switzerland. Fabrice Cofferini /AFP / Getty Images
Britain's Prince William interviewed famed broadcaster David Attenborough on Tuesday at the World Economic Forum's annual meeting in Switzerland.
During the sit-down, the 92-year-old naturalist advised the world leaders and business elite gathered in Davos this week that we must respect and protect the natural world, adding that the future of its survival—as well as humanity's survival—is in our hands.
Electric vehicle sales took off in 2018, with a record two million units sold around the world, according to a new Deloitte analysis.
What's more, the accounting firm predicts that another 21 million electric cars will be on the road globally over the next decade due to growing market demand for clean transportation, government subsidies, as well as bans on fossil fuel cars.
Teenager Alex Weber and friends collected nearly 40,000 golf balls hit into the ocean from a handful of California golf courses.
Alex Weber /
CC BY-ND
Southwest Greenland had the most consistent ice loss from 2003 to 2012. Eqalugaarsuit, Ostgronland, Greenland on Aug. 1, 2018.
Rob Oo / CC BY 2.0
Greenland is melting about four times faster than it was in 2003, a new study published Monday in the Proceedings of the National Academy of Sciences found, a discovery with frightening implications for the pace and extent of future sea level rise.
"We're going to see faster and faster sea level rise for the foreseeable future," study lead author and Ohio State University geodynamics professor Dr. Michael Bevis said in a press release. "Once you hit that tipping point, the only question is: How severe does it get?"
Finally, some good news about the otherwise terrible partial government shutdown. A federal judge ruled that the Trump administration cannot issue permits to conduct seismic testing during the government impasse.
The Justice Department sought to delay—or stay—a motion filed by a range of coastal cities, businesses and conservation organizations that are suing the Trump administration over offshore oil drilling, Reuters reported. The department argued that it did not have the resources it needed to work on the case due to the shutdown.
Most people have heard of the Amazon, South America's famed rainforest and hub of biological diversity. Less well known, though no less critical, is the Pantanal, the world's largest tropical wetland.
Like the Amazon, the Pantanal is ecologically important and imperiled. Located primarily in Brazil, it also stretches into neighboring Bolivia and Paraguay. Covering an area larger than England at more than 70,000 square miles, the massive wetland provides irreplaceable ecosystem services that include the regulation of floodwaters, nutrient renewal, river flow for navigability, groundwater recharge and carbon sequestration. The wetland also supports the economies of the four South American states it covers.
Demonstrators participate in a protest march over agricultural policy on Jan. 19 in Berlin, Germany. Carsten Koall / Getty Images Europe
By Andrea Germanos
Organizers said 35,000 people marched through the streets of the German capital on Saturday to say they're "fed up" with industrial agriculture and call for a transformation to a system that instead supports the welfare of the environment, animals and rural farmers.

The fire that erupted after a pipeline explosion in Mexico Friday. FRANCISCO VILLEDA / AFP / Getty Images
By Patrick Rogers
If you have ever considered making the switch to an environmentally friendly electric vehicle, don't drag your feet. Though EV prices are falling, and states are unveiling more and more public charging stations and plug-in-ready parking spots, the federal government is doing everything it can to slam the brakes on our progress away from gas-burning internal combustion engines. President Trump, likely pressured by his allies in the fossil fuel industry, has threatened to end the federal tax credits that have already helped put hundreds of thousands of EVs on the road—a move bound to harm not only our environment but our economy, too. After all, the manufacturing and sale of EVs, hybrids, and plug-in hybrids supported 197,000 jobs in 2017, according to the most recent U.S. Energy and Employment Report.