100+ Arrested at Beyond Extreme Energy's Week-Long Protests at FERC
As the participants in the Great March for Climate Action ended up in Washington, DC, on Nov. 1 after a six-month trek across the country, they joined with other environmental groups to launch a week of action under the banner Beyond Extreme Energy. The actions revolved around a series of blockades at the DC headquarters of the Federal Energy Regulatory Commission (FERC) with more than 100 people arrested.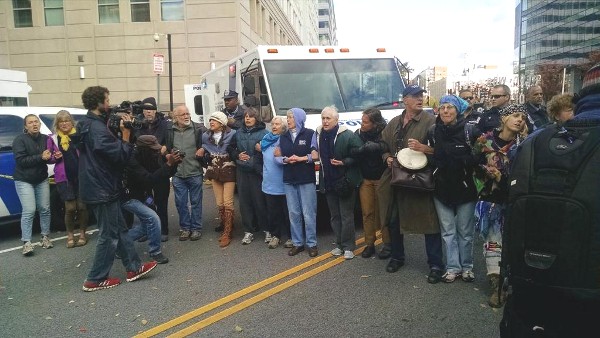 Nonviolent direct actions began on Monday with 25 protestors arrested outside FERC's office while blockading the entrance with a giant sign depicting families impacted by fracking infrastructure greenlighted by FERC. Today was the final day of the actions intended to call attention to FERC's approval of projects that endanger communities and drive climate change, and demand a more inclusive and open hearing process.
On Wednesday, 5o activists from across the country blockaded FERC's offices, led by a group of students from Hampshire College in Massachusetts who came to D.C. specifically for the action, representing students and young people everywhere. Another 16 people were arrested.
"As students were in a particular position where our future is uncertain," said Hampshire student Dineen O'Rourke, a student from Hampshire College. "We're ready to come together to resist the injustice FERC is serving us to our future and to communities already facing the brunt of the climate crisis."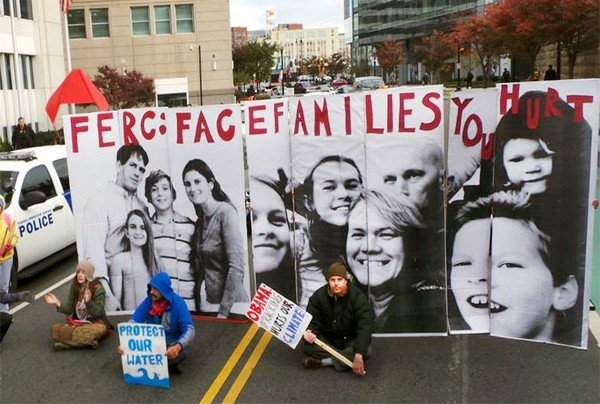 "Yesterday's election was a demonstration of what happens when voters are fed up with politicians who talk without action," added Drew Hudson, director of Environmental Action. "On a night that otherwise favored conservative, anti-environment candidates, voter in the tiny community of Denton—in the heart of Texas oil country —chose to ban fracking. This movement that's shutting down FERC, shutting down Cove Point, and resisting in countless communities from New York to California is coming for the pundits and politicians. They had better get ready for us."
Thursday, about 35 activists again shut down FERC's offices in a campaign led by Veterans for Peace and the National Campaign for Nonviolent Resistance, to coincide with the U.N. Day of Observance on War and the Environment, in a protest that included a silent vigil and a "die-in."
Today #FERCblockade once again closed @FERC's road... for the 5th time this week! #FERCdoesntwork so shut it down! pic.twitter.com/FuNPLrIYHg

— Popular Resistance (@PopResistance) November 7, 2014
"The Pentagon is the single biggest consumer of fossil fuels in the entire world," said Army veteran and VFP and NCNR member Ellen Barfield.
"So protesting climate change and extreme energy recovery at drilling sites and so-called regulatory agencies is not enough. War, even just training for it, is of course massively destructive and wasteful. War is bad for the environment. Today, the 6th of November, is the United Nations day to acknowledge that fact every year and to call for the prevention of  what it calls the exploitation of the environment in war. Sadly though, UN admonitions have little effect on U.S. foreign policy. The very fracked gas Beyond Extreme Energy activists are protesting this week is being used as an economic weapon by the Obama administration, threatening Russian gas exports to Europe through Ukrainian pipelines."
Finally, on Friday, the protestors concluded with a blockade while families from Pennsylvania with talk about the impact fracking has had on their homes and communities.
A powerful morning at @FERC as activist hold silent blockades of the street and entrances #FERCdoesntwork pic.twitter.com/7vTYzI4xcV — Stop the FrackAttack (@stopfrackattack) November 6, 2014
The final protest included sit-ins, human carpets, banners, blockadia and an art prop created by the People's Puppets representing towns affected by the projects FERC has approved.
In addition to the blockades, protests and sit-ins at FERC headquarters, protests have taken place at Cove Point where FERC approved Maryland's Dominion Cove Point natural gas export facility located close to residential communities, at the Justice Department and the Department of Transportation, and at the headquarters of National Public Radio (NPR) to protest its ads from the oil and gas industries.
"In exchange for an undisclosed sum of money, NPR hosts like Steve Inskeep, Audie Cornish and Melissa Block routinely read misleading and outright false statements that encourage listeners to 'think about' the benefits of fracked gas," explained Hudson. "Not only are these ads offensive and inappropriate on public radio, they take up valuable air time at a moment that NPR has decided to cut it's energy and environment reporting staff by 80 percent."
"Just as the media have rejected money from the tobacco industry ... so should they reject these donations from fossil fuels," said Josh Fox, director of Gasland.
While the Week of Action may be over, environmental groups aren't planning to let up. On Monday, a group called Stopping Exports and Extraction Destruction (SEED) will hold a peaceful protest near the Cove Point facility.
Watch this video by Robert Brune of DC Media Group of the first day of actions at FERC headquarters:
YOU MIGHT ALSO LIKE
Breaking: 25 Arrested Shutting Down FERC Office in DC
The Great March for Climate Action
Disturbing footage of a snake in Goa, India vomiting an empty soft drink bottle highlights the world's mounting plastic pollution crisis.
Keep reading...
Show less
By Melissa Hellmann
When her eldest son was in elementary school in the Oakland Unified School District, Ruth Woodruff became alarmed by the meals he was being served at school. A lot of it was frozen, processed foods, packed with preservatives. At home, she was feeding her children locally sourced, organic foods.
Keep reading...
Show less
May. 28, 2017 01:33PM EST
Laurie Woolever
By James O'Hare
There are 20 million people in the world facing famine in South Sudan, Somalia, Nigeria and Yemen. In developed nations, too, people go hungry. Venezuela, for instance, is enduring food insecurity on a national level as a result of economic crisis and political corruption. In the U.S., the land of supposed excess, 12.7 percent of households were food insecure in 2015, meaning they didn't know where their next meal would come from.
Keep reading...
Show less
May. 28, 2017 01:22PM EST
Melwater, Greenland ice sheet. Diane Tuft
Artists are taking the climate crisis into frame and the results are emotional, beautiful and stirring.
So you've seen the best climate change cartoons and shared them with your friends. You've showed your family the infographics on climate change and health, infographics on how the grid works and infographics about clean, renewable energy. You've even forwarded these official National Oceanic and Atmospheric Administration graphs that explain the 10 clear indicators of climate change to your colleagues at the office.
Keep reading...
Show less
May. 27, 2017 01:11PM EST
As the Trump administration moves full speed ahead on boosting the oil and fossil fuel industry, opposition to increased pipeline construction is cropping up in different communities around the country.
Keep reading...
Show less
May. 27, 2017 01:02PM EST
Minke whale stranding near Havergate Island in Suffolk. MCGA.
By Simon Evans
Last Saturday, two dead whales washed up on the coast of Suffolk, in eastern England, and a third was spotted floating at sea.
What happened next illustrates how news can spread and evolve into misinformation, when reported by journalists rushing to publish before confirming basic facts or sourcing their own quotes.
Keep reading...
Show less
May. 27, 2017 01:22PM EST
By Monica Amarelo and Paul Pestano
Sun safety is a crucial part of any outdoor activity for kids, and sunscreen can help protect children's skin from harmful ultraviolet rays. Kids often get sunburned when they're outside unprotected for longer than expected. Parents need to plan ahead and keep sun protection handy in their cars or bags.
Keep reading...
Show less
May. 27, 2017 01:02PM EST
By Joe McCarthy
A lot of people take part in community clean-up efforts—spending a Saturday morning picking up litter in a park, mowing an overgrown field or painting a fence.
Keep reading...
Show less