100,000 Americans Tell McDonald's to Pass on Biotech Fries
Food & Water Watch (FWW) delivered a letter signed by more than 100,000 Americans telling fast-food giant McDonald's not to buy a new genetically engineered organism (GMO)—a potato from one of its main suppliers that is up for approval by the U.S. Department of Agriculture (USDA).
The Innate brand GMO potato that awaits regulatory approval was developed by J.R. Simplot, which is McDonald's leading potato supplier for its fries. The five GMO varieties of Simplot's potatoes up for approval are engineered to reduce black spot bruising and are less likely to produce the chemical acrylamide when fried (some studies have linked acrylamide to cancer).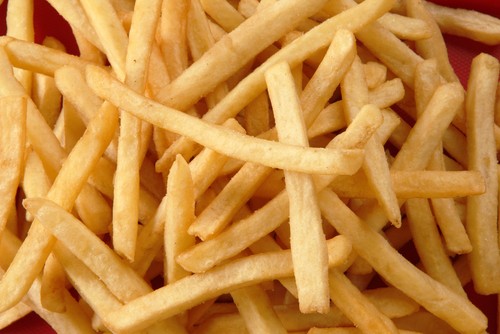 Shutterstock
These potatoes will be used as frozen fries, potato chips and shoestrings, which make up about half of the potato market in the U.S., according to the company.
McDonald's, which controls 15 percent of the fast-food market, is the largest purchaser of potatoes in the U.S. McDonald's buys more than 3.4 billion pounds of U.S. potatoes annually, according to a 2009 Associated Press article.
"If this new genetically engineered potato is approved, McDonald's has the power to make it ubiquitous and consumers will never know that the fries in their kids' Happy Meal contain DNA genetically altered in a lab," said Wenonah Hauter, FWW executive director and author of the book Foodopoly: The Battle Over the Future of Food and Farming in America.
FWW submitted more than 40,000 comments to the USDA in July encouraging it to not approve the potato. However, it is possible that USDA could release its Environmental Assessment and finding of no significant impact (FONSI) any day now. After that point, only one more public comment period is available before approval.
"Poll after poll shows that consumers want to know whether their food is genetically engineered," Hauter said. "These 100,000 people who have joined us in calling on McDonald's further prove that Americans are fed up with being guinea pigs in the science experiment of under-tested, unlabeled and potentially unsafe GE foods. Agreeing to buy this biotech potato will put McDonald's reputation for its world-famous fries at risk."
On Nov. 8, McDonald's announced it had no plans to use the genetically engineered Arctic apple McDonald's in response to a request by the environmental group Friends of the Earth.
"While it's a step on the right direction for McDonald's to say they currently don't have plans to use the genetically engineered apple, apples are small potatoes compared to the amount of potatoes McDonald's uses on a daily basis," Hauter said.

Bill Maher is sick of billionaires' obsession with Mars, more like "Mars-a-Lago," he said.
In a new animation produced by ATTN:, the popular talk show host of Real Time, discusses the perils of our planet, including how "climate change is killing us."
Keep reading...
Show less
Dr. Benjamin D. Santer, research scientist
A group of prominent climate scientists have written a study explicitly refuting statements made by the U.S. Environmental Protection Agency Administrator Scott Pruitt on climate data. During his Senate confirmation hearing, Pruitt claimed in a written response that satellite data shows a "leveling off" of warming over the past two decades.
Keep reading...
Show less
By David Pomerantz
The Nevada Assembly passed a bill Wednesday that would dramatically increase the growth of renewable energy in the state, but Sheldon Adelson, the casino magnate and major donor to Donald Trump, is attempting to prevent the bill from becoming law.
Keep reading...
Show less
Matt Crossick
By Yosola Olorunshola
Whether it's through fashion or protest, Vivienne Westwood is not a woman afraid of making a statement.
On May 23, she rocked up to the residence of the Archbishop of Canterbury in London with a special guest—the Grim Reaper—to issue a strong statement on the Church of England's position on fracking.
Keep reading...
Show less
By Paul Brown
The food industry and big agricultural concerns are driving climate change and at the same time threatening to undermine efforts to feed the world's growing population, according to GRAIN, an organization that supports small farmers.
Particularly singled out for criticism are the large chemical fertilizer producers that have gained access to the United Nations talks on climate change. GRAIN accuses them of behaving like the fossil fuel companies did in the 1990s, pushing false information in the hope of delaying real action on climate change.
Keep reading...
Show less
By Sydney Robinson
President Trump has no doubt been given a long list of extravagant, elaborate gifts in his lifetime, but the gift given to him today by Pope Francis may not make it on his most favorite list.
Keep reading...
Show less
By John Rogers
Maybe it's because I first started working on clean energy while serving in the Peace Corps he founded, or maybe it's my years of working on these issues from his home state. But I can't help thinking about the 100th anniversary of John F. Kennedy's birth, and connecting his stirring rhetoric to the energy challenges of our times.
Here's what our 35th president might have said about the challenges of energy transition and the opportunities in clean energy:
"Change is the law of life. And those who look only to the past or present are certain to miss the future."
Keep reading...
Show less
May. 24, 2017 01:47PM EST
Keep reading...
Show less


Get EcoWatch in your inbox