This website uses cookies to ensure you get the best experience while browsing it. By clicking 'Got It' you're accepting these terms.
100,000 Americans Tell McDonald's to Pass on Biotech Fries
Nov. 21, 2013 12:24PM EST
Food
Food & Water Watch (FWW) delivered a letter signed by more than 100,000 Americans telling fast-food giant McDonald's not to buy a new genetically engineered organism (GMO)—a potato from one of its main suppliers that is up for approval by the U.S. Department of Agriculture (USDA).
The Innate brand GMO potato that awaits regulatory approval was developed by J.R. Simplot, which is McDonald's leading potato supplier for its fries. The five GMO varieties of Simplot's potatoes up for approval are engineered to reduce black spot bruising and are less likely to produce the chemical acrylamide when fried (some studies have linked acrylamide to cancer).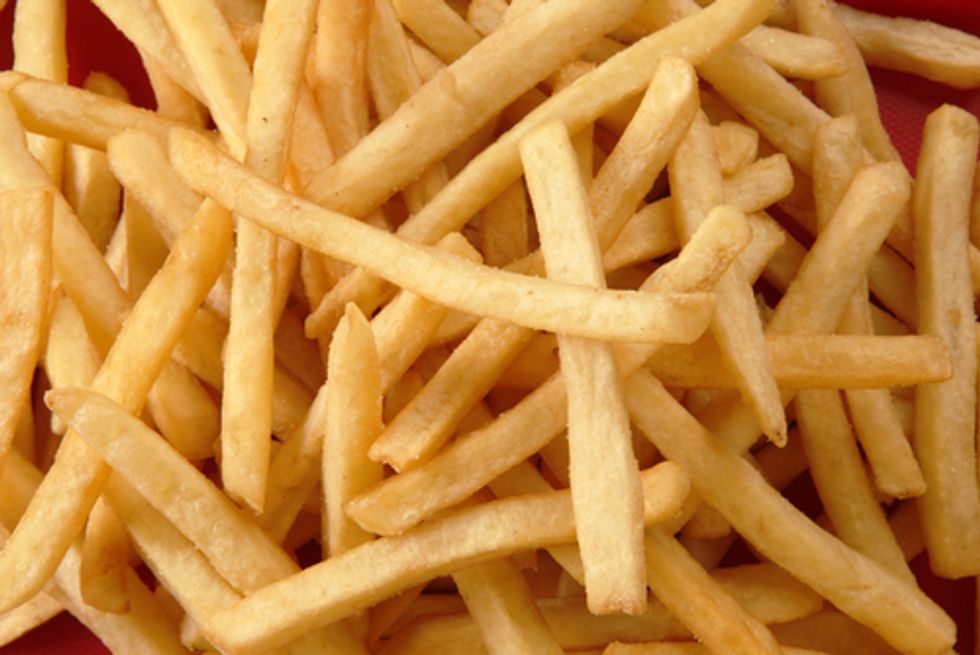 Shutterstock
These potatoes will be used as frozen fries, potato chips and shoestrings, which make up about half of the potato market in the U.S., according to the company.
McDonald's, which controls 15 percent of the fast-food market, is the largest purchaser of potatoes in the U.S. McDonald's buys more than 3.4 billion pounds of U.S. potatoes annually, according to a 2009 Associated Press article.
"If this new genetically engineered potato is approved, McDonald's has the power to make it ubiquitous and consumers will never know that the fries in their kids' Happy Meal contain DNA genetically altered in a lab," said Wenonah Hauter, FWW executive director and author of the book Foodopoly: The Battle Over the Future of Food and Farming in America.
FWW submitted more than 40,000 comments to the USDA in July encouraging it to not approve the potato. However, it is possible that USDA could release its Environmental Assessment and finding of no significant impact (FONSI) any day now. After that point, only one more public comment period is available before approval.
"Poll after poll shows that consumers want to know whether their food is genetically engineered," Hauter said. "These 100,000 people who have joined us in calling on McDonald's further prove that Americans are fed up with being guinea pigs in the science experiment of under-tested, unlabeled and potentially unsafe GE foods. Agreeing to buy this biotech potato will put McDonald's reputation for its world-famous fries at risk."
On Nov. 8, McDonald's announced it had no plans to use the genetically engineered Arctic apple McDonald's in response to a request by the environmental group Friends of the Earth.
"While it's a step on the right direction for McDonald's to say they currently don't have plans to use the genetically engineered apple, apples are small potatoes compared to the amount of potatoes McDonald's uses on a daily basis," Hauter said.

EcoWatch Daily Newsletter
Pro-environment demonstrators on the streets of Washington, DC during the Jan. 20, 2017 Trump inauguration.
Mobilus In Mobili
/ Flickr /
CC BY-SA 2.0
By Dr. Brian R. Shmaefsky
One year after the Flint Water Crisis I was invited to participate in a water rights session at a conference hosted by the US Human Rights Network in Austin, Texas in 2015. The reason I was at the conference was to promote efforts by the American Association for the Advancement of Science (AAAS) to encourage scientists to shine a light on how science intersects with human rights, in the U.S. as well as in the context of international development. My plan was to sit at an information booth and share my stories about water quality projects I spearheaded in communities in Bangladesh, Colombia, and the Philippines. I did not expect to be thrown into conversations that made me reexamine how scientists use their knowledge as a public good.
Mt. Rainier and Reflection Lake on Sept. 10, 2015. Crystal Geyser planned to open a bottling plant near Mt. Rainier, emails show.
louelke - on and off / Flickr
Bottled water manufacturers looking to capture cool, mountain water from Washington's Cascade Mountains may have to look elsewhere after the state senate passed a bill banning new water permits, as The Guardian reported.
Large storage tank of Ammonia at a fertilizer plant in Cubatão, Sao Paulo State, Brazil. Luis Veiga / The Image Bank / Getty Images
The shipping industry is coming to grips with its egregious carbon footprint, as it has an outsized contribution to greenhouse gas emissions and to the dumping of chemicals into open seas. Already, the global shipping industry contributes about 2 percent of global carbon emissions, about the same as Germany, as the BBC reported.
At high tide, people are forced off parts of the pathway surrounding DC's Tidal Basin. Andrew Bossi /
Wikimedia
The Jefferson Memorial in Washington, DC overlooks the Tidal Basin, a man-made body of water surrounded by cherry trees. Visitors can stroll along the water's edge, gazing up at the stately monument.
But at high tide, people are forced off parts of the path. Twice a day, the Tidal Basin floods and water spills onto the walkway.
Lioness displays teeth during light rainstorm in Kruger National Park, South Africa. johan63 / iStock / Getty Images
Ahead of government negotiations scheduled for next week on a global plan to address the biodiversity crisis, 23 former foreign ministers from various countries released a statement on Tuesday urging world leaders to act "boldly" to protect nature.