10 Years of Inspiring Climate Action in Global Cities
Dec. 21, 2015 01:22PM EST
Climate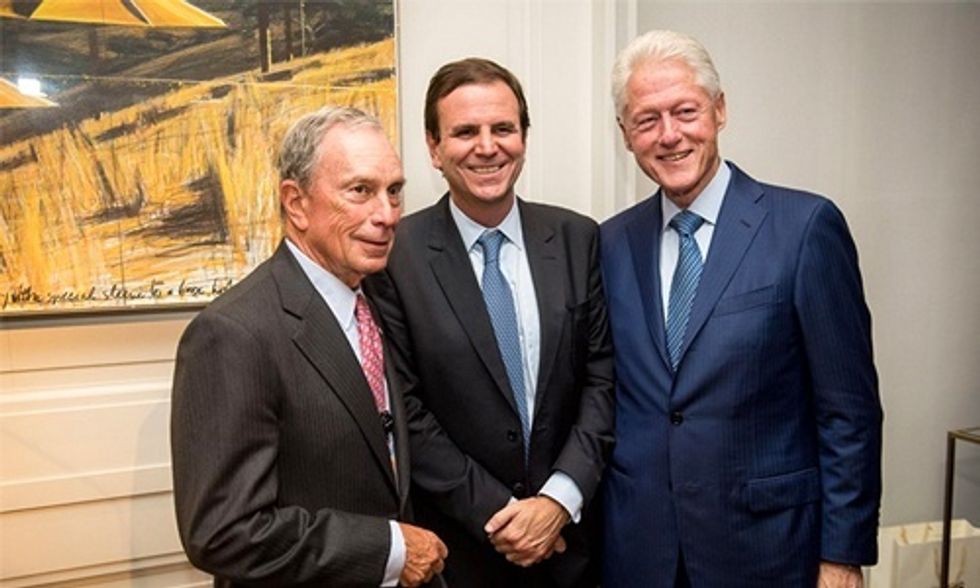 From the very beginning, when I was asked as mayor of Toronto to join the board of the C40 Cities Climate Leadership Group (C40) in 2005, I knew former Mayor of London Ken Livingstone had an idea that was going to make a massive difference. C40 is an exceptional organization that brings together leadership from major cities around the world to take real and lasting action on climate change.
Mayors of large cities that hold statutory responsibilities for large-scale infrastructure such as transportation systems, regional energy production, social housing, water and solid waste management can have a tremendous impact on both reducing greenhouse gas emissions and taking steps to address and forestall the sometimes devastating impacts of climate change. Bringing these mayors together—and through them the hundreds of millions of people they represent—remains an extremely powerful and effective mechanism towards halting climate change.
Glad to have celebrated @C40Cities' #10YearsofResults last night with climate leaders @EduardoPaes_ and @BillClinton. http://t.co/3hAosdjjNG

— Mike Bloomberg (@Mike Bloomberg)1442938567.0
I was honored to become chair of C40 in 2008 and to serve through to the end of 2010 when former Mayor Michael Bloomberg took up the mantle. In the 2006 Toronto election, I was re-elected with a strong mandate to act on climate change. My message throughout that election was: "When national governments fail to act, cities can, and must, act." This is the philosophy that I carried with me as I assumed my position as chair of C40. And I came to understand that it's a belief strongly held by all C40 mayors.
For me, there were three critical imperatives during my tenure:
Strengthen the C40 network

Ensure the immense value of large cities taking action on climate change was understood by national governments and international organizations

Expand knowledge sharing among cities to support climate change goals, including beginning to track progress as a group
Strengthening Our Network of C40 Mayors
To strengthen the network, I communicated regularly and in person with C40 mayors at every opportunity. This approach allowed us to build strong working relationships and make decisions quickly. Mayors are the elected leaders most responsive to the concerns and everyday realities of the people they represent. Mayors tend to be practical problem solvers who take pride in getting things done. Working more closely with mayors worldwide to solidify the network was an essential and inspiring part of my work as chair.
A Voice for Cities on the Global Stage
To ensure the voice of cities was heard on the world stage, we undertook a number of initiatives, the most important of which was our presence at COP15 in Copenhagen. Led by C40 Secretariat Mary MacDonald from my office and the wonderful former Mayor of Copenhagen Ritt Bjerregaard, we initiated and planned the Copenhagen Summit for Mayors. This was a transformative event, the result of which was to place leadership on climate change by cities on the global agenda in a permanent way. Our mantra while the national negotiations were floundering during COP15 was: while nations talk, cities act.
It's now commonplace to say that cities are where the action is on climate change, but this was not true before Copenhagen. Many C40 mayors and mayors-elect attended the Copenhagen Mayors Summit, including but not limited to Bloomberg, Mayor Boris Johnson of London, Gov. Fauzi Bowo of Jakarta, Islam, and Mayor Amos Masando of Johannesburg.
More than 80 mayors attended the summit, supported well by their civil servants who presented a dazzling array of actions already underway to act against climate change. The summit was covered by major national and international media outlets and we were the front page story on the delegates' newspaper to COP15. Some would argue the only good news that came out of Copenhagen was about cities—whatever the position, it was clear from that moment on that cities indeed were the governments acting and leading on climate and the world took notice.
Sharing Information and Tracking Progress
With the active support of our small but effective London-based secretariat, we worked hard to secure the future of the organization, including a highly successful C40 summit in Seoul in 2009 thanks to former Mayor Oh Se-hoon. At the Seoul summit, former President Bill Clinton, head of our then partner organization the Clinton Climate Initiative, acknowledged in the keynote address that cities were indeed leading the fight on climate change. In 2009, C40 knowledge-sharing and capacity building workshops and events were held in cities including Tokyo, Berlin, London and Basel, Switzerland.
We are pleased to bring you #10YearsofResults http://t.co/v1clw8u5zu

— C40 Cities (@C40 Cities)1431350943.0
C40 also created structures of knowledge exchange. Part of the goal was to exchange information around particular areas of interest, sometimes accomplished by conferences such as the Rotterdam, Netherlands event on ocean flooding, held in the fall of 2010 and the Hong Kong conference on low carbon cities for high quality living, both of which had over 1,000 attendees including mayors, scientists, civil servants, businesses and the public.
In 2010, we also began tracking our collective progress on reducing greenhouse gas emissions and created a shared inventory of high-impact actions through a pilot test with the Carbon Disclosure Project. Today, we see the fruits of these early endeavors to drive collaboration between cities and track their progress. Ahead of COP21, C40 released the third edition of its flagship research publication, Climate Action in Megacities 3.0, showing that cities have taken more than 10,000 climate actions since COP15 in Copenhagen—30 percent of which was taken as a result of city-to-city collaboration. 70 percent of C40 cities report that they are currently experiencing the impact of climate change. As a result, C40 mayors are setting ambitious targets and long-term strategies: in 2015, cities reported plans to expand nearly all (88 percent) actions currently underway, up from 30 percent in 2011.
I'm proud and honored to have had the chance to chair the C40, build on the foundational work of Livingstone and to watch the continued momentum of the organization under the leadership of Bloomberg and now the chairmanship of Mayor Educardo de Costa Paes of Rio de Janeiro. I'm especially grateful to have had the chance to work closely with innovative, effective and committed mayors from all parts of the globe on perhaps not just the most important issue of our time, but of all time. Together, we have made and are making, a tremendous difference.
2015 marks C40's 10 year anniversary. To celebrate C40's 10 Years of Results, they are featuring the voices of C40 principals, partners and other thought leaders throughout the year.
David Miller was C40 chair 2008 to 2010 and mayor of Toronto 2003-2010.
YOU MIGHT ALSO LIKE
Sandra Steingraber: Dispatches From the Paris Climate Talks
3 Reasons for Dramatic Shift at Paris Climate Summit
Roadmap for Climate Action Unleashes Cities Potential to Cut Global Carbon Emissions
Richard Branson Presents Sustainia Award for World's Most Innovative City Solution
EcoWatch Daily Newsletter
Related Articles from EcoWatch
Recent Stories from EcoWatch