This website uses cookies to ensure you get the best experience while browsing it. By clicking 'Got It' you're accepting these terms.
10 Ways to Teach Your Child to Eat Well
Mar. 26, 2014 09:44AM EST
If you are a parent, chances are one of your biggest concerns (or struggles or triumphs) is getting your child to eat a healthy diet. But is getting your kids to eat their vegetables enough?
Food Tank's Danielle Nierenberg and Sarah Small point out in The Telegraph that a new study claims children of strict parents are more likely to be overweight. So which methods are most effective to encourage healthy eating in children?
Nirenberg and Small sum it up: "We need to help children learn where their food comes from, who grows it and why it's important to share meals with friends and family."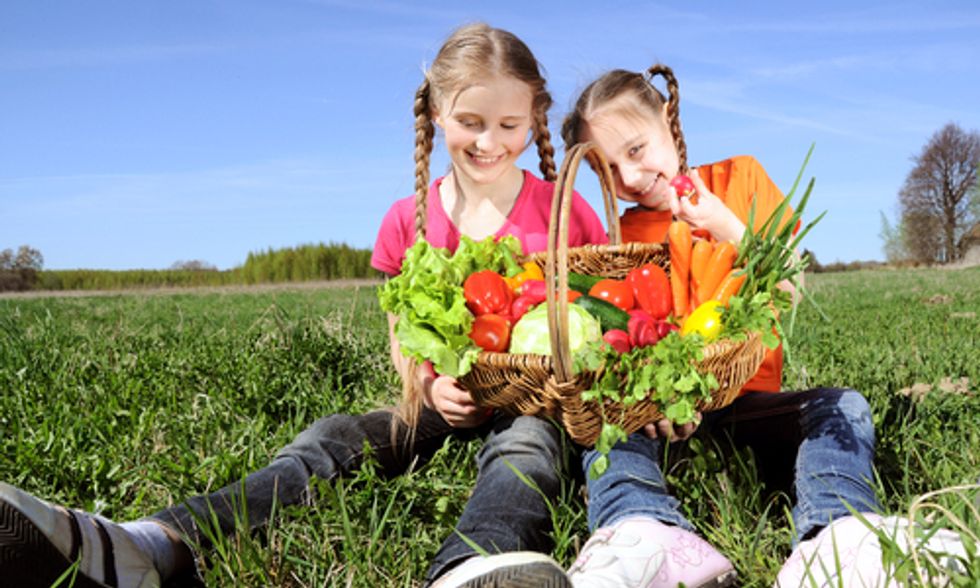 Photo courtesy of Shutterstock
Here are the 10 tips the pair provides to help families eat with greater awareness while engaging children in food and agriculture:
1. Read books about food. There are dozens of books that teach kids about where food comes from, who grows it and what sorts of foods are both healthy and delicious. To Market, To Market by Nikki McClure, for example, is a story of mother and son who go to the weekly farmers' market where they learn how each food they come across was grown or produced. Or The Good Garden by Katie Smith Milway, where a teacher at Maria's school introduces her to sustainable farming practices that she begins to implement in her family's garden at home.
 

2. Play games. More and more computer and video games are incorporating food, like DooF (the word 'food' backwards), a combination of computer games, videos and a website where kids can read and learn about food-related topics. DooF takes a comprehensive approach to food, exploring not only the food itself, but also the culture, science and history behind it. Kids can play "Planet DooF," geared toward teaching children the origin of healthy food, such as fruits and vegetables.
 

3. Encourage farm-to-school and environment-based curricula in schools. Jamie Oliver's Food Revolution (JOFR), for example, is a nonprofit organization that delivers food education to schools, youth groups, businesses and communities. JOFR teaches children about fruits and vegetables, facts on obesity and diabetes, and how to campaign for better school food. "Learn Your Fruits and Vegetables," teaches children about foods they are unfamiliar with, where they come from and how they affect the body. And in Europe and the U.S., the organization Growing Food Connections prepares the next generation of leaders in food systems planning by developing curricula on food and agriculture.
 

4. Engage kids in community gardens and farms. Green Youth Farm is a Chicago-based farm that hires high school students and encourages sustainable practices in farming, cooking and selling food. And in Todmorden, England, Incredible Edible plants gardens around town and every school in now involved in the growing process as a form of food-based learning.
 

5. Understand the importance of biodiversity. SeedMap.org is a website dedicated to seeds, biodiversity and food with an interactive map showing seed diversity around the world and a map of the origins of food.
 

6. Start a school campaign dedicated to food security issues. The World Food Programme is partnering with eBay's Giving Works project to raise money to provide healthy school meals to kids in need. And Tesco's Eat Happy Project tackles children's diet-related health problems and helps the next generation have a healthier and happier relationship with food through farm to fork trails, teaching toolkits and virtual field trips.
 

7. Start a family garden. Families can begin gardening on a small scale with herbs that can grow on the windowsill. And when kids are involved in the process of planting, watering, harvesting and preparing food with the herbs they grow, they feel more connected to food.
 

8. Watch educational programs. Catherine Gund's What's on Your Plate Project follows multiple kids and their families in their journey to learn more about the food system. Along the way, they discover the importance of being aware of what goes into food, where it comes from and who creates it.
 

9. Include kids in meal planning. Family trips to the grocery store and farmer's market will provide a learning experience outside of the home and the classroom. Creating shopping lists together will help children read and develop organizational skills. They can also learn how to categorize food and at the grocery store they'll be able to interact with fruits and vegetables, work out how many are necessary for a meal, identify colors and touch and feel the food.
 

10. Establish family meal times. Sharing meals as a family fosters better communication skills and a stronger sense of belonging, according to a study by North Dakota State University. A University of Florida study found that eating together at mealtimes builds stronger family bonds, reduces the likelihood of obesity and increases the likelihood that each family member is getting a nutritious, balanced diet.

 Any other methods you have used to engage your children with food and agriculture?
Visit EcoWatch's TIPS and HEALTH pages for more related news on this topic.
EcoWatch Daily Newsletter
A Starbucks barista prepares a drink at a Starbucks Coffee Shop location in New York. Ramin Talaie / Corbis via Getty Images
By Cathy Cassata
Are you getting your fill of Starbucks' new Almondmilk Honey Flat White, Oatmilk Honey Latte, and Coconutmilk Latte, but wondering just how healthy they are?
By Sharon Kelly
Back in April last year, the Trump administration's Environmental Protection Agency decided it was "not necessary" to update the rules for toxic waste from oil and gas wells. Torrents of wastewater flow daily from the nation's 1.5 million active oil and gas wells and the agency's own research has warned it may pose risks to the country's drinking water supplies.
Swedish climate activist Greta Thunberg takes part in a "Friday for Future" youth demonstration in a street of Davos on Jan. 24, 2020 on the sideline of the World Economic Forum annual meeting. FABRICE COFFRINI / AFP via Getty Images
Treasury Secretary Steven Mnuchin pretended not to know who Greta Thunberg is, and then he told her to get a degree in economics before giving world leaders advice, as The Guardian reported.
The Visible Infrared Imaging Radiometer Suite on the Suomi NPP satellite acquired this image of forest fire smoke hovering over North America on Aug. 15, 2018. NASA Earth Observatory
New York City isn't known for having the cleanest air, but researchers traced recent air pollution spikes there to two surprising sources — fires hundreds of miles away in Canada and the southeastern U.S.
If temperatures continue to rise, the world is at risk from global
sea-level rise
, which will flood many coastal cities as seen above in Bangladesh. NurPhoto / Contributor / Getty Images
The mounting climate emergency may spur the next global financial crisis and the world's central banks are woefully ill equipped to handle the consequences, according to a new book-length report by the Bank for International Settlements (BIS), as S&P Global reported. Located in Basel, Switzerland, the BIS is an umbrella organization for the world's central banks.