This website uses cookies to ensure you get the best experience while browsing it. By clicking 'Got It' you're accepting these terms.
10 Ways to Help Birds This Summer
Jun. 25, 2014 12:11PM EST
Perhaps you already followed the 10 pointers to help birds in the spring, or you provided nesting material to birds in your garden. But now that it's officially summer, what can you do to help our feathered friends?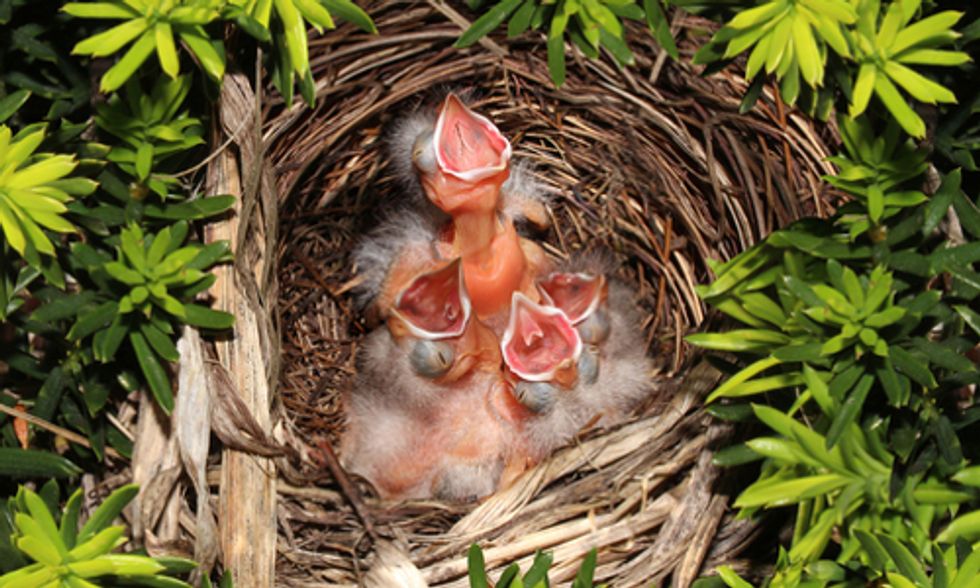 Photo courtesy of Shutterstock
During summertime, billions of birds throughout North America are busy raising their young and already preparing for migration. "The next three months are critical," says American Bird Conservancy President George Fenwick. "Some studies suggest that perhaps as many as half of all migrating birds do not make it back home, succumbing to various threats along the way. Our birds need all the help they can get."
While birds have instincts (and smarts—a recent study found crows are as smart as seven-year-olds), it doesn't mean they can't use some assistance with their life-sustaining tasks. "Simple instinct is not always enough to keep the birds alive given the enormous tracts of habitat that have become suburban sprawl; the draining of waterways; the loss of biomass to pesticides; air and water contamination; and other threats such as window glass, cats and wind turbines," continues Fenwick.
Here are American Bird Conservancy's recommended top 10 ways you can help birds breed successfully and prepare for fall migration.
1. Leave baby birds alone.
If you find a baby bird out of its nest, don't pick it up or bring it indoors. Although people mean well by "rescuing" the baby birds they find, in almost all cases, the parents are nearby and know best how to care for their young. An exception is injured birds, which can be taken to a local wildlife rehabilitator for treatment.
2. Ensure dogs and cats stay away from young birds.
Free-roaming cats kill billions of birds every year, taking an especially high toll on fledglings. Loose dogs also have an impact on nesting birds; for example, roaming dogs are suspected of recently wiping out a colony of threatened Least Terns in Florida. Keep your pets contained, and be especially cautious near beach-nesting birds.
3. Keep things fresh.
Your birdbath or other water feature should be cleaned regularly and kept filled with fresh water. Hummingbird feeders also need special attention, as hummingbirds will be switching back from an insect-rich diet to nectar in preparation for flights south in the fall. Be sure to thoroughly clean hummingbird feeders and replace the sugar water before it ferments—usually within three to seven days depending on the heat and sun.
4. Maintain your land in a bird-friendly fashion.
Consider letting some of your yard or other property go "wild," or garden with native plants. Even small wild areas act as sources of food and shelter for birds through the summer. Avoid or minimize tree trimming to prevent disturbance to nesting birds. Where possible, avoid mowing grass in large fields and roadsides until after July to enable ground-nesting grassland birds to safely fledge.


5. Be a good landlord.
If you're lucky enough to have swallows or phoebes nesting on your porch or carport, keep the nest intact. The birds will be gone soon enough, and in the meantime, they will help you out by eating hundreds of insects each day. If you have active nest boxes, clean them out after the young have fledged. Old nesting material attracts parasites and can be a source of disease.
6. Don't spray: Stay away from pesticides.
Reconsider using pesticides, since even products labeled as "safe" will likely have negative consequences on birds. For example, many home and garden products include neonicotinoids, or neonics, which have been found to be deadly to both bees and birds in even minute amounts. See this list of products to avoid from our friends at the Center for Food Safety.
7. Celebrate good times … without balloons.
When weddings, graduations and other parties are on your list of to-do's, put balloons on your list of don'ts. Birds can become entangled in the long ribbons; individuals have been found hanging from trees or asphyxiated. Birds may also ingest the deflated balloon itself, which can eventually block the digestive tract and cause the animal to starve.
8. Turn the outdoor lights out.
Review your outdoor lighting for unnecessary disturbance to night-flying birds (as well as wasted energy). Bright artificial lights can disorient migrating birds and make collisions with windows, buildings and other structures more likely. Consider putting steady burning lights on motion sensors. Or, if your outdoor lighting needs permit, consider blue and green LED lights as they are less distracting to night-migrating birds.
9. Be a bird-friendly boater.
If you're boating, avoid disrupting birds. Boats operated in proximity to nesting birds can cause behavioral changes, even leading to nest abandonment and failure in some cases. If you notice congregations of birds, steer clear to enable them to spend their energy on gathering food and raising their young.
10. Gone fishing? Remember the birds.
Discard fishing line properly in trash receptacles, since entanglement in line is a common and preventable source of bird mortality. If you accidentally hook a bird, don't cut the fishing line. Instead, net the bird, cut the barb off the hook, and push it backward to remove. Just as important, be sure to use only nonlead fishing gear. Scores of birds suffer mortal poisoning from ingesting lead weights in fishing gear.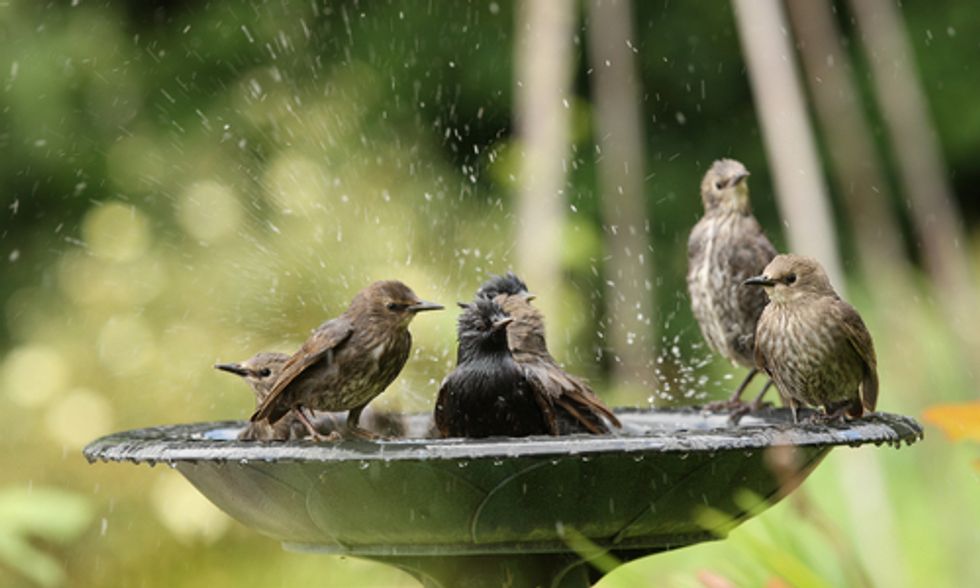 Starlings enjoying a water bath. Photo courtesy of Shutterstock
Why not take these simple steps to protect birds—and enjoy some birdwatching in your backyard at the same time? (And if you're a true bird junkie, check out the 100 rarest birds in the world and the five types of birds your grandchildren may never see but wish they could.)
EcoWatch Daily Newsletter
Deserted view of NH24 near Akshardham Temple on day nine of the 21-day nationwide lockdown to curb the spread of coronavirus on April 2, 2020 in New Delhi, India. Raj K Raj / Hindustan Times via Getty Images
A Unicef social mobilizer uses a speaker as she carries out public health awareness to prevent the spread and detect the symptoms of the COVID-19 coronavirus by UNICEF at Mangateen IDP camp in Juba, South Sudan on April 2. ALEX MCBRIDE / AFP / Getty Images
By Eddie Ndopu
South Africa is ground zero for the coronavirus pandemic in Africa.
Its townships are typical of high-density neighbourhoods across the continent where self-isolation will be extremely challenging.
The failure to eradicate extreme poverty is a threat beyond the countries in question.
The outside of the Food and Drug Administration headquarters in White Oak, Md. on Nov. 9, 2015. Al Drago / CQ Roll Call
The U.S. Food and Drug Administration has approved the use of two malarial drugs to treat and prevent COVID-19, the respiratory infection caused by the SARS-CoV-2 coronavirus, despite only anecdotal evidence that either is proven effective in treating or slowing the progression of the disease in seriously ill patients.

Some
speculate
that the dissemination of the Antarctic beeches or Nothofagus moorei (seen above in Australia) dates to the time when
Antarctica
, Australia and
South America
were connected. Auscape / Universal Images Group / Getty Images
A team of scientists drilled into the ground near the South Pole to discover forest and fossils from the Cretaceous nearly 90 million years ago, which is the time when dinosaurs roamed the Earth, as the BBC reported.
The recovery of elephant seals is one of the "signs of hope" that scientists say show the oceans can recover swiftly if we let them. NOAA /
CC BY 2.0