This website uses cookies to ensure you get the best experience while browsing it. By clicking 'Got It' you're accepting these terms.
10 Stunning Photos of Rare Northern Lights (And How to Take Your Own)
Nov. 03, 2015 02:07PM EST
Science
The northern half of the U.S. is in for a rare treat this week. The Northern Lights will be visible across much of the upper parts of the country, according to Accuweather.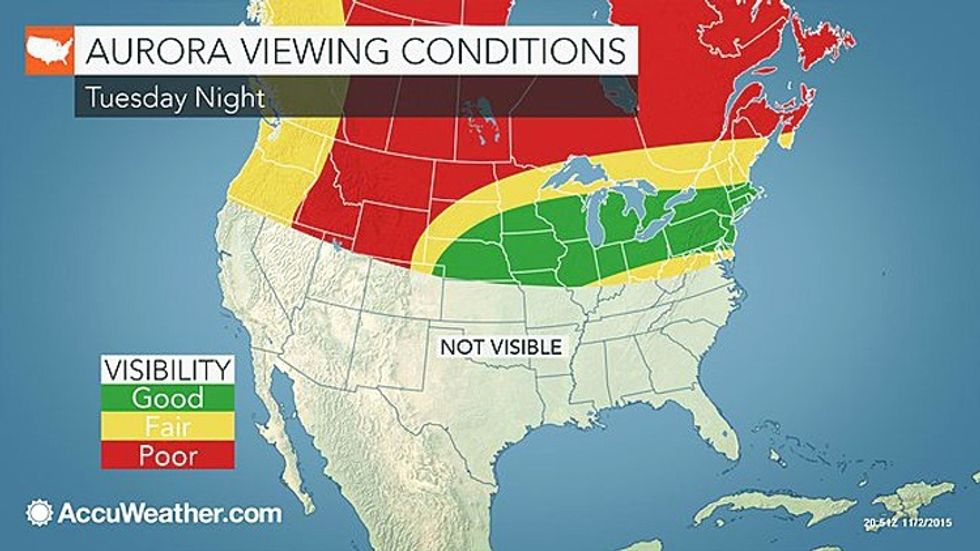 Typically, in North America, you have to be in Canada or Alaska to catch a glimpse of this spectacular planetary light show. But due to a "huge solar storm," stargazers from New Hampshire to Nebraska might see the show tonight. Unfortunately, the skies in the Pacific Northwest and Canada will probably be too cloudy to have a good view, says Accuweather.
Here are the keys to catching a glimpse (and a photo) of the Aurora borealis, according to Accuweather:
If you're in an area where the clouds are not obstructing your view of the night sky, you may still have to do more than stepping into your back yard to see the aurora.
Being in a dark area with a clear view of the northern horizon is key to seeing the aurora. If you are trying to catch a glimpse of the aurora, you should travel to a spot that is far away from the light pollution given off by cities and towns.
Being in a dark area is also important if you are trying to capture a picture of the northern lights. For the best results, you should use a camera that allows to you take pictures with an exposure of 10 to 30 seconds.
And if you're wondering what the heck you're looking at, the Northern Lights are caused by "collisions between electrically charged particles from the sun that enter the earth's atmosphere," explains the Northern Lights Centre in Canada. "The lights are seen above the magnetic poles of the northern and southern hemispheres. They are known as 'Aurora borealis' in the north and 'Aurora australis' in the south."
And even if you don't end up seeing the Northern Lights, you might catch the Taurids meteor shower. The meteor shower "will last into the middle of November, producing roughly five to 10 meteors per hour," says Accuweather. The Taurids are known for the brightness—sometimes shining even brighter than Venus, the third brightest object in the sky.
"The gradual peak of the shower is now through Nov. 12, with a possible absolute peak on the night of Nov. 11," reports AccuWeather Meteorologist Dave Samuhel.
And if you can't see anything, you can always watch super cool YouTube videos of the sun like you've never seen it before, this breathtaking time lapse video of the night sky or this amazing video of Yellowstone by moonlight.
YOU MIGHT ALSO LIKE
Breathtaking NASA Video Shows the Sun Like You've Never Seen It Before
Elon Musk's Brother Wants to Revolutionize Our Food System
Millions of Dog-Coyote-Wolf Hybrids Now Roam Eastern U.S.
CBS Reporter Ben Swann Tells the Truth About CDC Vaccine Cover-Up
EcoWatch Daily Newsletter
California Gov. Gavin Newsom speaking with attendees at the 2019 California Democratic Party State Convention at the George R. Moscone Convention Center in San Francisco.
Gage Skidmore
/ Flickr /
CC BY-SA 2.0
California Gov. Gavin Newsom imposed new restrictions on oil exploration in his state yesterday by putting a moratorium on hundreds hydraulic fracturing permits until the projects are reviewed by independent scientists, as the AP reported.
The endangered Houston toad. Courtesy of U.S. Fish and Wildlife Service
While the planet continues to heat up, almost every single one of the 459 species listed as endangered in the U.S. will struggle as the climate crisis intensifies, according to new research published in the journal Nature Climate Change.
"This singular scientific achievement was accomplished at Heliogen's commercial facility in Lancaster, California."
Heliogen
A startup backed by Bill Gates unveiled a breakthrough solar technology Tuesday that could free heavy industry from fossil fuels.
Rhodiola rosea is an adaptogenic herb that can help with chronic fatigue and stress-related burnout. Tero Laakso / Flickr
By Gavin Van De Walle, MS, RD
While everyone has specific life stressors, factors related to job pressure, money, health, and relationships tend to be the most common.
Stress can be acute or chronic and lead to fatigue, headaches, upset stomach, nervousness, and irritability or anger.
A video shows a woman rescuing a koala from Australia's wildfires.
VOA News / YouTube screenshot
More than 350 koalas may have died in the wildfires raging near the Australian town of Port Macquarie in New South Wales, but one got a chance at survival after a woman risked her life to carry him to safety.