10 Stunning Images Show Human's Huge Impact on the Earth
Mar. 13, 2016 10:30AM EST
Climate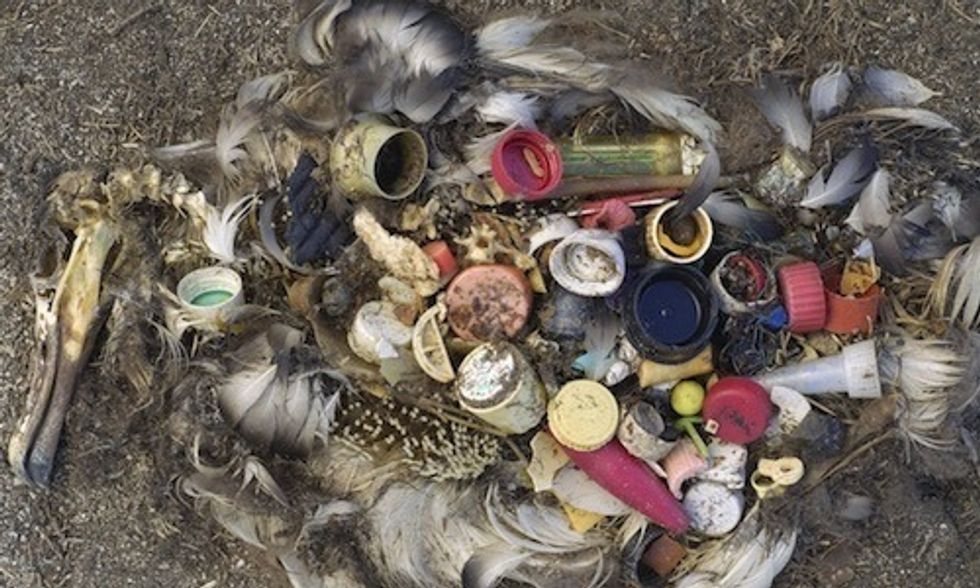 Over the course of human history, man's ongoing destruction of the environment has forever altered our natural surroundings.
Proof of humanity's devastating footprint on Earth can be seen in these stunning images below, graciously provided to EcoWatch by the organizers of FotoFest, an internationally known photographic arts and learning nonprofit based in Houston, Texas.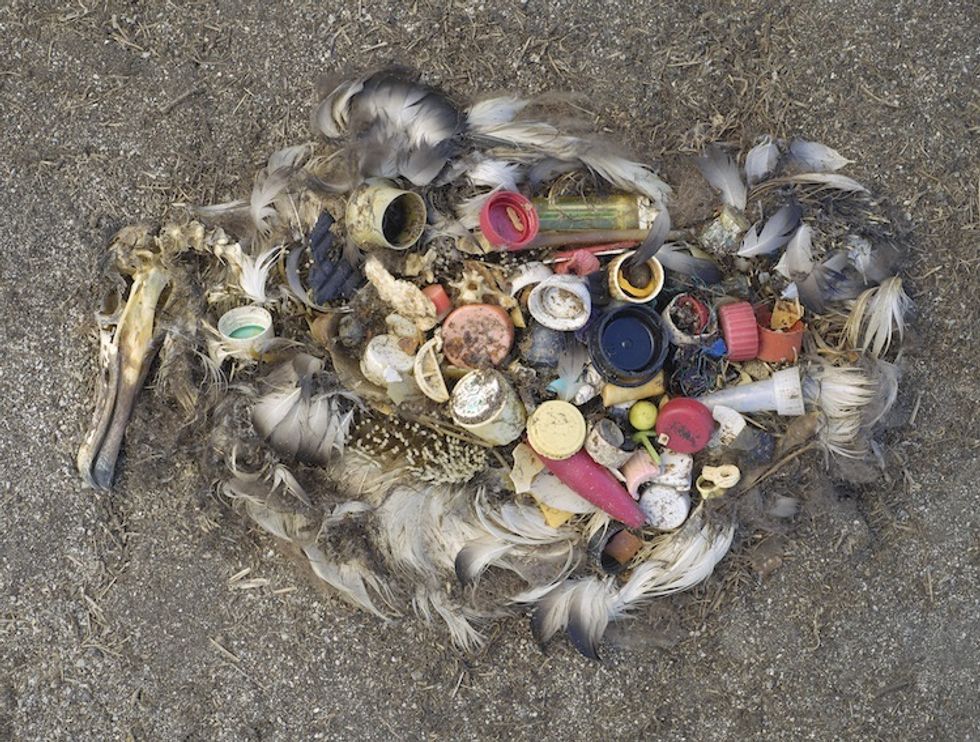 Unaltered Stomach Contents of a Laysan Albatross Fledgling, Midway Island, 2010
. From the series Midway: Message from the Gyre, 2009 - 2016. 
Photo credit: Courtesy of the artist Chris Jordan
FotoFest is hosting their 2016 Biennial, a citywide exhibition which runs March 11 through April 24 under the theme "Changing Circumstances: Looking at the Future of the Planet."
The exhibition will address all the major aspects of anthropocene—or, broadly, the age of man. In these photos, you'll see marine debris and ocean plastics that have choked our waterways and aquatic life; how mining and drilling for Earth's precious resources has destroyed our landscape and spewed emissions that warm the atmosphere and melt glaciers; and how mountains of trash are left to rot in ever-growing landfills.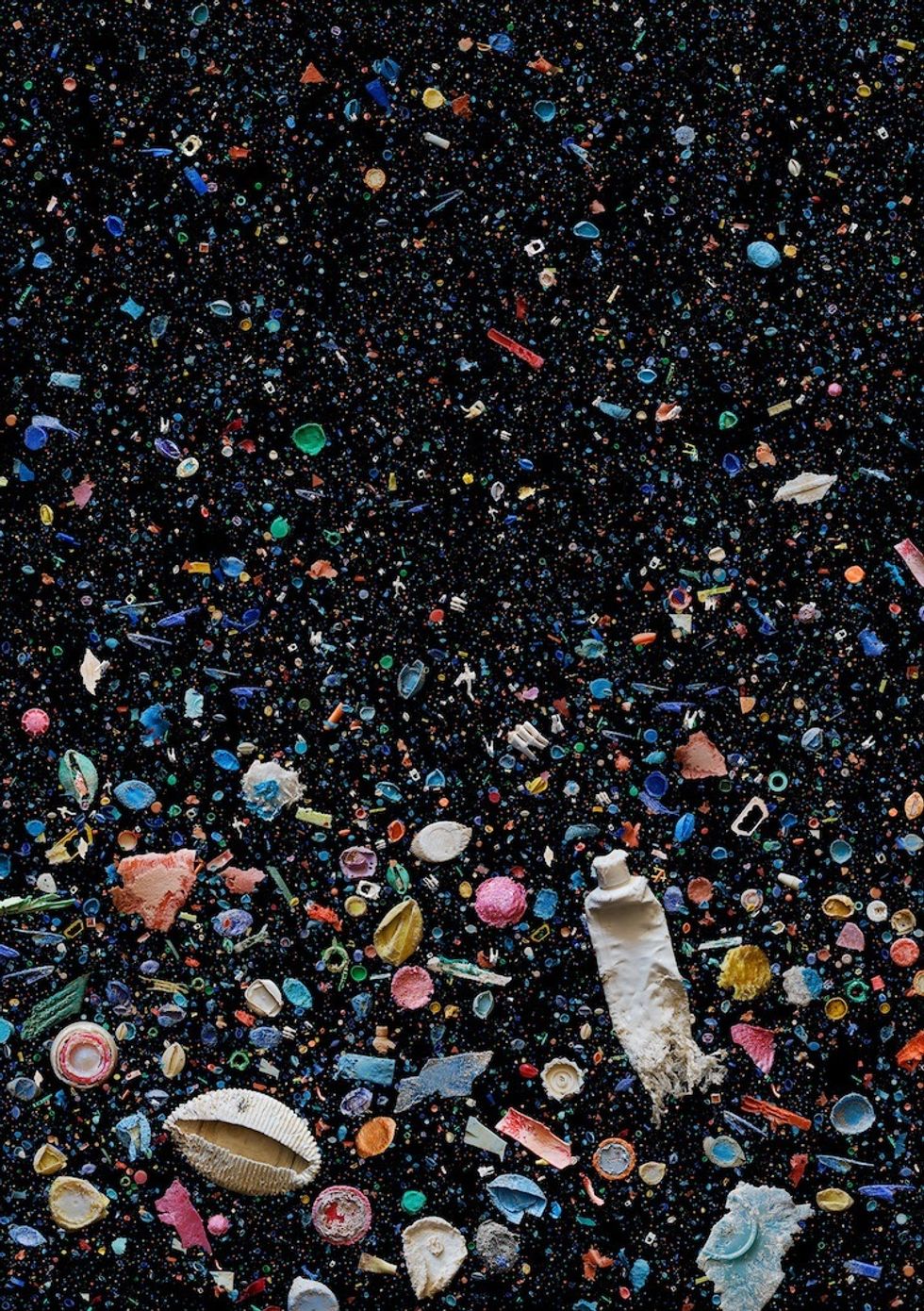 SOUP: Refused, 2011. 
Ingredient: plastic oceanic debris affected by the chewing and attempted injestion by animals. Includes a toothpaste tube. Photo credit: 
Courtesy of the artist Mandy Barker
The exhibition is a collaboration between FotoFest co-founders Wendy Watriss and Fred Baldwin and FotoFest executive director Steven Evans. Watriss and Baldwin have been developing the concept for the past five years and Evans wanted make it the focus of the FotoFest 2016 Biennial.
"After many years of doing environmental programming at FotoFest for over 20 years and recent discussions with many scientists, policy-makers and artists across the world, we thought it was to take a new approach to 'looking at' the relationship of human society to the Earth," Watriss told EcoWatch.
"The work selected by FotoFest for this 2016 Biennial looks at the beauty and diversity of life on Earth alongside the imprint that human beings are leaving on the planet. Collectively these works can be seen as a call to a new vision, a new way of seeing the Earth and our relationship to it."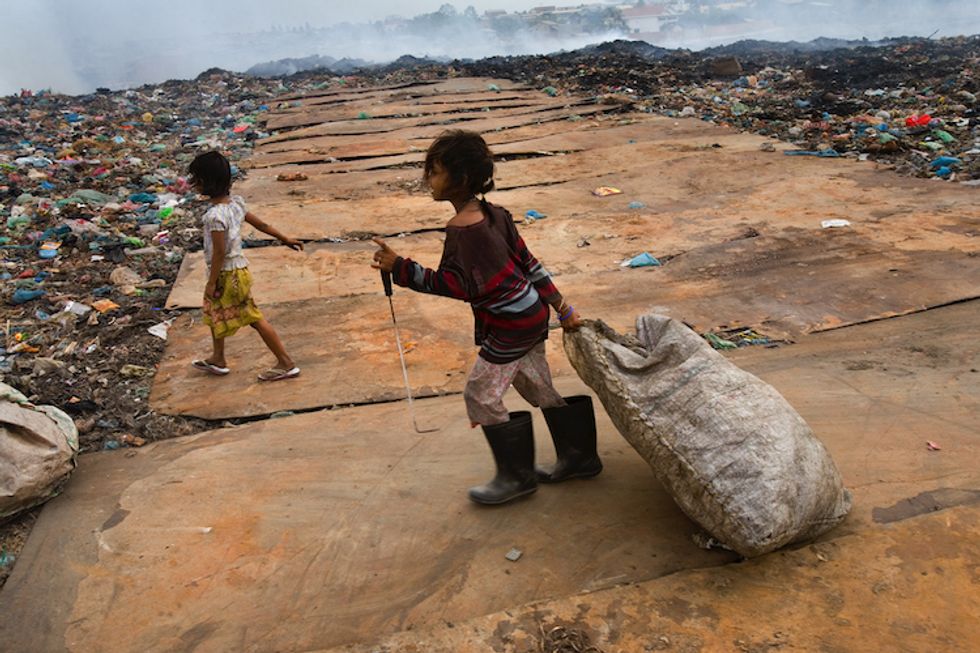 Girls with Sacks, 2007. 
Young girls drag sacks of rubbish they collected during a days work. They walk across a heavy steel plate roadway which stops heavy vehicles sinking into the rubbish.
 From the series Smokey Mountain and Recycling Phnom Penh, 2007-2010. 
Photo credit: Courtesy of artist Nigel Dickinson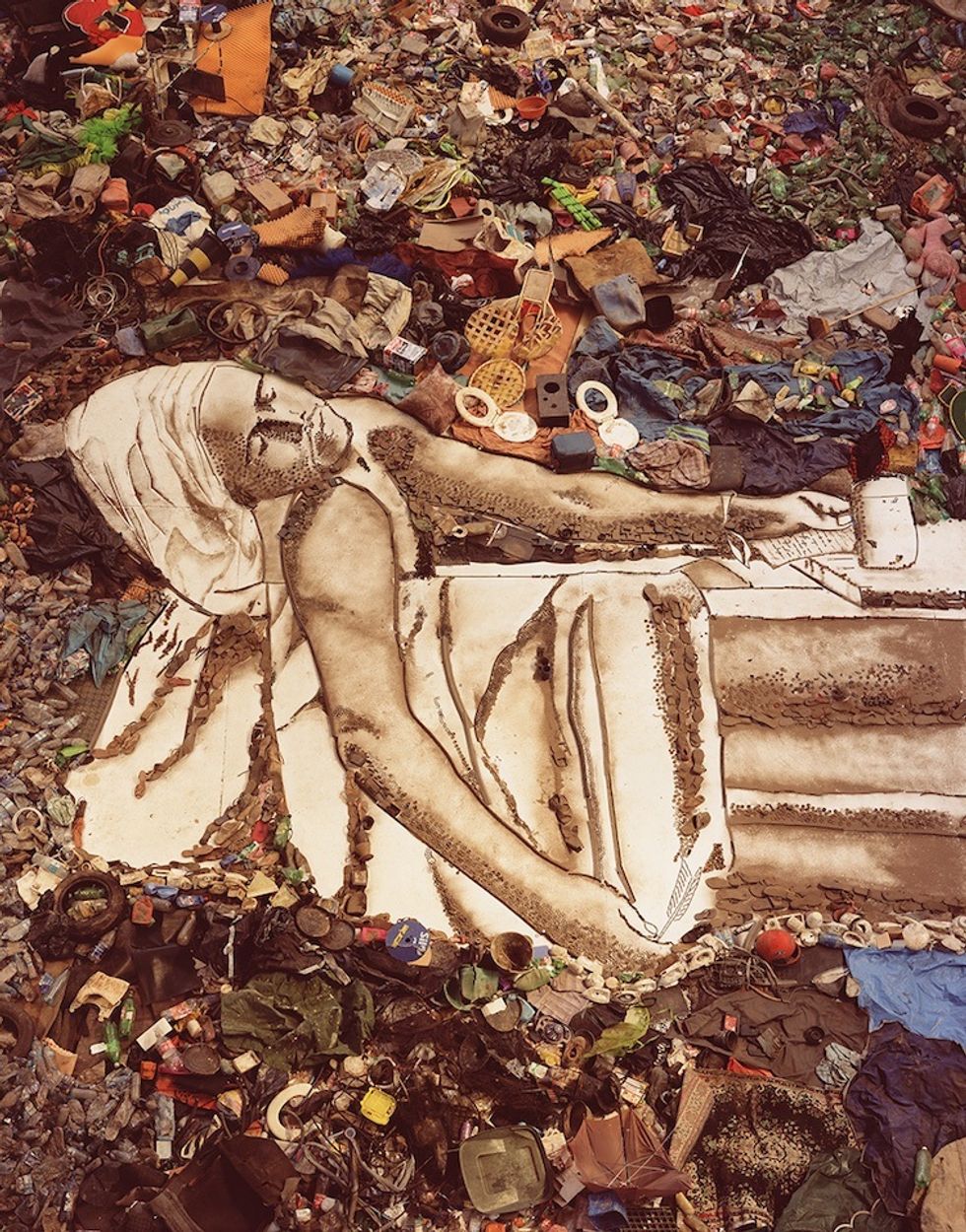 To create the Pictures of Garbage series, Vik Muniz worked with the catadores, or pickers, from the world's largest landfill: Jardim Gramacho in Rio de Janeiro, Brazil. Photo credit: Courtesy of the artist Vik Muniz
The artworks at the exhibition depict topics such as climate change, industrialization and urbanization, biodiversity, water, the use of natural and human resources, human migration, global capital, commerce and consumption, energy production and waste.
"It is time again to 'see' the beauty and wonder of this planet. How do we stimulate people to actually care about the Earth and what is happening to it? What can art do in this regard?" Watriss said. "We have found that many artists are looking at these same questions and exploring how they, as individuals and members of a society, relate to the natural world around them."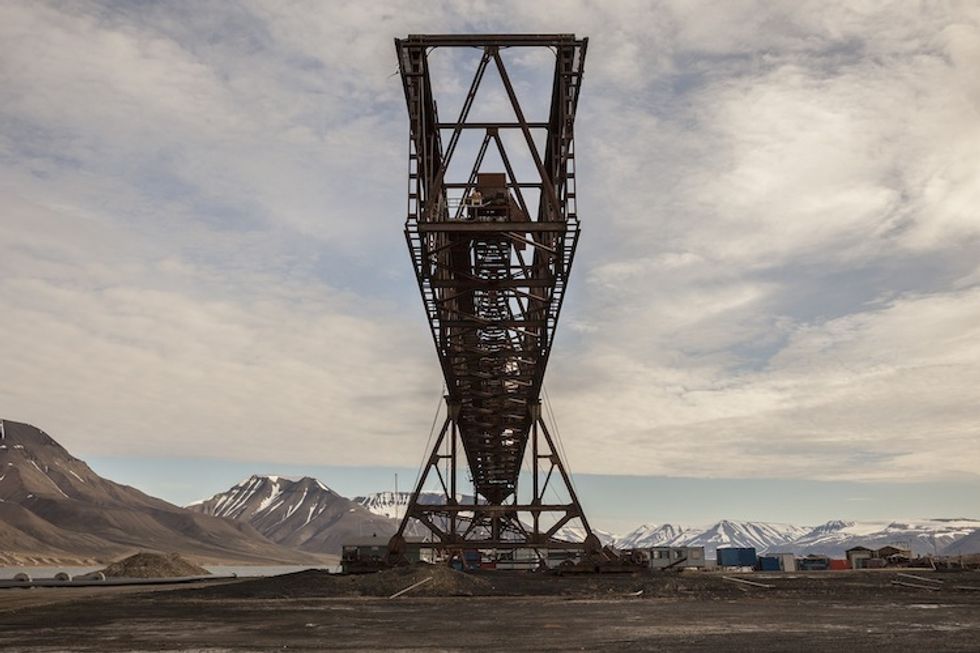 Titan Crane, Hotellneset Coal Harbour, Longyearbyen, Spitsbergen, Norway, 2012
. From the series The Metabolic Landscape, 2011-2016. Photo credit: Courtesy of the artist Gina Glover
The exhibition will feature pieces from artists who hail from nine countries across Europe, Asia, and North and South America.  Many of the artists will travel to Houston to participate in lectures, tours and other programs during the Biennial.
Scroll down to the photos at the bottom of this post, and you'll notice that mankind is finding ways to survive on a warming planet, where hurricanes are getting stronger and droughts are hitting harder.
From renewable energy to green buildings and rooftops, many of us are making positive changes to mitigate a global catastrophe. At least we have to before it's too late.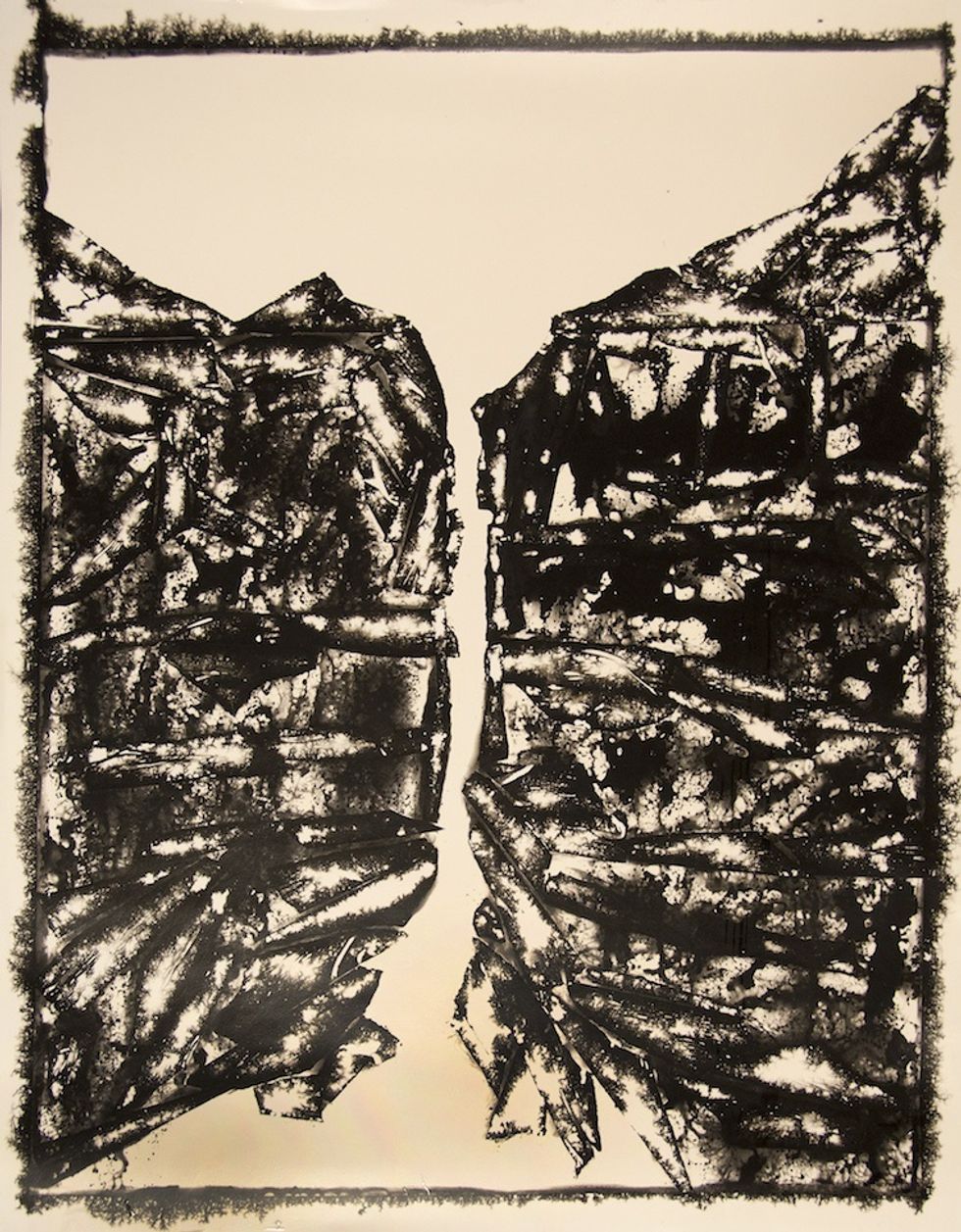 AfterRip, 2015. 
From the series Afterfracking. 
Photo credit: Courtesy of the artist Roberto Fernández Ibáñez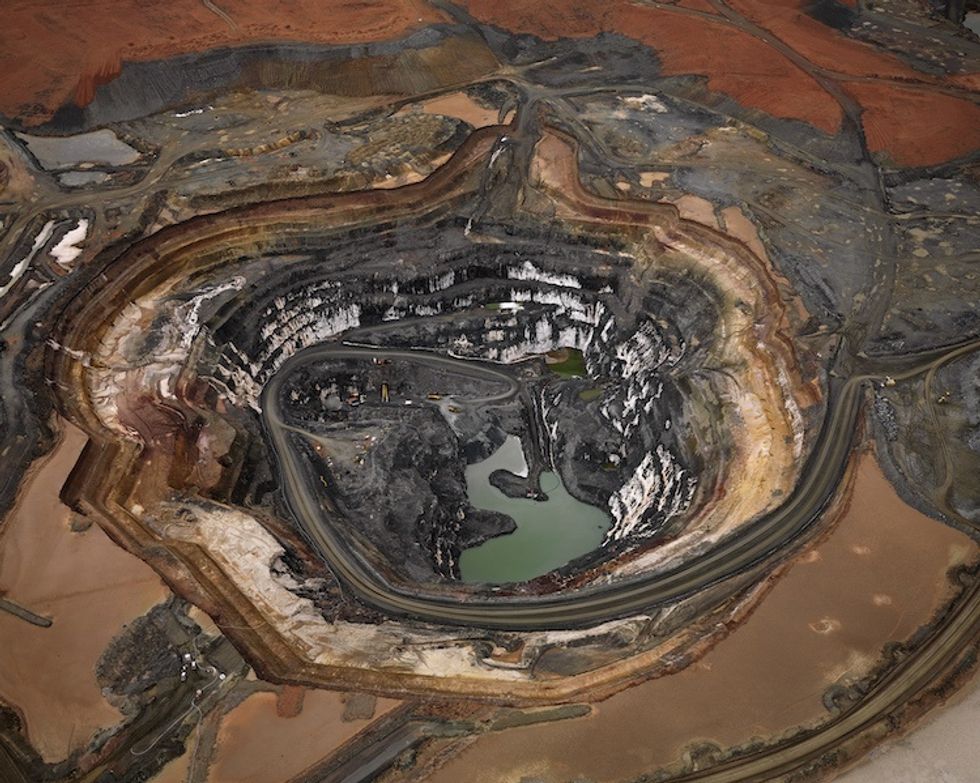 Silver Lake Operations # 1, Lake Lefroy, Western Australia, Australia, 2007
. From the series Mines, 2007. Photo credit: 
Courtesy of the artist Edward Burtynsky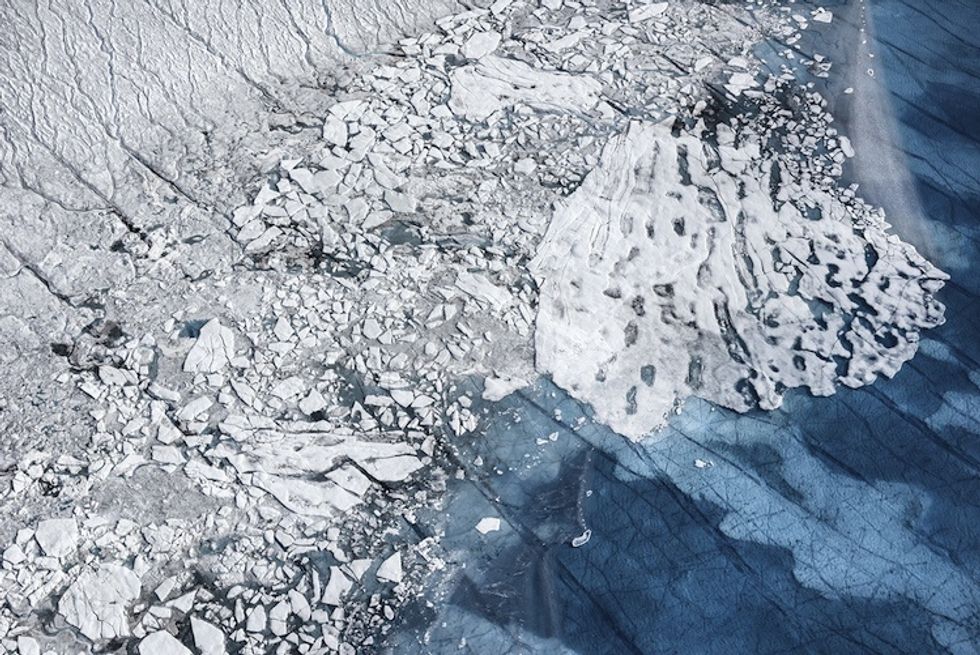 Water collects in unnamed seasonal lake atop the Greenland ice sheet, 75 miles southeast of Ilulissat. With the Earth's warming climate, the melt season now stretches 70 days longer than it did in the early 1970s, 2014
. From the series Greenland
. Photo credit: Courtesy of the artist Daniel Beltrán and Catherine Edelman Gallery, Chicago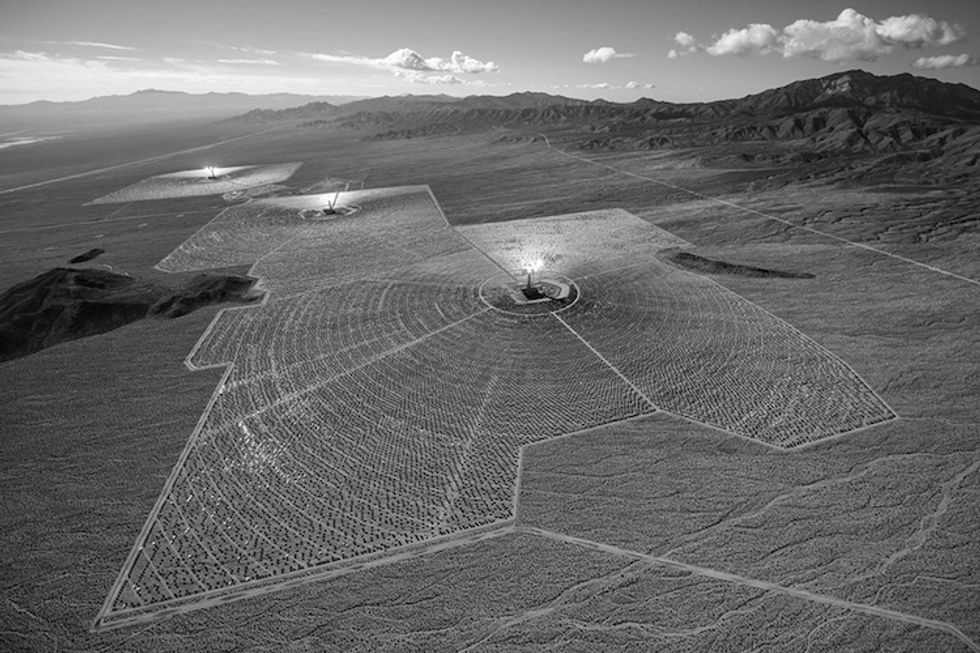 From the series The Evolution of Ivanpah Solar. Photo credit: Courtesy of the artist Jamey Stillings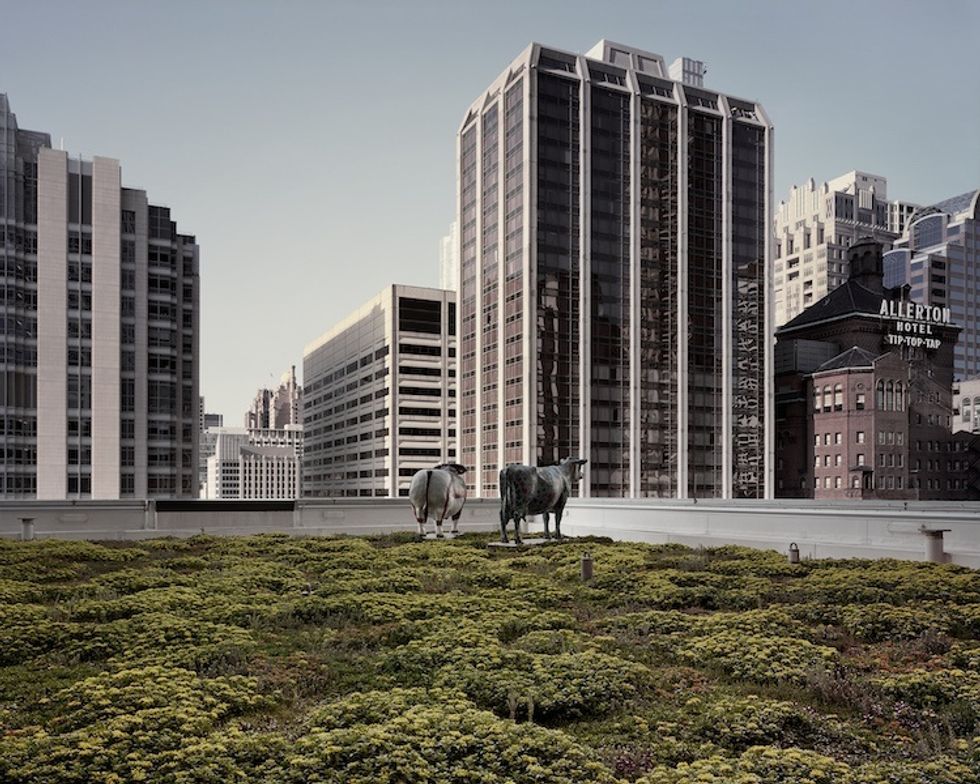 Lurie Children's Memorial (looking Southwest) – Chicago, IL May, 2012. 
From the series Rooftop.
 Photo credit: Courtesy of the artist Brad Temkin and Innova Art LTD
YOU MIGHT ALSO LIKE
6 Stunning Images Show Sense of Urgency to Act on Climate
3 Ways Climate Change Impacts Our Pets
Cancer Survivor Climbs World's Tallest Peaks, Helps Others Do the Same
Air France airplanes parked at the Charles de Gaulle/Roissy airport on March 24, 2020. SAMSON / AFP via Getty Images
France moved one step closer this weekend to banning short-haul flights in an attempt to fight the climate crisis.
A bill prohibiting regional flights that could be replaced with an existing train journey of less than two and a half hours passed the country's National Assembly late on Saturday, as Reuters reported.
"We know that aviation is a contributor of carbon dioxide and that because of climate change we must reduce emissions," Industry Minister Agnes Pannier-Runacher told Europe 1 radio, according to Reuters.
The measure now has to pass the French Senate, then return to the lower house for a final vote. It would end regional flights between Paris's Orly airport and cities like Nantes and Bordeaux, The Guardian explained. It would not, however, impact connecting flights through Paris's Charles de Gaulle/Roissy airport.
The bill is part of a legislative package which aims to reduce France's emissions by 40 percent of 1990 levels by 2030, Reuters reported. It is a watered-down version of a proposal suggested by France's Citizens' Convention on Climate, BBC News explained. This group, which was formed by President Emmanuel Macron in 2019 and included 150 ordinary citizens, had put forward a ban on flights that could be replaced with an existing train journey of under four hours.
However, the journey length was lowered after protests from KLM-Air France, which had suffered heavy losses due to the coronavirus pandemic, and regions who were concerned about being left out of national transit networks, as The Guardian explained.
"We have chosen two and a half hours because four hours risks isolating landlocked territories including the greater Massif Central, which would be iniquitous," transport minister Jean-Baptiste Djebbari said, as The Guardian reported.
However, some environmental and consumer groups objected to the changes. The organization UFC-Que Choisir compared plane routes with equivalent train journeys of under four hours and found that the plane trips emitted an average of 77 times more carbon dioxide per passenger than the train journeys. At the same time, the train alternatives were cheaper and only as much as 40 minutes longer.
"[T]he government's choice actually aims to empty the measure of its substance," the group said, according to The Guardian.
The new measure also opens the French government to charges of hypocrisy. It bailed out Air France-KLM to the tune of a seven-billion euro loan last year, though it did require the airline to drop some domestic routes as a condition. Then, days before the measure passed, it more than doubled its stake in the airline, BBC News reported. However, Pannier-Runacher insisted to Europe 1 radio that it was possible to balance fighting climate change and supporting struggling businesses.
"Equally, we must support our companies and not let them fall by the wayside," she said, as Reuters reported.
This is not the first time that climate measures and aviation bailouts have coincided in the wake of the coronavirus pandemic. Austrian Airlines replaced its Vienna-Salzburg flight with additional train service after it received government money dependent on cutting greenhouse gas emissions, BBC News reported.
The number of flights worldwide declined almost 42 percent in 2020 when compared with 2019. It is expected that global aviation may not fully recover until 2024, according to Reuters.
EcoWatch Daily Newsletter
A woman looks at a dead gray whale on the beach in the SF Bay area on May 23, 2019; a new spate of gray whales have been turning up dead near San Francisco. Justin Sullivan / Getty Images
Four gray whales have washed up dead near San Francisco within nine days, and at least one cause of death has been attributed to a ship strike.
A small tourist town has borne the brunt of a cyclone which swept across the West Australian coast.
ABC News (Australia) / YouTube
A general view shows the remains of a dam along a river in Tapovan, India, on February 10, 2021, following a flash flood caused by a glacier break on February 7. Sajjad Hussain / AFP / Getty Images
By Rishika Pardikar
Search operations are still underway to find those declared missing following the Uttarakhand disaster on 7 February 2021.
This story originally appeared in Eos and is republished here as part of Covering Climate Now, a global journalism collaboration strengthening coverage of the climate story.
Indigenous youth, organizers with the Dakota Access and Line 3 pipeline fights and climate activists march to the White House to protest against pipeline projects on April 1, 2021. Bill Clark / CQ-Roll Call, Inc via Getty Images
By Jessica Corbett
Indigenous leaders and climate campaigners on Friday blasted President Joe Biden's refusal to shut down the Dakota Access Pipeline during a court-ordered environmental review, which critics framed as a betrayal of his campaign promises to improve tribal relations and transition the country to clean energy.