10 Stunning Images Show Human's Huge Impact on the Earth
Over the course of human history, man's ongoing destruction of the environment has forever altered our natural surroundings.
Proof of humanity's devastating footprint on Earth can be seen in these stunning images below, graciously provided to EcoWatch by the organizers of FotoFest, an internationally known photographic arts and learning nonprofit based in Houston, Texas.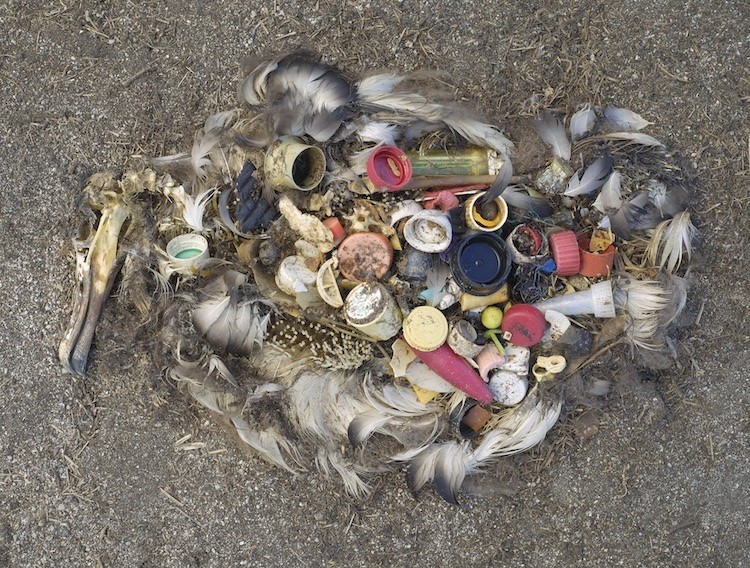 Unaltered Stomach Contents of a Laysan Albatross Fledgling, Midway Island, 2010
. From the series Midway: Message from the Gyre, 2009 - 2016. 
Photo credit: Courtesy of the artist Chris Jordan
FotoFest is hosting their 2016 Biennial, a citywide exhibition which runs March 11 through April 24 under the theme "Changing Circumstances: Looking at the Future of the Planet."
The exhibition will address all the major aspects of anthropocene—or, broadly, the age of man. In these photos, you'll see marine debris and ocean plastics that have choked our waterways and aquatic life; how mining and drilling for Earth's precious resources has destroyed our landscape and spewed emissions that warm the atmosphere and melt glaciers; and how mountains of trash are left to rot in ever-growing landfills.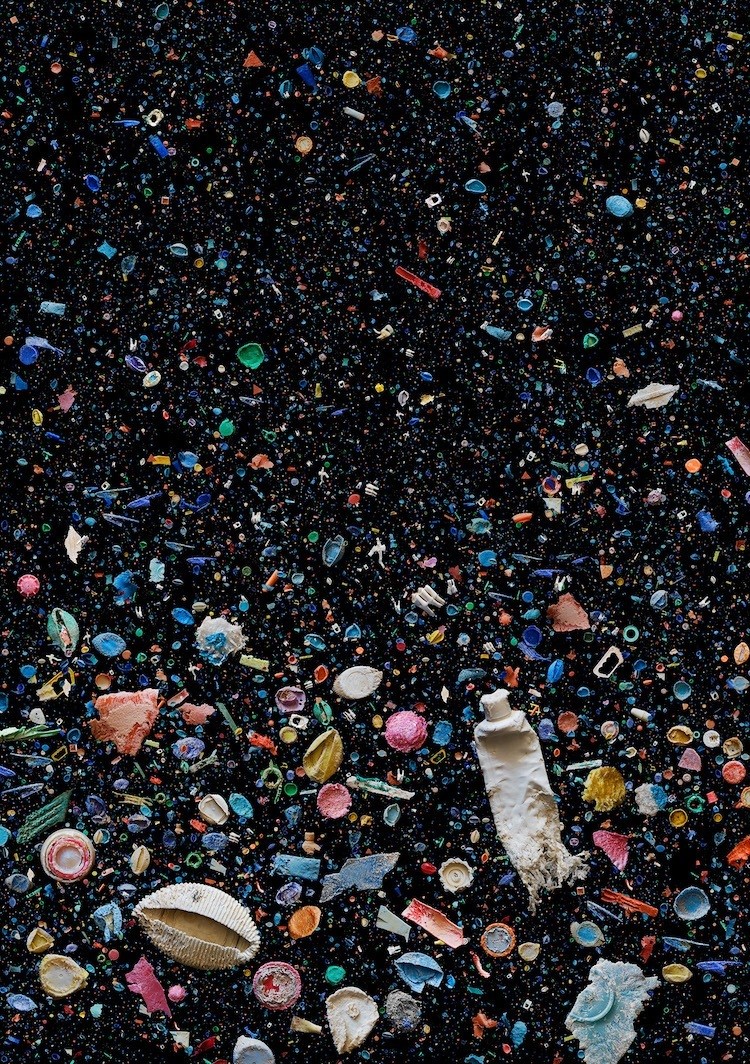 SOUP: Refused, 2011. 
Ingredient: plastic oceanic debris affected by the chewing and attempted injestion by animals. Includes a toothpaste tube. Photo credit: 
Courtesy of the artist Mandy Barker
The exhibition is a collaboration between FotoFest co-founders Wendy Watriss and Fred Baldwin and FotoFest executive director Steven Evans. Watriss and Baldwin have been developing the concept for the past five years and Evans wanted make it the focus of the FotoFest 2016 Biennial.
"After many years of doing environmental programming at FotoFest for over 20 years and recent discussions with many scientists, policy-makers and artists across the world, we thought it was to take a new approach to 'looking at' the relationship of human society to the Earth," Watriss told EcoWatch.
"The work selected by FotoFest for this 2016 Biennial looks at the beauty and diversity of life on Earth alongside the imprint that human beings are leaving on the planet. Collectively these works can be seen as a call to a new vision, a new way of seeing the Earth and our relationship to it."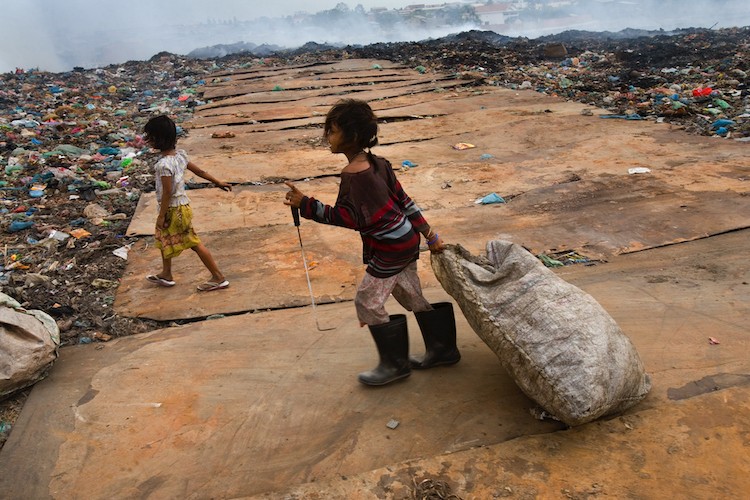 Girls with Sacks, 2007. 
Young girls drag sacks of rubbish they collected during a days work. They walk across a heavy steel plate roadway which stops heavy vehicles sinking into the rubbish.
 From the series Smokey Mountain and Recycling Phnom Penh, 2007-2010. 
Photo credit: Courtesy of artist Nigel Dickinson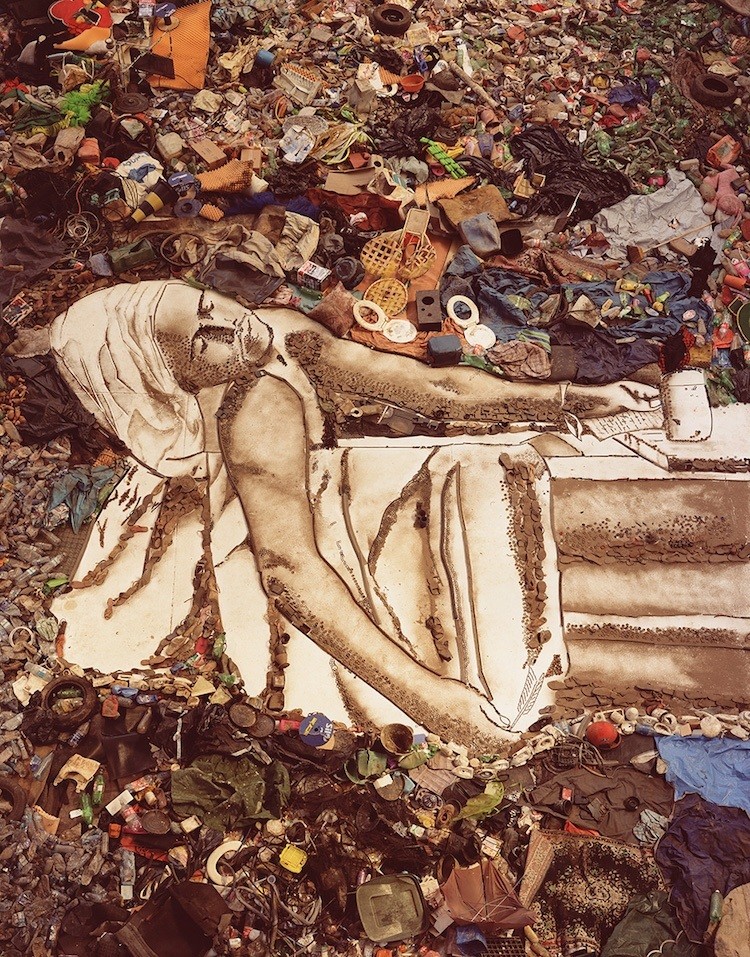 To create the Pictures of Garbage series, Vik Muniz worked with the catadores, or pickers, from the world's largest landfill: Jardim Gramacho in Rio de Janeiro, Brazil. Photo credit: Courtesy of the artist Vik Muniz
The artworks at the exhibition depict topics such as climate change, industrialization and urbanization, biodiversity, water, the use of natural and human resources, human migration, global capital, commerce and consumption, energy production and waste.
"It is time again to 'see' the beauty and wonder of this planet. How do we stimulate people to actually care about the Earth and what is happening to it? What can art do in this regard?" Watriss said. "We have found that many artists are looking at these same questions and exploring how they, as individuals and members of a society, relate to the natural world around them."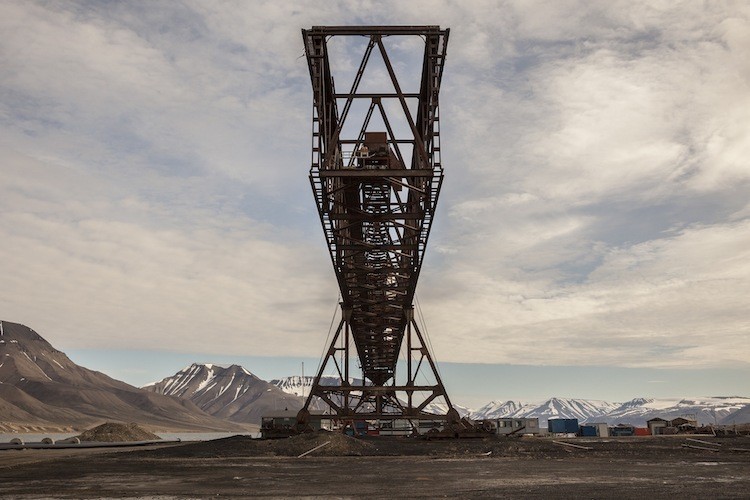 Titan Crane, Hotellneset Coal Harbour, Longyearbyen, Spitsbergen, Norway, 2012
. From the series The Metabolic Landscape, 2011-2016. Photo credit: Courtesy of the artist Gina Glover
The exhibition will feature pieces from artists who hail from nine countries across Europe, Asia, and North and South America.  Many of the artists will travel to Houston to participate in lectures, tours and other programs during the Biennial.
Scroll down to the photos at the bottom of this post, and you'll notice that mankind is finding ways to survive on a warming planet, where hurricanes are getting stronger and droughts are hitting harder.
From renewable energy to green buildings and rooftops, many of us are making positive changes to mitigate a global catastrophe. At least we have to before it's too late.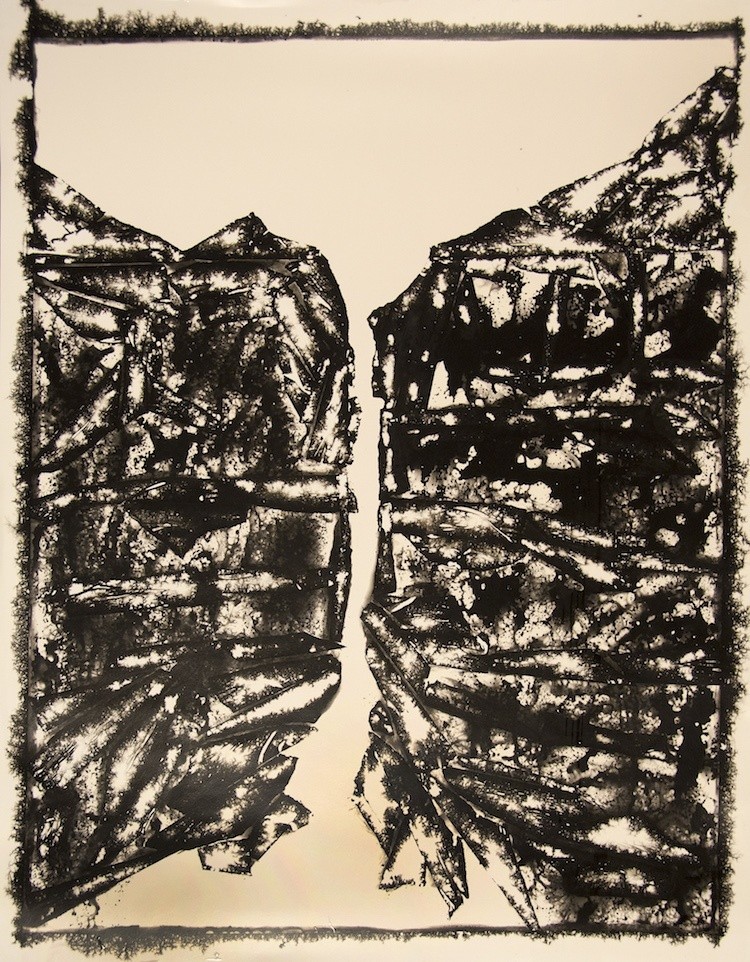 AfterRip, 2015. 
From the series Afterfracking. 
Photo credit: Courtesy of the artist Roberto Fernández Ibáñez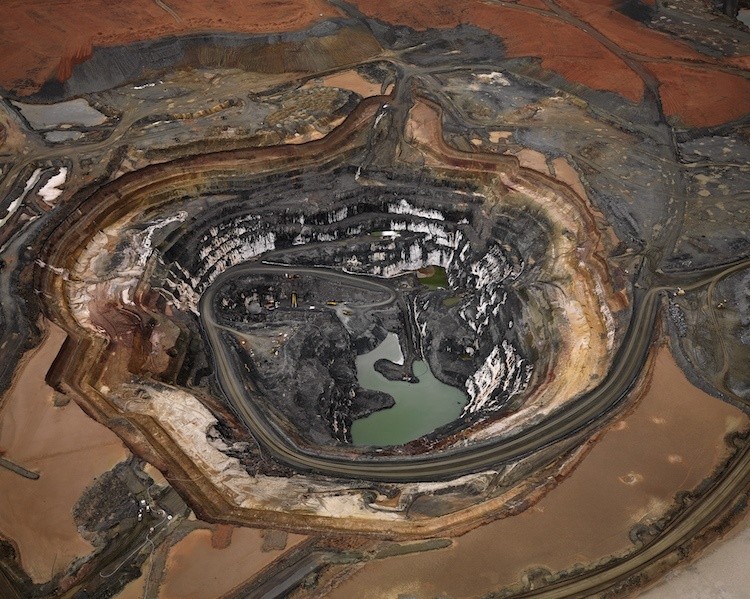 Silver Lake Operations # 1, Lake Lefroy, Western Australia, Australia, 2007
. From the series Mines, 2007. Photo credit: 
Courtesy of the artist Edward Burtynsky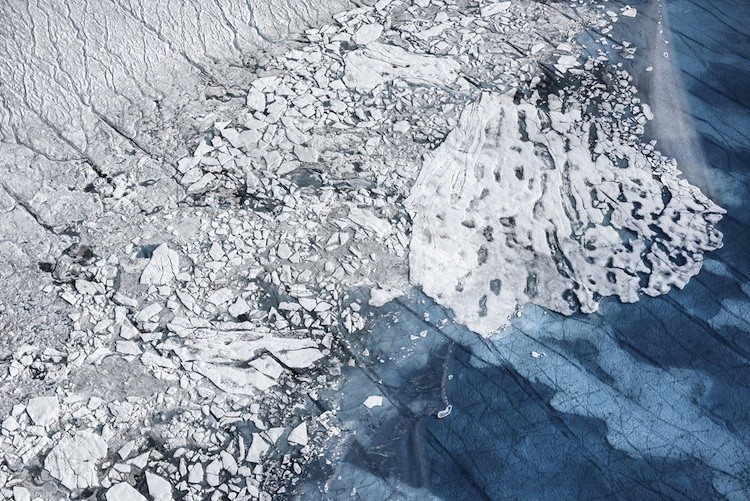 Water collects in unnamed seasonal lake atop the Greenland ice sheet, 75 miles southeast of Ilulissat. With the Earth's warming climate, the melt season now stretches 70 days longer than it did in the early 1970s, 2014
. From the series Greenland
. Photo credit: Courtesy of the artist Daniel Beltrán and Catherine Edelman Gallery, Chicago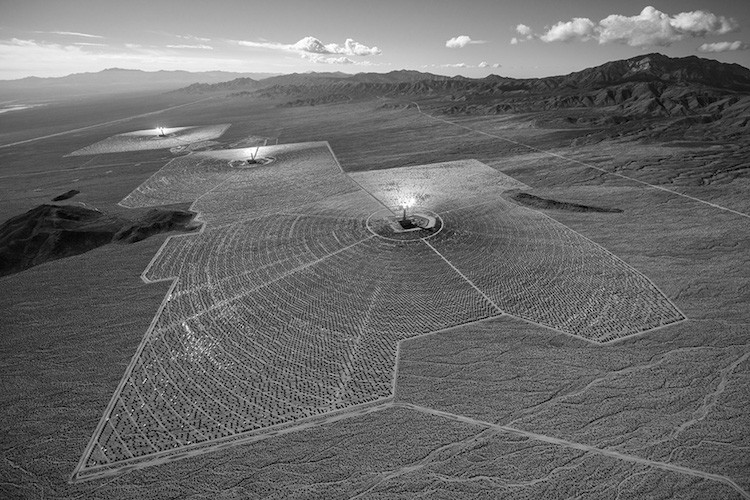 From the series The Evolution of Ivanpah Solar. Photo credit: Courtesy of the artist Jamey Stillings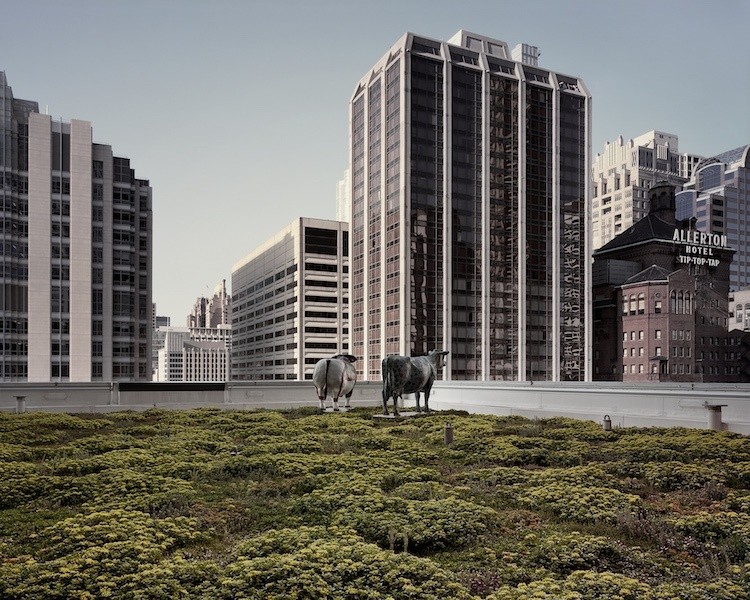 Lurie Children's Memorial (looking Southwest) – Chicago, IL May, 2012. 
From the series Rooftop.
 Photo credit: Courtesy of the artist Brad Temkin and Innova Art LTD
YOU MIGHT ALSO LIKE
6 Stunning Images Show Sense of Urgency to Act on Climate
3 Ways Climate Change Impacts Our Pets
Cancer Survivor Climbs World's Tallest Peaks, Helps Others Do the Same
Jul. 21, 2017 01:50PM EST
Will Rose / Greenpeace
Eleven peaceful activists from the Greenpeace ship Arctic Sunrise have taken to the water in inflatable boats with handheld banners to oppose the Statoil Songa Enabler oil rig, 275 km North off the Norwegian coast, in the Arctic Barents sea.
The banners say: "People Vs. Arctic Oil" and are directed at Statoil and the Norwegian government, which has opened a new, aggressive search for oil in the waters of the Barents Sea.
Keep reading...
Show less
Jul. 21, 2017 10:34AM EST
Dominion Pipeline Monitoring Coalition
The Federal Energy Regulatory Commission (FERC) paved the way Friday for the 600-mile, 42-inch fracked gas Atlantic Coast Pipeline to proceed when it issued the final environmental impact statement (FEIS). A joint project of utility giants Duke Energy and Dominion Energy, the Atlantic Coast Pipeline would move fracked gas from West Virginia into Virginia and North Carolina.
In April, the Sierra Club submitted more than 500 pages of legal and technical comments on FERC's draft EIS, which were joined by more than 18,000 individual comments detailing opposition to the project. The pipeline has been met with widespread opposition, with more than 1,000 people participating in public hearings across the three affected states. The Sierra Club recently requested that FERC issue a new environmental review document analyzing information that came in after or late in, the public comment process.
Keep reading...
Show less
Jul. 21, 2017 08:25AM EST
Greenpeace / PolluterWatch
By Jessica Corbett
"It's time Rex Tillerson step down or be removed," said Gigi Kellett of Corporate Accountability International, following an announcement on Thursday that ExxonMobil will pay $2 million for violating U.S. sanctions against Russian officials while the now-secretary of state was the company's CEO.
"ExxonMobil demonstrated reckless disregard for U.S. sanction requirements," according to enforcement filing released by the Treasury Department's Office of Foreign Assets Control (OFAC), which issued the penalty. Though the fine is reportedly the maximum penalty allowed, it's pittance to one of the world's most profitable and powerful corporations, which last year reported a profit of $7.8 billion.
Keep reading...
Show less
Jul. 21, 2017 11:15AM EST
New analysis from Amory B. Lovins debunks the notion that highly unprofitable, economically distressed nuclear plants should be further subsi­dized to meet financial, security, reliability and climate goals. The analysis, which will appear shortly in The Electricity Journal, shows that closing costly-to-run nuclear plants and reinvesting their saved operating costs in energy efficiency provides cheaper elec­tricity, increases grid reliability and security, reduces more carbon, and preserves (not distorts) market integrity—all without subsidies.

Keep reading...
Show less
Jul. 21, 2017 08:44AM EST
Oil Change International / Twitter
By Christian Detisch and Seth Gladstone
In the wake of Senate Republicans' ever-deepening debacle over their flailing attempts to strip health insurance from 22 million people, Majority Leader Mitch McConnell is desperate to do something—anything—to show that he can get legislation passed. To this end, he's bypassing the standard committee review process to push a complex 850+ page energy bill straight to the full Senate floor. Perhaps not surprisingly, this legislation, the Energy and Natural Resources Act of 2017, would be a disaster for public health and our climate.
Keep reading...
Show less
Jul. 21, 2017 08:11AM EST
Rooftop solar panels on a beach house in southern Florida. TAI VIINIKKA / CC BY-NC-ND 2.0
A new law passed this week in South Miami will require all new homes built in the city to install solar panels. The measure, which was inspired by a proposal from a teenage climate activist, will go into effect in September.
The text of the ordinance details the climate impacts facing South Miami.
Keep reading...
Show less
Jul. 21, 2017 10:27AM EST
www.youtube.com
Keep reading...
Show less
Jul. 21, 2017 08:49AM EST
iStock
By Katherine Paul and Ronnie Cummins
A recent series of articles by a Washington Post reporter could have some consumers questioning the value of the U.S. Department of Agriculture's (USDA) organic seal. But are a few bad eggs representative of an entire industry?
Consumers are all for cracking down on the fraudulent few who, with the help of Big Food, big retail chains and questionable certifiers give organics a bad name. But they also want stronger standards, and better enforcement—not a plan to weaken standards to accommodate "Factory Farm Organic."
Keep reading...
Show less


Get EcoWatch in your inbox