10 States Leading the Charge in Renewable Energy Production (#1 Will Surprise You)
Dec. 08, 2015 08:16AM EST
Business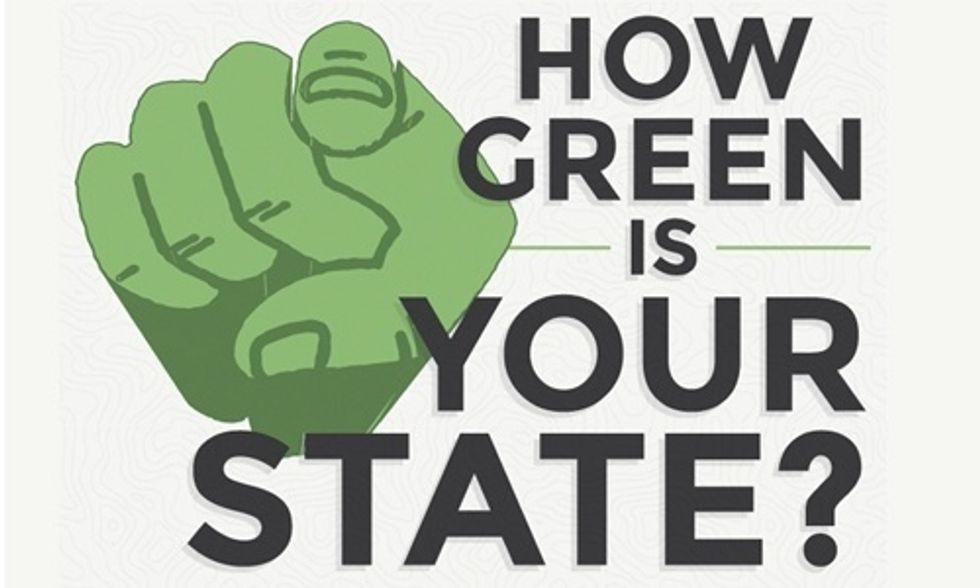 Renewable energy is key in transitioning to a low carbon economy, according to The Solutions Project, whose board of directors includes Mark Ruffalo and Josh Fox. And 100 percent renewable energy is not only possible, it's happening.
Last week, 1,000 mayors issued a declaration in Paris at the Climate Summit for Local Leaders, pledging to "support ambitious long-term climate goals such as a transition to 100 percent renewable energy in our communities."
On Dec. 15, San Diego, California is voting on a proposed plan to get 100 percent of its energy from renewable sources by 2035. Las Vegas and other major cities around the world want to go 100 percent renewable, too. Uruguay recently announced they generate nearly all of their energy from clean sources. And three U.S. cities—Burlington, Vermont; Aspen, Colorado; and Greensburg, Kansas—along with Kodiak Island, Alaska, have already made the transition.
Greenpeace and researchers at Stanford and UC Berkeley have laid out plans for every state in the U.S. to adopt 100 percent renewables and a Greenpeace report published in September posits the world can achieve 100 percent renewable energy by 2050.
The International Energy Agency released a report in October that found a quarter of the world will be powered by renewables by 2020. And a report from the International Renewable Energy Agency found that the transition to a sustainable energy future by 2030 is "technically feasible and economically viable."
Here are the states leading the charge in renewables, according to research from Olivet Nazarene University, sourcing this Energy.gov map:

YOU MIGHT ALSO LIKE
Elon Musk: We Must Put a Price on Carbon to Expedite Transition to Renewables
Solar Powered 'Farm from a Box': Everything You Need to Run an Off-Grid Farm
Couple Builds Greenhouse Around Home to Grow Food and Keep Warm
Morocco's Giant Solar Plant to Bring Energy to 1 Million People
EcoWatch Daily Newsletter
Recent Stories from EcoWatch