10 Reasons Why We Must Save the Indonesian Peatlands
Jun. 03, 2014 09:41AM EST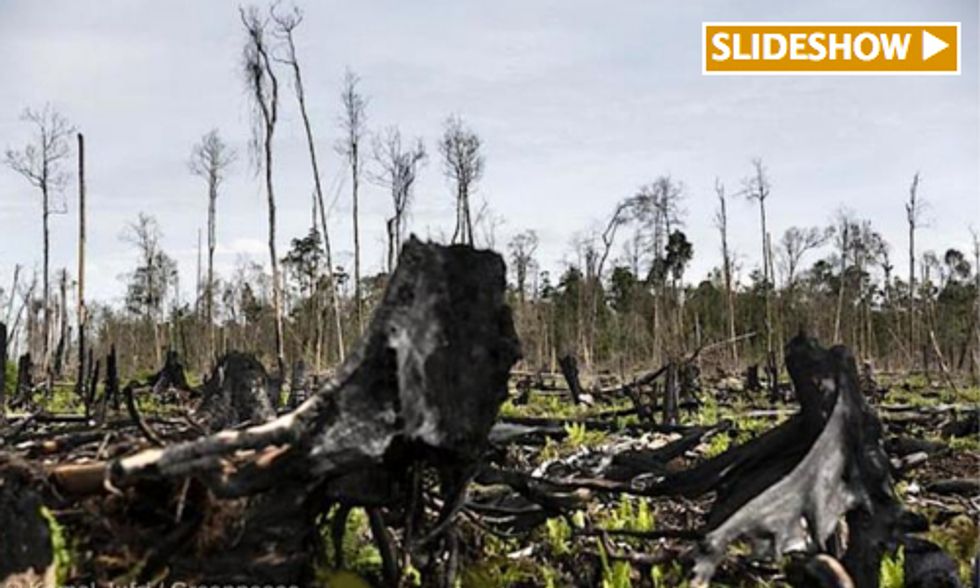 For years, this is known as a smoky, hazy time of year in Sumatra, Indonesia. And each year it's getting worse. It's the dry season, and hundreds of thousands of hectares of Indonesian peatland fires will burn for months. Those fires are a direct result of decades of forest and peatland destruction.
Peat is partially decayed, dead vegetation, which has accumulated over thousands of years. It is typically saturated with water and therefore virtually impossible to set alight. But when peatlands are cleared and drained to make way for plantations, like they are for palm oil and pulp and paper, carbon-rich peat becomes tinder dry—and vulnerable to fires.
If you haven't heard of peatlands or don't really know why we should all be joining forces to protect them, here are some facts that will help you see why:
[slideshow_deploy id='346906']
Last year, Greenpeace was one of the first NGOs to call out palm oil companies for their role in peatland fires. The Haze Wave sent pollution levels in Singapore skyrocketing, sparking frenzied buying of facemasks and a flurry of meetings between regional governments.
This year it could get worse. Weather patterns are colluding to make this year's drought particularly strong. More peat and forest have been cleared than ever before. It's giant tinderbox.
Now is the time for action.
In the last 12 months, Greenpeace supporters have pushed companies like Procter & Gamble, Colgate-Palmolive and forest-resource giants like Asia Pulp & Paper to end their role in forest destruction. There's momentum. Which is why this year we need to come together and demand that outgoing Indonesian President Susilo Bambang Yudhoyono firms up his green legacy.
--------
YOU MIGHT ALSO LIKE
7 Places With Unexpected Forest Restoration Potential
Palm Oil Company Ordered to Pay $30 Million for Illegal Rainforest Destruction
U.S. Banks Financing Rainforest Destruction for Palm Oil Plantations
--------
EcoWatch Daily Newsletter
Related Articles from EcoWatch
Recent Stories from EcoWatch