This website uses cookies to ensure you get the best experience while browsing it. By clicking 'Got It' you're accepting these terms.
10 Reasons Why an Apple a Day Really Is a Good Idea
Mar. 03, 2014 03:01PM EST
Martin Luther once said, "Even if I knew that tomorrow the world would go to pieces, I would still plant my apple tree." New research gives more reasons than ever to plant apple trees and enjoy their delicious and nutritious fruit. Here are ten surprising reasons to sink your teeth into an apple today: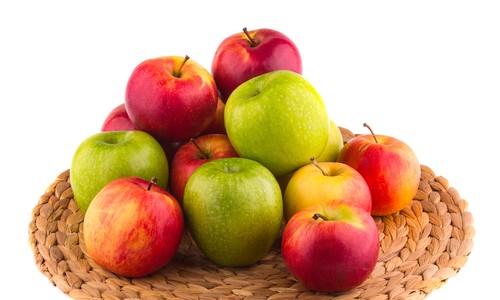 Photo courtesy of Shutterstock
1. Research found that when healthy adults consumed an apple 15 minutes before eating a meal, they ate 15 percent less at the meal. This simple habit can result in weight loss for anyone looking for an easy and healthy way to lose weight.
2. In other studies, apples have been shown to significantly alter the amounts of the bacteria Clostridiales and Bacteroides in the large intestine, conferring gastrointestinal health benefits.
3. Thanks to their phytonutrient content, apples have been show to lower the risk of asthma and lung cancer in numerous studies.
4. In a study funded by the U.S. Department of Agriculture, postmenopausal women who ate dried apples daily experienced a 23 percent reduction in LDL cholesterol (the one known as "bad cholesterol") and a 4 percent increase in HDL cholesterol ("the good cholesterol") within six months.
5. In a British study published in BMJ, researchers found that eating an apple a day was as effective as statin drugs to lower cholesterol levels, without the harmful side-effects. They also found that if 70 percent of the British population simply ate an apple on a daily basis, 8500 lives would be spared every year from heart attacks or strokes.
6. Researchers at Tufts University found that catechin polyphenols found in apples speed abdominal fat loss by 77 percent and double weight loss in overweight individuals. Catechins also improve the body's ability to use insulin, thereby preventing wild blood sugar fluctuations that effect energy, mood and cravings.
7. Apples contain flavonoids (including catechin polyphenols and quercetin), which have been shown to interfere with the development of cancer cells and preventing their ability to multiply.
8. Research in the journal Nutrition Reviews found that a diet that's too low in magnesium increases the risk of cancer. Apples are a good source of magnesium.
9. According to research in the International Journal of Biological Macromolecules scientists found that apple oligosaccharides showed an ability to inhibit human colon cancer cells. Oligosaccharides are complex carbohydrates. The apple compound induced a process known as apoptosis, which is the body's mechanism to kill damaged or cancerous cells. They also found that the apple oligosaccharide stopped the growth of new cancer cells. They concluded: "Apple oligosaccharide is a potential chemoprevention agent or anti-tumor agent and is worthy of further study."
10. Apples contain a natural compound known as malic acid, which helps improve energy production in the body. It has been found to aid fibromyalgia and chronic fatigue syndrome.
Three scissor-tailed flycatcher fledglings in a mesquite tree in Texas. Texas Eagle / CC BY-NC 2.0
By Gary Paul Nabhan
President Trump has declared a national emergency to fund a wall along our nation's southern border. The border wall issue has bitterly divided people across the U.S., becoming a vivid symbol of political deadlock.
PeopleImages / E+ / Getty Images
By Daniel Ross
Hurricane Florence, which battered the U.S. East Coast last September, left a trail of ruin and destruction estimated to cost between $17 billion and $22 billion. Some of the damage was all too visible—smashed homes and livelihoods. But other damage was less so, like the long-term environmental impacts in North Carolina from hog waste that spilled out over large open-air lagoons saturated in the rains.
Hog waste can contain potentially dangerous pathogens, pharmaceuticals and chemicals. According to the state's Department of Environmental Quality, as of early October nearly 100 such lagoons were damaged, breached or were very close to being so, the effluent from which can seep into waterways and drinking water supplies.
This picture taken on May 21, 2018 shows discarded climbing equipment and rubbish scattered around Camp 4 of Mount Everest. Decades of commercial mountaineering have turned Mount Everest into the world's highest rubbish dump as an increasing number of big-spending climbers pay little attention to the ugly footprint they leave behind. DOMA SHERPA / AFP / Getty Images
China has closed its Everest base camp to tourists because of a buildup of trash on the world's tallest mountain.
Researchers tested the eggs of Arctic northern fulmers like these in Nunavut, Canada.
Fiona Paton / Flickr
By Madison Dapcevich
Plastics have been recorded in every corner of the world, from the remote icy waters of Antarctica to the bellies of deep-sea fishes. Now, preliminary findings presented at this year's American Association for the Advancement of Science (AAAS) annual meeting in Washington, DC suggest that bird eggs from the high Arctic—one of the most remote wildernesses on the planet—show evidence of contamination from chemicals used in plastics.