This website uses cookies to ensure you get the best experience while browsing it. By clicking 'Got It' you're accepting these terms.
10 Reasons Why an Apple a Day Really Is a Good Idea
Mar. 03, 2014 03:01PM EST
Martin Luther once said, "Even if I knew that tomorrow the world would go to pieces, I would still plant my apple tree." New research gives more reasons than ever to plant apple trees and enjoy their delicious and nutritious fruit. Here are ten surprising reasons to sink your teeth into an apple today: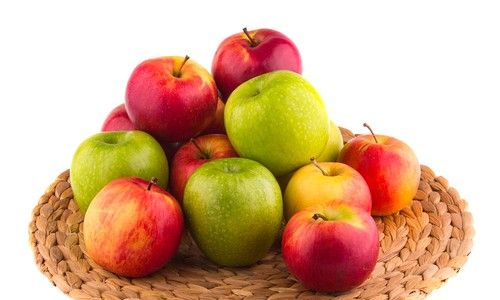 Photo courtesy of Shutterstock
1. Research found that when healthy adults consumed an apple 15 minutes before eating a meal, they ate 15 percent less at the meal. This simple habit can result in weight loss for anyone looking for an easy and healthy way to lose weight.
2. In other studies, apples have been shown to significantly alter the amounts of the bacteria Clostridiales and Bacteroides in the large intestine, conferring gastrointestinal health benefits.
3. Thanks to their phytonutrient content, apples have been show to lower the risk of asthma and lung cancer in numerous studies.
4. In a study funded by the U.S. Department of Agriculture, postmenopausal women who ate dried apples daily experienced a 23 percent reduction in LDL cholesterol (the one known as "bad cholesterol") and a 4 percent increase in HDL cholesterol ("the good cholesterol") within six months.
5. In a British study published in BMJ, researchers found that eating an apple a day was as effective as statin drugs to lower cholesterol levels, without the harmful side-effects. They also found that if 70 percent of the British population simply ate an apple on a daily basis, 8500 lives would be spared every year from heart attacks or strokes.
6. Researchers at Tufts University found that catechin polyphenols found in apples speed abdominal fat loss by 77 percent and double weight loss in overweight individuals. Catechins also improve the body's ability to use insulin, thereby preventing wild blood sugar fluctuations that effect energy, mood and cravings.
7. Apples contain flavonoids (including catechin polyphenols and quercetin), which have been shown to interfere with the development of cancer cells and preventing their ability to multiply.
8. Research in the journal Nutrition Reviews found that a diet that's too low in magnesium increases the risk of cancer. Apples are a good source of magnesium.
9. According to research in the International Journal of Biological Macromolecules scientists found that apple oligosaccharides showed an ability to inhibit human colon cancer cells. Oligosaccharides are complex carbohydrates. The apple compound induced a process known as apoptosis, which is the body's mechanism to kill damaged or cancerous cells. They also found that the apple oligosaccharide stopped the growth of new cancer cells. They concluded: "Apple oligosaccharide is a potential chemoprevention agent or anti-tumor agent and is worthy of further study."
10. Apples contain a natural compound known as malic acid, which helps improve energy production in the body. It has been found to aid fibromyalgia and chronic fatigue syndrome.
EcoWatch Daily Newsletter
Artist's conception of solar islands in the open ocean. PNAS
Millions of solar panels clustered together to form an island could convert carbon dioxide in seawater into methanol, which can fuel airplanes and trucks, according to new research from Norway and Switzerland and published in the Proceedings of the National Academy of Sciences journal, PNAS, as NBC News reported. The floating islands could drastically reduce greenhouse gas emissions and dependence on fossil fuels.
Marcos Alves / Moment Open / Getty Images
More than 40 percent of insects could go extinct globally in the next few decades. So why did the U.S. Environmental Protection Agency (EPA) last week OK the 'emergency' use of the bee-killing pesticide sulfoxaflor on 13.9 million acres?
EcoWatch teamed up with Center for Biological Diversity via EcoWatch Live on Facebook to find out why. Environmental Health Director and Senior Attorney Lori Ann Burd explained how there is a loophole in the The Federal Insecticide, Fungicide, and Rodenticide Act under section 18, "that allows for entities and states to request emergency exemptions to spraying pesticides where they otherwise wouldn't be allowed to spray."
Simple swaps that cut down on kitchen trash.
Sponsored
By Kayla Robbins
Along with the bathroom, the kitchen is one of the most daunting areas to try and make zero waste.
View of downtown Miami, Florida from Hobie Island on Feb. 2, 2019.
Michael Muraz / Flickr
The Democratic candidates for president descended upon Miami for a two-night debate on Wednesday and Thursday. Any candidate hoping to carry the state will have to make the climate crisis central to their campaign, as The New York Times reported.
By Sharon Kelly
On Monday, the Wall Street Journal featured a profile of Scott Sheffield, CEO of Pioneer Natural Resources, whose company is known among investors for its emphasis on drawing oil and gas from the Permian basin in Texas using horizontal drilling and hydraulic fracturing, or fracking.
Pexels
By Craig K. Chandler
The federal government has available to it, should it choose to use them, a wide range of potential climate change management tools, going well beyond the traditional pollution control regulatory options. And, in some cases (not all), without new legislative authorization.
Denis Poroy / Getty Images
By Dan Gray
Processed foods, in their many delicious forms, are an American favorite.
But new research shows that despite increasing evidence on just how unhealthy processed foods are, Americans have continued to eat the products at the same rate.
By Sarah Steffen
With a profound understanding of their environmental surroundings, indigenous communities around the world are often cited as being pivotal to tackling climate change.