This website uses cookies to ensure you get the best experience while browsing it. By clicking 'Got It' you're accepting these terms.
10 Reasons to Be Hopeful This Spring
Mar. 30, 2015 10:04AM EST

For more than 15 years I've been writing these Future Hope columns. I've tried, as best as I can, to write about topics or in a way which helps readers have hope that yes, transformational change for the better is possible in this often-hard-to-be-hopeful world. In that time I've never once written about the coming of spring.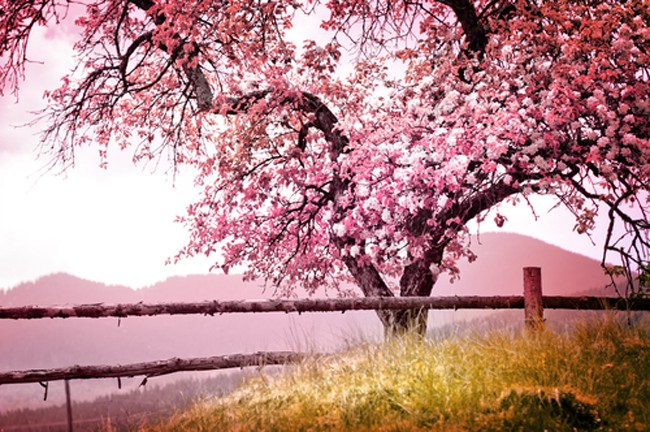 Spring brings the varied and often-beautiful songs of birds. New species of on-the-move birds can be seen as the sun moves higher in the southern sky (in the northern hemisphere) and the air, land and ocean warm. Photo credit: Shutterstock
In retrospect, that surprises me. In the natural world it's hard to think of anything more hopeful, more life-giving, more inspiring than the arrival of spring.
Spring melts the snow, for the final time, 'til next winter. That was a big deal this year in northern New Jersey where, for a month and a half, half-a-foot to a foot-and-half of snow, hard snow, frozen hard by colder-than-usual temperatures, stayed on the ground. It is a welcome relief to walk with much surer steps on snow- and ice-gone surfaces.
Spring brings the varied and often-beautiful songs of birds. New species of on-the-move birds can be seen as the sun moves higher in the southern sky (in the northern hemisphere) and the air, land and ocean warm. Where I live, spring brings mating couples of geese from the city pond behind my house onto our back and front lawns, as certain a spring occurrence as the daily rising of the sun.
In the several small gardens at the eastern front and southern side of our house, new shoots of green break through the Earth and buds begin to appear heralding the arrival of daffodils, hyacinths, honeysuckle, fennel, milkweed (for the monarchs which we pray we will see later in the summer) and much more. I begin to think about getting ready to plant our vegetable garden.
The grass is still pretty brown, but some green is beginning to show and I look forward to it filling out as the rain and the sun do what they have done for millennia.
Spring, of course, brings warmer temperatures, which means I can now do my early-morning bike rides without the experience of returning home with cold and hurting fingers and toes. It makes the rides more joyful. I see the skeleton-like trees, devoid of leaves or flowers, but with new spring eyes I see the limbs and branches reaching upward toward the sun, which with the rain will provide new growth and beauty in coming days, weeks and months.
As spring evolves, it will mean seeing more walkers, bikers and runners out sharing the early-morning quiet and expectation-of-dawn with me. Over time I will see them less weighed down with garments to protect from the cold. I will see more animals—deer, wild turkeys, raccoons, groundhogs, possums and an occasional fox.
Spring makes me feel much more often that I am lucky to be alive and relatively well for 65.
But spring sometimes brings other reasons to have hope and love life. Often over the 46 years that I have been an activist and organizer, a revolutionary, spring has brought with it major mobilizations of people into the streets for mass demonstrations around war and peace, justice, climate or other issues.
I am involved with one such initiative, Beyond Extreme Energy, which has had a productive winter building an escalating campaign against FERC, the Federal Energy Regulatory Commission. Two months from now we will be nonviolently blockading the FERC entrances for a week-plus, following up on our successful week-long blockades in November. We will keep demanding that they stop serving the fossil fuel industry and instead protect the American people and the world's destabilizing climate. We expect many hundreds of people to take part from May 21-29.
Students active in the fossil fuel divestment movement are taking action. Just last week two divestment office occupations were initiated at Swarthmore College and the University of Mary Washington, and I will be very surprised if the spring doesn't bring more, hopefully a swelling flood of them.
And in the political realm, an email arrived in my inbox as I was in the middle of writing this from Sen. Bernie Sanders, laying out the truth of what is happening in this country and with our climate. Once again, as he always does, Bernie makes very clear and effective connections between the climate crisis and the crisis of economic injustice and inequality. I hope we keep hearing more and more from Bernie as a declared Presidential candidate in the coming weeks and months.
So many reasons to have hope this spring!
YOU MIGHT ALSO LIKE
7 Republicans Joined Senate Democrats in Vote to Fight Climate Change
Dumping ALEC Is Not Enough to Combat Climate Change
Why Is Climate Denier David Koch on Board of Nation's Leading Natural History Museums?
KarinaKnyspel / iStock / Getty Images
2018 saw a number of studies pointing to the outsized climate impact of meat consumption. Beef has long been singled out as particularly unsustainable: Cows both release the greenhouse gas methane into the atmosphere because of their digestive processes and require a lot of land area to raise. But for those unwilling to give up the taste and texture of a steak or burger, could lab-grown meat be a climate-friendly alternative? In a first-of-its-kind study, researchers from the Oxford Martin School set out to answer that question.
Three scissor-tailed flycatcher fledglings in a mesquite tree in Texas. Texas Eagle / CC BY-NC 2.0
By Gary Paul Nabhan
President Trump has declared a national emergency to fund a wall along our nation's southern border. The border wall issue has bitterly divided people across the U.S., becoming a vivid symbol of political deadlock.
PeopleImages / E+ / Getty Images
By Daniel Ross
Hurricane Florence, which battered the U.S. East Coast last September, left a trail of ruin and destruction estimated to cost between $17 billion and $22 billion. Some of the damage was all too visible—smashed homes and livelihoods. But other damage was less so, like the long-term environmental impacts in North Carolina from hog waste that spilled out over large open-air lagoons saturated in the rains.
Hog waste can contain potentially dangerous pathogens, pharmaceuticals and chemicals. According to the state's Department of Environmental Quality, as of early October nearly 100 such lagoons were damaged, breached or were very close to being so, the effluent from which can seep into waterways and drinking water supplies.
This picture taken on May 21, 2018 shows discarded climbing equipment and rubbish scattered around Camp 4 of Mount Everest. Decades of commercial mountaineering have turned Mount Everest into the world's highest rubbish dump as an increasing number of big-spending climbers pay little attention to the ugly footprint they leave behind. DOMA SHERPA / AFP / Getty Images
China has closed its Everest base camp to tourists because of a buildup of trash on the world's tallest mountain.