This website uses cookies to ensure you get the best experience while browsing it. By clicking 'Got It' you're accepting these terms.
10 Popular Dive Sites Closed in Thailand Due to Coral Bleaching Crisis
May. 27, 2016 12:28PM EST
Climate
Some of Thailand's most prized dive sites have been closed indefinitely after the Department of National Parks' survey found coral bleaching on 80 percent of some of the reefs.
This is a bold move for a country where tourism accounts for 10 percent of its economy—and where officials were hoping to attract 32 million tourists this year, The Guardian reported. But then again, it sends the message Thailand officials want: Ignorant tourism is killing the reefs.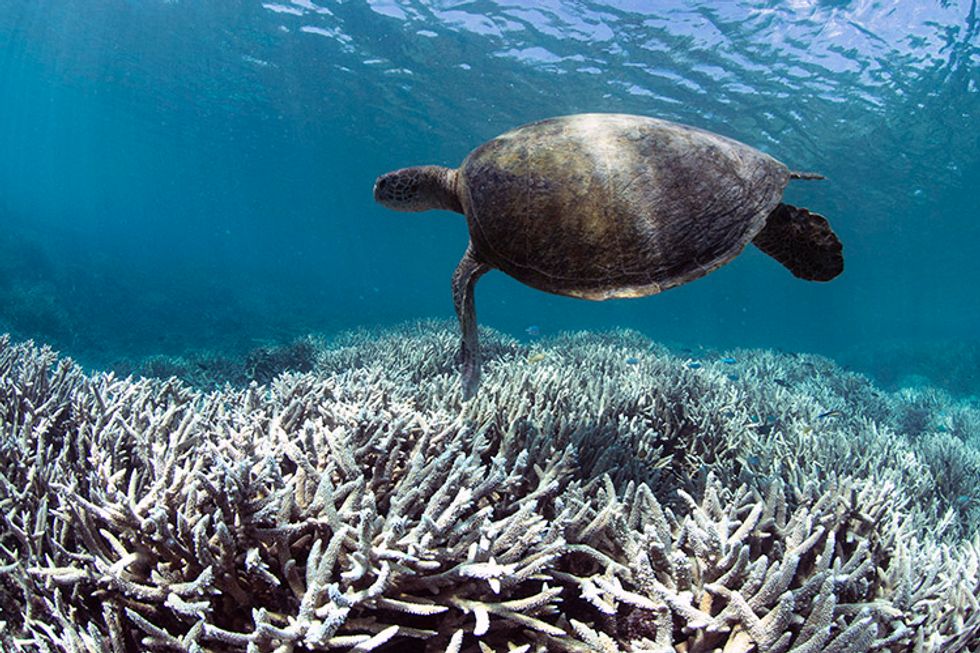 A turtle swimming over bleached coral in February at Heron Island in the Great Barrier Reef. Photo credit: The University of Queensland
"The coral reefs are affected by unaware tourists–when they go diving they may touch or step on the reef. Closing those spots will help the reefs recover naturally," Reungsak Theekasuk, national park officer director, told AFP.
The closed diving sites are off beaches from Rayong province in the east to Satun in the south. These closings come after Thai officials closed Koh Tachai, a popular island in the Andaman Sea, earlier this month. The island is closed indefinitely.
"This is such a small island, I would say it could accommodate just a few hundred tourists a day," Tunya Nethithammakul, director general of the Department of National Parks, told CNN. "But it turned out that at certain points there were almost 2,000 tourists visiting the island (daily)."
The closings are shunned by the tourism industry, but officials say it is a necessary step in protecting the country's ecosystem.
"The problem is that we have damaged our marine resources for a long time," Thon Thamrongnawasawat, deputy dean of fisheries at Kasetsart University in Bangkok and a leading advocate of marine conservation, told the New York Times. "If we want it to recover, we must use strong medicine. I am not proposing to close all islands. But we have to start thinking about the plan to tackle the increasing number of tourists."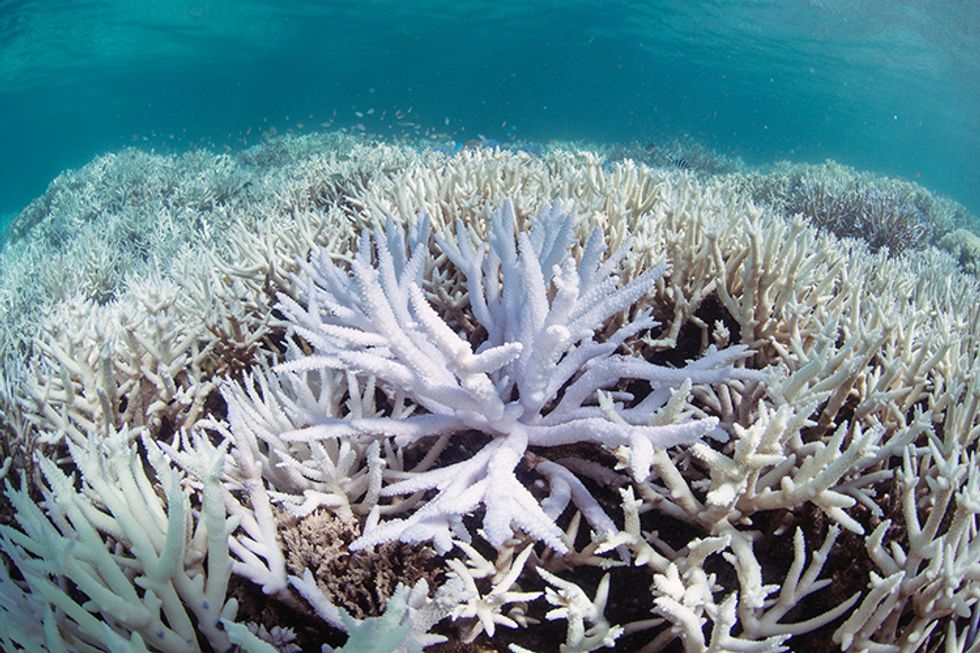 Photo credit: The University of Queensland
While the popular diving sites and island are closed, officials will inspect them to determine if tourists will be allowed back by peak tourism season, which begins in November.
"Where we see there is still a crisis, we will have to keep the area and reefs preserved," Reungsak told The Guardian.
Coral bleaching is primarily caused by warming waters. When corals come under environmental stress, they shed the algae that gives them their color. The coral then become white, or bleached. If the stress continues, the coral will eventually die, according to the National Oceanic and Atmospheric Administration (NOAA).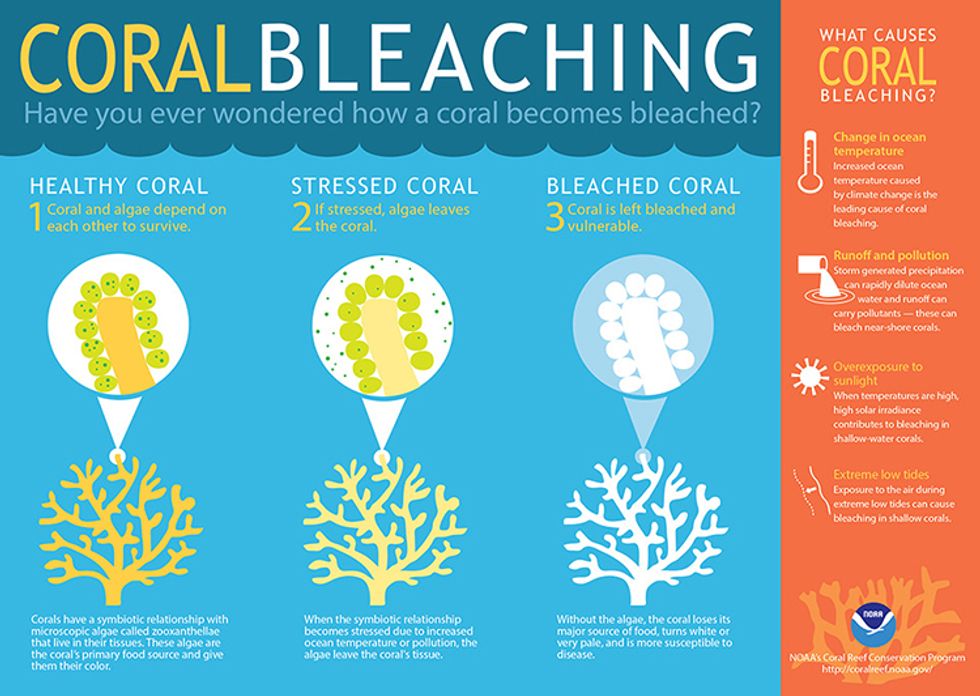 This phenomenon has been a major problem for the world's reefs for the last decade. The U.S. lost half of its coral reefs in the Caribbean in 2005 due to a bleaching event, according to NOAA. Earlier this year, the Great Barrier Reef suffered its worst coral bleaching event in history.
It is possible, though, for reefs to bounce back after bleaching events with the proper management.
Even if you don't live right by the ocean, your decisions can affect coral reefs as well, find out what you can do to help prevent coral bleaching.
YOU MIGHT ALSO LIKE
Scientists Confirm: 93% of Great Barrier Reef Now Bleached
Great Barrier Reef Could Be Dead in 20 Years
Massive Coral Reef Discovered at Mouth of Amazon, But It's Already Threatened by Oil Drilling
10 Eco-Destinations in North America to Add to Your Bucket List
EcoWatch Daily Newsletter
Aerial view of Ruropolis, Para state, northen Brazil, on Sept. 6, 2019. Tthe world's biggest rainforest is under threat from wildfires and rampant deforestation. JOHANNES MYBURGH / AFP via Getty Images
By Kate Martyr
Deforestation in Brazil's Amazon rainforest last month jumped to the highest level since records began in 2015, according to government data.
A total of 563 square kilometers (217.38 square miles) of the world's largest rainforest was destroyed in November, 103% more than in the same month last year, according to Brazil's space research agency.
From January to November this year an area almost the size of the Caribbean island of Puerto Rico was destroyed — an 83% overall increase in destruction when compared with the same period last year.
The figures were released on Friday by the National Institute for Space Research (INPE), and collected through the DETER database, which uses satellite images to monitor forest fires, forest destruction and other developments affecting the rainforest.
What's Behind the Rise?
Overall, deforestation in 2019 has jumped 30% compared to last year — 9,762 square kilometers (approximately 3769 square miles) have been destroyed, despite deforestation usually slowing during November and December.
Environmental groups, researchers and activists blamed the policies of Brazil's president Jair Bolsonaro for the increase.
They say that Bolosonaro's calls for the Amazon to be developed and his weakening support for Ibama, the government's environmental agency, have led to loggers and ranchers feeling safer and braver in destroying the expansive rainforest.
His government hit back at these claims, pointing out that previous governments also cut budgets to environment agencies such as Ibama.
The report comes as Brazil came to loggerheads with the Association of Small Island States (AOSIS) over climate goals during the UN climate conference in Madrid.
AOSIS blasted Brazil, among other nations, for "a lack of ambition that also undermines ours."
Last month, a group of Brazilian lawyers called for Bolsonaro to be investigated by the International Criminal Court over his environmental policies.
Reposted with permission from DW.
The Carolina parakeet went extinct in 1918. James St. John /
CC BY 2.0
The Carolina parakeet, the only parrot species native to the U.S., went extinct in 1918 when the last bird died at the Cincinnati Zoo. Now, a little more than 100 years later, researchers have determined that humans were entirely to blame.
Pexels
Vitamin C is a very important nutrient that's abundant in many fruits and vegetables.
BLM drill seeders work to restore native grasses after wildfire on the Bowden Hills Wilderness Study Area in southeast Oregon, Dec. 14, 2018. Marcus Johnson / BLM / CC BY 2.0
By Tara Lohan
In 2017 the Thomas fire raged through 281,893 acres in Ventura and Santa Barbara counties, California, leaving in its wake a blackened expanse of land, burned vegetation, and more than 1,000 destroyed buildings.