10 People Found Not Guilty in Flood Wall Street Protest, Judge Takes Judicial Notice of Climate Change
You probably remember the polar bear getting arrested in the "Flood Wall Street" protest in September the day after the historic People's Climate March. Several thousand people took to the street in the Financial District to identify and protest against Wall Street's central role in fueling climate destruction. At the end of the day, 102 people were arrested for sitting in the street at the intersection of Broadway and Wall. Ten of the arrestees subsequently decided to fight their charges in court.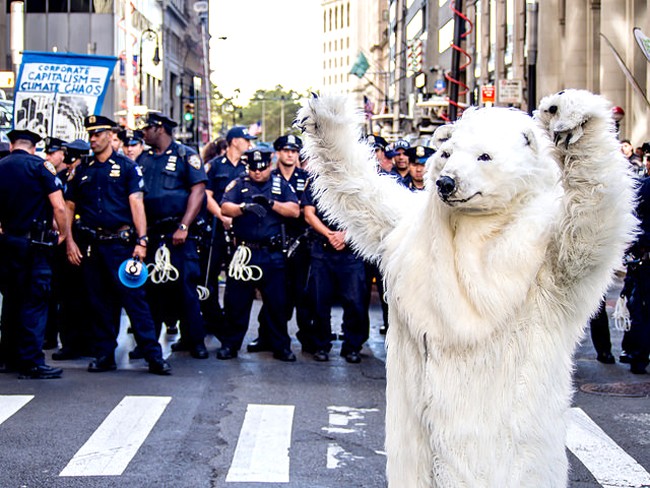 And yesterday, these 10 were found "not guilty" by New York City Criminal Court Judge Robert Mandelbaum. According to Flood Wall Street, Judge Mandelbaum ruled that the New York Police Department's (NYPD) order to disperse violated the First Amendment. In his ruling, the judge also found "that by ordering protesters to leave the entire Wall Street area, police violated protesters' First Amendment right to carry their message directly to its intended recipients: the Wall Street bankers who bankroll climate change."
Defense Attorney Jonathan Wallace successfully argued that the Constitution protects Americans' rights to "express political speech within proximity to the target of the protest. In this case, the NYPD first prevented protesters from entering Wall Street before later ordering them to leave the area altogether." This method of policing proved to be unlawful. 
That is a victory in and of itself for the 10 individuals, as well as, the general American public and its right to protest. But the judge went even further "by taking judicial notice that climate change is happening, is a serious problem, requires immediate action and is caused by human activity," said Flood Wall Street.
"The importance of judicial notice is that the judge accepted climate change and the need to do something about it as a fact without the necessity of any evidentiary support or proof at trial," said Defense Attorney Martin Stolar. "To the best of my knowledge, this is unprecedented and has significance for future litigation involving climate change."
The ruling sets an important legal precedent in recognizing the constitutional legitimacy of mass civil disobedience actions protesting climate change, according to Flood Wall Street. The 10 defendants gave passionate testimony to the court, "affirming that their actions were justified."
"I got arrested to protect my five-year-old son's future," said Susan Heitker, one of the defendants. "The judge's 'judicial notice' shows that the climate justice movement is creating a broader shift in our society's desire to address climate change and this gives me hope."
Jeneen Roybal, a disabled U.S. Army veteran who was one of the defendants said: "This is an important precedent, not only for climate change demonstrators, but everyone who engages in protest activity."
It's an important precedent, especially because of whom the protest was directed towards. "Wall Street companies fund and profit off disaster for all us, and finance capitalism won't be able to deal with the social fallout of climate change. We urgently need to act to save our planet and futures," said Jason Woltjen, one of the defendants.
YOU MIGHT ALSO LIKE
David Suzuki: Climate Change Is Real Threat, Not Activists Calling for Immediate Action
HBO's Award-Winning VICE Exposes Climate Deniers and the Dire Consequences of Sea Level Rise
Ted Glick: It's Time to Seize the Moment and Ratchet Up the Pressure
Glyphosate, the main ingredient in Monsanto's widely used herbicide Roundup, will be added July 7 to California's list of chemicals known to the state to cause cancer, according to a Reuters report Tuesday. This news comes after the company's unsuccessful attempt to block the listing in trial court and requests for stay were denied by a state appellate court and California's Supreme Court.
California's Office of Environmental Health Hazard Assessment (OEHHA) announced the designation on Monday under the Safe Drinking Water and Toxic Enforcement Act of 1986, or Proposition 65.
Keep reading...
Show less
www.facebook.com
Keep reading...
Show less
Researchers from the Marine Animal Response Society examine one of the dead right whales. Marine Animal Response Society
Canadian government officials and marine biologists are investigating the mysterious deaths of six North American right whales. The endangered animals all turned up dead between June 6 and June 23 in the Gulf of St. Lawrence, off Canada's southeastern coast.
North Atlantic right whales are the rarest of all large whale species and among the rarest of all marine mammal species, with only about 450 right whales in the North Atlantic.
Keep reading...
Show less
Scott Pruitt testifies during his Senate confirmation hearing for EPA administrator, January 2017.
The U.S. Environmental Protection Agency's (EPA) chief of staff pressured the leader of its Board of Scientific Counselors to change her congressional testimony to downplay the impact of the agency's mass dismissal of scientists from the board, the New York Times reports.
Keep reading...
Show less
By Jason Mark
Sequoiadendron giganteum. That's the scientific name for the giant sequoia: the mammoth trees found in California's Sierra Nevada that are the largest organisms on Earth, and among the longest-lived. Biologists estimate that about half of all sequoias live in Giant Sequoia National Monument, a 328,000-acre preserve in the Southern Sierra Nevada established by President Clinton in 2000.
Now that national monument is in jeopardy.
Keep reading...
Show less
By Andy Rowell
Donald Trump this week is launching an "energy week," pushing the argument that the U.S. will become a net exporter of oil and gas.
The president and his cronies are talking about a new era of "U.S. energy dominance," which could stretch for decades to come. However, no one believes the president anymore.
Keep reading...
Show less
UN
By Colleen Curry
The United Nations has designated 23 new sites around the world to its World Network of Biosphere reserves—stunning natural landscapes that balance environmental and human concerns and strive for sustainability.
The forests, beaches and waterways were added to the list this year at the International Coordinating Council of the Man and the Biosphere Programme meeting in Paris earlier this month.
Keep reading...
Show less
Jun. 26, 2017 01:48PM EST
www.elysee.fr
By Andy Rowell
There is a growing feeling within European capitals that a quiet, but deeply positive, revolution is happening under Emmanuel Macron in France.
Macron's opinion poll rating is high, especially boosted in how the young French president has reacted to Donald Trump on the international stage.
Keep reading...
Show less
Jun. 26, 2017 12:32PM EST
www.facebook.com
Keep reading...
Show less