This website uses cookies to ensure you get the best experience while browsing it. By clicking 'Got It' you're accepting these terms.
10 People Found Not Guilty in Flood Wall Street Protest, Judge Takes Judicial Notice of Climate Change
Mar. 06, 2015 02:57PM EST
You probably remember the polar bear getting arrested in the "Flood Wall Street" protest in September the day after the historic People's Climate March. Several thousand people took to the street in the Financial District to identify and protest against Wall Street's central role in fueling climate destruction. At the end of the day, 102 people were arrested for sitting in the street at the intersection of Broadway and Wall. Ten of the arrestees subsequently decided to fight their charges in court.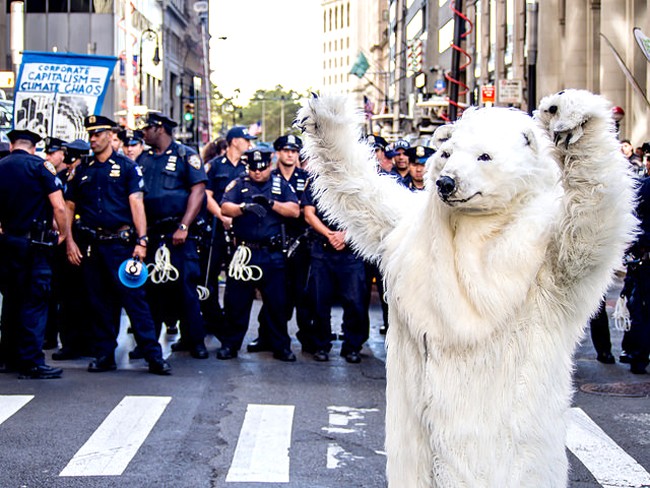 And yesterday, these 10 were found "not guilty" by New York City Criminal Court Judge Robert Mandelbaum. According to Flood Wall Street, Judge Mandelbaum ruled that the New York Police Department's (NYPD) order to disperse violated the First Amendment. In his ruling, the judge also found "that by ordering protesters to leave the entire Wall Street area, police violated protesters' First Amendment right to carry their message directly to its intended recipients: the Wall Street bankers who bankroll climate change."
Defense Attorney Jonathan Wallace successfully argued that the Constitution protects Americans' rights to "express political speech within proximity to the target of the protest. In this case, the NYPD first prevented protesters from entering Wall Street before later ordering them to leave the area altogether." This method of policing proved to be unlawful. 
That is a victory in and of itself for the 10 individuals, as well as, the general American public and its right to protest. But the judge went even further "by taking judicial notice that climate change is happening, is a serious problem, requires immediate action and is caused by human activity," said Flood Wall Street.
"The importance of judicial notice is that the judge accepted climate change and the need to do something about it as a fact without the necessity of any evidentiary support or proof at trial," said Defense Attorney Martin Stolar. "To the best of my knowledge, this is unprecedented and has significance for future litigation involving climate change."
The ruling sets an important legal precedent in recognizing the constitutional legitimacy of mass civil disobedience actions protesting climate change, according to Flood Wall Street. The 10 defendants gave passionate testimony to the court, "affirming that their actions were justified."
"I got arrested to protect my five-year-old son's future," said Susan Heitker, one of the defendants. "The judge's 'judicial notice' shows that the climate justice movement is creating a broader shift in our society's desire to address climate change and this gives me hope."
Jeneen Roybal, a disabled U.S. Army veteran who was one of the defendants said: "This is an important precedent, not only for climate change demonstrators, but everyone who engages in protest activity."
It's an important precedent, especially because of whom the protest was directed towards. "Wall Street companies fund and profit off disaster for all us, and finance capitalism won't be able to deal with the social fallout of climate change. We urgently need to act to save our planet and futures," said Jason Woltjen, one of the defendants.
YOU MIGHT ALSO LIKE
David Suzuki: Climate Change Is Real Threat, Not Activists Calling for Immediate Action
HBO's Award-Winning VICE Exposes Climate Deniers and the Dire Consequences of Sea Level Rise
Ted Glick: It's Time to Seize the Moment and Ratchet Up the Pressure
Plus, learn if there's one that's best for your health.
Catherine Falls Commercial / Moment / Getty Images
An invasive Amynthas worm, also known as a crazy snake worm, Asian jumping worm and Alabama jumper Tom Potterfield / Flickr
By Jason Bittel
My wife and I built a house two years ago on a few acres of woodland outside of Pittsburgh. The backyard is full of maples, poplars, briars and common spicebush. Two-lined salamanders and grumpy-looking crayfish wade among the rocks in the small stream that runs down the edge of the property. Deer, raccoon and opossum tracks appear regularly in the snow and mud. Sometimes, my trail-cam even catches a pair of gray foxes as they slink through the night.
AleksandarNakic / Getty Images
By Kate Murphy
No matter the time of year, there's always a point in each season when my skin decides to cause me issues. While these skin issues can vary, I find the most common issues to be dryness, acne and redness.

David Woodfall / The Image Bank / Getty Images
By Sam Nickerson
The U.S. Environmental Protection Agency (EPA) in April 2018 proposed relaxing standards related to how it assesses the effects of exposure to low levels of toxic chemicals on public health.
Now, correspondence obtained by the LA Times revealed just how deeply involved industry lobbyists and a controversial, industry-funded toxicologist were in drafting the federal agency's proposal to scrap its current, protective approach to regulating toxin exposure.
Steve Irwin poses with a three foot long alligator at the San Francisco Zoo on June 26, 2002. Justin Sullivan / Getty Images
February 22 is the birthday of conservationist and beloved TV personality "Crocodile Hunter" Steve Irwin, who would have been 57 years old today.
Irwin's life was tragically cut short when the barb from a stingray went through his chest while he was filming in 2006, but his legacy of loving and protecting wildlife lives on, most recently in a Google Doodle today honoring his birthday.