This website uses cookies to ensure you get the best experience while browsing it. By clicking 'Got It' you're accepting these terms.
10 Near Misses at U.S. Nuclear Power Plants Considered Precursors to a Meltdown
May. 24, 2016 09:34AM EST
Energy
Following the 30th anniversary of the Chernobyl nuclear disaster, Greenpeace USA released a new report Tuesday on the 166 near misses at U.S. nuclear power plants over the past decade. Of the incidents identified in Nuclear Near Misses: A Decade of Accident Precursors at U.S. Nuclear Plants, 10 are considered by the Nuclear Regulatory Commission (NRC) to be important precursors to a meltdown.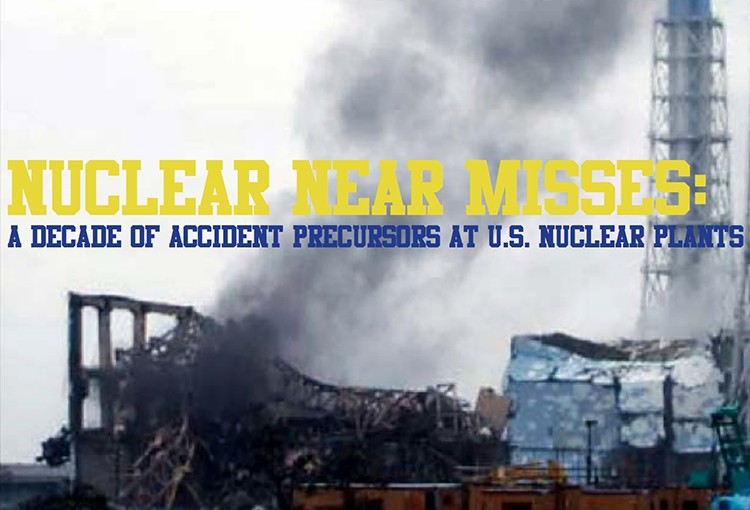 "Contrary to NRC commissioners' claims, there is nothing safe about the nuclear reactors in the United States," Greenpeace Nuclear Policy Analyst Jim Riccio said. "Thirty years after Chernobyl and five years after Fukushima, it is clear that these kinds of disasters could absolutely happen here. It is time for the NRC to listen to the whistleblowers within its own ranks and address these longstanding issues and vulnerabilities."
In addition to the 163 accident precursors or near misses documented by the NRC, Greenpeace identified three significant near misses that NRC risk analysts failed to review under the agency's Accident Sequence Precursor Program (ASP): the triple meltdown threat to Duke Energy's Oconee Nuclear Station west of Greenville, South Carolina. According to NRC's risk analysts, if nearby Jocassee Dam had failed, all three of the nuclear reactors at Oconee were certain to meltdown.
The report identified the following incidents as the top 10 near misses at nuclear plants between 2004-2014:
1. Browns Ferry 1 in Athens, Alabama: Residual heat removal loop unavailable; valve failure.
2. Wolf Creek in Burlington, Kansas: Multiple switchyard faults, reactor trip and loss of offsite power.
3. Robinson in Hartsville, South Carolina: Fire causes partial loss of offsite power & reactor coolant pump seal cooling challenges.
4. Fort Calhoun in Fort Calhoun, Nebraska: Fire in safety-related 480 volt electrical breaker due to deficient design control. 8 other breakers susceptible.
5. River Bend in St. Francisville, Louisiana. Loss of normal service water, circulating water and feedwater caused by electrical fault.
6. Oconee 1 in Seneca, South Carolina: Failure of Jocassee Dam would result in a meltdown.
7. Oconee 2 in Seneca, South Carolina: Failure of Jocassee Dam would result in a meltdown.
8. Oconee 3 in Seneca, South Carolina: Failure of Jocassee Dam would result in a meltdown.
9. North Anna 1 in Mineral, Virginia: Dual loss of offsite power caused by earthquake AFW pump out of service & failure of Unit 2 EDG.
10. Byron 2 in Byron, Illinois: Transformer & breaker failures cause Loss of Off Site Power, reactor trip and de-energizing of safety buses.
"If the NRC can't even accurately track near meltdowns why should the public have any confidence that they can prevent them? It's time to retire these dangerous nuclear plants and end the nuclear era once and for all," Riccio concluded.
YOU MIGHT ALSO LIKE
Bill Nye: Climate Deniers Are Wrong
Noam Chomsky: Climate Change and Nuclear Proliferation Pose Worst Threat Ever Faced by Humans
13 House Reps Sent Letters to 17 Attorneys General and 8 NGOs Defending Exxon
EcoWatch Daily Newsletter
Ocean Heroes Bootcamp
By Coda Christopherson (11) and Lea Eiders (15)
Growing up in a plastic-free home, I was sheltered from the plastic waste crisis. I (Coda) went to a very progressive school that had vegan lunch items, farm animals and ran on solar power. My mom produces zero-waste events and my dad is a sailor, so we're very passionate about the ocean. When I was nine years old, we moved back to Manhattan Beach, California and I started 3rd grade in a public school. This was the first time I really understood that plastic-free living is not the norm; single-use plastics were everywhere, especially in the cafeteria. Once I recognized this problem, I knew I had to make a difference.
A major California avocado producer issued a voluntary recall of the popular fruit over concerns they could be contaminated with Listeria monocytogenes, USA Today reported.
Henry Avocado issued the recall Saturday after a routine government inspection at its California packing facility turned up positive test results for the bacteria on "environmental samples," the company said in a statement. No illnesses have been reported.
Acting Secretary David Bernhardt visited Watson Hopper Inc., a manufacturer of rigs and oil drilling equipment in Hobbs, New Mexico on Feb. 6, 2019.
Tami A. Heilemann / DOI
Oil executives gathered for a conference laughed about their "unprecedented" access to Trump administration officials, according to a recording obtained by Reveal from the Center for Investigative Reporting.
In the recording, taken at a June 2017 meeting of the Independent Petroleum Association of America (IPAA) at a Ritz-Carlton in Southern California, members expressed excitement about one official in particular: David Bernhardt, who had been nominated that April to be deputy secretary at the Department of Interior (DOI). Bernhardt would be confirmed the following month.
"We know him very well, and we have direct access to him, have conversations with him about issues ranging from federal land access to endangered species, to a lot of issues," IPAA political director Dan Naatz said in the recording.
Pixabay
Saw palmetto (Serenoa repens) is a type of palm native to the southeastern U.S.
Jeff K / Flickr / CC BY-NC 2.0
By Elizabeth Henderson
The certified organic label has helped save many generational farms and enabled people like me, who do not come from agricultural backgrounds, to become successful farmers. Organic farming has brought environmental benefits—healthier soils, freedom from toxic pesticides and herbicides—to 6.5 million acres in the U.S.
PhotoAlto / Laurence Mouton / Getty Images
By Ana Reisdorf, MS, RD
You've probably heard the buzz around collagen supplements and your skin by now. But is the hype really that promising? After all, research has pointed to both the benefits and downsides of collagen supplements — and for many beauty-conscious folk, collagen isn't vegan.
Pixabay
By Marlene Cimons
Neil Pederson's introduction to tree rings came from a "sweet and kindly" college instructor, who nevertheless was "one of the most boring professors I'd ever experienced," Pederson said. "I swore tree rings off then and there." But they kept coming back to haunt him.
Aerial view of the explosion site of a chemical factory on March 22 in Yancheng, Jiangsu Province of China. Caixin Media / VCG / Getty Images)
At least 47 people have died in an explosion at a plant in Yancheng, China Thursday run by a chemical company with a history of environmental violations, Sky News reported.