Health
Nov. 13, 2014 11:56AM EST
10 Natural Ways to Keep Insects Out of Your Home
Insects are beneficial to the environment in a multitude of ways—especially when they're outside where they belong. Ants, flies, moths and other creepy crawly things aren't so welcome when they're in your house. Your first impulse might be to dash out and buy a can of bug spray. But so many of those store-bought insect eradicators contain ingredients that are harmful to people and pets as well as insects. There are better ways to keep the pests outside without turning your home into a chemical-soaked zone.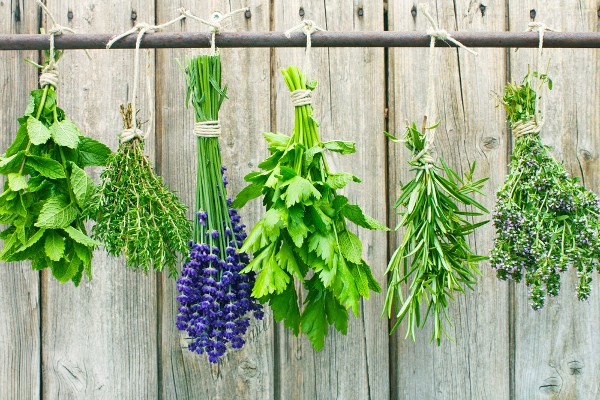 Photo credit: Shutterstock
One of the best is to become an herb gardener. There are a multitude of herbs that are known insect repellents, and herbs are one of the easiest plants to grow. Most need little maintenance, and many of them don't mind a little shade. And there are other things in your kitchen that act as bug repellents as well.
Ants are one of the most frequent home invaders and one of the easiest to deal with in a sweet-smelling, natural way. Spraying lemon juice or vinegar along the path where they're entering the house works as well as poisons. Mint and tansy are two herbs that are especially effective in keeping ants away. Crumble some leaves around trouble spots, place a few plants on a windowsill or even plant some just outside your door. Both are care-free hardy perennials that will come back year after year, and mint's purple flowers and tansy's yellow buttons will add color to your doorway. Hot pepper flakes are a bit messier and less aromatic but can get the job done as well.
If you're craving a mosquito-free evening on your porch or patio, think lemon. Lemon grass, lemon-scented Pelargoniums (commonly sold as scented geraniums) and lemon balm are some of the ones you can keep in pots or in the garden. Lemon balm is a mint and like all mints, you'll never have to think about it again after planting—except maybe to cut it back to keep it under control. Speaking of mint, rubbing it on your skin is also an effective way to repel biting bugs. Another plant with outstanding mosquito-repellent properties that's effective against (ugh) cockroaches too is catnip. It's also great for keeping your cat entertained, as you probably know.
Mint pretty much repels anything, and that includes flies. A number of the above-mentioned herbs are unappealing to these flying critters as well. Lavender, tansy, basil, rosemary and even cloves will keep them at bay.
So many of these herbs do double, triple and even quadruple duty. Mothballs have that weird smell you might associate with your grandmother's closet. You don't have to have it in yours. You can make your own simple sachets to protect your sweaters from moths with lavender, mint, rosemary, cloves and cinnamon, as well as those cedar chunks you can buy in stores. And you can choose your own favorite aroma to cling to your clothes.
There are other things you can do before your home becomes overrun by tiny invaders. In the kitchen, seal all your food in containers— especially attractive nuisances like sugar and flour. Clean up crumbs from your counter and floor as soon as you drop them, and don't leave dishes in the sink. In both kitchen and bathroom keep the drains clean and free of debris. And make sure your garbage cans and compost bin lids are fit securely not only to keep insects away but four-legged pests as well.
YOU MIGHT ALSO LIKE
Toxic Chemicals in Salons Linked to Adverse Health Effects, Including Cancer
A Life Less Toxic: Amy Smart and Carter Oosterhouse Visit Organic Mattress Factory Naturepedic
Jul. 21, 2017 01:50PM EST
Will Rose / Greenpeace
Eleven peaceful activists from the Greenpeace ship Arctic Sunrise have taken to the water in inflatable boats with handheld banners to oppose the Statoil Songa Enabler oil rig, 275 km North off the Norwegian coast, in the Arctic Barents sea.
The banners say: "People Vs. Arctic Oil" and are directed at Statoil and the Norwegian government, which has opened a new, aggressive search for oil in the waters of the Barents Sea.
Keep reading...
Show less
Jul. 21, 2017 10:34AM EST
Dominion Pipeline Monitoring Coalition
The Federal Energy Regulatory Commission (FERC) paved the way Friday for the 600-mile, 42-inch fracked gas Atlantic Coast Pipeline to proceed when it issued the final environmental impact statement (FEIS). A joint project of utility giants Duke Energy and Dominion Energy, the Atlantic Coast Pipeline would move fracked gas from West Virginia into Virginia and North Carolina.
In April, the Sierra Club submitted more than 500 pages of legal and technical comments on FERC's draft EIS, which were joined by more than 18,000 individual comments detailing opposition to the project. The pipeline has been met with widespread opposition, with more than 1,000 people participating in public hearings across the three affected states. The Sierra Club recently requested that FERC issue a new environmental review document analyzing information that came in after or late in, the public comment process.
Keep reading...
Show less
Jul. 21, 2017 08:25AM EST
Greenpeace / PolluterWatch
By Jessica Corbett
"It's time Rex Tillerson step down or be removed," said Gigi Kellett of Corporate Accountability International, following an announcement on Thursday that ExxonMobil will pay $2 million for violating U.S. sanctions against Russian officials while the now-secretary of state was the company's CEO.
"ExxonMobil demonstrated reckless disregard for U.S. sanction requirements," according to enforcement filing released by the Treasury Department's Office of Foreign Assets Control (OFAC), which issued the penalty. Though the fine is reportedly the maximum penalty allowed, it's pittance to one of the world's most profitable and powerful corporations, which last year reported a profit of $7.8 billion.
Keep reading...
Show less
Jul. 21, 2017 11:15AM EST
New analysis from Amory B. Lovins debunks the notion that highly unprofitable, economically distressed nuclear plants should be further subsi­dized to meet financial, security, reliability and climate goals. The analysis, which will appear shortly in The Electricity Journal, shows that closing costly-to-run nuclear plants and reinvesting their saved operating costs in energy efficiency provides cheaper elec­tricity, increases grid reliability and security, reduces more carbon, and preserves (not distorts) market integrity—all without subsidies.

Keep reading...
Show less
Jul. 21, 2017 08:44AM EST
Oil Change International / Twitter
By Christian Detisch and Seth Gladstone
In the wake of Senate Republicans' ever-deepening debacle over their flailing attempts to strip health insurance from 22 million people, Majority Leader Mitch McConnell is desperate to do something—anything—to show that he can get legislation passed. To this end, he's bypassing the standard committee review process to push a complex 850+ page energy bill straight to the full Senate floor. Perhaps not surprisingly, this legislation, the Energy and Natural Resources Act of 2017, would be a disaster for public health and our climate.
Keep reading...
Show less
Jul. 21, 2017 08:11AM EST
Rooftop solar panels on a beach house in southern Florida. TAI VIINIKKA / CC BY-NC-ND 2.0
A new law passed this week in South Miami will require all new homes built in the city to install solar panels. The measure, which was inspired by a proposal from a teenage climate activist, will go into effect in September.
The text of the ordinance details the climate impacts facing South Miami.
Keep reading...
Show less
Jul. 21, 2017 10:27AM EST
www.youtube.com
Keep reading...
Show less
Jul. 21, 2017 08:49AM EST
iStock
By Katherine Paul and Ronnie Cummins
A recent series of articles by a Washington Post reporter could have some consumers questioning the value of the U.S. Department of Agriculture's (USDA) organic seal. But are a few bad eggs representative of an entire industry?
Consumers are all for cracking down on the fraudulent few who, with the help of Big Food, big retail chains and questionable certifiers give organics a bad name. But they also want stronger standards, and better enforcement—not a plan to weaken standards to accommodate "Factory Farm Organic."
Keep reading...
Show less


Get EcoWatch in your inbox