This website uses cookies to ensure you get the best experience while browsing it. By clicking 'Got It' you're accepting these terms.


The best of EcoWatch, right in your inbox. Sign up for our email newsletter!
10 Natural Ways to Keep Insects Out of Your Home
Nov. 13, 2014 11:56AM EST
Insects are beneficial to the environment in a multitude of ways—especially when they're outside where they belong. Ants, flies, moths and other creepy crawly things aren't so welcome when they're in your house. Your first impulse might be to dash out and buy a can of bug spray. But so many of those store-bought insect eradicators contain ingredients that are harmful to people and pets as well as insects. There are better ways to keep the pests outside without turning your home into a chemical-soaked zone.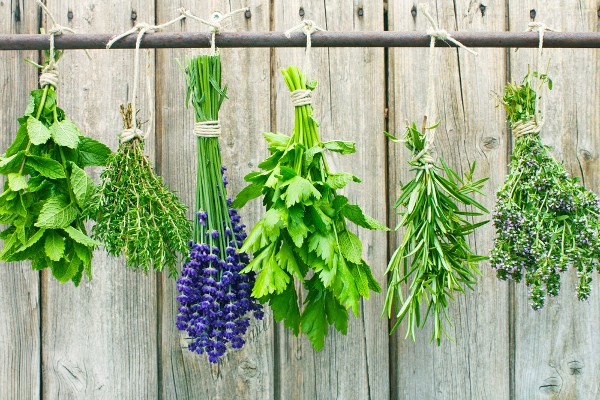 Photo credit: Shutterstock
One of the best is to become an herb gardener. There are a multitude of herbs that are known insect repellents, and herbs are one of the easiest plants to grow. Most need little maintenance, and many of them don't mind a little shade. And there are other things in your kitchen that act as bug repellents as well.
Ants are one of the most frequent home invaders and one of the easiest to deal with in a sweet-smelling, natural way. Spraying lemon juice or vinegar along the path where they're entering the house works as well as poisons. Mint and tansy are two herbs that are especially effective in keeping ants away. Crumble some leaves around trouble spots, place a few plants on a windowsill or even plant some just outside your door. Both are care-free hardy perennials that will come back year after year, and mint's purple flowers and tansy's yellow buttons will add color to your doorway. Hot pepper flakes are a bit messier and less aromatic but can get the job done as well.
If you're craving a mosquito-free evening on your porch or patio, think lemon. Lemon grass, lemon-scented Pelargoniums (commonly sold as scented geraniums) and lemon balm are some of the ones you can keep in pots or in the garden. Lemon balm is a mint and like all mints, you'll never have to think about it again after planting—except maybe to cut it back to keep it under control. Speaking of mint, rubbing it on your skin is also an effective way to repel biting bugs. Another plant with outstanding mosquito-repellent properties that's effective against (ugh) cockroaches too is catnip. It's also great for keeping your cat entertained, as you probably know.
Mint pretty much repels anything, and that includes flies. A number of the above-mentioned herbs are unappealing to these flying critters as well. Lavender, tansy, basil, rosemary and even cloves will keep them at bay.
So many of these herbs do double, triple and even quadruple duty. Mothballs have that weird smell you might associate with your grandmother's closet. You don't have to have it in yours. You can make your own simple sachets to protect your sweaters from moths with lavender, mint, rosemary, cloves and cinnamon, as well as those cedar chunks you can buy in stores. And you can choose your own favorite aroma to cling to your clothes.
There are other things you can do before your home becomes overrun by tiny invaders. In the kitchen, seal all your food in containers— especially attractive nuisances like sugar and flour. Clean up crumbs from your counter and floor as soon as you drop them, and don't leave dishes in the sink. In both kitchen and bathroom keep the drains clean and free of debris. And make sure your garbage cans and compost bin lids are fit securely not only to keep insects away but four-legged pests as well.
YOU MIGHT ALSO LIKE
Toxic Chemicals in Salons Linked to Adverse Health Effects, Including Cancer
A Life Less Toxic: Amy Smart and Carter Oosterhouse Visit Organic Mattress Factory Naturepedic
EcoWatch Daily Newsletter
A metal fence marked with the U.S. Border Patrol sign prevents people to get close to the barbed/concertina wire covering the U.S./Mexico border fence, in Nogales, Arizona, on Feb. 9. ARIANA DREHSLER / AFP / Getty Images
D'Bone Collector Museum head Darrell Blatchley shows plastic found inside the stomach of a Cuvier's beaked whale in the Philippines this weekend. - / AFP / Getty Images
Yet another whale has died after ingesting plastic bags. A young male Cuvier's beaked whale was found washed up in Mabini, Compostela Valley in the Philippines Friday, CNN reported. When scientists from the D' Bone Collector Museum in Davao investigated the dead whale, they found it had died of "dehydration and starvation" after swallowing plastic bags―40 kilograms (approximately 88 pounds) worth of them!
Pexels
By Jeff Turrentine
"Be careful what you wish for; you just might get it." This is something that everybody has to learn at some point. Lately, the lesson has hit home for a group of American automakers.
Art direction: Georgie Johnson. Illustrations: Freya Morgan
By Joe Sandler Clarke
"Don't expect us to continue buying European products," Malaysia's former plantations minister Mah Siew Keong told reporters in January last year. His comments came just after he had accused the EU of "practising a form of crop apartheid."

A few months later Luhut Pandjaitan, an Indonesian government minister close to President Joko 'Jokowi' Widodo, warned his country would retaliate if it was "cornered" by the EU.
Torres and his parents walk along the Rio Grande. Luis Torres / Earthjustice
By Luis Torres
For some people who live along the U.S.-Mexico border, President Trump's attempt to declare a national emergency and extend the border wall is worse than a wasteful, unconstitutional stunt. It's an attack on their way of life that threatens to desecrate their loved ones' graves.
Flooding caused by last week's bomb cyclone storm has broken records in 17 places across the state of Nebraska, CNN reported Sunday. Around nine million people in 14 states along the Mississippi and Missouri Rivers were under a flood watch, CNN meteorologist Karen Maginnis said.
A car destroyed by Cyclone Idai in Beira, Mozambique. ADRIEN BARBIER / AFP / Getty Images
At least 150 people have died in a cyclone that devastated parts of Mozambique, Zimbabwe and Malawi over the weekend, The Associated Press reported Sunday. Cyclone Idai has affected more than 1.5 million people since it hit Mozambique's port city of Beira late Thursday, then traveled west to Zimbabwe and Malawi. Hundreds are still missing and tens of thousands are without access to roads or telephones.
"I think this is the biggest natural disaster Mozambique has ever faced. Everything is destroyed. Our priority now is to save human lives," Mozambique's Environment Minister Celso Correia said, as AFP reported.