This website uses cookies to ensure you get the best experience while browsing it. By clicking 'Got It' you're accepting these terms.
10 Must-See Electric Cars at this Year's International Auto Show
Jan. 16, 2015 12:56PM EST
Gas prices may be plunging right now, but that hasn't stopped the carmakers at the 2015 North American International Auto Show from competing to show off their new hybrid and all-electric cars. The auto show expects more than one million people to come to Detroit, Michigan to see the 45 new vehicles on display from Jan. 12-25.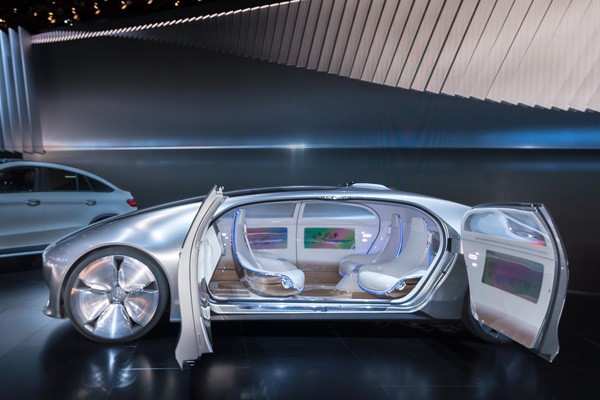 Steve Lagreca
/
Shutterstock.com
And many of those new vehicles are hybrid and electric. Elon Musk, the founder of Tesla Motors, doesn't feel threatened by the competition, according to CBS, because the trend is toward electric. Musk said, "the price of gasoline at any one time is irrelevant." Electric vehicles are the future.
Levi Tillemann, author of The Great Race: The Global Quest for the Car of the Future, said yesterday on Marketplace, "It's almost inevitable that the car of the future is going to be electric, and it's going to drive itself." As more and more states follow California's lead in mandating that a certain percentage of their vehicles are electric, electric vehicles will really take off. And "One of the benefits of electric vehicles is that electricity can be made out of any energy source," so, as we transition more and more to renewables, electric vehicles will come from cleaner energy sources.
Here's a list of 10 top electric cars from the Detroit Auto Show:
1. Volkswagen e-Golf
Volkswagen's new electric car goes up to 83 miles for less than $3 with zero-tailpipe emissions. And it's making waves in the auto industry: it won the 2015 Motor Trend Car of the Year.
2. Honda FCV
The FCV is a fuel cell electric vehicle. This zero-emission hydrogen powered car has a 300+ mile range and can recharge in under five minutes. It's expected to launch in the U.S. following a projected March 2016 introduction in Japan.
3. Tesla S
The Tesla S has had some production delays and runs just over $70,000, but Musk is confident the price will go down once it's mass-produced. Tesla has only sold 30,000 Model S cars this year, but Musk hopes to sell 500,000 annually of this all-electric sedan by 2020. Tesla announced in September that it's planning to build a giant "gigafactory" outside of Reno, Nevada to manufacture the batteries that power the cars. Tesla is planning to release the Model III in 2017, which will offer a more affordable $35,000 price tag.
4. Smart Electric Car
With a convertible option, this tiny car has an impressive government MPGe rating (miles per gallon gasoline equivalent) of 122 miles in the city and 93 on the highway.
5. BMW i8
The car was first introduced as a plug-in hybrid sports car. Now the 2015 model is electric with a range of 15-23 miles and a MPGe rating of 76. Deliveries to U.S. customers began in August 2014.
6. Chevy Bolt
General Motors wants to build on the success of its Chevy Volt hybrid with this new all-electric car. The carmker estimates it will go 200 miles on a single charge and cost $30,000. The Bolt is still a concept car, but it's debuting a 2016 update to the Volt hybrid.
7. GAC Group's Witstar
Chinese auto maker GAC Group's Witstar is a concept car that will be autonomous (able to drive itself) and electric. The makers say it will have a Chevy-Volt like setup with a total electric range of 62 miles or more.
8. Audi A3 e-tron
The 2015 Audi A3 E-tron plug-in hybrid can travel up to 31 miles on electricity alone or cover 550 miles with gas.
9. Mercedes-Benz F015
This carmaker known for its luxury sports cars is going electric. It's prototpye, dubbed Luxury in Motion, is electric and autonomous. Since the car drives itself, it has a "variable seating system with four rotating lounge chairs that allow a face-to-face seat configuration." Mercedes is also showcasing its C350 plug-in hybrid, which is expected to go on sale in March this year.
10. Volvo XC-90 hybrid plug-in
The Swedish automaker offers an SUV hybrid with a MPGe of 59. Volvo says it will go up to 25 miles on electric and can charge in two and a half to six hours.
YOU MIGHT ALSO LIKE
World's Biggest Car Company Says No to Gasoline, Yes to Hydrogen
How Much Money Can You Save By Switching to an Electric Car?
Solar Is Cheaper Than Electricity From the Grid in 42 of 50 Largest U.S. Cities
Teenager Alex Weber and friends collected nearly 40,000 golf balls hit into the ocean from a handful of California golf courses.
Alex Weber /
CC BY-ND
Southwest Greenland had the most consistent ice loss from 2003 to 2012. Eqalugaarsuit, Ostgronland, Greenland on Aug. 1, 2018.
Rob Oo / CC BY 2.0
Greenland is melting about four times faster than it was in 2003, a new study published Monday in the Proceedings of the National Academy of Sciences found, a discovery with frightening implications for the pace and extent of future sea level rise.
"We're going to see faster and faster sea level rise for the foreseeable future," study lead author and Ohio State University geodynamics professor Dr. Michael Bevis said in a press release. "Once you hit that tipping point, the only question is: How severe does it get?"
Finally, some good news about the otherwise terrible partial government shutdown. A federal judge ruled that the Trump administration cannot issue permits to conduct seismic testing during the government impasse.
The Justice Department sought to delay—or stay—a motion filed by a range of coastal cities, businesses and conservation organizations that are suing the Trump administration over offshore oil drilling, Reuters reported. The department argued that it did not have the resources it needed to work on the case due to the shutdown.
Most people have heard of the Amazon, South America's famed rainforest and hub of biological diversity. Less well known, though no less critical, is the Pantanal, the world's largest tropical wetland.
Like the Amazon, the Pantanal is ecologically important and imperiled. Located primarily in Brazil, it also stretches into neighboring Bolivia and Paraguay. Covering an area larger than England at more than 70,000 square miles, the massive wetland provides irreplaceable ecosystem services that include the regulation of floodwaters, nutrient renewal, river flow for navigability, groundwater recharge and carbon sequestration. The wetland also supports the economies of the four South American states it covers.
Demonstrators participate in a protest march over agricultural policy on Jan. 19 in Berlin, Germany. Carsten Koall / Getty Images Europe
By Andrea Germanos
Organizers said 35,000 people marched through the streets of the German capital on Saturday to say they're "fed up" with industrial agriculture and call for a transformation to a system that instead supports the welfare of the environment, animals and rural farmers.

The fire that erupted after a pipeline explosion in Mexico Friday. FRANCISCO VILLEDA / AFP / Getty Images
By Patrick Rogers
If you have ever considered making the switch to an environmentally friendly electric vehicle, don't drag your feet. Though EV prices are falling, and states are unveiling more and more public charging stations and plug-in-ready parking spots, the federal government is doing everything it can to slam the brakes on our progress away from gas-burning internal combustion engines. President Trump, likely pressured by his allies in the fossil fuel industry, has threatened to end the federal tax credits that have already helped put hundreds of thousands of EVs on the road—a move bound to harm not only our environment but our economy, too. After all, the manufacturing and sale of EVs, hybrids, and plug-in hybrids supported 197,000 jobs in 2017, according to the most recent U.S. Energy and Employment Report.
By Jason Bittel
Formidable predators stalk the forests between Panama and northern Argentina. They are sometimes heard but never seen. They are small but feisty and have even been documented trying to take down a tapir, which can top out at nearly 400 pounds. Chupacabras? No.
U.S. Army member helps clear debris from Tyndall Air Force Base following Hurricane Michael.
U.S. Army