This website uses cookies to ensure you get the best experience while browsing it. By clicking 'Got It' you're accepting these terms.
10 Most Bizarre Ways Nature Finds Love in the Wild
Feb. 03, 2012 09:35AM EST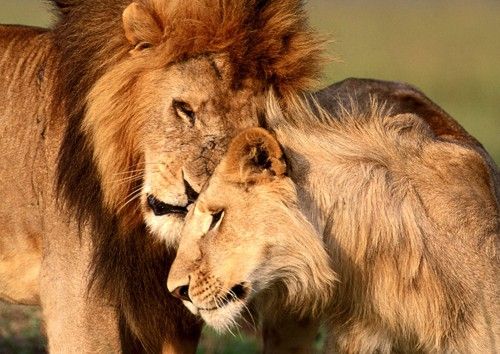 So you think you've had some strange dates? This Valentine's Day, The Nature Conservancy compiled the top 10 most bizarre examples of love in the wild.
"Nature can get pretty wild, especially when love is in the air," said Terry Sullivan, director of The Nature Conservancy in New Mexico.
Unfortunately, many of these creatures are at risk of disappearing forever because of habitat loss, climate change, and other threats.
"Here in New Mexico, the lesser prairie chicken faces an uncertain future because of loss of habitat," said Tish McDaniel, southern short grass project director for New Mexico's Conservancy. "As much as 90 percent of the lesser's habitat has been lost due to fragmentation. We are out of balance."
The lesser prairie chicken is renowned for the extraordinary dance that it performs as part of its mating ritual. To make sure these incredible animals survive in the future, The Nature Conservancy is protecting habitat on the Milnesand Prairie Preserve, the heart of the prairie chicken population. We also collaborate with partners, including landowners, ranchers and farmers, to access funding for habitat restoration projects. Plus, the conservancy, in concert with others, is restoring abandoned oil and gas roads and removing invasive shrubs and non-native trees.
 "Nature is powerful, but for many animals their future depends not only on their mating prowess but on what help we give them," McDaniel added. "If we don't act now to protect the lands these iconic creatures call home, they may not be around for future generations to witness their spectacular mating dances."
In an effort to raise awareness about the importance of protecting prairie chickens, the conservancy partners with the community of Milnesand, the New Mexico Department of Game and Fish Department and Grasslands Charitable Foundation for the 11th Annual High Plains Prairie Chicken Festival on April 20-22. 
In addition to the incredible displays of our own lesser prairie chicken, here are 10 other bizarre mating practices from around the planet:
1) Deep sea angler fish—"Losing yourself in love"
Male anglerfish bite their mates and permanently fuse to their bodies. Over time, the male's brain, eyes and organs dissolve until he turns into a small lump, releasing sperm whenever the female is ready to lay eggs. Scientists first thought the lumps were fins before discovering they were the males. 
2) Prairie Chickens—"Strut Your Stuff"
Male prairie chickens attract females with loud "booming" noises that can be heard miles away. They also perform an elaborate dance—lowering their heads, erecting their neck feathers, inflating orange air sacks, dropping their wings and pointing their tails, all while frantically stamping their feet. 
3) American Burying Beetle—"Family Oriented"
American burying beetles not only are monogamous but also raise their children together. Expectant parents bury dead birds or mice and lay eggs nearby. The parents lie on their backs and use their legs like a conveyor belt to move carcasses up to 200 times their own weight. Once hatched, larvae feed on the carcass or the parents rub their wings together to call the larvae and regurgitate meat into their mouths. 
4) Freshwater mussels—"The bait and switch"
Male mussels release sperm into the water, which females capture downstream. Larvae hatch inside the females' shells but must then attach to a fish to grow. To lure fish, mother mussels wave appendages that look like worms, crayfish or other bait. Some emit a smell of rotting flesh to attract scavenger fish. When fish approach, the mussels shoot the larvae onto the fish. 
5) Prairie Vole—"Born to be Faithful"
Unlike most rodents, prairie voles are monogamous. Scientists have discovered that prairie vole faithfulness is caused by hormone receptors located in their brain's reward centers, giving them the sense of pleasure from monogamy. 
6) Bower birds—"Bachelor Pads"
Male bowers of Australia and New Guinea build large and elaborate bachelor pads on forest floors, decorated with flowers, leaves, shells and even stolen coins—anything they think will attract a mate. Some paint the walls with chewed berries, others build lawns of moss. Drab males build the flashiest pads to compensate for their dull colors. 
7) Lions—"One Track Mind"
When lions mate, the coupling usually lasts only about 20 seconds. But the pair will repeat the act every 20 minutes or so—sometimes up to 40 times a day. This will continue for three to seven days straight, with the male and female neglecting to hunt or eat during the entire time.
8) Tree crickets—"Smooth talker"
Male crickets bite holes in leafs to amplifier their love songs and attract females. Once they mate, however, male sperm packets don't fit inside the females' bodies so a portion hangs out. The ever-ravenous females try to eat the packet before fertilization can occur. To distract her, the male sings and secretes a tasty goo from his back, feeding her until the eggs are fertilized. 
9) Day Octopus—"Keep Your Distance"
Female day octopi are known to eat their partners after mating, so the males keep their distance. When a male finds a female, he extends one arm and waves. If she responds, he uses his arm to place a sperm packet under the female's body covering. The octopi stay at an arm's length—appearing as though they are holding hands. 
10) Little Brown Bats—"Waiting for the Right Time"
Because these bats mate in the autumn—but hibernate during winter—females store sperm for seven months to delay pregnancy until springtime. While bats normally hang upside down, females stand upright to give birth and catch their babies in a membrane between their legs. Newborns cling to their mothers even during nighttime flights as they search for food.
For more information, click here.
EcoWatch Daily Newsletter
Extreme weather events supercharged by climate change in 2012 led to nearly 1,000 more deaths, more than 20,000 additional hospitalizations, and cost the U.S. healthcare system $10 billion, a new report finds.
Giant sequoia trees at Sequoia National Park, California. lucky-photographer / iStock / Getty Images Plus
A Bay Area conservation group struck a deal to buy and to protect the world's largest remaining privately owned sequoia forest for $15.6 million. Now it needs to raise the money, according to CNN.
This aerial view shows the Ogasayama Sports Park Ecopa Stadium, one of the venues for 2019 Rugby World Cup. MARTIN BUREAU / AFP / Getty Images
The Rugby World Cup starts Friday in Japan where Pacific Island teams from Samoa, Fiji and Tonga will face off against teams from industrialized nations. However, a new report from a UK-based NGO says that when the teams gather for the opening ceremony on Friday night and listen to the theme song "World In Union," the hypocrisy of climate injustice will take center stage.
Vera_Petrunina / iStock / Getty Images Plus
By Wudan Yan
In June, New York Times journalist Andy Newman wrote an article titled, "If seeing the world helps ruin it, should we stay home?" In it, he raised the question of whether or not travel by plane, boat, or car—all of which contribute to climate change, rising sea levels, and melting glaciers—might pose a moral challenge to the responsibility that each of us has to not exacerbate the already catastrophic consequences of climate change. The premise of Newman's piece rests on his assertion that traveling "somewhere far away… is the biggest single action a private citizen can take to worsen climate change."

Volunteer caucasian woman giving grain to starving African children.
Bartosz Hadyniak / E+ / Getty Images
Food will be scarce, expensive and less nutritious," CNN warns us in its coverage of the UN's new "Climate Change and Land" report. The New York Times announces that "Climate Change Threatens the World's Food Supply."
By Adam Vaughan
Two-thirds of people in the UK think the amount people fly should be reined in to tackle climate change, polling has found.
Climate Week NYC
On Monday, Sept. 23, the Climate Group will kick off its 11th annual Climate Week NYC, a chance for governments, non-profits, businesses, communities and individuals to share possible solutions to the climate crisis while world leaders gather in the city for the UN Climate Action Summit.
By Pam Radtke Russell in New Orleans
Local TV weather forecasters have become foot soldiers in the war against climate misinformation. Over the past decade, a growing number of meteorologists and weathercasters have begun addressing the climate crisis either as part of their weather forecasts, or in separate, independent news reports to help their viewers understand what is happening and why it is important.