10 Largest Companies 'Obstructing' Climate Policy
New research reveals that nearly half (45 percent) of the world's 100 largest companies are "obstructing climate change legislation." And those that aren't actively obstructing climate policy are members of trade associations that do. A full 95 percent of these companies are members of trade associations "demonstrating the same obstructionist behavior."
With help from the Union of Concerned Scientists, UK-based nonprofit InfluenceMap has released a report identifying the best and worst of the world's major companies when it comes to climate policy.
"More and more, we're seeing companies rely on their trade groups to do their dirty work of lobbying against comprehensive climate policies," said Gretchen Goldman, lead analyst at Union of concerned Scientists. "Companies get the delay in policy they want, while preventing nations from acting to fight climate change. It is unacceptable that companies can obstruct climate action in this way without any accountability."
The researchers found that corporate influence over climate policies extended "beyond the activities normally associated with lobbying, including intervention in the public discourse on climate change science and policy via advertising, PR, social media, and access to decision makers, as well as the use of influencers, such as trade associations and advocacy groups."
The companies were graded on an A to F scale. None of the companies received an A. The top three companies, which all received a B, were Google, Unilever and Cisco Systems. GlaxoSmithKline, Deutsche Telekom, National Grid, Vodafone Group, Nestle, Apple and Anheuser Busch InBev rounded out the top 10. But even Apple, which has been praised in recent months for its sustainability efforts received a paltry C+. It should also be noted that of those top 13 companies, only three are headquartered in the U.S.: Google, Apple and Cisco Systems. The rest are headquartered in Europe.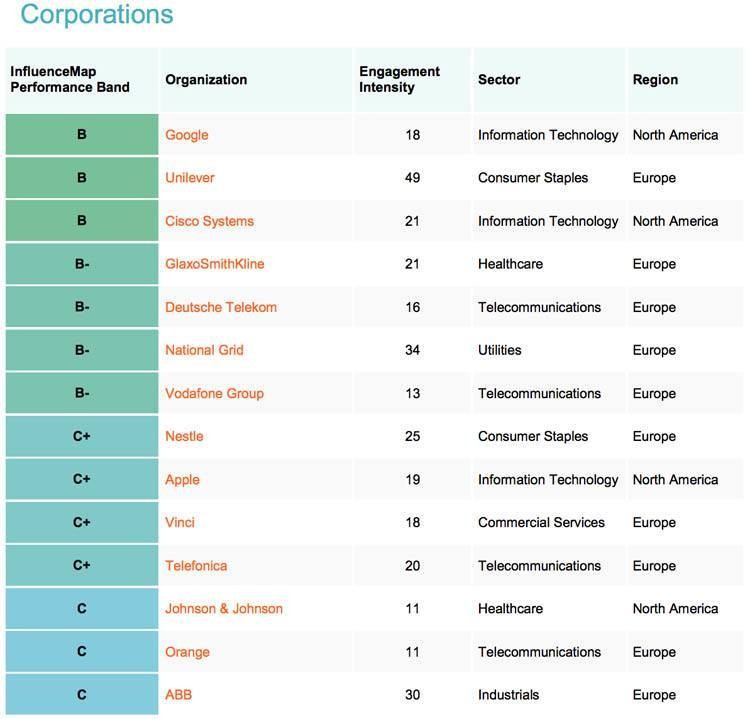 "There is a lack of detailed analysis available in this area and sadly great companies sometimes do bad things by lobbying against government action to avoid dangerous climate change," said Paul Dickinson, executive chairman of CDP.
As mentioned early, nearly all of the companies (95 percent) are members of trade associations that are fighting against climate action. Those associations include BusinessEurope (recently under attack in the UK for their obstructionist stance towards climate legislation) and the secretive U.S. industry group, NEDA/CAP, "who have been suing the U.S. EPA to prevent them using the Clean Air Act to regulate greenhouse gas emissions," according to InfluenceMap.
Other trade associations include the European Chemical Industry Council (CEFIC), European Automobile Manufacturers Association, American Petroleum Institute, National Association of Manufacturers, U.S. Chamber of Commerce, Business Council of Australia and Japan 2 Business Federation.
InfluenceMap's research found that "despite their public communications, few corporations have actually supported the progressive climate policies being proposed by governments globally. There also remains a lack of transparency around their relationships with trade associations, with very few companies willing to publicly challenge them despite clear misalignment between their climate positions and the actions of the associations."
The companies receiving the lowest grades come as no surprise. Among them are major fossil fuel companies such as Chevron, BP, Duke Energy and Phillips 66. And at the bottom of the list is climate denying extraordinaire Koch Industries. Interestingly, two media companies even make the list: 21st Century Fox and Comcast.
Here are the 10 worst companies on InfluenceMap's list:
YOU MIGHT ALSO LIKE
Glyphosate in Monsanto's Roundup Is Linked to Cancer, But Big Ag Wants it in Your Food Anyway
Shocking GMO Ingredient Found in Baby Food
iStock
By Robert Coleman
The Environmental Working Group's (EWG) just-released Tap Water Database shows that a startling number of cancer-causing chemicals contaminate the nation's drinking water. Of 250 different contaminants detected in tests by local utilities, 93 are linked to an increased risk of developing cancer.
Keep reading...
Show less
Aaron Teasdale
By Aaron Teasdale
"How much moon do we have tonight?" I yelled to my friend Greg, trying to make myself heard over the sounds of wind and surging water. The sun was sinking toward the mountains all too quickly and our float-in campsite lay somewhere down the river's bends in darkening forest.
Greg shrugged. He had no clue of the moon's cycle either, which showed just how tragically pasty and over-civilized we'd turned. Our days had become filled with computer screens, not forest scenes; our nights capped with ceilings, not stars. All of which made this journey on standup paddleboards so sweet—or at least we hoped it would be sweet, if the pesky headwind would let up before we had to risk disfiguring ourselves while navigating boulder-strewn waters by headlamp and whatever light the moon might spare.
Keep reading...
Show less
By Rebekah Wilce
The world of independent chemical testing has a shiny veneer. The public is reassured that chemicals they're exposed to on a daily basis are certified by technicians in spotless white lab coats who carefully conduct scientific studies, including on animals in neat rows of cages.
But a federal grand jury investigation that ended with convictions in the early 1980s discovered that Industrial Bio-Test Laboratories (IBT), the largest such lab in the U.S., conducted trials with mice that regularly drowned in their feeding troughs. The dead animals would decompose so quickly that "their bodies oozed through wire cage bottoms and lay in purple puddles on the dropping trays." IBT even invented an acronym "TBD/TDA" for its raw safety data, later discovered to mean "too badly decomposed."
Keep reading...
Show less
iStock
Roman officials are considering shutting off the water supply to one-third of the city's residents for eight hours per day as early as this weekend, according to reports.
Keep reading...
Show less
Ararat Rock Solar farm in Mount Airy, North Carolina. NARENCO
North Carolina Gov. Roy Cooper signed a bill into law Thursday that will boost solar production but curb wind energy in the state.
House Bill 589, the result of months of arduous negotiations between utilities and the solar industry, is intended to encourage the continued growth of solar in the state, but it includes a moratorium on new wind projects for the next 18 months.
Keep reading...
Show less
Algal blooms in Lake St. Clair and in western Lake Erie in 2015. NASA Earth Observatory
Heavier rainfall linked to rising temperatures could substantially increase the volume of agricultural runoff flowing into waterways, triggering toxic algal blooms, according to new research.
A study published Thursday in the journal Science finds that heavier rainfall could increase nitrogen runoff in U.S. lakes, rivers and streams by 19 percent by the end of this century.
Keep reading...
Show less
iStock
By Jen Sawada
Sharks have been around for 400 million years, before the time of the dinosaurs, but there's much more to them than big teeth and summer blockbusters. Consider these facts, which will change what you think about sharks.
Keep reading...
Show less
Felix Kramer / Wikimedia
By Jason Mathers
The high level of confidence that automotive industry leaders have in the future of electric vehicles (EVs) has been on full display recently.
Keep reading...
Show less


Get EcoWatch in your inbox