10 Largest Companies 'Obstructing' Climate Policy
New research reveals that nearly half (45 percent) of the world's 100 largest companies are "obstructing climate change legislation." And those that aren't actively obstructing climate policy are members of trade associations that do. A full 95 percent of these companies are members of trade associations "demonstrating the same obstructionist behavior."
With help from the Union of Concerned Scientists, UK-based nonprofit InfluenceMap has released a report identifying the best and worst of the world's major companies when it comes to climate policy.
"More and more, we're seeing companies rely on their trade groups to do their dirty work of lobbying against comprehensive climate policies," said Gretchen Goldman, lead analyst at Union of concerned Scientists. "Companies get the delay in policy they want, while preventing nations from acting to fight climate change. It is unacceptable that companies can obstruct climate action in this way without any accountability."
The researchers found that corporate influence over climate policies extended "beyond the activities normally associated with lobbying, including intervention in the public discourse on climate change science and policy via advertising, PR, social media, and access to decision makers, as well as the use of influencers, such as trade associations and advocacy groups."
The companies were graded on an A to F scale. None of the companies received an A. The top three companies, which all received a B, were Google, Unilever and Cisco Systems. GlaxoSmithKline, Deutsche Telekom, National Grid, Vodafone Group, Nestle, Apple and Anheuser Busch InBev rounded out the top 10. But even Apple, which has been praised in recent months for its sustainability efforts received a paltry C+. It should also be noted that of those top 13 companies, only three are headquartered in the U.S.: Google, Apple and Cisco Systems. The rest are headquartered in Europe.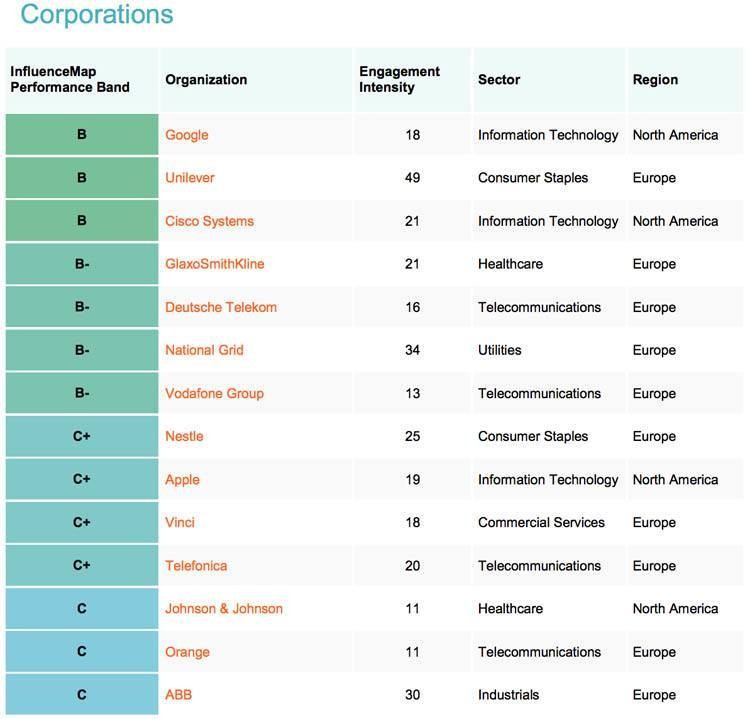 "There is a lack of detailed analysis available in this area and sadly great companies sometimes do bad things by lobbying against government action to avoid dangerous climate change," said Paul Dickinson, executive chairman of CDP.
As mentioned early, nearly all of the companies (95 percent) are members of trade associations that are fighting against climate action. Those associations include BusinessEurope (recently under attack in the UK for their obstructionist stance towards climate legislation) and the secretive U.S. industry group, NEDA/CAP, "who have been suing the U.S. EPA to prevent them using the Clean Air Act to regulate greenhouse gas emissions," according to InfluenceMap.
Other trade associations include the European Chemical Industry Council (CEFIC), European Automobile Manufacturers Association, American Petroleum Institute, National Association of Manufacturers, U.S. Chamber of Commerce, Business Council of Australia and Japan 2 Business Federation.
InfluenceMap's research found that "despite their public communications, few corporations have actually supported the progressive climate policies being proposed by governments globally. There also remains a lack of transparency around their relationships with trade associations, with very few companies willing to publicly challenge them despite clear misalignment between their climate positions and the actions of the associations."
The companies receiving the lowest grades come as no surprise. Among them are major fossil fuel companies such as Chevron, BP, Duke Energy and Phillips 66. And at the bottom of the list is climate denying extraordinaire Koch Industries. Interestingly, two media companies even make the list: 21st Century Fox and Comcast.
Here are the 10 worst companies on InfluenceMap's list:
YOU MIGHT ALSO LIKE
Glyphosate in Monsanto's Roundup Is Linked to Cancer, But Big Ag Wants it in Your Food Anyway
Shocking GMO Ingredient Found in Baby Food
By Sydney Robinson
President Trump has no doubt been given a long list of extravagant, elaborate gifts in his lifetime, but the gift given to him today by Pope Francis may not make it on his most favorite list.
Keep reading...
Show less
By John Rogers
Maybe it's because I first started working on clean energy while serving in the Peace Corps he founded, or maybe it's my years of working on these issues from his home state. But I can't help thinking about the 100th anniversary of John F. Kennedy's birth, and connecting his stirring rhetoric to the energy challenges of our times.
Here's what our 35th president might have said about the challenges of energy transition and the opportunities in clean energy:
"Change is the law of life. And those who look only to the past or present are certain to miss the future."
Keep reading...
Show less
Keep reading...
Show less
The Brooks Range in the Arctic National Wildlife Refuge. Hillebrand / U.S. Fish and Wildlife Service
By Andy Rowell
"Disruption" is one of the buzzwords of the energy market right now as plummeting costs of renewables is changing the way we heat our homes and drive our automobiles.
Some of the biggest names in the energy business spoke Wednesday on that very topic in London at the Financial Times' Energy Transition Strategies Summit, at the panel Rethinking Energy in a Time of Disruption.
Keep reading...
Show less
Chris Kick / Twitter
Keep reading...
Show less
Shaahina Ali
Keep reading...
Show less
The federal government is providing extensive support for fossil fuel production on public lands and waters offshore, through a combination of direct subsidies, enforcement loopholes, lax royalty collection, stagnant lease rates and other advantages to the industry, a report released Wednesday found.
Keep reading...
Show less
By Elgie Holstein
The federal budget that the president proposes annually and Congress votes on is more than a collection of numbers. It tells us who the president is, what he stands for and what he cares about.
Keep reading...
Show less


Get EcoWatch in your inbox