This website uses cookies to ensure you get the best experience while browsing it. By clicking 'Got It' you're accepting these terms.
10 Interesting Facts About Earthworms
Mar. 08, 2014 10:45AM EST
As winter draws to a close, gardeners begin their spring migration into the outdoors, leaving winter dens behind and coming into contact with the harbingers of the shifting seasons: shovels, hoes and trowels. Oh, and earthworms.
---
Anyone prone to working the soil knows that upturning the earth exposes these shiny, wigging, pinkish-brownish tubular life forms, sending them thrashing in hasty retreat into the comforting, moist darkness of the soil.
Earthworms: A Garden's Friend of Foe? That depends.
Here are 10 things you may want to know about earthworms:
1. Earthworms come in a seemly infinite variety—around 6,000 species worldwide.
One of the most familiar of them, the sort you may see in your garden, is commonly known as the night crawler (it typically surfaces after dark), the angleworm (its makes popular bait for fishing) or the rain worm (it leaves waterlogged soil after storms).
2. Of the more than 180 earthworm species found in the U.S. and Canada, 60 are invasive species, brought over from the Old World, including the night crawler.
3. Lacking lungs or other specialized respiratory organs, earthworms breathe through their skin.
4. The skin exudes a lubricating fluid that makes moving through underground burrows easier and helps keep skin moist. One Australian species can shoot fluid as far as 12 inches through skin pores.
5. Each earthworm is both male and female, producing both eggs and sperm.
They mate on the surface of the earth, pressing their bodies together and exchanging sperm before separating. Later, the clitellum (a collar-like organ that goes around the worm's body the way a cigar band does a cigar) produces a ring around the worm. As the worm crawls out of the ring, it fills the ring with eggs and sperm. The ring drops off, seals shut at the ends and becomes a cocoon for the developing eggs.
6. Baby worms emerge from the eggs tiny but fully formed. They grow sex organs within the first two or three months of life and reach full size in about a year. They may live up to eight years, though one to two is more likely.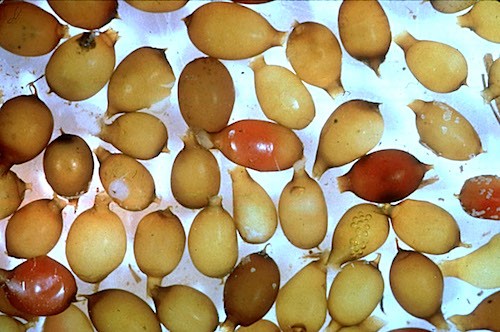 7. Full size for an earthworm varies among species, ranging from less than half an inch long to nearly 10 feet. The latter monsters don't occur in U.S. backyards—you'll have to go to the Tropics to see one of them. The homegrown versions top out at around 14 inches.
8. The glaciers that crawled across Canada into the northern tier of the lower 48 states during the most recent ice age wiped out earthworms in those areas.
In other parts of the U.S., you may find native earthworm species, but the worms living in the regions scoured by glaciers are invaders from overseas, brought here intentionally by early settlers on the assumption that the worms would improve the soil, or carried accidentally in shipments of plants or even in dirt used as ballast in ships.
9. The earthworm's digestive system is a tube running straight from the mouth, located at the tip of the front end of the body, to the rear of the body, where digested material is passed to the outside. Species vary in what they eat, but by and large their devouring of fallen leaves and/or soil allows the worms to move nutrients such as potassium and nitrogen into the soil.
Also, worm movements within the Earth create burrows that encourage the passage of air and a loosening of the soil. Good things, right? Well, maybe not. Which brings us to 10 ...
10. The northern forest evolved after the glaciers retreated, yielding an ecosystem that does not benefit from earthworms. These forests require a deep layer of slowly decomposing leaves and other organic matter called "duff" that overlays the soil. When earthworms invade these forests, they quickly eat up the duff, with the result that nutrients become less available to young, growing plants and the soil, instead of aerating and loosening, becomes more compact.
The combined effects of such developments have resulted in damage to trees such as sugar maples and to many forest herbs and understory plants, such as trillium, rare goblin ferns, trout lilies and other forest-floor species. In some areas, oak forests have been overrun by buckthorn, and in others the presence of earthworms has allowed the invasion of Japanese barberry.
As duff disappears, so do the insects and other small creatures that depend on it for survival, with the result that animals such as salamanders lose a key food source and face population declines. Earthworm burrows also may speed the passage of water through forest soil, another change that might be a benefit to farmland or a garden with compacted soil but that is a negative in a northern forest.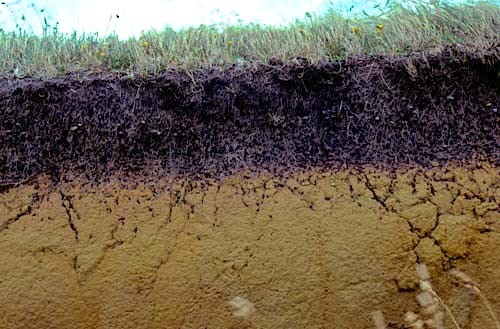 BONUS FACT
Although eradicating earthworms in areas they have already invaded is virtually impossible in practical terms (the measures that wipe out earthworms, such as spraying with pesticides, also kill many other species), we can all help protect as-yet un-invaded ecosystems by keeping worms out of such areas.
If you use earthworms for composting and live in a region near forests that have not been hit by earthworms, you can help by dropping use of the worms. Also, to avoid spreading earthworm eggs when fertilizing with composted materials, freeze your compost for at least a week before using it—freezing will kill eggs as well as the worms.
If you use earthworms for bait fishing, don't dump leftover worms onto the soil at the end of a day's fishing. Remove them from the site, or throw them far enough into a pond that they will die before they can reach to shore. When planting new shrubs or trees in your garden or yard, examine any Earth ball or potting soil for evidence of worms.
Electric vehicle sales took off in 2018, with a record two million units sold around the world, according to a new Deloitte analysis.
What's more, the accounting firm predicts that another 21 million electric cars will be on the road globally over the next decade due to growing market demand for clean transportation, government subsidies, as well as bans on fossil fuel cars.
Teenager Alex Weber and friends collected nearly 40,000 golf balls hit into the ocean from a handful of California golf courses.
Alex Weber /
CC BY-ND
Sunoco's controversial Mariner East pipeline project in Pennsylvania is beginning 2019 on unstable ground, literally. A sinkhole opened in the suburban development of Lisa Drive in Chester County Sunday, exposing the old Mariner East 1 pipeline built in the 1930s.
Southwest Greenland had the most consistent ice loss from 2003 to 2012. Eqalugaarsuit, Ostgronland, Greenland on Aug. 1, 2018.
Rob Oo / CC BY 2.0
Greenland is melting about four times faster than it was in 2003, a new study published Monday in the Proceedings of the National Academy of Sciences found, a discovery with frightening implications for the pace and extent of future sea level rise.
"We're going to see faster and faster sea level rise for the foreseeable future," study lead author and Ohio State University geodynamics professor Dr. Michael Bevis said in a press release. "Once you hit that tipping point, the only question is: How severe does it get?"
By Marlene Cimons
Most Europeans know the great tit as an adorable, likeable yellow-and-black songbird that shows up to their feeders in the winter. But there may be one thing they don't know. That cute, fluffy bird can be a relentless killer.
The great tit's aggression can emerge in gruesome ways when it feels threatened by the pied flycatcher, a bird that spends most of the year in Africa, but migrates to Europe in the spring to breed. When flycatchers arrive at their European breeding grounds, they head for great tit territory, knowing that great tits—being year-round European residents—know the best nesting sites.
Most people have heard of the Amazon, South America's famed rainforest and hub of biological diversity. Less well known, though no less critical, is the Pantanal, the world's largest tropical wetland.
Like the Amazon, the Pantanal is ecologically important and imperiled. Located primarily in Brazil, it also stretches into neighboring Bolivia and Paraguay. Covering an area larger than England at more than 70,000 square miles, the massive wetland provides irreplaceable ecosystem services that include the regulation of floodwaters, nutrient renewal, river flow for navigability, groundwater recharge and carbon sequestration. The wetland also supports the economies of the four South American states it covers.
The fire that erupted after a pipeline explosion in Mexico Friday. FRANCISCO VILLEDA / AFP / Getty Images
By Brian Mastroianni
Is it hard to motivate yourself to get off the couch and go exercise?
By Patrick Rogers
If you have ever considered making the switch to an environmentally friendly electric vehicle, don't drag your feet. Though EV prices are falling, and states are unveiling more and more public charging stations and plug-in-ready parking spots, the federal government is doing everything it can to slam the brakes on our progress away from gas-burning internal combustion engines. President Trump, likely pressured by his allies in the fossil fuel industry, has threatened to end the federal tax credits that have already helped put hundreds of thousands of EVs on the road—a move bound to harm not only our environment but our economy, too. After all, the manufacturing and sale of EVs, hybrids, and plug-in hybrids supported 197,000 jobs in 2017, according to the most recent U.S. Energy and Employment Report.
U.S. Army member helps clear debris from Tyndall Air Force Base following Hurricane Michael.
U.S. Army
Protesters interrupt the confirmation hearing for Andrew Wheeler on Capitol Hill Jan. 16 in Washington, DC. Chip Somodevilla / Getty Images
This week, people across the country are joining environmental leaders to speak out against the nomination of former coal lobbyist Andrew Wheeler to lead the the U.S. Environmental Protection Agency (EPA). As Scott Pruitt's hand-picked successor, Wheeler has continued to put polluters over people, most recently by using the last of his agency's funding before it expired in the government shutdown to announce plans to allow power plants to spew toxic mercury and other hazardous pollution into the air.