This website uses cookies to ensure you get the best experience while browsing it. By clicking 'Got It' you're accepting these terms.
10 Interesting Facts About Earthworms
Mar. 08, 2014 10:45AM EST
Popular
As winter draws to a close, gardeners begin their spring migration into the outdoors, leaving winter dens behind and coming into contact with the harbingers of the shifting seasons: shovels, hoes and trowels. Oh, and earthworms.
---
Anyone prone to working the soil knows that upturning the earth exposes these shiny, wigging, pinkish-brownish tubular life forms, sending them thrashing in hasty retreat into the comforting, moist darkness of the soil.
Earthworms: A Garden's Friend of Foe? That depends.
Here are 10 things you may want to know about earthworms:
1. Earthworms come in a seemly infinite variety—around 6,000 species worldwide.
One of the most familiar of them, the sort you may see in your garden, is commonly known as the night crawler (it typically surfaces after dark), the angleworm (its makes popular bait for fishing) or the rain worm (it leaves waterlogged soil after storms).
2. Of the more than 180 earthworm species found in the U.S. and Canada, 60 are invasive species, brought over from the Old World, including the night crawler.
3. Lacking lungs or other specialized respiratory organs, earthworms breathe through their skin.
4. The skin exudes a lubricating fluid that makes moving through underground burrows easier and helps keep skin moist. One Australian species can shoot fluid as far as 12 inches through skin pores.
5. Each earthworm is both male and female, producing both eggs and sperm.
They mate on the surface of the earth, pressing their bodies together and exchanging sperm before separating. Later, the clitellum (a collar-like organ that goes around the worm's body the way a cigar band does a cigar) produces a ring around the worm. As the worm crawls out of the ring, it fills the ring with eggs and sperm. The ring drops off, seals shut at the ends and becomes a cocoon for the developing eggs.
6. Baby worms emerge from the eggs tiny but fully formed. They grow sex organs within the first two or three months of life and reach full size in about a year. They may live up to eight years, though one to two is more likely.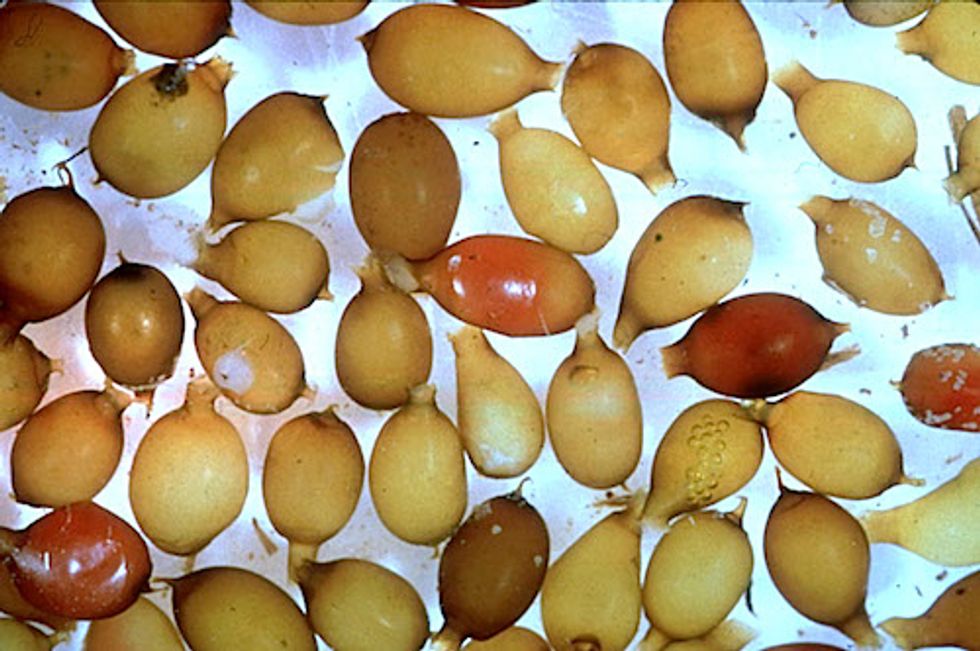 7. Full size for an earthworm varies among species, ranging from less than half an inch long to nearly 10 feet. The latter monsters don't occur in U.S. backyards—you'll have to go to the Tropics to see one of them. The homegrown versions top out at around 14 inches.
8. The glaciers that crawled across Canada into the northern tier of the lower 48 states during the most recent ice age wiped out earthworms in those areas.
In other parts of the U.S., you may find native earthworm species, but the worms living in the regions scoured by glaciers are invaders from overseas, brought here intentionally by early settlers on the assumption that the worms would improve the soil, or carried accidentally in shipments of plants or even in dirt used as ballast in ships.
9. The earthworm's digestive system is a tube running straight from the mouth, located at the tip of the front end of the body, to the rear of the body, where digested material is passed to the outside. Species vary in what they eat, but by and large their devouring of fallen leaves and/or soil allows the worms to move nutrients such as potassium and nitrogen into the soil.
Also, worm movements within the Earth create burrows that encourage the passage of air and a loosening of the soil. Good things, right? Well, maybe not. Which brings us to 10 ...
10. The northern forest evolved after the glaciers retreated, yielding an ecosystem that does not benefit from earthworms. These forests require a deep layer of slowly decomposing leaves and other organic matter called "duff" that overlays the soil. When earthworms invade these forests, they quickly eat up the duff, with the result that nutrients become less available to young, growing plants and the soil, instead of aerating and loosening, becomes more compact.
The combined effects of such developments have resulted in damage to trees such as sugar maples and to many forest herbs and understory plants, such as trillium, rare goblin ferns, trout lilies and other forest-floor species. In some areas, oak forests have been overrun by buckthorn, and in others the presence of earthworms has allowed the invasion of Japanese barberry.
As duff disappears, so do the insects and other small creatures that depend on it for survival, with the result that animals such as salamanders lose a key food source and face population declines. Earthworm burrows also may speed the passage of water through forest soil, another change that might be a benefit to farmland or a garden with compacted soil but that is a negative in a northern forest.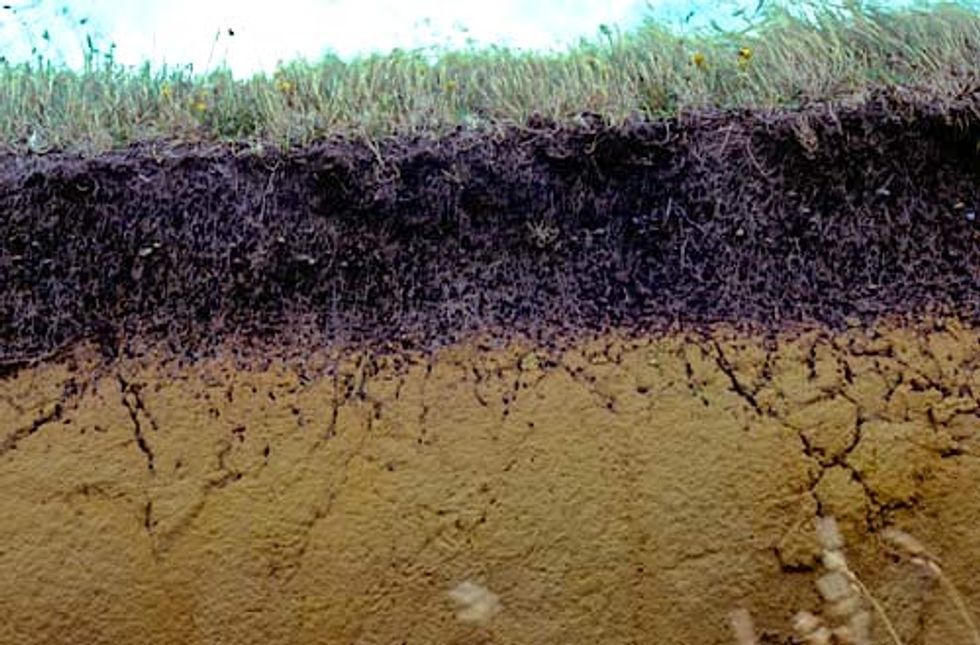 BONUS FACT
Although eradicating earthworms in areas they have already invaded is virtually impossible in practical terms (the measures that wipe out earthworms, such as spraying with pesticides, also kill many other species), we can all help protect as-yet un-invaded ecosystems by keeping worms out of such areas.
If you use earthworms for composting and live in a region near forests that have not been hit by earthworms, you can help by dropping use of the worms. Also, to avoid spreading earthworm eggs when fertilizing with composted materials, freeze your compost for at least a week before using it—freezing will kill eggs as well as the worms.
If you use earthworms for bait fishing, don't dump leftover worms onto the soil at the end of a day's fishing. Remove them from the site, or throw them far enough into a pond that they will die before they can reach to shore. When planting new shrubs or trees in your garden or yard, examine any Earth ball or potting soil for evidence of worms.
Related Articles Around the Web
EcoWatch Daily Newsletter
Pie Ranch in San Mateo, California, is a highly diverse farm that has both organic and food justice certification. Katie Greaney
By Elizabeth Henderson
Farmworkers, farmers and their organizations around the country have been singing the same tune for years on the urgent need for immigration reform. That harmony turns to discord as soon as you get down to details on how to get it done, what to include and what compromises you are willing to make. Case in point: the Farm Workforce Modernization Act (H.R. 5038), which passed in the House of Representatives on Dec. 11, 2019, by a vote of 260-165. The Senate received the bill the next day and referred it to the Committee on the Judiciary, where it remains. Two hundred and fifty agriculture and labor groups signed on to the United Farm Workers' (UFW) call for support for H.R. 5038. UFW President Arturo Rodriguez rejoiced:
A woman walks to her train in Grand Central Terminal as New York City attempts to slow down the spread of coronavirus through social distancing on March 27. John Lamparski / Getty Images
By Julia Conley
A council representing more than 800,000 doctors across the U.S. signed a letter Friday imploring President Donald Trump to reverse his call for businesses to reopen by April 12, warning that the president's flouting of the guidance of public health experts could jeopardize the health of millions of Americans and throw hospitals into even more chaos as they fight the coronavirus pandemic.
polaristest / Flickr / CC BY-NC-ND 2.0
By Melissa Kravitz Hoeffner
Over six gallons of water are required to produce one gallon of wine. "Irrigation, sprays, and frost protection all [used in winemaking] require a lot of water," explained winemaker and sommelier Keith Wallace, who's also a professor and the founder of the Wine School of Philadelphia, the largest independent wine school in the U.S. And water waste is just the start of the climate-ruining inefficiencies commonplace in the wine industry. Sustainably speaking, climate change could be problematic for your favorite glass of wine.
Pixabay
Spinach is a true nutritional powerhouse, as it's rich in vitamins, minerals, and antioxidants.
Pexels
By Jeff Turrentine
From day to day, our public health infrastructure — the people and systems we've put in place to keep populations, as opposed to individuals, healthy — largely goes unnoticed. That's because when it's working well, its success takes the form of utter normalcy.