10 Inspiring Films on Food + Farming: Who Do You Think Should Win the People's Choice Award?
Apr. 04, 2016 02:21PM EST
Food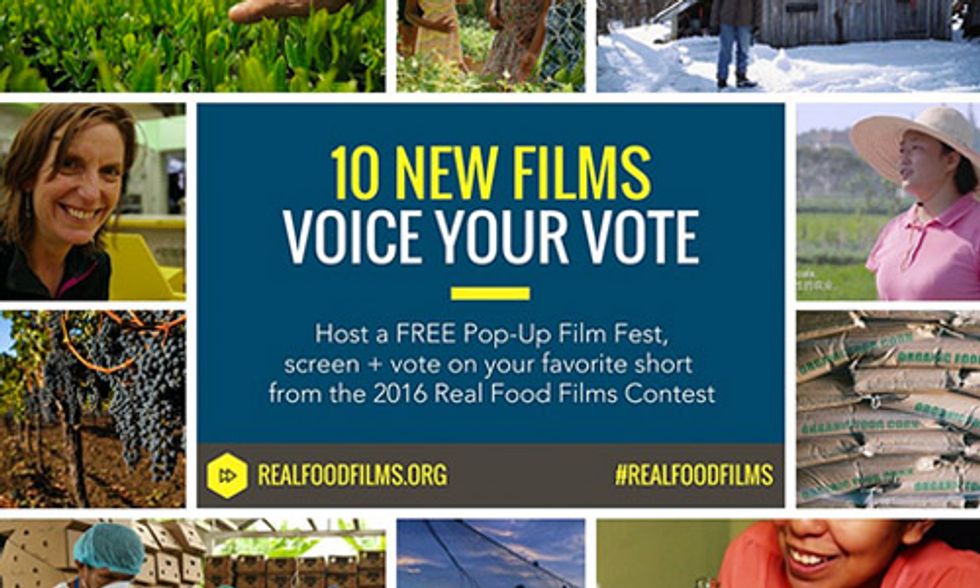 By Real Food Media
Real Food Films contest announced its outstanding finalists in its third short films competition featuring stories about food, farming and sustainability. From the depths of fishing in Thailand, to the true grit of Alabama, the changing climate of maple syrup and creative ways to quell hunger, the 10 finalist films cover a broad range of topics in today's growing good food movement.
A panel of judges—including Padma Lakshmi, Raj Patel, Susan Ungaro and chef Tom Colicchio—will select the grand prize winner, first runner up and special awards. Online voting by readers like you, now through April 30, will determine the People's Choice Award.
Announcing the #RealFoodFIlms finalists! 10 films of inspiration + action in food + farming: https://t.co/rNCySfLpgQ https://t.co/AX05dO6iYA

— Real Food Films (@Real Food Films)1459711862.0
The 2016 finalists were selected from 160 submissions representing filmmakers from 20 countries in this year's first ever call for entries outside of the U.S. and Canada. Diverse formats include documentary to advocacy to spoken word. Films are all four minutes or under and feature original voices and stunning cinematography that lean toward the get-your-hands-dirty stories at the heart of the food movement over the perfectly styled plates of restaurateurs. Top 10 short films eloquently capture action in the food system from down the block and around the globe.
This year's finalists include:
1. Everybody Eats: Boone, North Carolina, U.S.
2. Mindful Vineyards: Napa Valley, California, U.S.
3. Farmed with Love: Outskirts of Shanghai, China
4. A Sustainable Catch: Prachuap Khiri Khan, Thailand
5. McEwen & Sons True Grits: Wilsonville, Alabama, U.S.
6. Naturali Tea: Fujieda, Japan
7. Saving Sap: Loudon, New Hampshire, U.S.
8. The Kelly Street Garden: South Bronx, New York City, U.S.
9. Home Flavored: Oakland, California, U.S.
10. Beyond the Seal: El Oro Province, Ecuador
Prize winners will be announced on May 2 and include a $5,000 Grand Prize, a new $5,000 Lens on Hunger Award, as well as $5,000 more in awards for best student film, best cinematography and more. All winning films have distribution opportunities with contest media partners, including Devour! The Food Film Fest, Disposable Film Festival, SXSW Eco and Vimeo.
Entries from the 2016 contest will join the Real Food Films Library, a curated collection of short films about food, farming and sustainability, produced by award-winning author Anna Lappé. The project's film library showcases winners from the first two years of the contest and 40 more carefully selected films, all under four minutes, organized by categories that include innovative food business, global voices, youth leaders, underreported issues and more.
YOU MIGHT ALSO LIKE
6 Millennials Fight for the Title of 'America's Best Yardfarmer'
Is Growing Your Own Food the Only Way to Truly Be Vegetarian or Vegan?
7 Must-See Eco Docs at One of the Best Film Festivals in America
Food Not Bullets: Hunger Pangs of Starving Farmers Met by a Barrage of Bullets
EcoWatch Daily Newsletter
Related Articles from EcoWatch
Recent Stories from EcoWatch