10 Inspiring Climate Films Win Action4Climate Documentary Competition
Oct. 30, 2014 04:41PM EST
Climate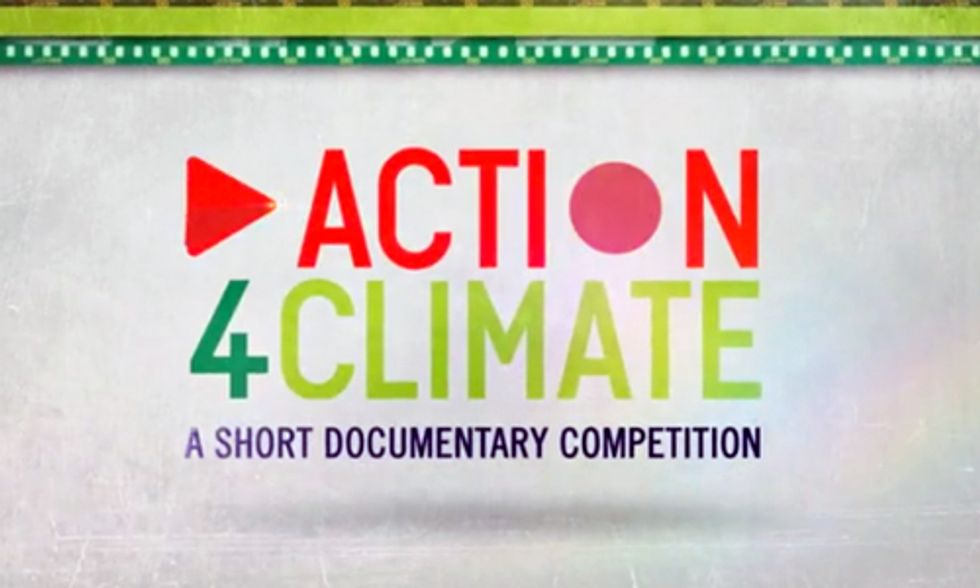 Ten films from 10 different countries that inspire the world to take action on climate change were chosen as winners today in the Action4Climate documentary competition.
The $15,000 top prize, in the 18 - 35 age category, went to the Portuguese filmmaker Gonçalo Tocha for his film The Trail of a Tale. This documentary revolves around a letter written in the future to society today.
The nearly four-minute short film is captivating as the narrator tells us, the stranger, how things went right. Society gathered with a fundamental belief that the "purpose of the economic system is to improve the well-being for all within the limits of what the planet can sustain … We had to deal with overconsumption first. The prices we paid for things had to reflect the social and environmental costs…"
See the brilliance of this film for yourself by watching it here:
I had the chance to interview filmmaker Gonçalo Tocha about his award-winning documentary.
Q. How long have you been making films?
I started in 2000, at the University of Lisbon, with a video collective. I learned by myself and by watching others filming. During those years I was testing and experimenting with various formats. Just in 2007 I adventured myself in making a feature film.
Q. What made you interested in filmmaking?
First my love for watching films, and then the possibilities that cinema has to enlarge life and to make people greater than real life.
Q. What were the biggest challenges to producing your film? What was the most rewarding part?
The biggest challenge was to think of the right images to communicate a clear message. Something important was to be said. Words are losing sense and there are just too many images nowadays, so in the end it is language that is losing meaning. In this way, the text was the beginning, and so that´s why we found a way to film the text, with the participation of the street artist ±MAISMENOS± (Miguel Januário). Only then came the music, the soundtrack and finally the other images.
Q. Climate change is impacting the world in a multitude of ways, and around the world people are continuously adapting and finding ways to make a positive impact. So there are a lot of different stories to tell. What made you interested in telling this one?
In this particular case I was invited by Imagine2020—Arts and Climate Change in association with the New Economics Foundation to make a short video inspired by the New Economic Foundation's report The Great Transition. It is a 100-page report talking about how things could work out right if we change society's paradigm of living, focusing on the prices of goods, on fair trade, the sustainable and especially the end of oil addiction. I was moved by it and instead of taking just one point of the report, I tried to condense its overall spirit to tell a tale of "how things actually worked out right," like a letter from someone in the future directed to us in our present/their past.
Do you think youth have more of an obligation to speak out on climate change than other age groups? Why or why not?
If youth had a voice yes, but normally who are heard are the older people. Who commands the economic and political destiny of our world are people who are at least 50 years old. The only solution is that my generation and the younger generations do not make the same mistakes.
Do you plan to make another film? If so, will the topic center on climate change or related environmental issues?
I took a little pause from filmmaking this year, but I plan to return soon to the archipelago of the Azores (where I made my two first films Balaou and It's the Earth not the Moon) to make a trilogy on these archipelago. Azores is composed of nine amazing Atlantic islands, between Europe and America. It is the homeland of my family, and so for me it is my perfect human and natural landscape to talk about the world.
What impact do you hope your film has on its viewers?
I am humble about its impact. It is just a simple film that does not intend to preach. Its images are open to multiple interpretations. We do not have to take the world for granted, as it is now. Let's just imagine another solution. Let's be strong and poetic. Life is many things, including markets and economics, but why do we have to allow these two dimensions to rule our lives?
Other winners today include, Dobrin Kashavelov from Bulgaria who won second place and a cash prize of $10,000 with Global Warning, a harrowing film about the catastrophic effects on survivors of last year's typhoon Haiyan in the Philippines. Third place and a $5,000 prize was awarded to American filmmaker Nathan Dappen for Snows of the Nile, a documentary following Dappen's adventures uncovering indisputable evidence of the fast disappearing glaciers of Uganda's "mountains of the moon."
"These talented young filmmakers connect to their audience in emotional and powerful ways about the dangers of climate change," said Jim Yong Kim, president, World Bank Group. "They have done serious, important work, which shows that climate change could result in a world that is unrecognizable today, and that we need act now to protect the planet for future generations."
In the younger 14 -17 age group, The Violin Player took top spot. This beautifully animated film was the brainchild of Francina Ramos, a young Argentinian film maker and her co-producer/composer Benjamin Braceras. Second place went to Facing the Flood by Constantin Huet from Switzerland, an investigative account of the changing conditions in Greenland and the Maldives. Georgia's Tura Tegerashivili was awarded third place for the whimsical It's Easy if You Try.
"We were amazed by the originality of the stories and the genuine concern shown by these young film makers about the effects of climate change," said Bernardo Bertolucci, Academy Award and Golden Globe winning director. "They described the effects of climate change from hundreds of different points of view. Selecting winners was an almost impossible task."
The Action4Climate competition was launched in early 2014 by Connect4Climate, the global climate change communications program. All prize winners receive production equipment and software to help them hone their skills and talents and inspire them to create more climate change stories.
The general public was also engaged by voting online for the People's Choice Prize. It was won by a team from Brazil for their film Pachamama depicting the effects of global warming in their home state of Sao Paulo.
"Connect4Climate was tremendously excited by the amount of interest shown in the competition from around the world," said Lucia Grenna, program manager, Connect4Climate. "It demonstrates the level of concern shown by creative young people and their desire to be involved directly in exposing climate problems and finding lasting solutions. We were also gratified to experience the seamless coming together of international organizations, the private sector and civil society to support and promote the competition."
YOU MIGHT ALSO LIKE
The World, 'It Turned Out Right'
How to Build a Wind Turbine From Scratch
EcoWatch Daily Newsletter
Related Articles from EcoWatch
Recent Stories from EcoWatch