This website uses cookies to ensure you get the best experience while browsing it. By clicking 'Got It' you're accepting these terms.
10 Healthy Reasons to Eat Yogurt
Jan. 21, 2015 03:32PM EST
Yogurt has always had a reputation as a dietary superstar. It's been widely accepted as a healthy choice for breakfast or a snack. The fact that it's a grab-and-go food that needs no preparation has undoubtedly boosted its popularity at a time when many people are too busy or time-challenged to fix a morning meal. We've all seen the images of the svelte young woman in workout clothes, spooning up her yogurt as she dashes from the gym to the office.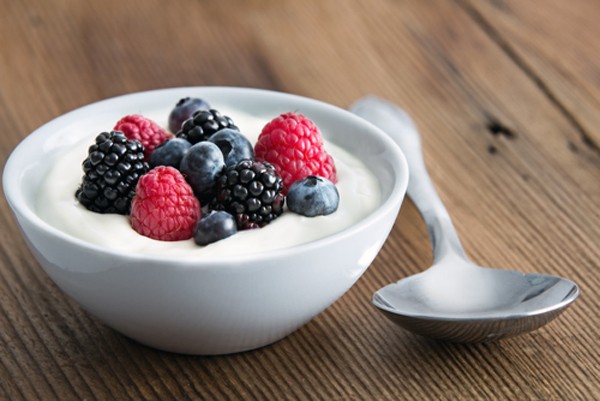 Photo credit: Shutterstock
Much of the hype is true. Yogurt is a probiotic, another of those trendy words in today's food conversations. Probiotics are live bacteria cultures, so-called "good bacteria." They're typically found in many dairy products, including aged cheeses like Parmesan and cheddar, fermented products like sauerkraut, pickled vegetables, kombucha tea, Japanese miso and Korean kimchi.
The main benefit claimed for probiotics is that they help regulate the digestive system, calm a queasy stomach, reduce bloating and regularize bowel function. They may be useful in treating some forms of diarrhea. Most of the other claims for their disease-treating value are a little shakier. Probiotics have been credited with reducing cholesterol and inflammation, lowering blood pressure, boosting the immune system and fighting infection, staving off vaginal infections, preventing osteoporosis and even addressing some skin conditions. But much research remains to be done in those areas and it's unlikely that a probiotic supplement will be of much benefit.
Eating yogurt itself is a different matter. It's undeniably high in calcium, which is essential for strong bones, and it contains a host of other nutrients and minerals, including B vitamins, potassium, phosphorus, iodine and zinc. Many brands add vitamin D to help absorb the calcium, a good thing. Yogurt can also be high in protein, depending on the type you buy. Greek yogurt is particularly protein-rich.
With all the touted benefits, the number of yogurts in the dairy case has proliferated, leading to a confusing array of choices—sometimes hundreds of them. Like milk, it comes in whole-milk, low-fat and non-fat versions, since yogurt is nothing  more than milk with bacterial cultures introduced to ferment it. Each can have its benefits depending on what your requirements are. But some of the choices can quickly turn a healthy food into something not much better than a junk food.
Plain yogurt is pretty, well, plain, and some may not like its sour taste. In an effort to broaden its appeal, many companies have taken to supplementing it with added ingredients, mixing it with various fruits and other flavors such as vanilla and maple. That's not necessarily bad in itself. But many yogurts also contain loads of added sweeteners, including that big food no-no, high-fructose corn syrup. Read the label and make sure yours doesn't. If sugar is the first ingredient listed, put it back. And while that yogurt with chocolate chip cookie pieces might induce your child to try some, it's probably not the best choice for an after-school snack.
A good way to avoid added ingredients that dilute yogurt's benefits is to make your own flavored yogurt. That's really not that much more complicated than popping the top off the cup. Start with the safest choice, plain organic yogurt, and toss in a handful of berries, orange sections, banana slices or nuts, spices like cinnamon or nutmeg, or seeds like chia, hemp and flax that add texture and fiber, or granola. All of those bring their own healthy compounds, adding more nutritional punch to that quick-and-easy yogurt meal.
YOU MIGHT ALSO LIKE
4 Things You Should Know About Probiotics
10 Best Ingredients to Include in Your Superfood Smoothies
EcoWatch Daily Newsletter
Strawberries top the Environmental Working Group's "Dirty Dozen" list of U.S. produce most contaminated with pesticides. DANIEL LEAL-OLIVAS / AFP / Getty Images
Which conventionally-grown fruits and vegetables in the U.S. are most contaminated with pesticides? That's the question that the Environmental Working Group answers every year with its "Dirty Dozen" list of produce with the highest concentration of pesticides after being washed or peeled.
A drilling rig in a Wyoming natural gas field. William Campbell / Corbis via Getty Images
A U.S. federal judge temporarily blocked oil and gas drilling on 300,000 acres of federal leases in Wyoming Tuesday, arguing that the Bureau of Land Management (BLM) "did not sufficiently consider climate change" when auctioning off the land, The Washington Post reported.
Mizina / iStock / Getty Images
Oats are widely regarded as one of the healthiest grains you can eat, as they're packed with many important vitamins, minerals, and fiber.
JPMorgan Chase building in New York City. Ben Sutherland / CC BY 2.0
By Sharon Kelly
A report published Wednesday names the banks that have played the biggest recent role in funding fossil fuel projects, finding that since 2016, immediately following the Paris agreement's adoption, 33 global banks have poured $1.9 trillion into financing climate-changing projects worldwide.
Sriram Madhusoodanan of Corporate Accountability speaking on conflict of interest demand of the People's Demands at a defining action launching the Demands at COP24. Corporate Accountability
By Patti Lynn
2018 was a groundbreaking year in the public conversation about climate change. Last February, The New York Times reported that a record percentage of Americans now believe that climate change is caused by humans, and there was a 20 percentage point rise in "the number of Americans who say they worry 'a great deal' about climate change."
The head of England's Environment Agency has urged people to stop watering their lawns as a climate-induced water shortage looms. Pexels
England faces an "existential threat" if it does not change how it manages its water, the head of the country's Environment Agency warned Tuesday.
Pexels
By Jessica Corbett
A new analysis revealed Tuesday that over the past two decades heat records across the U.S. have been broken twice as often as cold ones—underscoring experts' warnings about the increasingly dangerous consequences of failing to dramatically curb planet-warming emissions.
A flock of parrots in Telegraph Hill, San Francisco.
~dgies / Flickr
By Madison Dapcevich
Ask any resident of San Francisco about the waterfront parrots, and they will surely tell you a story of red-faced conures squawking or dive-bombing between building peaks. Ask a team of researchers from the University of Georgia, however, and they will tell you of a mysterious string of neurological poisonings impacting the naturalized flock for decades.