10 Healthy Reasons to Eat Yogurt
Jan. 21, 2015 04:32PM EST
Food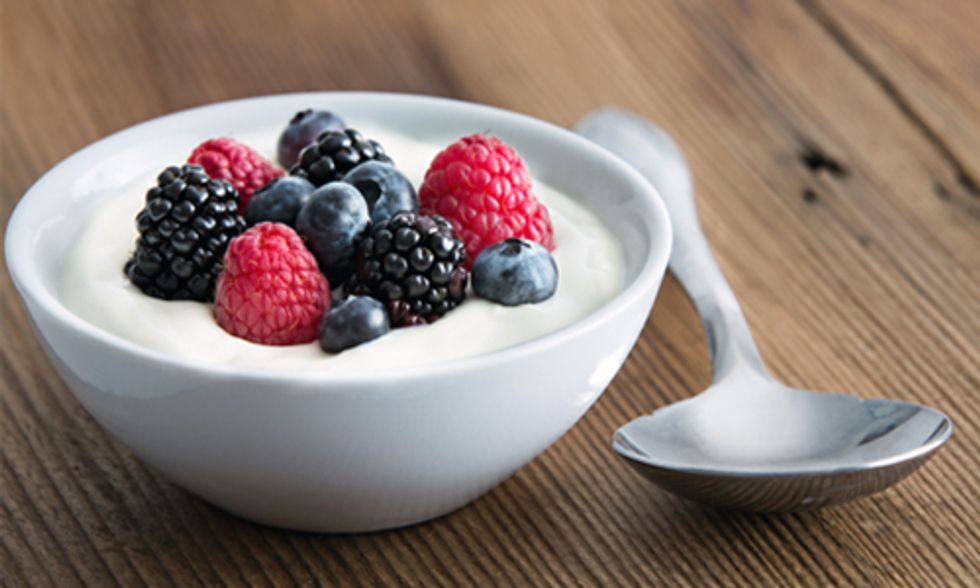 Yogurt has always had a reputation as a dietary superstar. It's been widely accepted as a healthy choice for breakfast or a snack. The fact that it's a grab-and-go food that needs no preparation has undoubtedly boosted its popularity at a time when many people are too busy or time-challenged to fix a morning meal. We've all seen the images of the svelte young woman in workout clothes, spooning up her yogurt as she dashes from the gym to the office.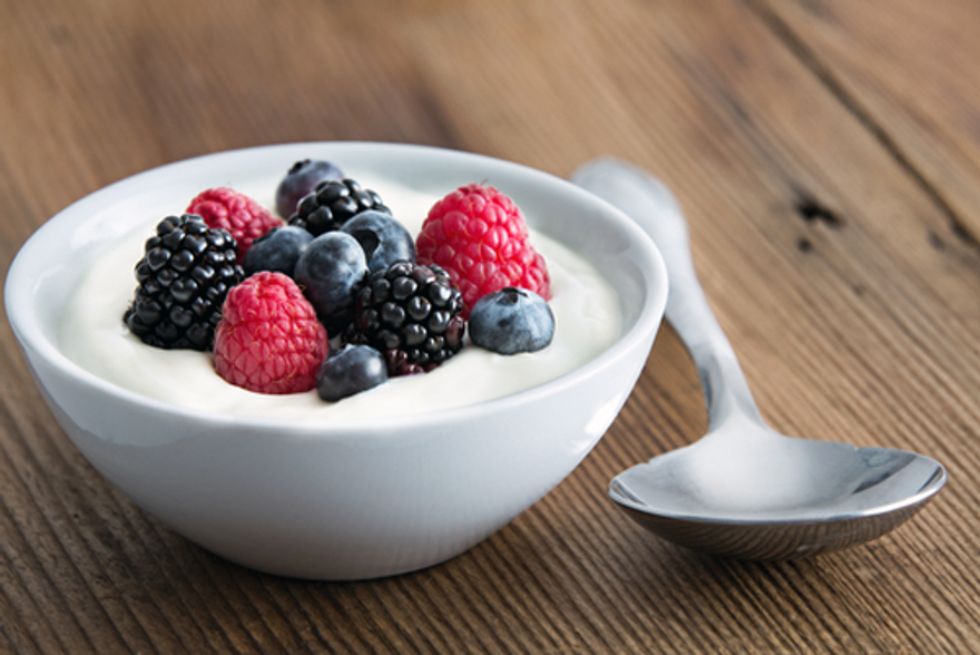 Photo credit: Shutterstock
Much of the hype is true. Yogurt is a probiotic, another of those trendy words in today's food conversations. Probiotics are live bacteria cultures, so-called "good bacteria." They're typically found in many dairy products, including aged cheeses like Parmesan and cheddar, fermented products like sauerkraut, pickled vegetables, kombucha tea, Japanese miso and Korean kimchi.
The main benefit claimed for probiotics is that they help regulate the digestive system, calm a queasy stomach, reduce bloating and regularize bowel function. They may be useful in treating some forms of diarrhea. Most of the other claims for their disease-treating value are a little shakier. Probiotics have been credited with reducing cholesterol and inflammation, lowering blood pressure, boosting the immune system and fighting infection, staving off vaginal infections, preventing osteoporosis and even addressing some skin conditions. But much research remains to be done in those areas and it's unlikely that a probiotic supplement will be of much benefit.
Eating yogurt itself is a different matter. It's undeniably high in calcium, which is essential for strong bones, and it contains a host of other nutrients and minerals, including B vitamins, potassium, phosphorus, iodine and zinc. Many brands add vitamin D to help absorb the calcium, a good thing. Yogurt can also be high in protein, depending on the type you buy. Greek yogurt is particularly protein-rich.
With all the touted benefits, the number of yogurts in the dairy case has proliferated, leading to a confusing array of choices—sometimes hundreds of them. Like milk, it comes in whole-milk, low-fat and non-fat versions, since yogurt is nothing  more than milk with bacterial cultures introduced to ferment it. Each can have its benefits depending on what your requirements are. But some of the choices can quickly turn a healthy food into something not much better than a junk food.
Plain yogurt is pretty, well, plain, and some may not like its sour taste. In an effort to broaden its appeal, many companies have taken to supplementing it with added ingredients, mixing it with various fruits and other flavors such as vanilla and maple. That's not necessarily bad in itself. But many yogurts also contain loads of added sweeteners, including that big food no-no, high-fructose corn syrup. Read the label and make sure yours doesn't. If sugar is the first ingredient listed, put it back. And while that yogurt with chocolate chip cookie pieces might induce your child to try some, it's probably not the best choice for an after-school snack.
A good way to avoid added ingredients that dilute yogurt's benefits is to make your own flavored yogurt. That's really not that much more complicated than popping the top off the cup. Start with the safest choice, plain organic yogurt, and toss in a handful of berries, orange sections, banana slices or nuts, spices like cinnamon or nutmeg, or seeds like chia, hemp and flax that add texture and fiber, or granola. All of those bring their own healthy compounds, adding more nutritional punch to that quick-and-easy yogurt meal.
YOU MIGHT ALSO LIKE
4 Things You Should Know About Probiotics
10 Best Ingredients to Include in Your Superfood Smoothies
EcoWatch Daily Newsletter