10 Healthy Reasons to Eat Yogurt
Yogurt has always had a reputation as a dietary superstar. It's been widely accepted as a healthy choice for breakfast or a snack. The fact that it's a grab-and-go food that needs no preparation has undoubtedly boosted its popularity at a time when many people are too busy or time-challenged to fix a morning meal. We've all seen the images of the svelte young woman in workout clothes, spooning up her yogurt as she dashes from the gym to the office.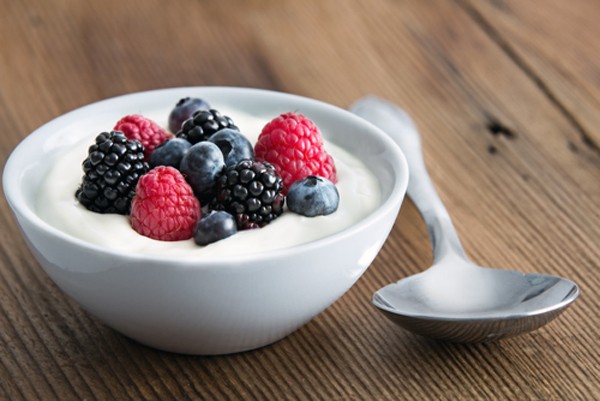 Photo credit: Shutterstock
Much of the hype is true. Yogurt is a probiotic, another of those trendy words in today's food conversations. Probiotics are live bacteria cultures, so-called "good bacteria." They're typically found in many dairy products, including aged cheeses like Parmesan and cheddar, fermented products like sauerkraut, pickled vegetables, kombucha tea, Japanese miso and Korean kimchi.
The main benefit claimed for probiotics is that they help regulate the digestive system, calm a queasy stomach, reduce bloating and regularize bowel function. They may be useful in treating some forms of diarrhea. Most of the other claims for their disease-treating value are a little shakier. Probiotics have been credited with reducing cholesterol and inflammation, lowering blood pressure, boosting the immune system and fighting infection, staving off vaginal infections, preventing osteoporosis and even addressing some skin conditions. But much research remains to be done in those areas and it's unlikely that a probiotic supplement will be of much benefit.
Eating yogurt itself is a different matter. It's undeniably high in calcium, which is essential for strong bones, and it contains a host of other nutrients and minerals, including B vitamins, potassium, phosphorus, iodine and zinc. Many brands add vitamin D to help absorb the calcium, a good thing. Yogurt can also be high in protein, depending on the type you buy. Greek yogurt is particularly protein-rich.
With all the touted benefits, the number of yogurts in the dairy case has proliferated, leading to a confusing array of choices—sometimes hundreds of them. Like milk, it comes in whole-milk, low-fat and non-fat versions, since yogurt is nothing  more than milk with bacterial cultures introduced to ferment it. Each can have its benefits depending on what your requirements are. But some of the choices can quickly turn a healthy food into something not much better than a junk food.
Plain yogurt is pretty, well, plain, and some may not like its sour taste. In an effort to broaden its appeal, many companies have taken to supplementing it with added ingredients, mixing it with various fruits and other flavors such as vanilla and maple. That's not necessarily bad in itself. But many yogurts also contain loads of added sweeteners, including that big food no-no, high-fructose corn syrup. Read the label and make sure yours doesn't. If sugar is the first ingredient listed, put it back. And while that yogurt with chocolate chip cookie pieces might induce your child to try some, it's probably not the best choice for an after-school snack.
A good way to avoid added ingredients that dilute yogurt's benefits is to make your own flavored yogurt. That's really not that much more complicated than popping the top off the cup. Start with the safest choice, plain organic yogurt, and toss in a handful of berries, orange sections, banana slices or nuts, spices like cinnamon or nutmeg, or seeds like chia, hemp and flax that add texture and fiber, or granola. All of those bring their own healthy compounds, adding more nutritional punch to that quick-and-easy yogurt meal.
YOU MIGHT ALSO LIKE
4 Things You Should Know About Probiotics
10 Best Ingredients to Include in Your Superfood Smoothies
Wikimedia Commons
By Stacy Malkan
Neil deGrasse Tyson has inspired millions of people to care about science and imagine themselves as participants in the scientific process. What a hopeful sign it is to see young girls wearing t-shirts emblazoned with the words, "Forget princess, I want to be an astrophysicist."
Keep reading...
Show less
www.youtube.com
By Andy Rowell
Any day now we will truly witness climate change in action. Within days at worst, maybe weeks at best, scientists predict that a huge section of the Larsen C ice shelf in Antarctica will break off into the ocean, in what is called a major "carving" event.
Keep reading...
Show less
www.youtube.com
President Trump visited Cedar Rapids, Iowa on June 21 to speak to a large crowd in the U.S. Cellular Center at a political rally organized by his campaign.
As Trevor Noah noted during The Daily Show episode last night (starts at 2:25), the real reason Trump has these rallies is to "get back in front of his loyal crowds and feed of their energy." Noah believes that "Trump supporters are so on board with their dude he can say anything and they'll come along for the ride."
Keep reading...
Show less
The Kamuthi solar plant in the southern Indian state of Tamil Nadu.
The rapid growth in renewable energy continues to put a dent in the demand for coal.
Coal India, the world's biggest coal mining company and producer of 82 percent of the country's coal, announced the closure of 37 mines that are financially "unviable."
Keep reading...
Show less
www.youtube.com
By Katie O'Reilly
Two years ago—long before coal became one of the most dominant and controversial symbols of the 2016 presidential election—Bloomberg Philanthropies approached production company RadicalMedia with the idea of creating a documentary exploring the U.S. coal mining industry. Last spring, they brought on Emmy-nominated director Michael Bonfiglio, tasked with forging a compelling story out of the multitudes of facts, statistics and narratives underlying the declining industry.
Keep reading...
Show less
Mayors for 100% Clean Energy
Keep reading...
Show less
www.youtube.com
Thanks to Newsy for their coverage on Thursday's news that the U.S. Fish and Wildlife Service removed grizzly bears in the Greater Yellowstone region from the Endangered Species List.
Watch above as Newsy explains that the decision comes despite serious concerns from the environmental and scientific community, and Tribal Nations about a declining, isolated grizzly bear population with diminishing food resources and record-high mortalities.
Keep reading...
Show less
www.facebook.com
By Francine Kershaw
Seismic airguns exploding in the ocean in search for oil and gas have devastating impacts on zooplankton, which are critical food sources for marine mammals, according to a new study in Nature. The blasting decimates one of the ocean's most vital groups of organisms over huge areas and may disrupt entire ecosystems.
And this devastating news comes on the heels of the National Marine Fisheries Service's proposal to authorize more than 90,000 miles of active seismic blasting. Based on the results of this study, the affected area would be approximately 135,000 square miles.
Keep reading...
Show less
By Jill Richardson
Is coconut oil:
good for you
bad for you
neither good nor bad
scientists don't know
The subject of this question is the source of a disagreement. Initially, the question was thought to be settled decades ago, when scientist Ancel Keys declared all saturated fats unhealthy. Coconut oil, which is solid at room temperature, is a saturated fat.
Keep reading...
Show less


Get EcoWatch in your inbox