This website uses cookies to ensure you get the best experience while browsing it. By clicking 'Got It' you're accepting these terms.
10 Healthy Foods That Increase Your Energy
Sep. 03, 2015 08:29AM EST
Food
Like most people who struggle to stay awake during the day, I absolutely need a cup of coffee to get me going—and stay going.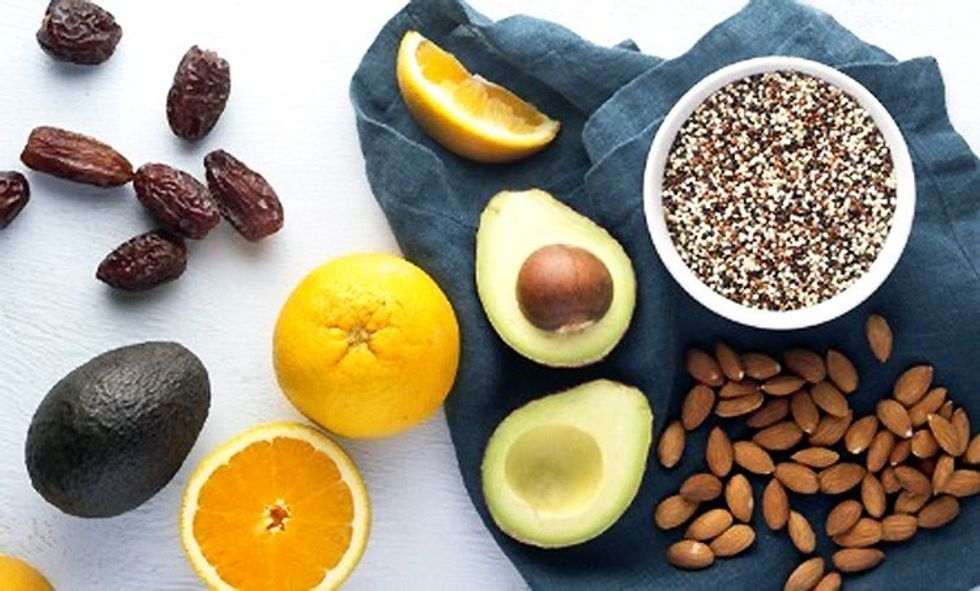 You don't need that afternoon latte to perk you up—just work in one of these healthy snacks. Photo credit: Thrive Market
Caffeine is fine in moderation and an addict probably shouldn't eliminate it cold turkey, but nobody should be relying on coffee alone to keep their energy up.
Luckily, there are other foods that provide that same, lasting jolt. You don't need that afternoon latte to perk you up—just work in one of these healthy snacks.
1. Almonds (or really any kind of nuts)
No matter how many times we hear about their numerous health benefits, we always manage to forget about those crunchy little gems. Skipping the coffee and substituting it with a handful of raw, unsalted almonds (or cashews, walnuts, or pistachios) will make you feel just as energetic as you would with a cup of coffee, but without the shakiness and eventual sugar crash. Nuts are an amazing source of healthy fats and proteins that balance blood sugar levels, which tend to drop if you don't eat for a while. Eating nuts as a snack will keep you going throughout the day without wanting to curl up in a ball under your desk.
2. Oranges
If you tend to start feeling sleepy before dinner time, cut up an orange. If you're feeling daring, sprinkle some chili on top for a spicy-sweet flavor. The vitamin C in the orange helps circulate oxygen throughout your body and into your brain, giving you a surge of energy those yawns are hinting that you need.
3. Fish
Fish is a magical food source—it contains omega-3 fats that protect brain cells and help your brain function better. If you're feeling particularly sluggish, prepare some baked salmon for yourself. Not only does it make you feel more awake, but fish is also a lighter meal (with plenty of protein nonetheless).
4. Blueberries
Blueberries were the original superfood, way back before acai berries and chia seeds took over. Blueberries are still super and they're still delicious, so don't forget about them. Since they are filled to the brim with antioxidants, they help our neural pathways function much more smoothly. In effect, blueberries makes us feel way more alert and awake.
5. Avocados
Avocados are wonderful and not just because they're tasty. They're also energy boosters rich in monosaturated fats used for energy instead of being stored as unhealthy fats. Avocados also contain B-vitamins—you know, those vitamins trainers recommend taking before you hit the gym? B-vitamins naturally increase your energy levels, so add some avocado to your omelet in the morning, or your salad during lunch.
6. Dates
Bacon-wrapped dates, anyone? Dates have a naturally high abundance of sugar, so the next time you want to add brown sugar or maple syrup to your oatmeal, just slice up some dates instead. The sugar in dates is actually way different than the processed sugar that you can find in soda or candy. You won't feel that spike in glucose levels, nor will you crash and burn later on. Dates are awesome because they're filled with fiber, so it's energy that is effective and long-lasting.
7. Watermelon
Watermelon: the perfect picnic fruit bursting with B-vitamins. Watermelon is also peppered with the electrolyte potassium (sports drinks are fortified with electrolytes) so you don't feel tired after an exhausting day. To get the most out of watermelon, eat it with your salad, or enjoy it as a juice (watermelon + basil = heaven).
8. Broccoli
These tiny tree-like veggies are super high in vitamin C, fiber, iron, beta-carotene, antioxidants and chromium. Chromium is the key word here, since it helps regulate your blood sugar so you feel like a normal, high-functioning human being. Avoid overcooking broccoli, since that can deplete some of its powerful properties.
9. Quinoa
You definitely need some carbs in your diet and the complex ones can do wonders for your body. Smartly eating carbs can boost your serotonin levels, which will make you feel happier and more energized. Quinoa is a seed, so not only is it full of protein, it also contains all nine essential amino acids and provides hundreds of milligrams of magnesium per serving.
10. Beans
Beans are a great substitute for meat whether you're going vegetarian or you simply want to cut back on meat. Beans have high levels of protein and they contain fat as well, but the "good" kind of fat. Best of all, they have a low glycemic index, which stabilizes your energy levels. Add some kidney or black beans in your salad at lunch to keep from falling asleep on your keyboard or enjoy a bean and cheese burrito for dinner. Eating just one serving per day can make you feel much less sluggish.
YOU MIGHT ALSO LIKE
Is There Such a Thing as Too Much Coffee?
Dr. Mark Hyman: Slow Carbs, Not Low Carbs
EcoWatch Daily Newsletter
By Sabrina Kessler
Far-reaching allegations about how a climate-sinning American multinational could shamelessly lie to the public about its wrongdoing mobilized a small group of New York students on a cold November morning. They stood in front of New York's Supreme Court last week to follow the unprecedented lawsuit against ExxonMobil.
By Alex Robinson
Leah Garcés used to hate poultry farmers.
The animal rights activist, who opposes factory farming, had an adversarial relationship with chicken farmers until around five years ago, when she sat down to listen to one. She met a poultry farmer called Craig Watts in rural North Carolina and learned that the problems stemming from factory farming extended beyond animal cruelty.
People navigate snow-covered sidewalks in the Humboldt Park neighborhood on Nov. 11 in Chicago. Scott Olson / Getty Images
Temperatures plunged rapidly across the U.S. this week and around 70 percent of the population is expected to experience temperatures around freezing Wednesday.
A general view of the flooded St. Mark's Square after an exceptional overnight "Alta Acqua" high tide water level, on Nov. 13 in Venice. MARCO BERTORELLO / AFP / Getty Images
President Donald Trump doesn't like wind turbines.
In April, he claimed they caused cancer, and he sued to stop an offshore wind farm that was scheduled to go up near land he had purchased for a golf course in Aberdeenshire in Scotland. He lost that fight, and now the Trump Organization has agreed to pay the Scottish government $290,000 to cover its legal fees, The Washington Post reported Tuesday.
A verdant and productive urban garden in Havana. Susanne Bollinger / Wikimedia Commons
By Paul Brown
When countries run short of food, they need to find solutions fast, and one answer can be urban farming.
Trevor Noah appears on set during a taping of "The Daily Show with Trevor Noah" in New York on Nov. 26, 2018.
The Daily Show With Trevor Noah / YouTube screenshot