This website uses cookies to ensure you get the best experience while browsing it. By clicking 'Got It' you're accepting these terms.
10 Healthiest Ways to Eat a Sandwich
Aug. 23, 2015 10:19AM EST
Popular
For many people, wheat bread is a staple food.
However, the majority of breads sold today are made from refined wheat, which has been stripped of most fiber and nutrients.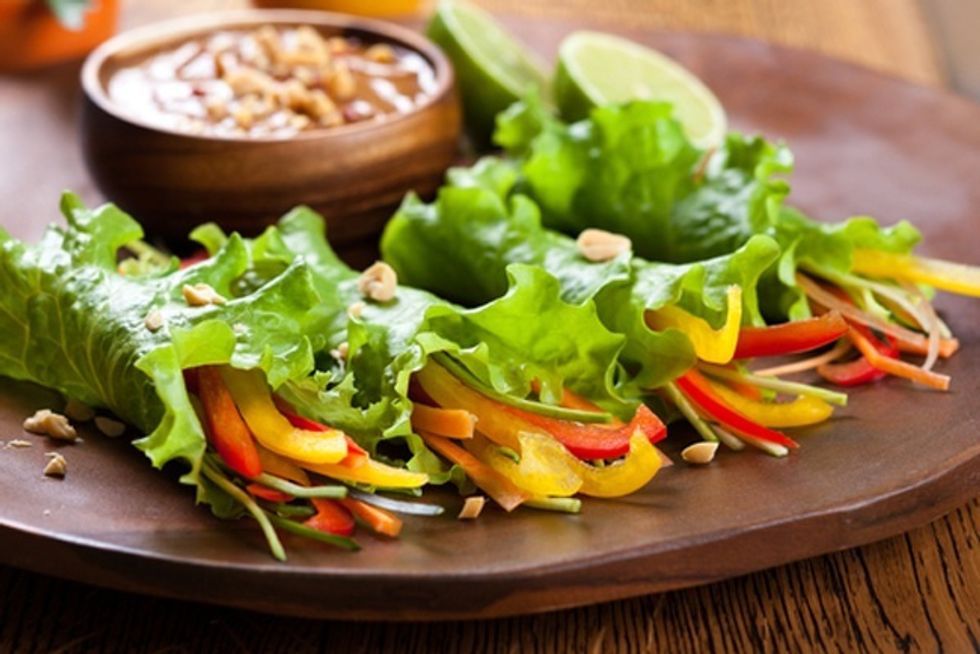 Big-leafed greens like lettuce or romaine lettuce are great substitutions for bread or wraps. Photo credit: Photo credit: Shutterstock
It may also cause a big spike in blood sugar and lead to increased calorie intake (1, 2, 3).
Many brands claim to be made from "whole" wheat, but still contain mostly pulverized grains.
There are also many people who are intolerant to gluten, a protein in wheat. This includes people with celiac disease and gluten sensitivity (4, 5).
Wheat is also high in short-chain carbs called FODMAPs, which cause digestive distress in many people.
Although many people can still eat bread without problems, there are others who do best avoiding it.
Fortunately, convenient and healthy alternatives to bread are becoming more readily available.
Here are 10 easy and delicious ways to replace conventional wheat bread:
1. Oopsie Bread
Oopsie bread is one of the simplest and most popular low-carb breads.
It can be made from only eggs, cream cheese and salt, although some recipes add more ingredients.
Oopsie bread is widely used as a replacement for wheat bread and is delicious as a bun for burgers or served with toppings.
It is easy to make, contains only a few ingredients and tastes delicious.
You can find photos and a recipe for Oopsie bread here.
2. Ezekiel Bread
Ezekiel bread is one of the healthiest breads available.
It is made with several types of sprouted grains and legumes, including wheat, millet, barley, spelt, soybeans and lentils.
The grains are allowed to sprout before processing, so they contain lower amounts of harmful antinutrients.
This makes the bread much more nutritious and easily digestible.
Ezekiel bread also contains no added sugar. However, if you are sensitive to gluten, then Ezekiel bread is not the right option for you.
You may be able to buy Ezekiel bread at some bakeries or you can make it yourself.
There are some tips on making your own Ezekiel bread here.
3. Corn Tortillas
Tortillas can be made with either wheat or corn.
Corn tortillas are gluten-free but high in fiber, making them a great option for people who are sensitive to gluten.
You can use corn tortillas in sandwiches, wraps, burgers, pizzas or simply with toppings like butter and cheese.
It is very easy to make corn tortillas yourself, since they contain only two ingredients: water and a Mexican flour called Masa Harina.
You can find a recipe here.
4. Rye Bread
Rye bread is made from rye, a type of grain that is related to wheat.
It is darker and denser than regular bread, as well as much higher in fiber.
Rye bread causes a lower rise in blood sugar than wheat bread. However, it also has a stronger, more unique flavor that may be an acquired taste (6).
Some rye breads are made with a mixture of rye and wheat, so they are a little lighter and have a mild, sweet flavor.
Keep in mind that rye bread contains some gluten, so it is not an option on a gluten-free diet.
You can find rye bread at most supermarkets and bakeries. It is also relatively easy to make yourself.
Here are several recipes to try.
5. Lettuce and Leafy Greens
Big-leafed greens like lettuce or romaine lettuce are great substitutions for bread or wraps.
You can fill these greens with toppings like meat or veggies.
The leaf can also be used as a wrap, to hold everything together.
Lettuce wraps are extremely fresh and way lower in calories than bread-based wraps.
Here are some fun and creative salad wrap ideas.
6. Sweet Potatoes and Vegetables
Cooked sweet potato slices make an excellent and tasty substitute for bread buns, especially with burgers.
They may also be used in a variety of recipes for grain-free breads and flatbreads.
Other vegetables, like eggplants, bell peppers, cucumbers and mushrooms, also make great bread substitutes.
These are fresh, tasty alternatives. They are especially delicious with toppings like meats, cream cheese and vegetables.
7. Butternut Squash or Sweet Potato Flatbread
There are many recipes online for grain-free bread alternatives.
One of these recipes, made with butternut squash or sweet potatoes, is especially mouth-watering.
This flatbread is an excellent alternative for people who are avoiding grains, but still want to eat sandwiches or buns with their meals.
You can find the recipe here.
8. Cauliflower Bread or Pizza Crust
Making bread or pizza crusts with a mix of cauliflower and cheese is very popular.
To do this, an entire head of cauliflower must be grated and cooked.
The cauliflower is then mixed with egg, cheese and spices before it is flattened and baked.
Cauliflower bread or crust tastes great and is nutritious, as well as low in carbs. It is a delicious alternative to regular bread.
Combined with toppings of your choosing, this may become one of your favorites.
You can find a recipe here.
9. Eggs
Eggs are among the most nutritious foods you can eat.
They can be a protein-rich substitute for bread and can be used in a variety of foods. When eating burgers, fried eggs can replace the bun.
Here are some creative ideas on how to prepare eggs.
10. Sourdough Bread
Sourdough bread is made from fermented grains.
The fermentation process reduces the antinutrients in the grains, which increases the availability of nutrients (7, 8, 9).
This makes sourdough bread more easily digestible and more nutritious than regular bread.
However, it tastes a little more sour than regular bread since it contains lactic acid.
You can make sourdough bread yourself in a few easy steps, but you'll need to make a starter culture to work with.
You can find a recipe here.
Keep in mind that sourdough bread made with gluten-containing grains still contains gluten.
Take Home Message
Although wheat bread makes up a large part of many people's diets, it can easily be replaced with healthier and more nutritious alternatives.
With the right resources, this change should not be difficult, although it may be more time consuming at first.
The list above is a good place to start. Find something that you enjoy eating that fits into your lifestyle.
This article was reposted from our media associate Authority Nutrition.
YOU MIGHT ALSO LIKE
8 Surprising Health Facts About the Superfood Spinach
What the Heck Is Nutritional Yeast and Why Should I Use It?
EcoWatch Daily Newsletter
In Germany's Hunsrück village of Schorbach, numerous photovoltaic systems are installed on house roofs, on Sept. 19, 2019. Thomas Frey / Picture Alliance via Getty Images
Germany's target for renewable energy sources to deliver 65% of its consumed electricity by 2030 seemed on track Wednesday, with 52% of electricity coming from renewables in 2020's first quarter. Renewable energy advocates, however, warned the trend is imperiled by slowdowns in building new wind and solar plants.
In many parts of the U.S., family farms are disappearing and being replaced by suburban sprawl.
General view of the empty Alma bridge, in front of the Eiffel tower, while the city imposes emergency measures to combat the Coronavirus COVID-19 outbreak, on March 17, 2020 in Paris, France. Edward Berthelot / Getty Images
Half the world is on lockdown. So, the constant hum of cars, trucks, trains and heavy machinery has stopped, drastically reducing the intensity of the vibrations rippling through the Earth's crust. Seismologists, who use highly sensitive equipment, have noticed a difference in the hum caused by human activity, according to Fast Company.
The current rate of CO2 emissions is a major event in the recorded history of Earth. EPA
At several points in the history of our planet, increasing amounts of carbon dioxide in the atmosphere have caused extreme global warming, prompting the majority of species on Earth to die out.
The "Earthrise" photograph that inspired the first Earth Day. NASA / Bill Anders
For EcoWatchers, April usually means one thing: Earth Day. But how do you celebrate the environment while staying home to prevent the spread of the new coronavirus?