This website uses cookies to ensure you get the best experience while browsing it. By clicking 'Got It' you're accepting these terms.
10 Health Benefits of Adding Honey to Your Diet
Feb. 14, 2016 10:32AM EST
Since ancient times, honey has been used as both a food and a medicine.
It's very high in beneficial plant compounds and offers several health benefits.
Honey is particularly healthy when used instead of refined sugar, which is 100 percent empty calories.
Here are the top 10 health benefits of honey that are supported by science.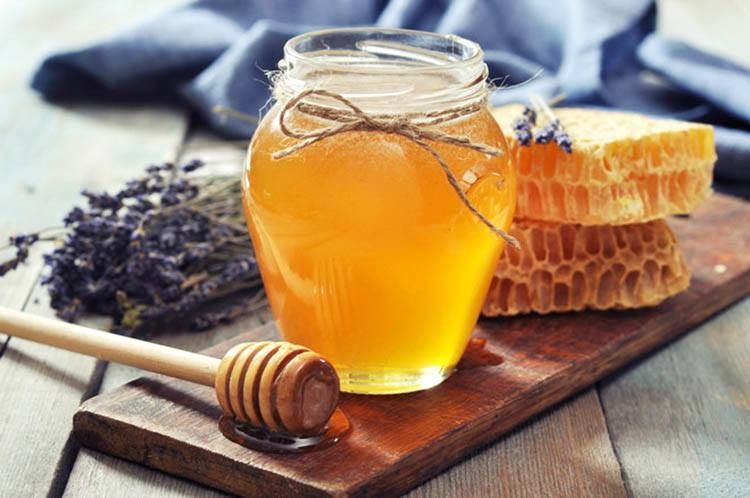 1. Honey Contains Some Nutrients
Honey is a sweet, thick liquid made by honeybees.
The bees swarm their environment and collect the sugar-rich nectar of flowers (1).
Then inside the beehive, they repeatedly consume, digest and regurgitate ("vomit") the nectar.
The end product is honey, a liquid that is supposed to serve as stored food for the bees. The smell, color and taste depend on the types of flowers the bees visit.
This is what honey typically looks like: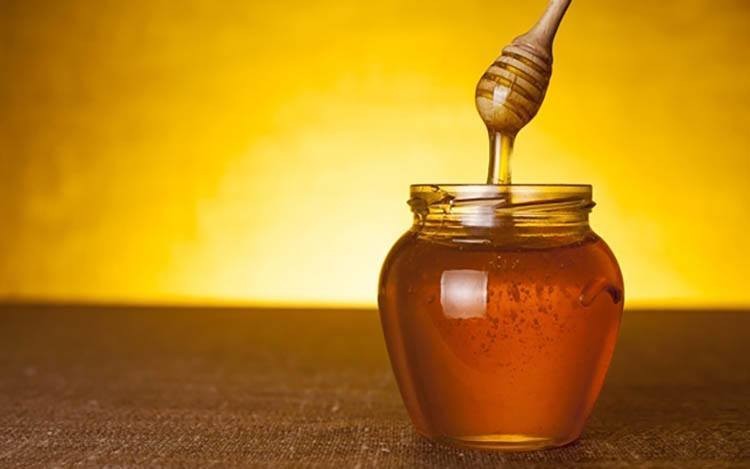 Nutritionally, 1 tablespoon of honey (21 grams) contains 64 calories and 17 grams of sugar, including fructose, glucose, maltose and sucrose.
It contains virtually no fiber, fat or protein (2).
It also contains trace amounts (under 1 percent of RDA) of several vitamins and minerals, but you would have to eat many pounds to fulfill your daily requirements.
Where honey shines is in its content of bioactive plant compounds and antioxidants. Darker types tend to be even higher in these compounds than lighter types (3, 4).
Bottom Line: Honey is thick, sweet liquid made by honeybees. It is low in vitamins and minerals, but may be high in some plant compounds.
2. High-Quality Honey is Rich in Antioxidants
High-quality honey contains many important antioxidants. These includes phenols, enzymes and compounds like flavonoids and organic acids (5).
Scientists believe that it is the combination of these compounds that gives honey its antioxidant power (5).
Interestingly, two studies have shown that buckwheat honey increases the antioxidant value of the blood (6, 7).
Antioxidants have been linked to reduced risk of heart attacks, strokes and some types of cancer. They may also promote eye health (8).
Bottom Line: Honey contains a number of antioxidants, including phenolic compounds like flavonoids.
3. Honey is "Less Bad" Than Sugar For Diabetics
The evidence on honey and diabetes is mixed.
On one hand, it can help with some risk factors that are common in diabetics.
For example, it lowers LDL cholesterol, triglycerides and inflammation and raises HDL (the "good") cholesterol (9, 10, 11).
However, some studies have found that it can also increase blood sugar levels, just not as much as refined sugar (10).
So, while honey may be "less bad" than refined sugar for diabetics, it is still something that diabetics should only consume with caution.
In fact, diabetics may do best minimizing all high-carb foods (12).
Bottom Line: Some studies show that honey improves heart disease risk factors in diabetics. However, it also raises blood sugar levels, so it can not be considered "diabetic-friendly."
4. Honey Can Help Lower Blood Pressure
Blood pressure is an important risk factor for heart disease and honey may help lower it.
This is because honey contains antioxidant compounds that have been linked to blood pressure lowering effects (13).
Studies in both rats and humans have shown modest reductions in blood pressure from consuming honey (14, 15).
Bottom Line: Eating honey may lead to modest reductions in blood pressure, which is an important risk factor for heart disease.
5. Honey Also Helps to Improve Cholesterol
Having high LDL cholesterol levels is an important risk factor for heart disease.
It plays a major role in atherosclerosis, the fatty buildup in the arteries that can lead to heart attacks and strokes.
Interestingly, several studies have shown that honey can improve your cholesterol levels.
It reduces total and LDL cholesterol, while significantly raising HDL (the "good") cholesterol (9, 10, 11, 16).
For example, one study in 55 patients compared honey to table sugar. It found that it caused a 5.8 percent reduction in LDL and a 3.3 percent increase in HDL. It also caused weight loss of 1.3 percent, compared to sugar (17).
Bottom Line: Honey seems to have a positive effect on cholesterol levels. It leads to modest reductions in total and LDL cholesterol, while raising HDL.
6. Honey Can Lower Triglycerides
Elevated blood triglycerides are another major risk factor for heart disease.
They are also a key sign of insulin resistance, a major driver of type 2 diabetes.
Triglyceride levels tend to increase on a diet that is high in sugar and refined carbs.
Interestingly, multiple studies have linked regular honey consumption with lower triglyceride levels, especially when it is used to replace sugar (9, 10, 11, 16).
For example, one study that compared honey and sugar found 11-19 percent lower triglyceride levels in the honey group (17).
Bottom Line: Elevated triglycerides are a risk factor for heart disease and type 2 diabetes. Several studies show that honey can lower triglyceride levels, especially when it is being used to replace sugar.
7. Honey is Linked to Other Beneficial Effects on Heart Health
Again, honey is a rich source of phenols and other antioxidant compounds. Many of these have been linked to a reduced risk of heart disease (8).
They may help the arteries in the heart dilate, increasing blood flow to the heart. They may also help prevent the formation of blood clots, which can lead to heart attacks and strokes (8).
Furthermore, one study in rats showed that honey protected the heart from oxidative stress (18).
All this being said, there is no long-term human study available on honey and heart health, so take this with a grain of salt.
Bottom Line: The antioxidants in honey have been linked to beneficial effects on heart health, including increased blood flow to the heart and a reduced risk of blood clot formation.
8. Honey Promotes Burn and Wound Healing
Applying honey to the skin has been used to heal wounds and burns since ancient Egypt and is still being used today.
In one review from 2015, 26 studies on honey and wound care were evaluated (19).
This review found that it is most effective at healing partial thickness burns and wounds that have become infected after surgery (19).
It is also an effective treatment for diabetic foot ulcers, which are very serious complications and can lead to amputation (20, 21).
One study reported a 43.3 percent success rate with honey as a wound treatment. In another study, topical honey healed a whopping 97 percent of patients being treated for their diabetic ulcers (21, 22).
Researchers believe that its healing powers come from its antibacterial and anti-inflammatory effects, as well as its ability to nourish the surrounding tissue (23).
What's more, honey can help treat other skin conditions, including psoriasis, hemorrhoids and herpes lesions (24, 25, 26).
Bottom Line: When applied to the skin, honey can be part of an effective treatment plan for burns, wounds and many other skin conditions. It is particularly effective for diabetic foot ulcers.
9. Honey Can Help Suppress Coughs in Children
Coughing is a common problem for children with upper respiratory infections.
It can affect sleep and quality of life, for both the children and their parents.
However, mainstream medications for cough are not always effective and can have side effects.
Interestingly, honey may be a better choice. The evidence shows that it is very effective (27, 28).
One study found that it worked even better than two common cough medications (29).
Another study found that it reduced cough symptoms and improved sleep even more than cough medication (28).
Nevertheless, honey should never be given to children under 1 year of age, due to the risk for botulism (30).
Bottom Line: For children over one year of age, honey can act as a natural and safe cough suppressant. Some studies show that it is even more effective than cough medication.
10. Honey is Delicious, But it's Still High in Calories and Sugar
Honey is a delicious, healthier alternative to refined sugar.
Make sure to choose high-quality honey, because some of the lower-quality brands may be adulterated with syrup.
There is a very good selection of high-quality honey on Amazon, with thousands of reviews from real customers.
However, keep in mind that honey should only be consumed in moderation, as it is still high in calories and sugar.
The benefits of honey are most pronounced when it is replacing another unhealthier sweetener.
At the end of the day, honey is simply a "less bad" sweetener than sugar and high-fructose corn syrup.
This article was reposted from our media associate Authority Nutrition.
YOU MIGHT ALSO LIKE
10 Foods You Should Eat to Reduce Stress and Anxiety
What You Need to Know About the Paleo Diet
Is the Chemical Acrylamide in Coffee Harmful to Your Health?
Prince William and British naturalist David Attenborough attend converse during the World Economic Forum annual meeting, on January 22 in Davos, Switzerland. Fabrice Cofferini /AFP / Getty Images
Britain's Prince William interviewed famed broadcaster David Attenborough on Tuesday at the World Economic Forum's annual meeting in Switzerland.
During the sit-down, the 92-year-old naturalist advised the world leaders and business elite gathered in Davos this week that we must respect and protect the natural world, adding that the future of its survival—as well as humanity's survival—is in our hands.
Electric vehicle sales took off in 2018, with a record two million units sold around the world, according to a new Deloitte analysis.
What's more, the accounting firm predicts that another 21 million electric cars will be on the road globally over the next decade due to growing market demand for clean transportation, government subsidies, as well as bans on fossil fuel cars.
Teenager Alex Weber and friends collected nearly 40,000 golf balls hit into the ocean from a handful of California golf courses.
Alex Weber /
CC BY-ND
Southwest Greenland had the most consistent ice loss from 2003 to 2012. Eqalugaarsuit, Ostgronland, Greenland on Aug. 1, 2018.
Rob Oo / CC BY 2.0
Greenland is melting about four times faster than it was in 2003, a new study published Monday in the Proceedings of the National Academy of Sciences found, a discovery with frightening implications for the pace and extent of future sea level rise.
"We're going to see faster and faster sea level rise for the foreseeable future," study lead author and Ohio State University geodynamics professor Dr. Michael Bevis said in a press release. "Once you hit that tipping point, the only question is: How severe does it get?"
Finally, some good news about the otherwise terrible partial government shutdown. A federal judge ruled that the Trump administration cannot issue permits to conduct seismic testing during the government impasse.
The Justice Department sought to delay—or stay—a motion filed by a range of coastal cities, businesses and conservation organizations that are suing the Trump administration over offshore oil drilling, Reuters reported. The department argued that it did not have the resources it needed to work on the case due to the shutdown.
Most people have heard of the Amazon, South America's famed rainforest and hub of biological diversity. Less well known, though no less critical, is the Pantanal, the world's largest tropical wetland.
Like the Amazon, the Pantanal is ecologically important and imperiled. Located primarily in Brazil, it also stretches into neighboring Bolivia and Paraguay. Covering an area larger than England at more than 70,000 square miles, the massive wetland provides irreplaceable ecosystem services that include the regulation of floodwaters, nutrient renewal, river flow for navigability, groundwater recharge and carbon sequestration. The wetland also supports the economies of the four South American states it covers.
Demonstrators participate in a protest march over agricultural policy on Jan. 19 in Berlin, Germany. Carsten Koall / Getty Images Europe
By Andrea Germanos
Organizers said 35,000 people marched through the streets of the German capital on Saturday to say they're "fed up" with industrial agriculture and call for a transformation to a system that instead supports the welfare of the environment, animals and rural farmers.

The fire that erupted after a pipeline explosion in Mexico Friday. FRANCISCO VILLEDA / AFP / Getty Images
By Patrick Rogers
If you have ever considered making the switch to an environmentally friendly electric vehicle, don't drag your feet. Though EV prices are falling, and states are unveiling more and more public charging stations and plug-in-ready parking spots, the federal government is doing everything it can to slam the brakes on our progress away from gas-burning internal combustion engines. President Trump, likely pressured by his allies in the fossil fuel industry, has threatened to end the federal tax credits that have already helped put hundreds of thousands of EVs on the road—a move bound to harm not only our environment but our economy, too. After all, the manufacturing and sale of EVs, hybrids, and plug-in hybrids supported 197,000 jobs in 2017, according to the most recent U.S. Energy and Employment Report.