10 Greenest Cities in North America
May. 28, 2015 11:29AM EST
Business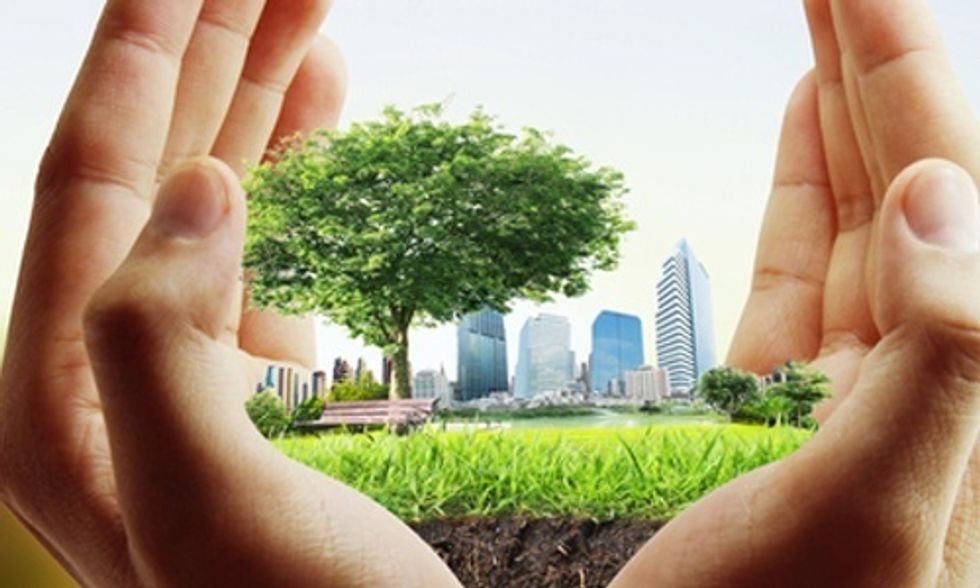 What's the greenest city in North America? Electric-green cities such as Portland or San Francisco are usually given the title, but according to two new reports that have ranked metropolitan areas on green roofs and energy efficiency, the traditional favorites have not received top billing.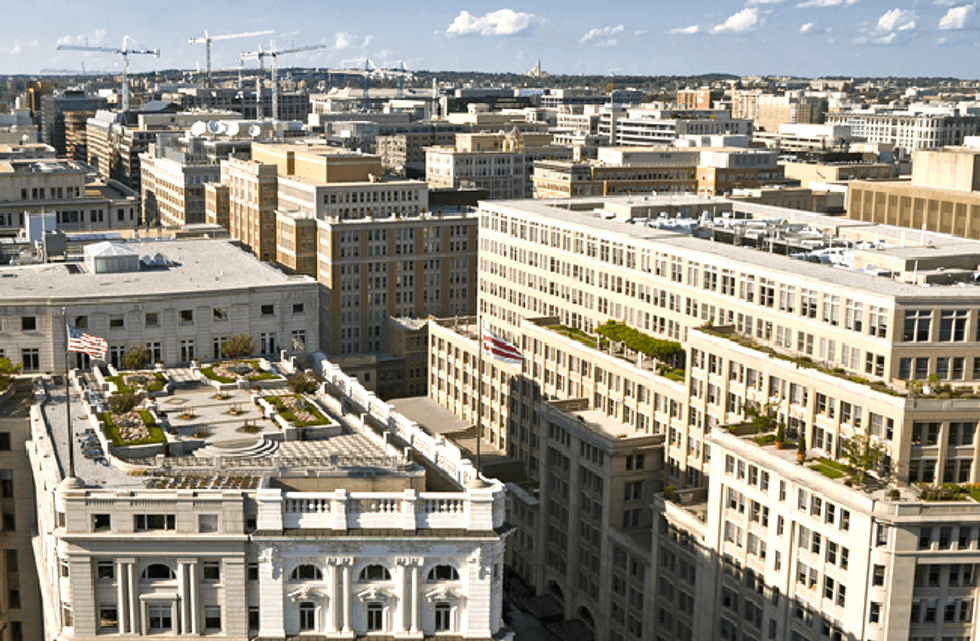 Photo Credit: Shutterstock
With its installation of 1.2 million square feet of green roofs in 2014, Washington, DC can quite literally claim the crown of greenest U.S. city.
This is according to a new report from the nonprofit Green Roofs for Healthy Cities (GRHC), which has ranked the top ten North American metropolitan regions that have installed the most square footage of green roofs last year.
This is the fourth time the nation's capital has sat on the top spot. According to a press release, DC has public policies and programs that support green roof investment, including rebates of $7-$15 per square foot per green roof installed and credits that reduce stormwater fees.
Green roofs have a number of environmentally friendly benefits, according to the U.S. Environmental Protection Agency. Like an oasis in a concrete jungle, green roofs absorb heat which helps mitigate urban heat islands. They also act as insulators for buildings and thus reduces a building's energy needs for cooling and heating.
Green roofs aren't just good for the environment. A new study from the University of Melbourne found that being on a rooftop gardens for 40 seconds can markedly increase concentration and productivity levels.
Toronto, Philadelphia, Chicago and New York City round out the top five. Incidentally, this is the first time a Canadian city has entered the top five, thanks to Toronto's 2009 law mandating that all new buildings include rooftop plants.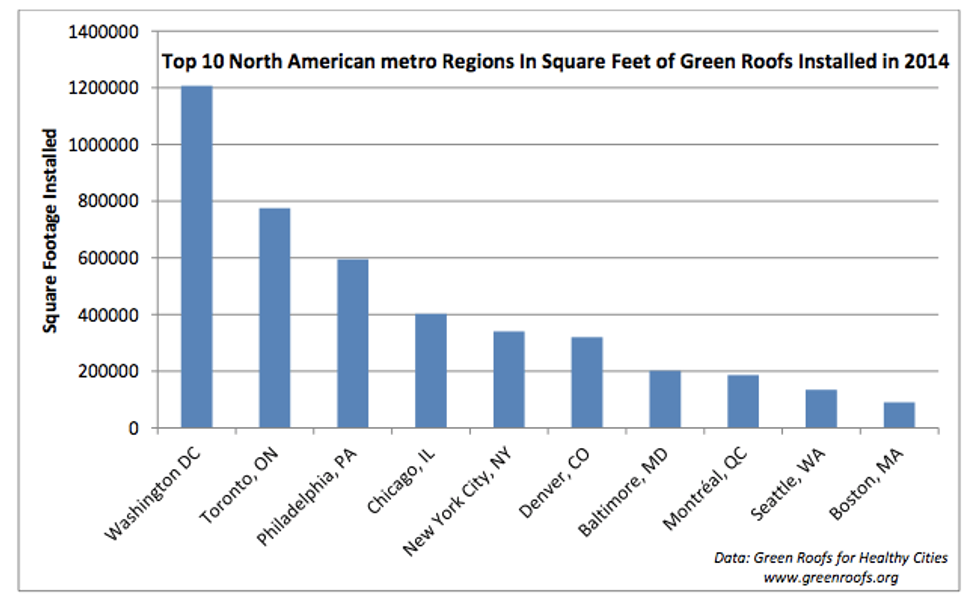 "It comes as no surprise that the top performing regions are those that invest directly and indirectly in green roof infrastructure projects to create green space, mitigate storm-water run-off, improve air quality and moderate the urban heat island effect," said GRHC founder and president Steven W. Peck.
The GRHC report, however, did point out that the green roof industry has declined 12 percent after seeing double-digit growth for the past decade. The GRHC said that possible contributing factors to this include a decline in government stimulus funding (which fueled much of the previous years' growth), as well as climate change causing extreme temperature fluctuations due to on the installation and maintenance of green roofs in North America.
In another nod to DC, the city also landed on the top five of the American Council for an Energy-Efficient Economy′s (ACEEE) latest rankings of the most energy-efficient cities in the nation.
The council released an online scorecard of the 51 of the largest cities in the country based on energy efficiency in local government operations, community-wide initiatives, green buildings, productive relationships with energy and water utilities and transportation.
Boston, with a score of 82 out of 100, received marks for its ordinance that requires all buildings to benchmark and report its energy usage, as well as its partnership with local utilities to connect residents with energy-saving services.
"It is an honor Boston has been recognized as America's most energy-efficient city," said Mayor Marty Walsh. "Our goal is to help Boston residents and businesses save energy and money, and through collaborative efforts with our utility partners, Eversource and National Grid, we are creating a thriving, healthy and innovative Boston. I look forward to continuing these efforts for both our environment and residents."
Trailing Boston in energy efficiency are, in order: New York City, Washington, DC, San Francisco and Seattle.
"Our findings show that cities continue to be laboratories of innovation when it comes to energy efficiency, with many pushing the envelope for more energy savings in the last few years," said ACEEE research analyst and lead report author David Ribeiro. "Cities are also improving their approaches when it comes to tracking and communicating their efforts to save energy. By capturing these efforts in the Scorecard we hope local leaders from cities of all sizes can learn best practices from each other and deliver the benefits of energy efficiency to their communities, such as a stronger economy and a cleaner environment."
Check out the graph below to see how cities scored.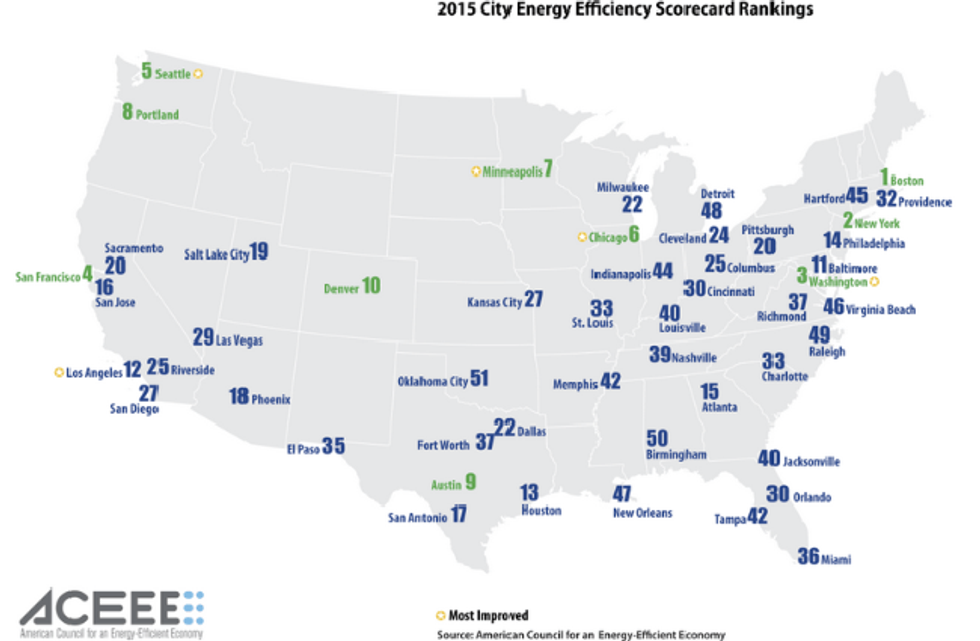 YOU MIGHT ALSO LIKE
25 Most Energy Efficient Cities—Find Out Which City Dethroned the Six Time Champion?
France Mandates New Roofs Must Be Covered in Solar Panels or Plants
EcoWatch Daily Newsletter
Related Articles from EcoWatch