This website uses cookies to ensure you get the best experience while browsing it. By clicking 'Got It' you're accepting these terms.
10 GMO Labeling Myths Busted
Oct. 06, 2015 12:36PM EST
GMO
Should genetically modified (GMOs) foods be labeled? Legislation passed by the U.S. House of Representatives would block state GMO labeling laws and make it virtually impossible for the Food and Drug Administration to ever craft a national GMO labeling system.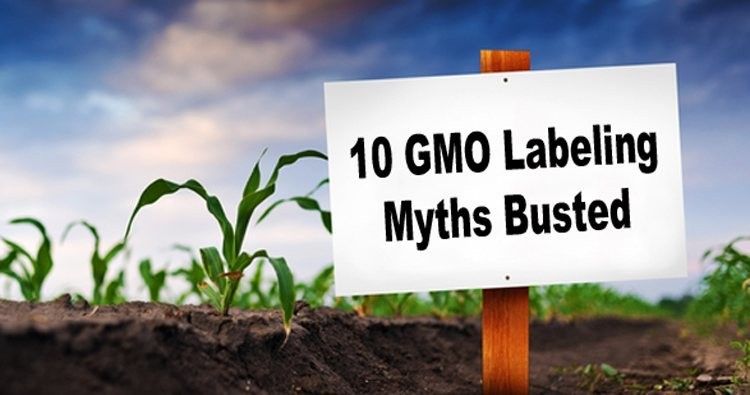 Myth 1: GMO labeling advocates are "anti-science"
Fact: The science is clear: The widespread adoption of GMO corn and soybeans has led to increased use of glyphosate, a weed killer linked to cancer by the world's cancer experts. What's more, voluntary GMO safety reviews are based on industry-funded science, not independent science.
Myth 2: GMO crops are good for the environment
Fact: GMO crops have not helped reduce soil erosion, as some GMO proponents claim.
Myth 3: GMO labeling supporters are elitists
Fact: Poll after poll has found that nine out of 10 Americans support mandatory GMO labeling—regardless of age, race, income or even party affiliation.
Myth 4: GMO labels will act as a warning
Fact: Consumers in other nations with GMO labeling do not view GMO labels as a warning. In fact, a recent study found consumers trust GMO foods more if they carry a label.
Myth 5: GMO labeling will increase food prices
Fact: Experience and research tells us GMO labeling will not raise food prices. The Washington Post gave the food industry three Pinocchios for making the claim. Food companies change their labels all the time to make new claims, and farmers and food companies already separate GMO and non-GMO foods.
Myth 6: We need GMO crops to feed the world
Fact: So far, yields of conventional corn and soybeans grown in Europe and yields of GMO varieties grown in the U.S. are the same. Reducing food waste and using fertilizer more efficiently would do much more to address food security.
Myth 7: Voluntary GMO labeling will work
Fact: Companies have made non-GMO claims since 2001 and consumers are more confused than ever. Creating a non-GMO certification program at the U.S. Department of Agriculture, as proposed in H.R. 1599, would duplicate an FDA guidance that already governs non-GMO claims.
Myth 8: GMO labeling will create a patchwork quilt of state laws
Fact: State GMO labeling laws all require the same factual disclosure. Besides, states have long held the right to require disclosures and have used their authority to require everything from "sell-by" dates to grading requirements for butter, cheese, maple syrup and citrus.
Myth 9: GMO labeling is bad for farmers
Fact:  Many farm organizations support GMO labeling, including the National Farmers Union. One reason is that herbicides that drift from GMO fields can destroy or damage other crops. Another reason is that GMO labeling will help facilitate trade.
Myth 10: We have been genetically engineering foods for centuries
Fact: GMO crops are novel foods that could not be created through traditional crossbreeding.
YOU MIGHT ALSO LIKE
Watch Colbert Mock 'Cage-Free' Whole Foods for Getting Caught Using Prison Labor
Confirmed: American Academy of Pediatrics Cuts Ties With Monsanto
It's Official: 19 European Countries Say 'No' to GMOs
These 10 States Account for a Whopping 78% in Sales of Organic Food
EcoWatch Daily Newsletter
Bird watching in the U.S. may be a lot harder than it once was, since bird populations are dropping off in droves, according to a new study.
Amazon CEO Jeff Bezos announces the co-founding of The Climate Pledge at the National Press Club on Sept. 19 in Washington, DC. Paul Morigi / Getty Images for Amazon
The day before over 1,500 Amazon.com employees planned a walkout to participate in today's global climate strike, CEO Jeff Bezos unveiled a sweeping plan for the retail and media giant to be carbon neutral by 2040, 10 years ahead of the Paris agreement schedule.
For the past seven years, the Anishinaabe people have been facing the largest tar sands pipeline project in North America. We still are. In these dying moments of the fossil fuel industry, Water Protectors stand, prepared for yet another battle for the water, wild rice and future of all. We face Enbridge, the largest pipeline company in North America, and the third largest corporation in Canada. We face it unafraid and eyes wide open, for indeed we see the future.
The climate crisis often intensifies systems of oppression. Rieko Honma / Stone / Getty Images Plus
By Mara Dolan
We see the effects of the climate crisis all around us in hurricanes, droughts, wildfires, and rising sea levels, but our proximity to these things, and how deeply our lives are changed by them, are not the same for everyone. Frontline groups have been leading the fight for environmental and climate justice for centuries and understand the critical connections between the climate crisis and racial justice, economic justice, migrant justice, and gender justice. Our personal experiences with climate change are shaped by our experiences with race, gender, and class, as the climate crisis often intensifies these systems of oppression.

Lana Del Rey: "call her Doris Doomsday." Darren Gerrish / BFC / Getty Images Entertainment
By Emer McHugh
Popular music has, and always will be, informed by the political and social contexts from which it emerges.
It was early in the morning last Thursday, and Jonathan Butler was standing on the Fred Hartman Bridge, helping 11 fellow Greenpeace activists rappel down and suspend themselves over the Houston Ship Channel. The protesters dangled in the air most of the day, shutting down a part of one of the country's largest ports for oil.
By C.J. Polychroniou
Climate change is by far the most serious crisis facing the world today. At stake is the future of civilization as we know it. Yet, both public awareness and government action lag way behind what's needed to avert a climate change catastrophe. In the interview below, Noam Chomsky and Robert Pollin discuss the challenges ahead and what needs to be done.
Food manufacturer General Mills issued a voluntary recall of more than 600,000 pounds, or about 120,000 bags, of Gold Medal Unbleached All Purpose Flour this week after a sample tested positive for a bacteria strain known to cause illness.