This website uses cookies to ensure you get the best experience while browsing it. By clicking 'Got It' you're accepting these terms.
10 GMO Labeling Myths Busted
Oct. 06, 2015 12:36PM EST
Food
Should genetically modified (GMOs) foods be labeled? Legislation passed by the U.S. House of Representatives would block state GMO labeling laws and make it virtually impossible for the Food and Drug Administration to ever craft a national GMO labeling system.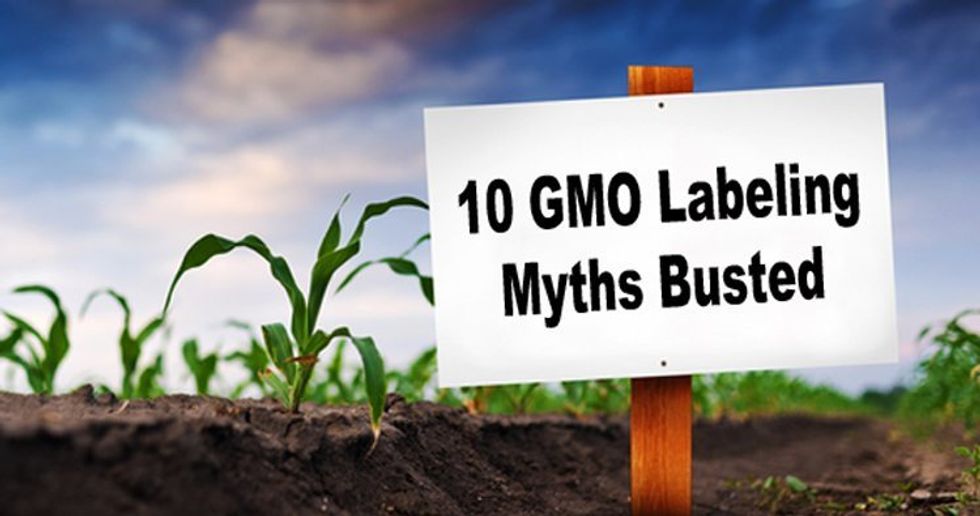 Myth 1: GMO labeling advocates are "anti-science"
Fact: The science is clear: The widespread adoption of GMO corn and soybeans has led to increased use of glyphosate, a weed killer linked to cancer by the world's cancer experts. What's more, voluntary GMO safety reviews are based on industry-funded science, not independent science.
Myth 2: GMO crops are good for the environment
Fact: GMO crops have not helped reduce soil erosion, as some GMO proponents claim.
Myth 3: GMO labeling supporters are elitists
Fact: Poll after poll has found that nine out of 10 Americans support mandatory GMO labeling—regardless of age, race, income or even party affiliation.
Myth 4: GMO labels will act as a warning
Fact: Consumers in other nations with GMO labeling do not view GMO labels as a warning. In fact, a recent study found consumers trust GMO foods more if they carry a label.
Myth 5: GMO labeling will increase food prices
Fact: Experience and research tells us GMO labeling will not raise food prices. The Washington Post gave the food industry three Pinocchios for making the claim. Food companies change their labels all the time to make new claims, and farmers and food companies already separate GMO and non-GMO foods.
Myth 6: We need GMO crops to feed the world
Fact: So far, yields of conventional corn and soybeans grown in Europe and yields of GMO varieties grown in the U.S. are the same. Reducing food waste and using fertilizer more efficiently would do much more to address food security.
Myth 7: Voluntary GMO labeling will work
Fact: Companies have made non-GMO claims since 2001 and consumers are more confused than ever. Creating a non-GMO certification program at the U.S. Department of Agriculture, as proposed in H.R. 1599, would duplicate an FDA guidance that already governs non-GMO claims.
Myth 8: GMO labeling will create a patchwork quilt of state laws
Fact: State GMO labeling laws all require the same factual disclosure. Besides, states have long held the right to require disclosures and have used their authority to require everything from "sell-by" dates to grading requirements for butter, cheese, maple syrup and citrus.
Myth 9: GMO labeling is bad for farmers
Fact:  Many farm organizations support GMO labeling, including the National Farmers Union. One reason is that herbicides that drift from GMO fields can destroy or damage other crops. Another reason is that GMO labeling will help facilitate trade.
Myth 10: We have been genetically engineering foods for centuries
Fact: GMO crops are novel foods that could not be created through traditional crossbreeding.
YOU MIGHT ALSO LIKE
Watch Colbert Mock 'Cage-Free' Whole Foods for Getting Caught Using Prison Labor
Confirmed: American Academy of Pediatrics Cuts Ties With Monsanto
It's Official: 19 European Countries Say 'No' to GMOs
These 10 States Account for a Whopping 78% in Sales of Organic Food
EcoWatch Daily Newsletter
Insects play a vital role in ecosystems and humans are particularly dependent on them for food.
Dmitry Grigoriev / Unsplash
By Ajit Niranjan
Seven 'no-regret' actions could rescue insects on the road to extinction, a new roadmap for conservation says, helping ecosystems even where a lack of research means scientists cannot prove benefits to individual species.
Visitors to the Hollywood & Highland mall in Hollywood wear face masks on Jan. 27 . Five people in the U.S. have tested positive for the deadly strain of Coronavirus, one each in Washington, Illinois and Arizona, and two in Southern California, according to the U.S. Centers for Disease Control and Prevention. ROBYN BECK / AFP / Getty Images
Workers evacuate the Lonja del Comercio (Commerce Market) in Havana, Cuba after an earthquake rattled the island Tuesday. ADALBERTO ROQUE / AFP via Getty Images
A 7.7 magnitude earthquake shook the Caribbean Tuesday, rattling people from Miami to Mexico.
New Jersey will be the first state in the U.S. to require builders to take the climate crisis into consideration before seeking permission for a project.
The Director of the Chinese Center for Disease Control and Prevention, Gao Fu speaks on Jan. 26 during a press briefing on studying the 2019-nCoV coronavirus and developing a vaccine to prevent it. Roman Balandin / TASS / Getty Images