This website uses cookies to ensure you get the best experience while browsing it. By clicking 'Got It' you're accepting these terms.


The best of EcoWatch, right in your inbox. Sign up for our email newsletter!
10 Fun Facts About Penguins
Apr. 25, 2016 09:33AM EST
Animals
By Roger Di Silvestro, Ocean Conservancy
The tuxedo seems to have two separate origins. Why the fashion industry came up with the tux and why it hasn't vanished with the top hat, is tough to say. But why penguins evolved into tuxedo-wearing birds is pretty clear: The white belly makes them harder to spot when viewed in water from below against the surface of a sunlit sea and the black back does the same against the dark ocean surface. It's all about tricking predators. The survival of this monochromatic color scheme in all 17 penguin species is a measure of how well it has worked in nature's often-unforgiving game of survival.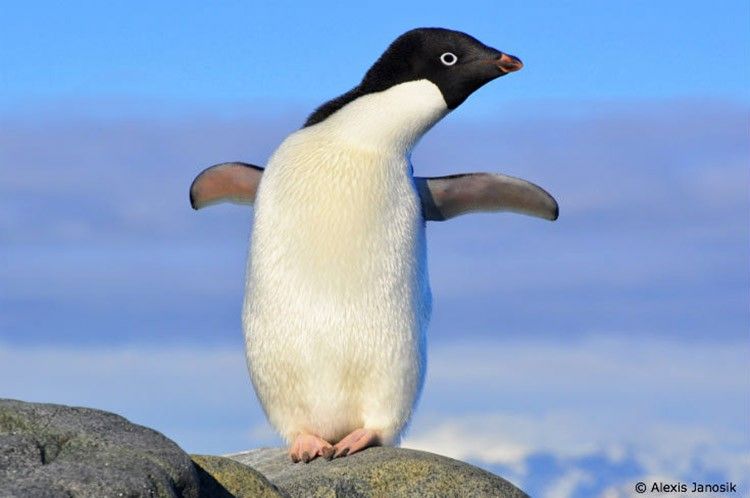 Here are 10 other fun facts to know about penguins.
1. Penguins are birds designed by evolution for swimming rather than flying. Their wings have turned into flippers and though they usually walk upright on land, some drop on to their bellies to scoot over ice. Most species cruise underwater at an average speed of 4-7 miles per hour, but the Gentoo can speed up to 22 miles per hour.
2. All penguins live south of the equator. Although we often associate them with Antarctic, they also occur farther north on beaches and rocky shores in coastal South America, the Galapagos Islands, Australia and South Africa.
3. The largest penguin you will ever see trundling around the Antarctic is the emperor, which can stand in excess of 3.5 feet tall and weigh nearly 80 pounds, roughly the weight of two or three Thanksgiving turkeys. The emperor is also the only bird species that nests in the Antarctic during the winter, when temperatures can drop below minus 100 degrees Fahrenheit.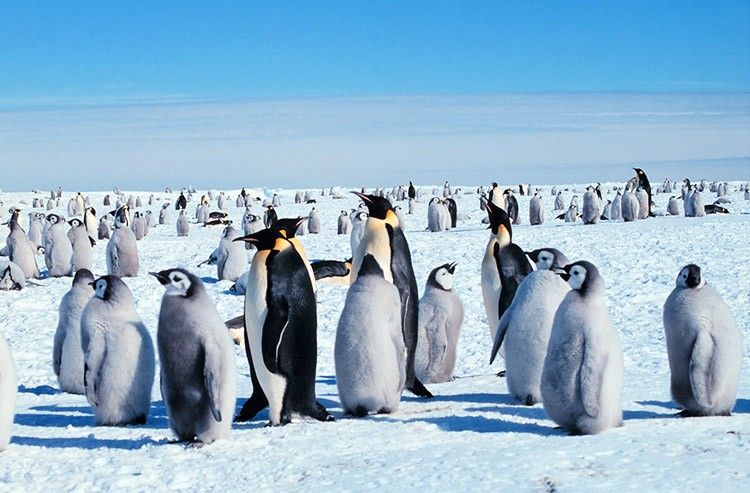 4. The smallest penguin is the little blue or fairy penguin, which grows barely more than two pounds and 16 inches tall and is found in Australia and New Zealand.
5. The largest known penguin of all time is Anthropornis nordenskjoeldi or giant penguin, which lived more than 37 million years ago, stood 5 feet 7 inches tall and weighed 200 pounds. Its rival in size, the New Zealand giant, dates from around 30 million years ago, stood 5 feet tall and weighed close to 130 pounds.
6. Small penguins usually feed at the surface of the sea, rarely diving for more than a couple minutes. The emperor, however, can dive for more than 20 minutes, reaching depths in excess of 1,800 feet to feed on fish, squid, krill and other crustaceans.
7. Penguins can drink sea water. Salt is filtered from the blood by special glands and the salt is secreted from the nasal passages.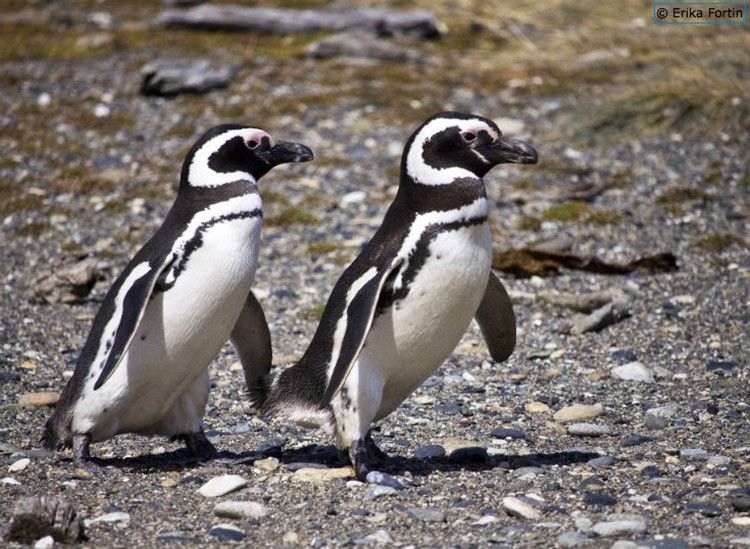 8. With the exception of yellow-eyed and Fiordland penguins, these birds are colonial nesters, gathering in breeding groups that range in number from 100 pairs among gentoo penguins to several hundred thousand in the king, macaroni and chinstrap species. In most species, each pair produces two eggs, though emperor and king penguins—the two largest living species—usually lay only one egg. Among emperors, males incubate the eggs, but in all other species mom and dad take turns. The little blue penguin lays the smallest eggs, about 2 ounces and the emperor pops out the largest, which can weigh a full pound.
9. In the Antarctic, penguins have no land predators, though skuas—gull-like, predatory birds—may feed on eggs and hatchlings. Consequently, penguins have no fear of people and may approach to with a few feet of Antarctic visitors. This defenseless behavior might have proved fatal for penguin species, as it did for other flightless birds such as the dodo and the great auk, wiped out centuries ago by ship crews who took them for food. But Antarctic penguins got lucky. Surrounded by dangerously rough seas and harsh climate, the Antarctic proved a penguin haven. No human set foot there until the 1800s.
10. The oldest known penguin species, Waimanu manneringi, was found in New Zealand as a 62-million-year-old fossil. Looking something like a loon, it had short wings designed for diving but not flight.
The Ocean Conservancy is using science-based solutions to tackle the biggest threats to our ocean, including ones that threaten penguins and other wildlife. See how you can take action here.
YOU MIGHT ALSO LIKE
Shocking Migratory Changes Bring Electric Rays to Canada's Pacific
Antartica's Penguins Need Your Help, Become a Citizen Scientist Today
Sardine Fishing Banned in Pacific Northwest as Stocks Hit Historic Low
Penguin Swims 5,000 Miles Each Year to Visit the Man Who Rescued Him
EcoWatch Daily Newsletter
Blueberry yogurt bark. SEE D JAN / iStock / Getty Images Plus
Having nutritious snacks to eat during the workday can help you stay energized and productive.

A 2017 flood in Elk Grove, California. Florence Low / California Department of Water Resources
By Tara Lohan
It's been the wettest 12 months on record in the continental United States. Parts of the High Plains and Midwest are still reeling from deadly, destructive and expensive spring floods — some of which have lasted for three months.
Mounting bills from natural disasters like these have prompted renewed calls to reform the National Flood Insurance Program, which is managed by Federal Emergency Management Agency and is now $20 billion in debt.
Jennifer A. Smith / Moment / Getty Images
By Brenda Ekwurzel
When temperatures hit the 80s Fahrenheit in May above latitude 40, sun-seekers hit the parks, lakes, and beaches, and thoughts turn to summer. By contrast, when temperatures lurk in the drizzly 40s and 50s well into flower season, northerners get impatient for summer. But when those 80-degree temperatures visit latitude 64 in Russia, as they just did, and when sleet disrupts Mother's Day weekend in May in Massachusetts, as it just did, thoughts turn to: what is going on here?
By Paula Ezcurra and Octavio Aburto
Thousands of hydroelectric dams are under construction around the world, mainly in developing countries. These enormous structures are one of the world's largest sources of renewable energy, but they also cause environmental problems.
Activists in North Dakota confront pipeline construction activities. A Texas bill would impose steep penalties for such protests. Speak Freely / ACLU
By Eoin Higgins
A bill making its way through the Texas legislature would make protesting pipelines a third-degree felony, the same as attempted murder.
An Australian flag flutters in the wind in a dry drought-ridden landscape. Virginia Star / Moment / Getty Images
Australia re-elected its conservative governing Liberal-National coalition Saturday, despite the fact that it has refused to cut down significantly on greenhouse gas emissions or coal during its time in power, The New York Times reported.
Tree lined street, UK. Richard Newstead / Moment / Getty Images
A tropical storm above Bangkok on Aug. 04, 2016. Hristo Rusev/ NurPhoto / Getty Images
By Jeff Turrentine
First off: Bangkok Wakes to Rain, the intricately wrought, elegantly crafted debut novel by the Thai-American author Pitchaya Sudbanthad, isn't really about climate change. This tale set in the sprawling subtropical Thai capital is ultimately a kind of family saga — although its interconnected characters aren't necessarily linked by a bloodline. What binds them is their relationship to a small parcel of urban land on which has variously stood a Christian mission, an upper-class family house, and a towering condominium. All of the characters have either called this place home or had some other significant connection to it.