This website uses cookies to ensure you get the best experience while browsing it. By clicking 'Got It' you're accepting these terms.
10 Fun Facts About Migratory Fish
May. 08, 2014 02:45PM EST
In celebration of the upcoming World Fish Migration Day on May 24, below are 10 fun facts about migratory fish: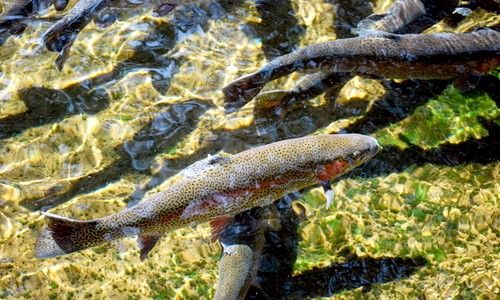 Photo courtesy of Shutterstock
1. When most people think of migratory fish, they think of salmon and other anadromous species that are born in freshwater, migrate to the ocean, and return to their natal rivers to spawn. But catadromous fish, like the American eel, do just the opposite—they migrate from the ocean into freshwater where they spend most of their lives, and then back to the ocean to spawn.
2. The distance that migratory fish travel can vary wildly. A Chinook salmon tagged in the Aleutian Islands and recovered in Salmon River, Idaho, was determined to have traveled 3,500 miles to spawn.
3. In contrast, river herring on the East Coast typically do not travel far from the outlet of their natal stream. River herring often occur in schools of thousands of fish near these outlets.
4. Considering the long distances some migratory fish travel, their ability to navigate back to their natal stream to complete their life cycle is truly incredible. Scientific evidence suggests that these fish use magnetic fields, environmental cues and their olfactory memory (or sense of smell) to navigate to the precise stream where they were born.
5. Diadromous fish play a crucial role in nutrient transport that supports freshwater and inland ecosystems. They migrate out of streams when they are still small and grow large on the ocean's nutrients. Since many species die shortly after returning to their natal stream, their bodies serve as an important input of nutrients in these freshwater ecosystems.
6. Chinook salmon are among the largest migratory fish in the U.S., with the largest ever recorded being 126 lbs., though most Chinook salmon weigh only about 30 lbs.
7. Dams are not the only barriers to fish migration that are causing major declines in fish populations. Less obvious barriers can cause just as much damage, including poorly constructed culverts that occur at many road crossings.
8. Some salmon can jump as high as 6.5 feet—a skill that helps them in their upstream swim to their spawning grounds. However, the depth of the landing pool following such a leap can be as important to fish migration as the height of potential barriers.
9. Steelhead and rainbow trout are the same species of fish—rainbow trout is the freshwater form, and steelhead trout is the migratory form. Steelhead, unlike many migratory fish, do not always die after spawning and can make several trips back and forth between the ocean and their natal stream during their life cycle.
10. The cost of declining fish populations is not just ecological, it is financial. The Columbia River basin in California is estimated to have averaged between 10 and 16 million fish in the 19th century. Today, only about 1.5 million salmon and steelhead enter the Columbia each year, and only about 400,000 of those are wild, river-spawned fish. The rest are born in hatcheries. The National Marine Fisheries Service estimated the cost of salmon fishery losses due to dams in the Colombia Basin to be $6.5 billion for the period between 1960 and 1980 alone.
--------
YOU ALSO MIGHT LIKE
Ocean Acidification Impairs Sense of Smell in Fish
Need-to-Know Facts About Farmed Fish
New Report Details How Climate Change Is Harming Fresh Water Fish
--------
EcoWatch Daily Newsletter
Colombia rainforest. Marcel Oosterwijk / CC BY-SA 2.0
Many of us think of the Amazon as an untouched wilderness, but people have been thriving in these diverse environments for millennia. Due to this long history, the knowledge that Indigenous and forest communities pass between generations about plants, animals and forest ecology is incredibly rich and detailed and easily dwarfs that of any expert.
picture-alliance / Newscom / R. Ben Ari
By Wesley Rahn
Plastic byproducts were found in 97 percent of blood and urine samples from 2,500 children tested between 2014 and 2017, according to a study by the German Environment Ministry and the Robert Koch Institute.

Pexels
Medically reviewed by Daniel Bubnis, MS, NASM-CPT, NASE Level II-CSS
Hot yoga has become a popular exercise in recent years. It offers many of the same benefits as traditional yoga, such as stress reduction, improved strength, and flexibility.
Lara Hata / iStock / Getty Images
By SaVanna Shoemaker, MS, RDN, LD
Rice is a staple in many people's diets. It's filling, inexpensive, and a great mild-tasting addition to flavorful dishes.
An image of the trans-alaskan oil pipeline that carries oil from the northern part of Alaska all the way to valdez. This shot is right near the arctic national wildlife refuge. kyletperry / iStock / Getty Images Plus
The Trump administration has initialized the final steps to open up nearly 1.6 million acres of the protected Alaskan National Wildlife Refuge to allow oil and gas drilling.
Kaboompics / Pexels
Tensions between lawmakers and several large manufacturing companies came to a head on Capitol Hill this week during a hearing on toxic fluorochemicals in U.S. drinking water.