10 Extreme Weather Events in 2015 That Sound the Alarm on Climate Chaos
The hottest year in recorded history is coming to a close with a wave of extreme weather and ecosystem shifts, from unprecedented flooding in the UK to dangerous deluges in South America.
Looking back at 2015, it is clear that such extremes are not the exception, but have been the rule for the past 365 days and beyond. Such weather is linked to this year's exceptionally strong El Niño, which is tied to human-made global warming.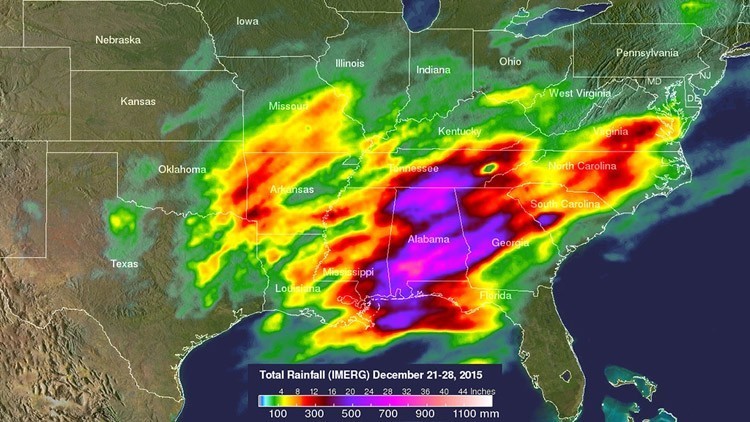 Communities on the frontlines of climate change have long warned that resultant floods, droughts and mega-storms are already bringing death, displacement, and food insecurity to people across the globe, particularly those who are poor, Indigenous or living in the global south.
Here are 10 freakish weather extremes in 2015 that  in 2016 and beyond—and underscore the urgency of strong and effective adaptation, mitigation, and emissions reductions policies.
1. An Arctic heat wave at the end of December caused temperatures in the North Pole to spike 60 degrees Fahrenheit above the norm for the season, soaring past the freezing point and making the region hotter than cities across the U.S. and Europe.
2. This winter's El Niño event touched off severe floods in late December across South America, including in Paraguay, Uruguay, Brazil and Argentina, displacing more than 150,000 people.
3. Heavy rains last week caused the Mississippi River and its tributaries to overflow, touching off historic flooding in the U.S. Midwest. Climate scientists say that one of the most remarkable things about the deluge is the timing. "Never before has water this high been observed in winter along the levee system of the river," meteorologist Jeff Masters explained.
4. South Africa faces its worst drought in a generation, amid soaring temperatures and paltry rainfalls believed to be worsened by El Niño. While the long-term impacts are not immediately known, at least 29 million people in southern African nations face food insecurity, according to UN estimates.
5. Due to a prolonged and ongoing drought in Ethiopia, more than 10 million people are in need of emergency food aid.
6. In November, more then 1.1 million people were impacted—and 40,000 displaced—after a powerful and rare cyclone dumped a year's worth of rain on Yemen. Humanitarian groups warned that the impact on residents was worsened by Saudi Arabia's seven-month bombing campaign that continued through the storm.
7. More than 1.2 million people in the Philippines were impacted—and dozens killed—by a mega-typhoon, known as Lando, which hit in October. "Our survival is non-negotiable," 20,000 people declared at a mass march in Tacloban in November, calling attention to the ongoing harm from the separate Super Typhoon Yolanda (also known as Haiyan), which hit the Philippines in 2013.
8. A dramatic heat wave across the Middle East this summer caused temperatures in Iran to soar so high it felt like 160 degrees Fahrenheit. Even accounting for regional standards, temperatures spiked, from Egypt to Syria. Thousands took to the streets across Iraq protesting dangerous power cuts, clean water shortages, and poor living conditions that were worsening the effects.
9. Pakistan this summer suffered its deadliest heat wave ever recorded, with at least 2,000 lives lost. And in neighboring India, a heat wave this summer killed at least 2,500 people. "Let us not fool ourselves that there is no connection between the unusual number of deaths from the ongoing heat wave and the certainty of another failed monsoon," India's earth sciences minister Harsh Vardhan said in June. "It's not just an unusually hot summer, it is climate change," he said.
10. The National Oceanic and Atmospheric Administration concluded earlier this month that climate change is already driving profound shifts in the Arctic ecosystem. For example, loss of sea ice, and climbing temperatures in the Barents Sea, off the coast of Norway and Russia, are causing "a poleward shift in fish communities," according to the agency. These changes are impacting wildlife, as well as Indigenous communities that rely on them for their survival.
But perhaps most alarming are developments that cannot be seen. NOAA revealed in May that, for the first time in recorded history, global levels of carbon dioxide in the atmosphere averaged more than 400 parts per million (ppm) for an entire month—in March 2015. Scientists have warned that, in order to achieve safe levels, CO2 must be brought down to a maximum of 350ppm.
As Erika Spanger-Siegfried of the Union of Concerned Scientists recently noted, all of these extremes are occurring in the context of climate change.
"The specifics of what's happening where El Niño, Arctic dynamics, and underlying warming meet are, in a word, complex, and scientists are actively discussing how things might play out," explained Spanger-Siegfried. "But the collective bottom line recognizes that global warming plays a role."
Meanwhile, in a statement released this week, the humanitarian organization Oxfam International estimated that "the El Niño weather system could leave tens of millions of people facing hunger, water shortages, and disease next year if early action isn't taken to prepare vulnerable people from its effects."
YOU MIGHT ALSO LIKE
10 Biggest Environmental News Stories of 2015
3 New Years Resolutions That Will End the World's Dependency on Fossil Fuels
Bill Maher is sick of billionaires' obsession with Mars, more like "Mars-a-Lago," he said.
In a new animation produced by ATTN:, the popular talk show host of Real Time, discusses the perils of our planet, including how "climate change is killing us."
Keep reading...
Show less
Dr. Benjamin D. Santer, research scientist
A group of prominent climate scientists have written a study explicitly refuting statements made by the U.S. Environmental Protection Agency Administrator Scott Pruitt on climate data. During his Senate confirmation hearing, Pruitt claimed in a written response that satellite data shows a "leveling off" of warming over the past two decades.
Keep reading...
Show less
By David Pomerantz
The Nevada Assembly passed a bill Wednesday that would dramatically increase the growth of renewable energy in the state, but Sheldon Adelson, the casino magnate and major donor to Donald Trump, is attempting to prevent the bill from becoming law.
Keep reading...
Show less
Matt Crossick
By Yosola Olorunshola
Whether it's through fashion or protest, Vivienne Westwood is not a woman afraid of making a statement.
On May 23, she rocked up to the residence of the Archbishop of Canterbury in London with a special guest—the Grim Reaper—to issue a strong statement on the Church of England's position on fracking.
Keep reading...
Show less
Military veterans from across Virginia released a letter Thursday opposing two proposed fracked-gas pipelines: Dominion Energy's Atlantic Coast Pipeline and EQT's Mountain Valley Pipeline. These pipelines would cross through pristine areas of Virginia, taking private property by use of eminent domain, removing mountain ridgetops and threatening valuable drinking water resources. The veterans view this as contrary to their service to protect and defend the freedom and security of American citizens.

Keep reading...
Show less
By Paul Brown
The food industry and big agricultural concerns are driving climate change and at the same time threatening to undermine efforts to feed the world's growing population, according to GRAIN, an organization that supports small farmers.
Particularly singled out for criticism are the large chemical fertilizer producers that have gained access to the United Nations talks on climate change. GRAIN accuses them of behaving like the fossil fuel companies did in the 1990s, pushing false information in the hope of delaying real action on climate change.
Keep reading...
Show less
May. 24, 2017 06:55PM EST
By Sydney Robinson
President Trump has no doubt been given a long list of extravagant, elaborate gifts in his lifetime, but the gift given to him today by Pope Francis may not make it on his most favorite list.
Keep reading...
Show less
May. 24, 2017 07:17PM EST
By John Rogers
Maybe it's because I first started working on clean energy while serving in the Peace Corps he founded, or maybe it's my years of working on these issues from his home state. But I can't help thinking about the 100th anniversary of John F. Kennedy's birth, and connecting his stirring rhetoric to the energy challenges of our times.
Here's what our 35th president might have said about the challenges of energy transition and the opportunities in clean energy:
"Change is the law of life. And those who look only to the past or present are certain to miss the future."
Keep reading...
Show less


Get EcoWatch in your inbox