This website uses cookies to ensure you get the best experience while browsing it. By clicking 'Got It' you're accepting these terms.
10 Extreme Weather Events in 2015 That Sound the Alarm on Climate Chaos
Jan. 02, 2016 11:46AM EST
Climate
The hottest year in recorded history is coming to a close with a wave of extreme weather and ecosystem shifts, from unprecedented flooding in the UK to dangerous deluges in South America.
Looking back at 2015, it is clear that such extremes are not the exception, but have been the rule for the past 365 days and beyond. Such weather is linked to this year's exceptionally strong El Niño, which is tied to human-made global warming.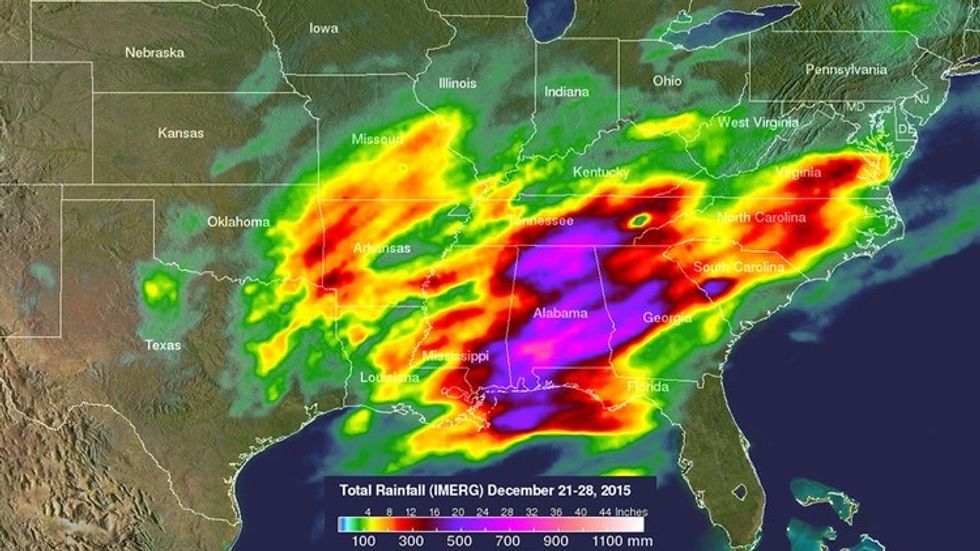 Communities on the frontlines of climate change have long warned that resultant floods, droughts and mega-storms are already bringing death, displacement, and food insecurity to people across the globe, particularly those who are poor, Indigenous or living in the global south.
Here are 10 freakish weather extremes in 2015 that  in 2016 and beyond—and underscore the urgency of strong and effective adaptation, mitigation, and emissions reductions policies.
1. An Arctic heat wave at the end of December caused temperatures in the North Pole to spike 60 degrees Fahrenheit above the norm for the season, soaring past the freezing point and making the region hotter than cities across the U.S. and Europe.
2. This winter's El Niño event touched off severe floods in late December across South America, including in Paraguay, Uruguay, Brazil and Argentina, displacing more than 150,000 people.
3. Heavy rains last week caused the Mississippi River and its tributaries to overflow, touching off historic flooding in the U.S. Midwest. Climate scientists say that one of the most remarkable things about the deluge is the timing. "Never before has water this high been observed in winter along the levee system of the river," meteorologist Jeff Masters explained.
4. South Africa faces its worst drought in a generation, amid soaring temperatures and paltry rainfalls believed to be worsened by El Niño. While the long-term impacts are not immediately known, at least 29 million people in southern African nations face food insecurity, according to UN estimates.
5. Due to a prolonged and ongoing drought in Ethiopia, more than 10 million people are in need of emergency food aid.
6. In November, more then 1.1 million people were impacted—and 40,000 displaced—after a powerful and rare cyclone dumped a year's worth of rain on Yemen. Humanitarian groups warned that the impact on residents was worsened by Saudi Arabia's seven-month bombing campaign that continued through the storm.
7. More than 1.2 million people in the Philippines were impacted—and dozens killed—by a mega-typhoon, known as Lando, which hit in October. "Our survival is non-negotiable," 20,000 people declared at a mass march in Tacloban in November, calling attention to the ongoing harm from the separate Super Typhoon Yolanda (also known as Haiyan), which hit the Philippines in 2013.
8. A dramatic heat wave across the Middle East this summer caused temperatures in Iran to soar so high it felt like 160 degrees Fahrenheit. Even accounting for regional standards, temperatures spiked, from Egypt to Syria. Thousands took to the streets across Iraq protesting dangerous power cuts, clean water shortages, and poor living conditions that were worsening the effects.
9. Pakistan this summer suffered its deadliest heat wave ever recorded, with at least 2,000 lives lost. And in neighboring India, a heat wave this summer killed at least 2,500 people. "Let us not fool ourselves that there is no connection between the unusual number of deaths from the ongoing heat wave and the certainty of another failed monsoon," India's earth sciences minister Harsh Vardhan said in June. "It's not just an unusually hot summer, it is climate change," he said.
10. The National Oceanic and Atmospheric Administration concluded earlier this month that climate change is already driving profound shifts in the Arctic ecosystem. For example, loss of sea ice, and climbing temperatures in the Barents Sea, off the coast of Norway and Russia, are causing "a poleward shift in fish communities," according to the agency. These changes are impacting wildlife, as well as Indigenous communities that rely on them for their survival.
But perhaps most alarming are developments that cannot be seen. NOAA revealed in May that, for the first time in recorded history, global levels of carbon dioxide in the atmosphere averaged more than 400 parts per million (ppm) for an entire month—in March 2015. Scientists have warned that, in order to achieve safe levels, CO2 must be brought down to a maximum of 350ppm.
As Erika Spanger-Siegfried of the Union of Concerned Scientists recently noted, all of these extremes are occurring in the context of climate change.
"The specifics of what's happening where El Niño, Arctic dynamics, and underlying warming meet are, in a word, complex, and scientists are actively discussing how things might play out," explained Spanger-Siegfried. "But the collective bottom line recognizes that global warming plays a role."
Meanwhile, in a statement released this week, the humanitarian organization Oxfam International estimated that "the El Niño weather system could leave tens of millions of people facing hunger, water shortages, and disease next year if early action isn't taken to prepare vulnerable people from its effects."
YOU MIGHT ALSO LIKE
10 Biggest Environmental News Stories of 2015
3 New Years Resolutions That Will End the World's Dependency on Fossil Fuels
EcoWatch Daily Newsletter
A new report spotlights a U.N. estimate that at least 275 million people rely on healthy coral reefs. A sea turtle near the Heron Island in the Great Barrier Reef is seen above. THE OCEAN AGENCY / XL CATLIN SEAVIEW SURVEY
In a new report about how the world's coral reefs face "the combined threats of climate change, pollution, and overfishing" — endangering the future of marine biodiversity — a London-based nonprofit calls for greater global efforts to end the climate crisis and ensure the survival of these vital underwater ecosystems.
Half of the extracted resources used were sand, clay, gravel and cement, seen above, for building, along with the other minerals that produce fertilizer. Cavan Images / Cavan / Getty Images
The world is using up more and more resources and global recycling is falling. That's the grim takeaway from a new report by the Circle Economy think tank, which found that the world used up more than 110 billion tons, or 100.6 billion metric tons, of natural resources, as Agence France-Presse (AFP) reported.
By Gero Rueter
Heating with coal, oil and natural gas accounts for around a quarter of global greenhouse gas emissions. But that's something we can change, says Wolfgang Feist, founder of the Passive House Institute in the western German city of Darmstadt.

By George Citroner
Recent research finds that official government figures may be underestimating drug deaths by half.
Researchers estimate that 142,000 people died due to drug use in 2016.
Drug use decreases life expectancy after age 15 by 1.4 years for men and by just under 1 year for women, on average.
Government records may be severely underreporting how many Americans die from drug use, according to a new study by researchers from the University of Pennsylvania and Georgetown University.
Water coolers in front of shut-off water fountains at Center School in Stow, MA on Sept. 4, 2019 after elevated levels of PFAS were found in the water. David L. Ryan / The Boston Globe via Getty Images
In a new nationwide assessment of drinking water systems, the Environmental Working Group found that toxic fluorinated chemicals known as PFAS are far more prevalent than previously thought.