This website uses cookies to ensure you get the best experience while browsing it. By clicking 'Got It' you're accepting these terms.
10 Darn Good Reasons to Drink Green Tea
Feb. 27, 2014 12:54PM EST
By Kris Gunnars
Green tea is the healthiest beverage on the planet. It is loaded with antioxidants and nutrients that have powerful effects on the body. This includes improved brain function, fat loss, a lower risk of cancer and many other incredible benefits. Here are 10 health benefits of green tea that have been confirmed in human research studies.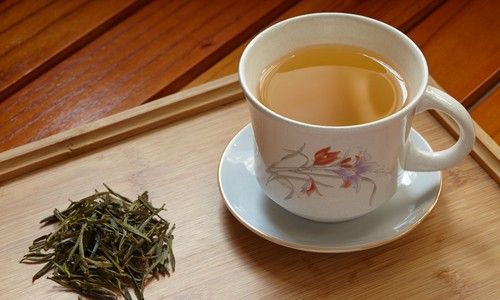 Photo courtesy of Shutterstock
1. Green Tea Contains Various Bioactive Compounds That Can Improve Health
Green tea is more than just green liquid. Many of the bioactive compounds in the tea leaves do make it into the final drink, which contains large amounts of important nutrients.
It is loaded with polyphenols like flavonoids and catechins, which function as powerful antioxidants. These substances can reduce the formation of free radicals in the body, protecting cells and molecules from damage. These free radicals are known to play a role in aging and all sorts of diseases. One of the more powerful compounds in green tea is the antioxidant Epigallocatechin Gallate (EGCG), which has been studied to treat various diseases and may be one of the main reasons green tea has such powerful medicinal properties.
Green tea also has small amounts of minerals that are important for health. Try to choose a higher quality brand of green tea, because some of the lower quality brands can contain excessive levels of fluoride. That being said, even if you choose a lower quality brand, the benefits still far outweigh any risk.
2. Compounds in Green Tea Can Improve Brain Function and Make You Smarter
Green tea does more than just keep you awake, it can also make you smarter. The key active ingredient is caffeine, which is a known stimulant. It doesn't contain as much as coffee, but enough to produce a response without causing the "jittery" effects associated with too much caffeine. What caffeine does in the brain is to block an inhibitory neurotransmitter called Adenosine. This way, it actually increases the firing of neurons and the concentration of neurotransmitters like dopamine and norepinephrine. Caffeine has been intensively studied before and consistently leads to improvements in various aspects of brain function, including improved mood, vigilance, reaction time and memory.
However… green tea contains more than just caffeine. It also has the amino acid L-theanine, which is able to cross the blood-brain barrier. L-theanine increases the activity of the inhibitory neurotransmitter GABA, which has anti-anxiety effects. It also increases dopamine and the production of alpha waves in the brain. Studies show that caffeine and L-theanine can have synergistic effects. The combination of the two is particularly potent at improving brain function. Because of the L-theanine and the smaller dose of caffeine, green tea can give you a much milder and different kind of "buzz" than coffee. Many people report having more stable energy and being much more productive when they drink green tea, compared to coffee.
3. Green Tea Increases Fat Burning and Improves Physical Performance
If you look at the ingredients list for any fat burning supplement, chances are that green tea will be on there. This is because green tea has been shown to increase fat burning and boost the metabolic rate in human controlled trials.
In one study of 10 healthy men, green tea increased energy expenditure by 4 percent. Another study showed that fat oxidation was increased by 17 percent, indicating that green tea may selectively increase the burning of fat. However, I'd like to point out that some studies on green tea don't show any increase in metabolism, so the effects may depend on the individual.
Caffeine itself has also been shown to improve physical performance by mobilizing fatty acids from the fat tissues and making them available for use as energy. In two separate review studies, caffeine has been shown to increase physical performance by 11-12 percent, on average.
4. Antioxidants in Green Tea May Lower Your Risk of Various Types of Cancer
Cancer is caused by uncontrolled growth of cells. It is one of the world's leading causes of death. It is well known that oxidative damage contributes to the development of cancer and that antioxidants can have a protective effect. Green tea is an excellent source of powerful antioxidants, so it makes perfect sense that it could reduce your risk of cancer, which it appears to do:
Breast cancer: A meta-analysis of observational studies found that women who drank the most green tea had a 22 percent lower risk of developing breast cancer, the most common cancer in women.
Prostate cancer: One study found that men drinking green tea had a 48 percent lower risk of developing prostate cancer, which is the most common cancer in men.
Colorectal cancer: A study of 69,710 Chinese women found that green tea drinkers had a 57 percent lower risk of colorectal cancer.
Multiple other observational studies show that green tea drinkers are significantly less likely to get various types of cancer. It is important to keep in mind that it may be a bad idea to put milk in your tea, because it can reduce the antioxidant value.
5. Green Tea May Protect Your Brain in Old Age, Lowering Your Risk of Alzheimer's and Parkinson's
Not only can green tea improve brain function in the short term, it may also protect your brain in old age. Alzheimer's disease is the most common neurodegenerative disease in humans and a leading cause of dementia. Parkinson's disease is the second most common neurodegenerative disease and involves the death of dopamine producing neurons in the brain. Multiple studies show that the catechin compounds in green tea can have various protective effects on neurons in test tubes and animal models, potentially lowering the risk of Alzheimer's and Parkinson's.
6. Green Tea Can Kill Bacteria, Which Improves Dental Health and Lowers Your Risk of Infection
The catechins in green tea have other biological effects as well. Some studies show that they can kill bacteria and inhibit viruses like the influenza virus, potentially lowering your risk of infections.
Streptococcus mutans is the primary harmful bacteria in the mouth. It causes plaque formation and is a leading contributor to cavities and tooth decay. Studies show that the catechins in green tea can inhibit the growth of streptococcus mutans. Green tea consumption is associated with improved dental health and a lower risk of caries.
Another awesome benefit of green tea… multiple studies show that it can reduce bad breath.
7. Green Tea May Lower Your Risk of Type II Diabetes
Type II diabetes is a disease that has reached epidemic proportions in the past few decades and now afflicts about 300 million people worldwide. This disease involves having elevated blood sugar levels in the context of insulin resistance or an inability to produce insulin. Studies show that green tea can improve insulin sensitivity and reduce blood sugar levels.
One study in Japanese individuals found that those who drank the most green tea had a 42 percent lower risk of developing type II diabetes. According to a review of 7 studies with a total of 286,701 individuals, green tea drinkers had an 18 percent lower risk of becoming diabetic.
8. Green Tea May Reduce Your Risk of Cardiovascular Disease
Cardiovascular diseases, including heart disease and stroke, are the biggest causes of death in the world. Studies show that green tea can improve some of the main risk factors for these diseases. This includes total cholesterol, LDL cholesterol and triglycerides.
Green tea also dramatically increases the antioxidant capability of the blood, which protects the LDL cholesterol particles from oxidation, which is one part of the pathway towards heart disease. Given the beneficial effects on risk factors, it is not surprising to see that green tea drinkers have up to a 31 percent lower risk of cardiovascular disease.
9. Green Tea Can Help You Lose Weight and Lower Your Risk of Becoming Obese
Given that green tea can boost the metabolic rate in the short term, it makes sense that it could help you lose weight. Several studies show that green tea leads to decreases in body fat, especially in the abdominal area. One of these studies was a randomized controlled trial in 240 men and women that went on for 12 weeks. In this study, the green tea group had significant decreases in body fat percentage, body weight, waist circumference and abdominal fat. However, some studies don't show a statistically significant increases in weight loss with green tea, so this needs to be taken with a grain of salt.
10. Green Tea May Decrease Your Risk of Dying and Help You Live Longer
Of course, we all have to die eventually. That is inevitable. However, given that green tea drinkers are at a lower risk of cardiovascular disease and cancer, it makes sense that it could help you live longer. In a study of 40,530 Japanese adults, those who drank the most green tea (five or more cups per day) were significantly less likely to die during an 11 year period:
Death of all causes: 23 percent lower in women, 12 percent lower in men.
Death from heart disease: 31 percent lower in women, 22 percent lower in men.
Death from stroke: 42 percent lower in women, 35 percent lower in men.
Another study in 14,001 elderly Japanese individuals aged 65-84 found that those who drank the most green tea were 76 percent less likely to die during the six year study period.
This article was reposted with permission from our media associate Authority Nutrition.
EcoWatch Daily Newsletter
Bird watching in the U.S. may be a lot harder than it once was, since bird populations are dropping off in droves, according to a new study.
Amazon CEO Jeff Bezos announces the co-founding of The Climate Pledge at the National Press Club on Sept. 19 in Washington, DC. Paul Morigi / Getty Images for Amazon
The day before over 1,500 Amazon.com employees planned a walkout to participate in today's global climate strike, CEO Jeff Bezos unveiled a sweeping plan for the retail and media giant to be carbon neutral by 2040, 10 years ahead of the Paris agreement schedule.
For the past seven years, the Anishinaabe people have been facing the largest tar sands pipeline project in North America. We still are. In these dying moments of the fossil fuel industry, Water Protectors stand, prepared for yet another battle for the water, wild rice and future of all. We face Enbridge, the largest pipeline company in North America, and the third largest corporation in Canada. We face it unafraid and eyes wide open, for indeed we see the future.
The climate crisis often intensifies systems of oppression. Rieko Honma / Stone / Getty Images Plus
By Mara Dolan
We see the effects of the climate crisis all around us in hurricanes, droughts, wildfires, and rising sea levels, but our proximity to these things, and how deeply our lives are changed by them, are not the same for everyone. Frontline groups have been leading the fight for environmental and climate justice for centuries and understand the critical connections between the climate crisis and racial justice, economic justice, migrant justice, and gender justice. Our personal experiences with climate change are shaped by our experiences with race, gender, and class, as the climate crisis often intensifies these systems of oppression.

Lana Del Rey: "call her Doris Doomsday." Darren Gerrish / BFC / Getty Images Entertainment
By Emer McHugh
Popular music has, and always will be, informed by the political and social contexts from which it emerges.
It was early in the morning last Thursday, and Jonathan Butler was standing on the Fred Hartman Bridge, helping 11 fellow Greenpeace activists rappel down and suspend themselves over the Houston Ship Channel. The protesters dangled in the air most of the day, shutting down a part of one of the country's largest ports for oil.
By C.J. Polychroniou
Climate change is by far the most serious crisis facing the world today. At stake is the future of civilization as we know it. Yet, both public awareness and government action lag way behind what's needed to avert a climate change catastrophe. In the interview below, Noam Chomsky and Robert Pollin discuss the challenges ahead and what needs to be done.
Food manufacturer General Mills issued a voluntary recall of more than 600,000 pounds, or about 120,000 bags, of Gold Medal Unbleached All Purpose Flour this week after a sample tested positive for a bacteria strain known to cause illness.