10 Best Ingredients to Include in Your Superfood Smoothies
Does your morning start off with a nutrient-dense smoothie?
Do you try to get in a daily superfood or two, from chocolate to quinoa, for your health?
Well why not do both at the same time?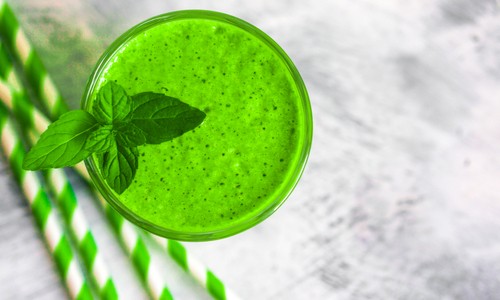 Photo courtesy of Shutterstock
Rodale News thinks it's just the thing to do, declaring, "The right superfood smoothie ingredients can energize your life!" Rodale lists the best ingredients for superfood smoothies, winning combinations of flavors and expert advice from chef Julie Morris, author of Superfood Smoothies: 100 Delicious, Energizing & Nutrient-dense Recipes.
Here are 10 suggestions for your next superfood smoothie:
1. Chia seeds
Chia, which thickens up smoothies, has a neutral flavor and is packed full of protein, trace minerals and essential fatty acids.
2. Goji berries
These antioxidant-rich berries contain 18 amino acids. Their slightly bitter flavor can be masked by other smoothie ingredients.
3. Kale
Considered one of the healthiest vegetables in the world, kale contains the compounds isothiocyanate and glucosinolate, which lower cancer risk. Kale can be added raw to your favorite smoothie.
4. Camu-camu
This tropical fruit contains mega-amounts of vitamin C, as well as calcium, potassium and protein. Its strong tartness can go undetected in a smoothie.
5. Cacao powder
The raw form of chocolate offers antioxidants, magnesium, potassium and iron. Cacao works well in creamier smoothies.
6. Maca
This Peruvian root is rich in essential fatty acids, amino acids and B vitamins. Maca has a slight butterscotch flavor.
7. Wheatgrass
Wheatgrass is chockfull of antioxidants, fiber, amino acids, vitamins and minerals. A smoothie with added wheatgrass can help you detox while boosting your energy. Read more about the best energy boosting foods and drinks.
8. Coconut oil
Coconut oil contains lauric acid, which helps protect the immune system. Combine with bananas and strawberries for a tasty smoothie.
9. Avocado
This fruit is loaded with vitamin E and contains protein. (And really, don't avocados make everything taste better?)
10. Hemp protein powder
Hemp has all the amino acids to form a complete protein, and is a good source of zinc and magnesium. For a creamier smoothie, add shelled hemp seeds.
What do you include in your favorite smoothie?
A coalition of conservation groups and others announced Thursday that a historic number of comments and petitions of support have been submitted to the U.S. Department of the Interior in support of Bears Ears National Monument. Despite the entirely inadequate 15-day comment period ending on May 26, more than 685,000 comments in support of Bears Ears National Monument have been collected.
Keep reading...
Show less
Rink Glacier in western Greenland, with a meltwater lake visible center. NASA/OIB
Scientists have had their eyes on Greenland as its iconic glaciers have begun disappearing due to a warming climate. But, what they didn't expect to see was a whole new type of melting.
Keep reading...
Show less
Mountain View Fire
By Lena Moffitt
An oil tanker in Mead, Colorado exploded, killing one and injuring three on Thursday. Authorities are continuing to investigate the cause of the explosion.
Keep reading...
Show less
Banner created by Alliance for Climate Education
Keep reading...
Show less
Twenty-two GOP senators sent a letter Thursday urging Donald Trump to pull out of the Paris agreement. They argued remaining in the deal could "upend" the administration's ability "to fulfill its goal of rescinding the Clean Power Plan."
Keep reading...
Show less
By Cheryl Johncox
The Federal Energy Regulatory Commission (FERC) rejected on Thursday Energy Transfer Partners' request to resume horizontal directional drilling at two sites for its Rover fracked gas pipeline. This rejection comes after numerous leaks into Ohio's wetlands, and Clean Air and Clean Water act violations. FERC has halted the process at only eight locations of the 32 where drilling is taking place under Ohio's wetlands and streams.
Keep reading...
Show less
By Nadia Prupis
A majority of people in eight countries say they are ready to change their lifestyles if it would prevent climate catastrophe, a survey on global threats released Wednesday found.
Keep reading...
Show less
May. 25, 2017 01:55PM EST
Bill Maher is sick of billionaires' obsession with Mars, more like "Mars-a-Lago," he said.
In a new animation produced by ATTN:, the popular talk show host of Real Time, discusses the perils of our planet, including how "climate change is killing us."
Keep reading...
Show less