This website uses cookies to ensure you get the best experience while browsing it. By clicking 'Got It' you're accepting these terms.
10 Best Ingredients to Include in Your Superfood Smoothies
Jul. 22, 2014 01:24PM EST
Food
Does your morning start off with a nutrient-dense smoothie?
Do you try to get in a daily superfood or two, from chocolate to quinoa, for your health?
Well why not do both at the same time?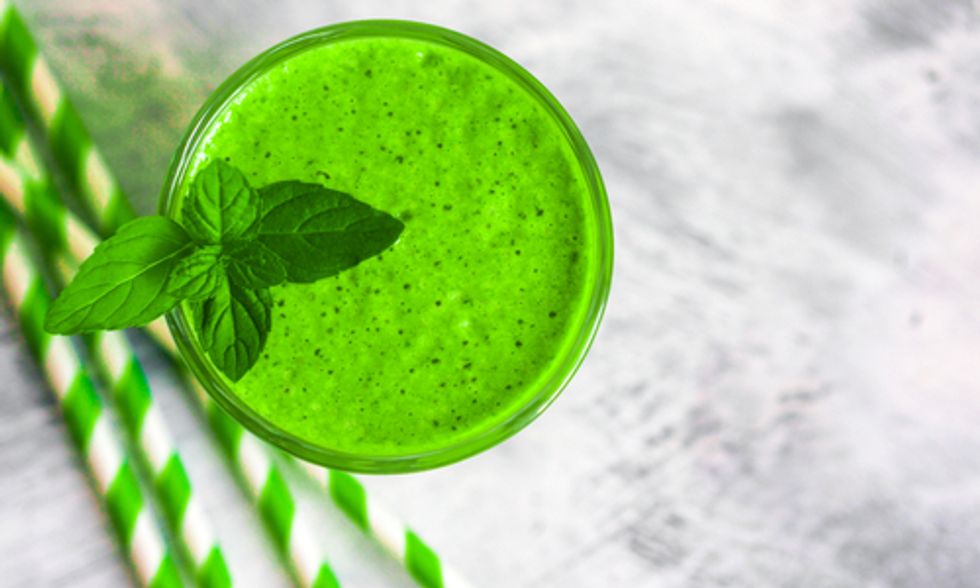 Photo courtesy of Shutterstock
Rodale News thinks it's just the thing to do, declaring, "The right superfood smoothie ingredients can energize your life!" Rodale lists the best ingredients for superfood smoothies, winning combinations of flavors and expert advice from chef Julie Morris, author of Superfood Smoothies: 100 Delicious, Energizing & Nutrient-dense Recipes.
Here are 10 suggestions for your next superfood smoothie:
1. Chia seeds
Chia, which thickens up smoothies, has a neutral flavor and is packed full of protein, trace minerals and essential fatty acids.
2. Goji berries
These antioxidant-rich berries contain 18 amino acids. Their slightly bitter flavor can be masked by other smoothie ingredients.
3. Kale
Considered one of the healthiest vegetables in the world, kale contains the compounds isothiocyanate and glucosinolate, which lower cancer risk. Kale can be added raw to your favorite smoothie.
4. Camu-camu
This tropical fruit contains mega-amounts of vitamin C, as well as calcium, potassium and protein. Its strong tartness can go undetected in a smoothie.
5. Cacao powder
The raw form of chocolate offers antioxidants, magnesium, potassium and iron. Cacao works well in creamier smoothies.
6. Maca
This Peruvian root is rich in essential fatty acids, amino acids and B vitamins. Maca has a slight butterscotch flavor.
7. Wheatgrass
Wheatgrass is chockfull of antioxidants, fiber, amino acids, vitamins and minerals. A smoothie with added wheatgrass can help you detox while boosting your energy. Read more about the best energy boosting foods and drinks.
8. Coconut oil
Coconut oil contains lauric acid, which helps protect the immune system. Combine with bananas and strawberries for a tasty smoothie.
9. Avocado
This fruit is loaded with vitamin E and contains protein. (And really, don't avocados make everything taste better?)
10. Hemp protein powder
Hemp has all the amino acids to form a complete protein, and is a good source of zinc and magnesium. For a creamier smoothie, add shelled hemp seeds.
What do you include in your favorite smoothie?
EcoWatch Daily Newsletter
A Starbucks barista prepares a drink at a Starbucks Coffee Shop location in New York. Ramin Talaie / Corbis via Getty Images
By Cathy Cassata
Are you getting your fill of Starbucks' new Almondmilk Honey Flat White, Oatmilk Honey Latte, and Coconutmilk Latte, but wondering just how healthy they are?
By Sharon Kelly
Back in April last year, the Trump administration's Environmental Protection Agency decided it was "not necessary" to update the rules for toxic waste from oil and gas wells. Torrents of wastewater flow daily from the nation's 1.5 million active oil and gas wells and the agency's own research has warned it may pose risks to the country's drinking water supplies.
Swedish climate activist Greta Thunberg takes part in a "Friday for Future" youth demonstration in a street of Davos on Jan. 24, 2020 on the sideline of the World Economic Forum annual meeting. FABRICE COFFRINI / AFP via Getty Images
Treasury Secretary Steven Mnuchin pretended not to know who Greta Thunberg is, and then he told her to get a degree in economics before giving world leaders advice, as The Guardian reported.
The Visible Infrared Imaging Radiometer Suite on the Suomi NPP satellite acquired this image of forest fire smoke hovering over North America on Aug. 15, 2018. NASA Earth Observatory
New York City isn't known for having the cleanest air, but researchers traced recent air pollution spikes there to two surprising sources — fires hundreds of miles away in Canada and the southeastern U.S.
If temperatures continue to rise, the world is at risk from global
sea-level rise
, which will flood many coastal cities as seen above in Bangladesh. NurPhoto / Contributor / Getty Images
The mounting climate emergency may spur the next global financial crisis and the world's central banks are woefully ill equipped to handle the consequences, according to a new book-length report by the Bank for International Settlements (BIS), as S&P Global reported. Located in Basel, Switzerland, the BIS is an umbrella organization for the world's central banks.