10 Awesome Tweets From #ShellNo to Arctic Drilling Day of Action
Jul. 19, 2015 11:16AM EST
Energy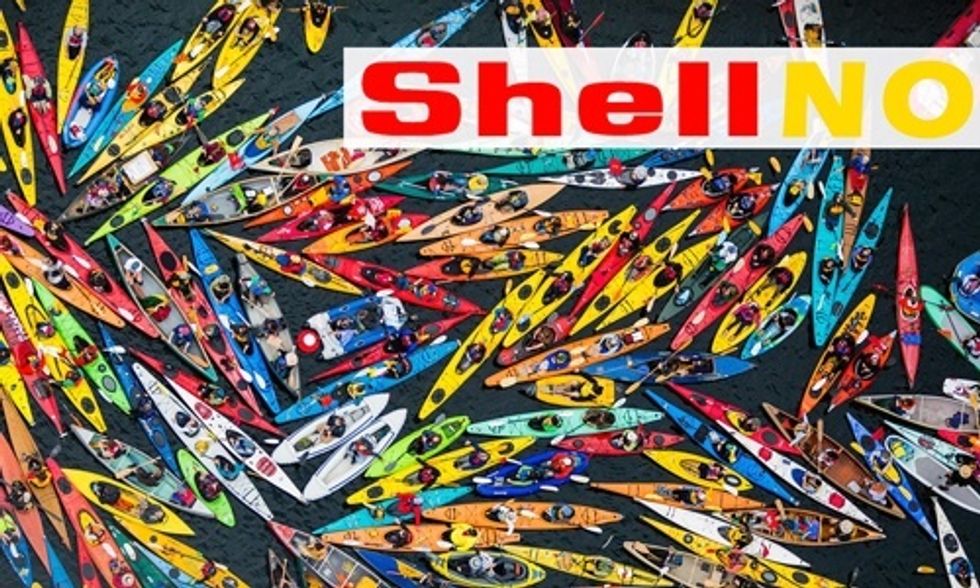 Kayaktivism spread across the country yesterday as people in 13 states gathered for a "Shell No" Day of Action asking President Obama to revoke oil and gas exploration leases in the Chukchi Sea. In Washington DC, activists brought their message right to President Obama's doorstep by staging an Arctic marine scene in Lafayette Park to protest Shell and other companies drilling in the Arctic Ocean.
Kayaktivists everywhere today, as folks who cares about the Arctic (or climate) say #shellno http://t.co/OxdCI67b7g pic.twitter.com/psGaydxBh5

— Bill McKibben (@billmckibben) July 18, 2015
SHELL NO: We went out on the SF Bay to show our support to #savethearctic http://t.co/qKFuZS0iuO #shellno pic.twitter.com/sS1h5G8Rzc — Earthjustice (@Earthjustice) July 18, 2015
Tell @POTUS to act now to safeguard one of the most fragile ecosystems on Earth http://t.co/O8N5bQI3LQ @NRDC #ShellNo pic.twitter.com/zQg4B7DpLn — Irina Tikhomirova (@IrinaGreenVoice) July 16, 2015
.@potus By land or by sea, #chicago says #shellno! pic.twitter.com/LwXNsmisxP

— Sierra Club Live (@SierraClubLive) July 18, 2015
Amazing. Today protesters nationwide demanded @POTUS revoke Shell's permits to drill for oil in the Arctic. #ShellNo pic.twitter.com/GOCbBMqwyY

— Greenpeace USA (@greenpeaceusa) July 18, 2015
MarkSandeen RT MassSierraClub: #Boston tells POTUS #JustSayNo#ShellNo to Arctic Drilling pic.twitter.com/J0ATYXnBqn — BostonNewzer!! (@BostonNewzer) July 19, 2015
Kayaktivists v Shell Arctic oil drilling, Duck Pond, Deschutes River, Oregon @portlandjoanie #shellno #savethearctic pic.twitter.com/6132BIgLC2 — Gary Braasch (@garybraasch) July 19, 2015
Fairbanks rises as Polar Pioneer leaves Dutch Harbor for Chukchi Sea. Photo @AntoniaJuhasz #ShellNo #SaveTheArctic pic.twitter.com/fGXffpNkTD — Arctic Matters (@arctic_matters) July 18, 2015
Activists in Alaska last week protesting Shell's drilling rigs at their local port. #ShellNo via @greenpeaceusapic.twitter.com/WrFUXTFcmi — Climate Solutions (@climatesolution) July 17, 2015
We're telling @POTUS, #ShellNO don't allow #Arctic drilling! Join the day of action: http://t.co/n5wn7kfmhz pic.twitter.com/omrr1ToZhV

— Environment America (@EnvAm) July 18, 2015
According to Friends of the Earth:
Shell Oil only requires one more drilling permit to begin drilling in the Chukchi Sea in less than a month. President Obama's own advisers have warned that leases in the Chukchi Sea carry a 75 percent risk of a major oil spill. Climate science dictates that Arctic Ocean oil and gas must remain in the ground in order to avert the worst consequences of climate disruption.
Many organizations were involved in yesterday's day of action, including 350.org, Alaska Wilderness League, Friends of the Earth, Greenpeace, Natural Resources Defense Council and Sierra Club.
"We are unified in our opposition to Shell's plans to destroy the Arctic," says the coalition website OurArcticOcean.org. "The Arctic Ocean is one of the most unique marine ecosystems in the world. Many of America's most iconic creatures thrive here including walrus, polar bears, whales, seals and countless birds. Arctic oil is also 100 percent unburnable carbon and must stay in the ground to stay in line with what science tells us is necessary for a safe climate future. Shell's drilling rigs might be heading to the Arctic, but there is still time to stop this madness. We must keep the momentum going and tell President Obama's to put an end to Arctic drilling."
YOU MIGHT ALSO LIKE
Al Gore: Obama's Plan for Arctic Drilling Is 'Insane'
One Woman's 2,000 Mile Paddle From the Big Apple to the Big Easy
EcoWatch Daily Newsletter
Recent Stories from EcoWatch