This website uses cookies to ensure you get the best experience while browsing it. By clicking 'Got It' you're accepting these terms.
10 Arrested as 'We Are Seneca Lake' Protests Continue
Nov. 17, 2014 04:08PM EST
Energy
[Editor's note: "We Are Seneca Lake" protests continued today, Nov. 18, with eight more people arrested protesting the major expansion project at Crestwood.]
Ten people were arrested Nov. 17 for blockading the gates of Texas-based Crestwood Midstream's gas storage facility on the shore of New York's Seneca Lake. This protest marks the fourth week of the "We Are Seneca Lake" campaign to stop the major expansion project at the methane gas storage facility where plans are underway to store highly pressurized, explosive gas in abandoned salt caverns on the west side of Seneca Lake.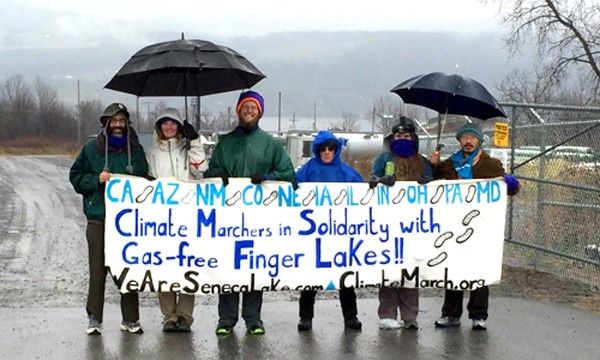 Thirty-five people have been arrested so far during this campaign, including Dwain Wilder who just finished serving eight days in jail after refusing to pay his fine.
Today's protest included a number of participants of the Great March for Climate Action who recently finished a 3,000-mile walk from Los Angeles to Washington, DC. The marchers arrived in DC on Nov. 1 and then spent a week blockading the entrances of the Federal Energy Regulatory Commission—the federal agency that approved the Crestwood expansion project—where more than 100 people were arrested during the Beyond Extreme Energy protests.
"I am ecstatic to stand beside my fellow climate marchers as I put myself on the line to protect my home today," said Faith Meckley, a journalism major at Ithaca College who was born in New York's Finger Lakes region and participated in the Great March for Climate Action, prior to getting arrested today.
"They come from all over the country and they are standing with me because they are my family and they want to protect me and my home. Their presence here goes to show that this is more than just a Finger Lakes or a New York issue. This is a national and even a global one. In a world where fresh, clean water is becoming ever more rare, we are sitting on a priceless treasure here that we may eventually have to share. We need to make sure that Seneca Lake and all the lakes are clean and healthy for generations to come."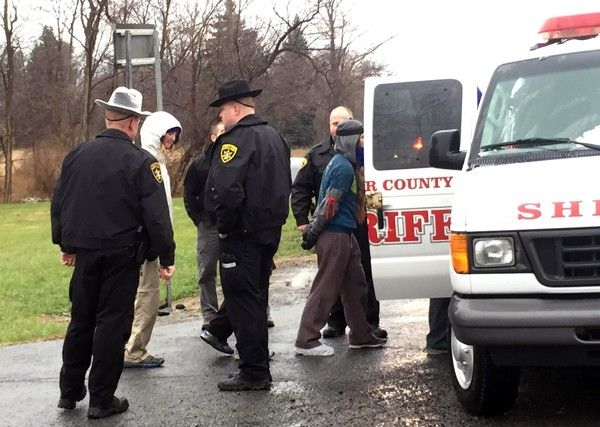 John Abbe from Eugene, Oregon, who was also arrested today, said, "We have walked all the way across the country, from coast-to-coast, and in every state we witnessed cases of environmental and health devastation at the hands of industry. This region is unbelievably beautiful and worth more than all the money in the world. We are standing with Faith today to keep her home from becoming another industrial horror story."
A large rally is planned for the arraignment of the 16 arrested in earlier actions—including nine of the ten residents first arrested weeks ago, among them Senior Master Sergeant Colleen Boland-U.S. Air Force (retired) of Elmira, author and biologist Dr. Sandra Steingraber of Trumansburg, 76 year old mother and grandmother Jeanne Judson and her son Patrick of the Town of Burdett—on Nov. 19 at 4 p.m. outside of the Town of Reading court at 3914 County Rd. 28, Reading Center, New York 14876.
YOU MIGHT ALSO LIKE
100+ Arrested at Beyond Extreme Energy's Week-Long Protests at FERC
5 Reasons Senate Must Reject the Keystone XL Pipeline
Interactive Map: Find Out How Your State Ranks on Renewable Energy
EcoWatch Daily Newsletter

Andrea Rodgers, second from the right, takes notes during a hearing in the Juliana v. U.S. case before the 9th Circuit Court of Appeals in Portland, Oregon on June 4. Colleague Elizabeth Brown sits to her left, while colleague Julia Olson sits on her right, with co-council Philip Gregory on Julia's right. Robin Loznak / Our Children's Trust
By Fran Korten
On June 4, Andrea Rodgers was in the front row of attorneys sitting before a three-judge panel of the 9th Circuit Court. The court session, held in Portland, Oregon, was to determine whether the climate change lawsuit (Juliana v. United States) brought by 21 young plaintiffs should be dismissed, as requested by the U.S. government, or go on to trial.
Seventy Extinction Rebellion protesters were arrested outside The New York Times building Saturday.
SCOOTERCASTER / YouTube screenshot
Explosions and a blaze at the Philadelphia Energy Solutions Refining Complex on June 21.
VOA News / YouTube screenshot
A fire broke out at a Philadelphia oil refinery Friday morning, starting with an explosion so massive it was felt as far away as South Jersey and Delaware County, Pennsylvania, CNN reported.
Asian elephants in Bandipur National Park, India. Mike Prince / CC BY 2.0
By John R. Platt
Some of the tiniest creatures in Myanmar benefit from living near the largest species in the area.
Eucador's Waorani indigenous people celebrated a court ruling against oil extraction on their ancestral lands.
Oregon state capitol. Tashka / iStock / Getty Images
Oregon republicans fled their state rather than do anything to stop the climate crisis. The state republicans abrogated their duties as elected officials and ran away since they don't have the votes to stop a landmark bill that would make Oregon the second state to adopt a cap-and-trade program to curb greenhouse gas emissions, as Vice News reported.