This website uses cookies to ensure you get the best experience while browsing it. By clicking 'Got It' you're accepting these terms.
10 Additives You Don't Want in Your Food
Nov. 14, 2014 09:10AM EST
Food
It's hard to know what's in your food these days, particularly if you eat anything that's heavily processed. You turn over the can, the jar or the box, and you're greeted with an eye-glazing list of things with long chemical names.
But thanks to the Environmental Working Group (EWG), we have a list of a dirty dozen you should be looking out for. There's more on why they're bad for you and how to avoid them at EWGs website, including their downloadable Food Scores app you can take to the grocery with you to tell you which of this group of musts to avoid are in that cereal or sausage you're putting in your cart. Here's what you'll be looking for as you read those labels.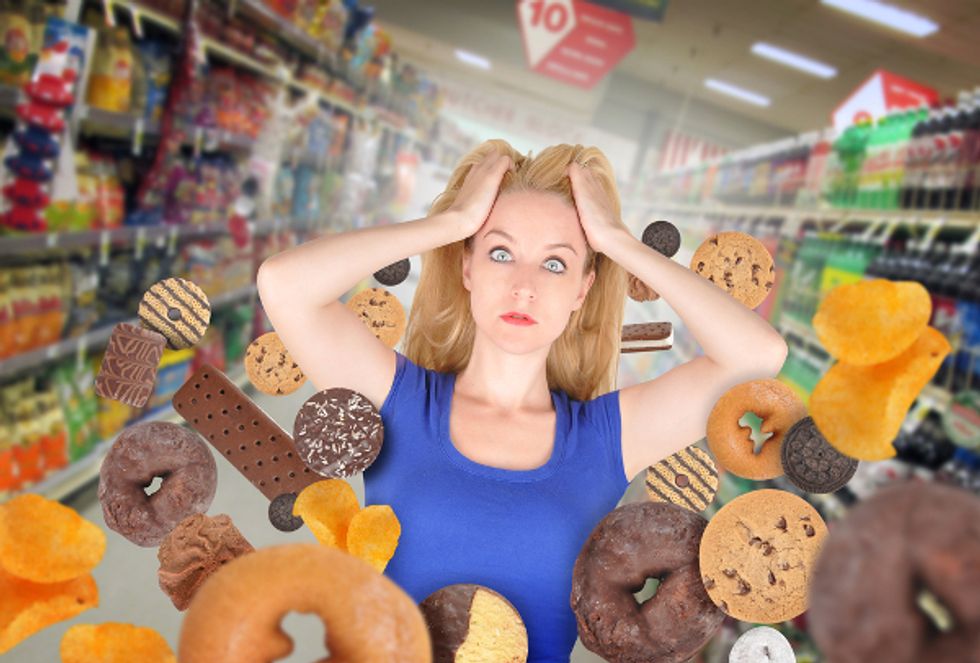 Photo credit: Shutterstock
1. Nitrites and nitrates are added to processed meat to give it a longer shelf life and an attractive pink color. Sausages, hotdogs and bacon may be yummy, but these chemicals have been linked to stomach cancer, with possible links to other types of cancers.
2. Potassium bromide is another substance linked to cancer as well as kidney and DNA damage. It's banned in the UK and Canada but in the U.S. it's found in flour that's used in baking bread and crackers to strengthen the dough and help it rise.
3. Propyl Paraben is an endocrine disruptor, which can encourage the growth of breast cancer cells. It's used as a preservative in tortillas, muffins and food dyes and can contaminate other types of foods prepared or packaged in close proximity.
4. Butylated hydroxyanisole (BHA) and butylated hydroxytoluene (BHT) sound unappealing—their names alone are a turnoff. The fact that they cause tumors in animals is a bigger one. They're also an endocrine disruptors, and they're found, often together, in many foods, including potato chips and preserved meats.
5. Propyl gallate is a preservative used in foods that contain edible fats, such as sausages. Again, it's been find to cause tumors in rats, although no link has been established to cancers in humans. Is it safe? Who knows.
6. Diacetyl is found in that "butter-flavored" ... stuff ... they put on popcorn in movie theaters. You've probably guessed it's not exactly a health food. But did you know it's associated with several clusters of respiratory diseases? And that it's found in yogurt and cheese and products with maple and butterscotch flavoring as well?
7. Phosphates are one of the most common food additives, used in thousands of products to leaven baked goods, reduce acid and make processed meats tender. Highly processed foods and fast foods tend to be loaded with them. They've been linked to heart disease—and why were you eating that fast food anyway?
8. Aluminum is everywhere, but a surfeit of the metal, used as a stabilizer in many foods, has been linked to neurological disorders starting in the womb and possibly even extending to end of life as a contributor to Alzheimer's disease. It's probably best to avoid getting too much of it as a food additive.
9. Artificial colors aren't always identified, but certain types must be. Synthetic colors called FD&C colors (Food, Drug and Cosmetics) must be listed by type. Studies on whether they cause hyperactivity in children have been mixed.
10. "Flavor" is a mysterious ingredient found on many food labels. Whether "natural flavor" or "artificial flavor," there's no way of knowing what chemicals go into making up this particular substance. The term "natural" is meaningless, because the Food and Drug Administration (FDA) hasn't defined it. You're on your own, kid.
YOU MIGHT ALSO LIKE
New App Helps You Eat Healthier
7 Reasons to Never Drink Soda Pop Again
EcoWatch Daily Newsletter
A new study shows that half of all Arctic warming and corresponding sea-loss during the late 20th century was caused by ozone-depleting substances. Here, icebergs discharged from Greenland's Jakobshavn Glacier. Kevin Krajick / Earth Institute /
EurekAlert!
The world awakened to the hole in the ozone layer in 1985, which scientists attributed it to ozone depleting substances. Two years later, in Montreal, the world agreed to ban the halogen compounds causing the massive hole over Antarctica. Research now shows that those chemicals didn't just cut a hole in the ozone layer, they also warmed up the Arctic.
Diane Wilson holds up a bag full of nurdles she collected from one of Formosa's outfall areas on Jan. 15. Julie Dermansky / DeSmogBlog
On the afternoon of Jan. 15, activist Diane Wilson kicked off a San Antonio Estuary Waterkeeper meeting on the side of the road across from a Formosa plastics manufacturing plant in Point Comfort, Texas.
After Wilson and the waterkeeper successfully sued Formosa, the company agreed to no longer release even one of the tiny plastic pellets known as nurdles into the region's waterways. The group of volunteers had assembled that day to check whether the plant was still discharging these raw materials of plastics manufacturing.
Malaysian Environment Minister Yeo Bee Yin (front 2nd L) and officials inspect a container containing plastic waste shipment on Jan. 20, 2020 before sending back to the countries of origin. AFP via Getty Images
The Southeast Asian country Malaysia has sent 150 shipping containers packed with plastic waste back to 13 wealthy countries, putting the world on notice that it will not be the world's garbage dump, as CNN reported. The countries receiving their trash back include the United States, the United Kingdom, France and Canada.
Trump leaves after delivering a speech at the Congress Centre during the World Economic Forum annual meeting in Davos on Jan. 21, 2020. JIM WATSON / AFP via Getty Images