10,000+ Took to the Streets in Paris Pledging Escalated Actions in the Fight for Climate Justice
Dec. 12, 2015 04:20PM EST
Climate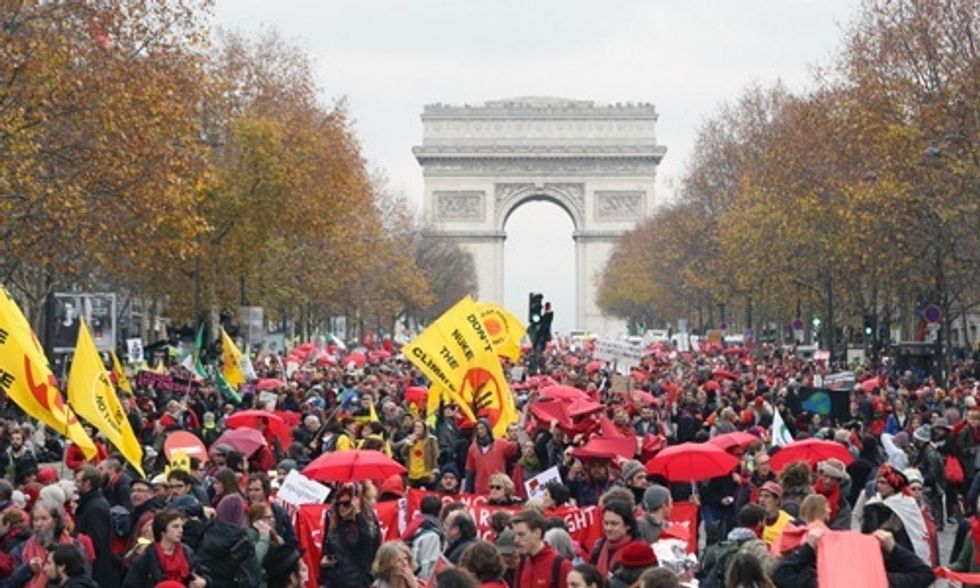 At Noon today, as the climate talks were still underway, thousands of people took to the streets of Paris, and created red lines along the major boulevard Avenue de la Grande Armée. This was a peaceful way to honor the victims of climate change and a pledge to escalated action to protect the climate red lines, which negotiations alone will fail to secure.
If any press want high-res photos from #D12 action in #Paris you can find here: https://t.co/oXbynVOEif #COP21 https://t.co/rfcAQbMtNt

— 350 dot org (@350 dot org)1449921799.0
People carried red flowers including more than 5,000 red tulips, opened hundreds of red umbrellas and unfurled two giant red 100 meter long banners, turning the crowd into a huge red line for a just and livable planet that stretched approximately 1 kilometer from Place de l'Étoile to Porte Maillot. The banners read "It's up to us to keep it in the ground" and "Crime Climatique - Stop!"
A samba and brass band stopped playing when 30 foghorns marked the beginning of two minutes of silence for the victims of climate change, war and terror, during which protestors raised thousands of red flowers in the air.
"Our communities, our climate, our survival: those are our red lines, and we're mobilizing to defend them," Payal Parekh, 350.org global managing director said. "Paris has never been an end point for us, but a chance to get an agreement that will help us continue with our fight for climate justice, if politicians won't keep fossil fuels in the ground, we will. Our survival depends on it."
Down through the whole stretch of #COP21 a giant redline being pulled by civil society. We demand a livable planet https://t.co/vnFDAHujgG

— 350 dot org (@350 dot org)1449843207.0
The red line symbolically pointed from the victims to the perpetrators of the climate crisis: the fossil fuel industry. It stretched from the site of the iconic Arc de Triomphe, a monument of militarism that houses a memorial to the unidentified dead from both world wars, along the major boulevard Avenue de la Grande Armée towards the business district La Défense, where the headquarters of several fossil fuel corporations such as Total and Engie and their financial backers are located.
The "Red Lines" action marked one of the first major demonstrations since the tragic attacks of Nov. 13, which were followed by a ban on public demonstrations under a state of emergency.
#keepitintheground too big to photograph! There are #climate #redlines we cannot cross #nofalsesolutions #COP21 https://t.co/HkQIc4Eecw

— Laurel Sutherlin (@Laurel Sutherlin)1449928181.0
Activists announced a wave of nonviolent direct mass actions for May 2016 to confront some of the most dangerous fossil fuel projects on the planet and build support for ambitious renewable energy initiatives. Actions are planned in Australia, Brazil, Canada, Germany, Indonesia, Nigeria, Philippines, South Africa, Spain, Turkey and the U.S., with additional actions under consideration.
"We pledge to escalate on all fronts through resistance, non-cooperation and building alternatives for a rapid and just transition to 100 percent renewable energy. It is time for climate disobedience," Parekh continued.
Today human race joined in common cause but what happens after #COP21 is what really matters https://t.co/XSN3Zrily9 https://t.co/DkAzpv8YG7

— Kumi Naidoo (@Kumi Naidoo)1449947537.0
The "red lines" action was initiated by the following groups: 350.org, Attac, Confédération Paysanne, Réseau Sortir du Nucléaire, Climate Games, Reclaim the Power, AITEC, Climate Justice Action (CJA) and Global Justice Now. More than 50 "Red Lines" solidarity events were organized worldwide in North America, Europe, South Africa and Nepal.
YOU MIGHT ALSO LIKE
World Leaders Agree to Historic Global Climate Agreement
7 Ways the Outcome of Paris Climate Talks Will Impact Your Day-to-Day Life
How World Leaders Can Solve Global Warming With Regenerative Farming
Arnold Schwarzenegger Doesn't 'Give a ****' Whether You Agree With Him on Climate Change
EcoWatch Daily Newsletter
Related Articles from EcoWatch