1,000+ Sustainable Brands Featured at this Year's Expo East
Sep. 30, 2014 05:06PM EST
Food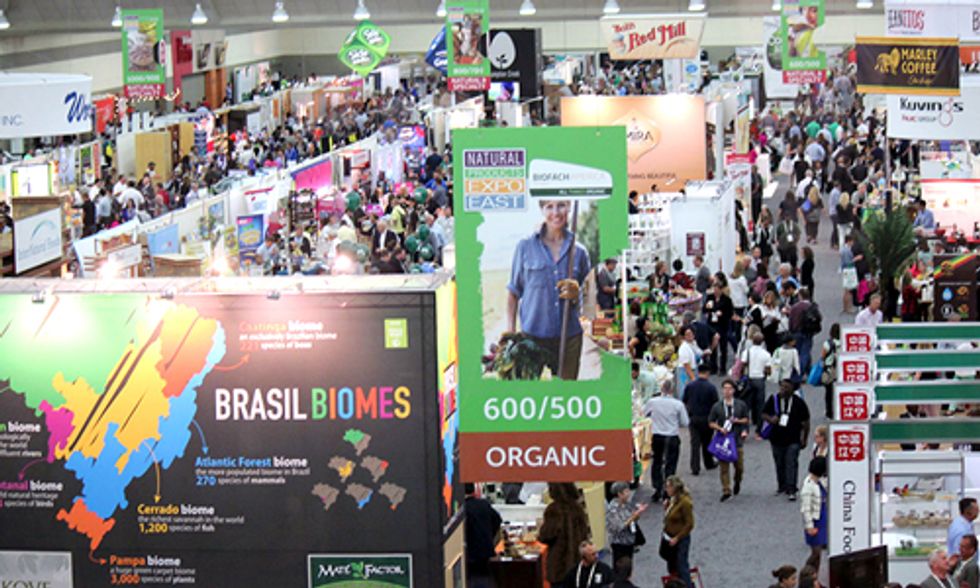 [tps_header]The green community certainly shined bright in the Northeast last weekend. In addition to 400,000 people marching for climate action and the UN Climate Summit both in New York City, more than 1,000 green businesses displayed their newest products at the annual Expo East in Baltimore, Maryland. More than 30,000 people attended the expo and it was encouraging to see how many companies understand the importance of putting people and planet before profits, and how it can actually help their bottom line.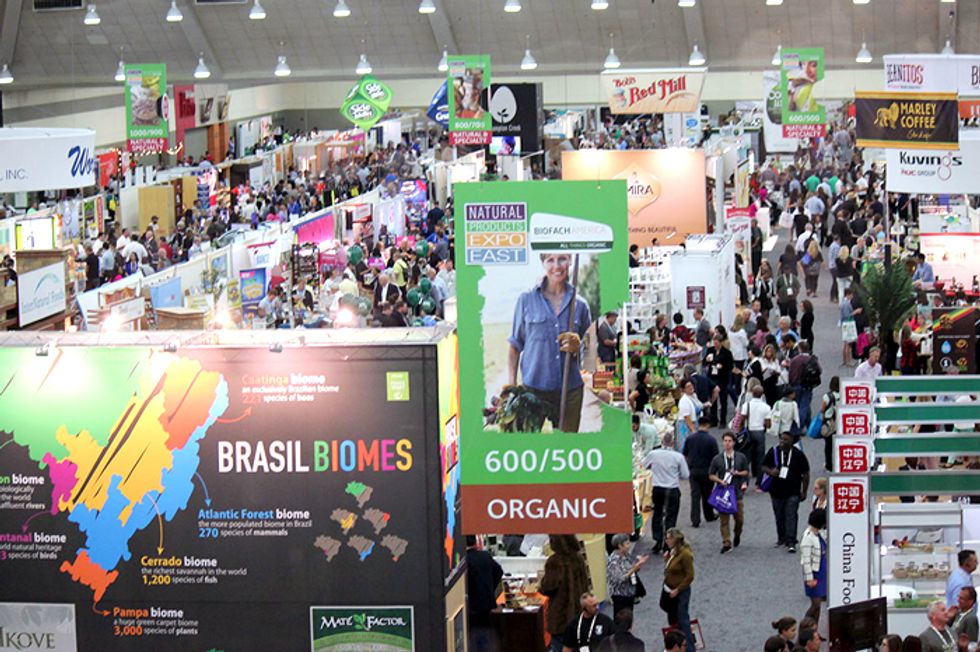 While climate change was the main topic being discussed in New York, the (just as important) topics being highlighted at Expo East were sustainable business and GMO Labeling. These are two topics that are very important to our future. We are currently at a point where we are able to fight poverty and hunger by using more sustainable practices in manufacturing and farming, as well as live a healthier life by avoiding GMOs or at least having them labeled so we know what we are putting in our bodies. While the political battle seems to be an uphill one, because of the deep pockets of the likes of Big Oil and Monsanto, at least the average consumer is beginning to become educated on what exactly is going into the products they use.
There was no shortage of organic, non-GMO products at the expo, and the number of new products and companies in the space continues to trend upward. Not only will the competition and new practices widen the array of products to choose from, but it will also begin to drive the prices down to better compete with products that the public is used to. From vitamins and supplements to baby products, cleaning products, food and beverages and pain relievers and homeopathic remedies, it seemed like there was an organic alternative to most products used every day by consumers. While walking around the expo and talking to some of the extraordinary people doing great things, I focused not only on the products they made, but the practices that they used to make their products. These companies really practice what they preach, as they continue to use sustainable business practices in production of goods, while having as little of an effect on the environment as possible.
[slideshow_deploy id='346806']
To show you just how amazed I was at how easy it is to live a healthier lifestyle and know exactly what goes into every product made, I decided to highlight a few brands and companies in different segments of the industry. One of my first stops was a relatively new company that I had been intrigued by because of their rapid growth and lofty goals, as well as charitable contributions. The Honest Company, founded by Jessica Alba and Christopher Gavigan, not only makes products for babies and kids that do not contain chemicals that have been linked to numerous disease, they have nearly 100 percent of their products and packaging made from plant-based, sustainable materials. They have also helped more than 50,000 families in need by giving away products, including mothers in the armed forces. Finally, as if the sustainable and charitable efforts were not enough, all of their offices and warehouses are completely LEED certified and run on 100 percent renewable energy. This means they are not dependent on fossil fuels at all. This is truly an example of a company walking the walk.
Another company that I had an opportunity to meet with was Earth Friendly Products. Their ECOS brand is well known as a leader in the cleaning and laundry industries. They have recently launched ECOS Baby, which brings their innovative cleaning formulas to the baby market. Some facts about the ECOS brands that you may not know are that they were the first company to eliminate two toxic chemicals, dioxane and formaldehyde, from all products. They were also the first brand to stop the use of salts in all of their cleaners, which protects the water supply. Most recently, they were ranked number one on the Wal-Mart Sustainability Index and have also just finished tripling the size of their state of the art manufacturing plant in New Jersey. This plant is one of the five, which they run on 100 percent solar energy and are 100 percent waste free.
When discussing cleaning products, it is hard to overlook the amazing work being done at Dr. Bronner's. They have become the leader in the soap industry, and all of their products are 100 percent organic and fair trade. All of their soaps are completely biodegradable and vegetable based, with no added preservatives. What makes them stand out even more than their sustainable practices and use of fully post-consumer recycled bottles, is their continued fight for the labeling of GMOs in all products. They are proud to be the leader with more than 30,000 words on their bottle to educate the consumer on exactly what is in their product and why it is beneficial to them. This is part of their "Full Truths," which plays a major role in the trust that they have formed with their customers. Dr. Bronner's has also supported numerous efforts to label GMOs on food products and after speaking with their team, I know that they will not rest until our right is granted to know if our foods contain GMOs or not.
Another company who is making a conscious effort to fight for the labeling of GMOs is Nutiva and their founder, John Roulac. Roulac is a key member of GMOInside.org which is an organization fighting every day for GMO labeling. Nutiva, which specializes in superfoods like coconut oil, hemp protein and chia seeds, is very passionate about their Real Food Manifesto. Nutiva's mission is simple: to "Nurture People and Planet." Not only are their products 100 percent organic and some of the healthiest foods you can put into your body, but they are also very involved in building more sustainable food systems. Nutiva also donates 1 percent of their sales each year to programs that support healthy communities and sustainable agriculture. To date, more than $2 million has been donated, including even more grants and donations through their non-profit, Nutiva.org.
The largest growth in non-GMO products from last years expo was definitely in the food industry. It is remarkable to see how many new food and beverage products that are using no GMOs. I had the opportunity to stop by one of the leaders in organic and non-GMO foods, Eden Foods. In speaking with their team, I quickly realized why they are still so successful after more than 46 years. Eden buys all their food directly from farms and sources most of their products within 100 mile radius of their headquarters near Ann Arbor, Michigan. They also track the environmental impact both upstream and downstream from the farms to the distributors and make sure that everyone is following the same standards that they set for themselves in having a positive social impact. Making food all natural, nutritious and showing that these foods can taste just as good as those that have been chemically engineered is the main goal of Eden Foods, and they are doing a great job of it. Check out this great app, Eden Recipes to find out how you can eat all natural and not lose any of the great taste.
While eating healthy is always important, there seems to be a real juice craze going on. From smoothies to vitamin and mineral packed juices to even juice cleanses, it seems that people are turning to beverages more than ever since they are easier for the body to break down and turn to energy, and can pack the same nutrition that some meals can. While I don't recommend strictly using beverages to supplement the nutritional value that food can bring, they are a great way to supplement and kick start a healthy diet. One of the fastest growing juice companies right now is Suja Juice and they continue to grow their organic and non-GMO line of cold pressed juices. By cold pressing the juices, Suja is able to kill harmful bacteria in the fruits and vegetables that they use while still preserving the nutritional benefit as well as taste. Suja sources all of their products locally while keeping their farms pesticide and herbicide free, and also uses 100 percent BPA free bottles which are fully recyclable.
The realm of products at the expo did not only include those that you put into your body to lead a healthy lifestyle, they also included new innovations in accessories as well. One of the coolest new hydration accessories that I saw comes from the fastest growing hydration brand, Hydro Flask. Hydro Flask makes innovative bottles to store any liquid. It has double wall vacuum insulation which keeps drinks cold for 24 hours or hot for 12. It also does not sweat and has no materials inside that can leak into the beverage itself. Made from food grade stainless steel and BPA free plastic covers, these innovative containers are environmentally safe. The company also has a 5 percent Back program where the consumer has the option to donate 5 percent of the sale to a charity of their choice.
While these brands stood out to me as I made my way through the more than 1,200 exhibits, there were countless other brands that are doing remarkable things around making products that are healthy, GMO free and environmentally friendly. As these products continue to make their way into retail stores around the world, the consumer will finally have an option to use these products instead of those that negatively impact people and the planet. For a full list of the exhibits and brands represented at the expo, click here. I hope to have the opportunity to attend next year and cannot wait to see the even bigger strides that I am sure will be made.
YOU MIGHT ALSO LIKE
Kale is King: 5 Reasons You Should Eat It
7 Surprisingly Affordable Superfoods
[/tps_footer]
EcoWatch Daily Newsletter
Related Articles from EcoWatch
Recent Stories from EcoWatch