1,000+ March to NY Capitol Telling Cuomo 'Don't Frack NY'
Aug. 27, 2012 03:27PM EST
Energy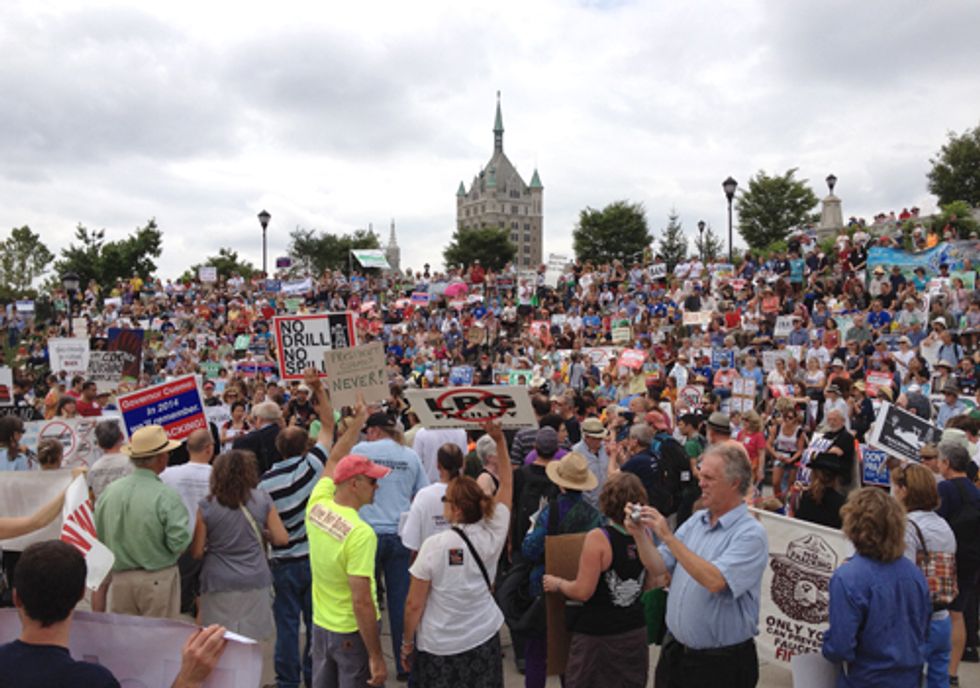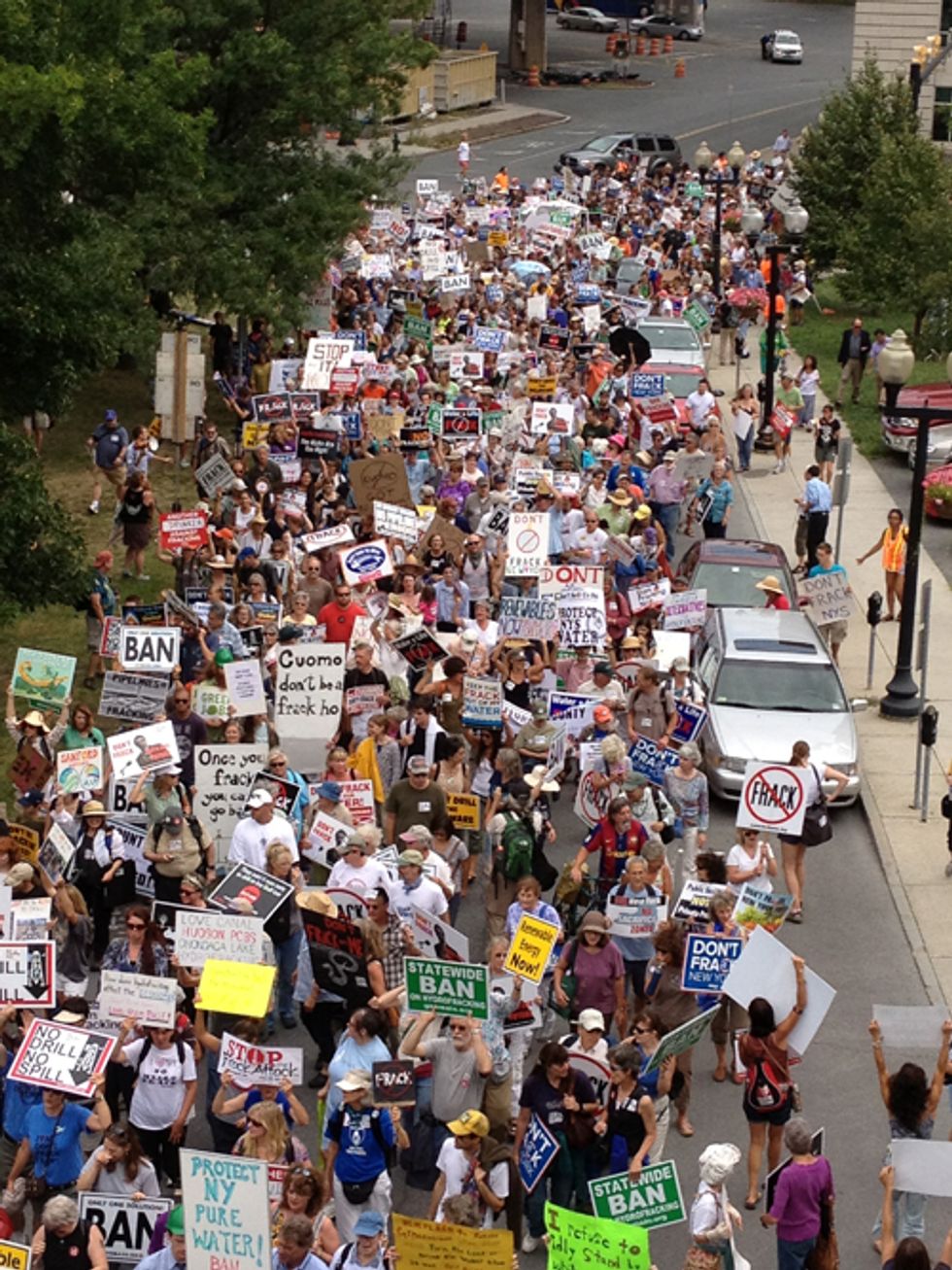 Today more than one thousand New Yorkers staged a massive march and rally in Albany to highlight the dangers of fracking. They marched from Corning Preserve Riverside Park to the Department of Environmental Conservation (DEC) and the West Capitol Lawn.
 
"As a scientist and a mother, I am urging Gov. Cuomo and the DEC to choose to protect New Yorkers from the dangers of fracking," said Sandra Steingraber, distinguished scholar in residence at Ithaca College and co-founder of New Yorkers Against Fracking. "The DEC hasn't conducted an independent study of the health impacts of fracking, and the science shows that fracking can be devastating to people's health."
 
Accidents and spills at drilling and fracking sites contaminate land, risking farmland and streams.i Contamination of underground sources of drinking water with methane and other hydrocarbon gases is a common problem.ii Local air pollution also accompanies drilling and fracking, and there are numerous reports of mysterious health problems linked to such pollution.iii Intense truck traffic destroys roads and increases the likelihood of dangerous accidents and spills.iv
Street theatre at the DEC illustrated the inappropriate collusion between the gas industry and the DEC in writing the Supplemental Generic Environmental Impact Statement, how independent scientists and experts have been excluded from the process and how having Brad Field as director of the Division of Mineral Resources derails the legitimacy of the DEC's review of fracking given that Field is on record as a climate denier. Given the state of the study and review, the public's faith has been broken and Gov. Cuomo would have no ground upon which to stand in saying that fracking can be done safely.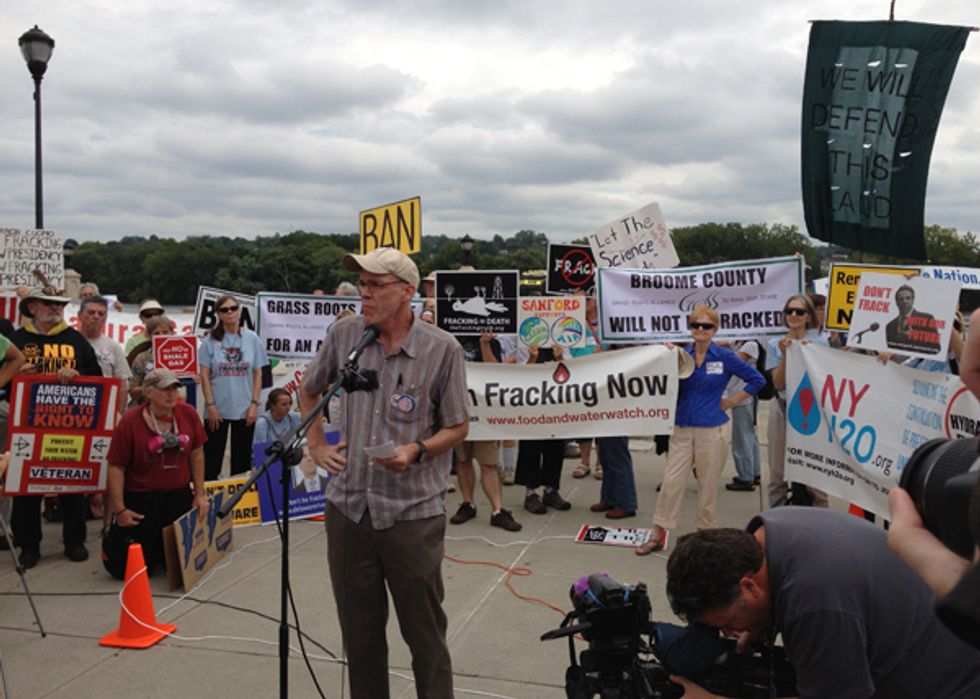 Bill McKibben, author and founder of 350.org, said, "In this brutally hot summer, it was a real slap in the face to learn that Gov. Cuomo had turned over the environmental review of fracking to a global-warming denier. And amidst the drought plaguing America, it's almost unbelievable that New York State would put its unparalleled water resources at risk."
 
In total, more than 3,000 people signed a new Pledge to Resist Fracking in New York leading up to the event following signals that Gov. Cuomo is considering releasing final fracking regulations and lifting New York's moratorium. The pledge lays out that stopping fracking is necessary to prevent the destruction and poisoning of New York's water, air and food systems on which life, health and economic prosperity all depend—including that of future generations. The 1,000+ participants at the demonstration today delivered the pledge to the governor's office.
 
Gerri Wiley, a resident of Owego, said, "An unparalleled grassroots movement in New York is unified in opposition to fracking. The Pledge to Resist Fracking in New York is a stark warning to Governor Cuomo that the amount and level of opposition to fracking will only grow if he moves forward."
 
"Over the last few months, opposition to fracking in New York state has continued to grow, with over a thousand businesses, hundreds of artists and local opposition in the Southern Tier," said Dave Publow from United for Action in New York City. "Given how dangerous fracking is to our water, many of these opponents have already committed to civil disobedience to ensure that fracking doesn't go forward."
 
"The gas industry's own science tells us that six percent of wells will leak immediately upon drilling and 50 percent will leak over a 30-year period. There is no known way to fix this problem and the gas industry knows it," said Gasland filmmaker Josh Fox. "This means the contamination of New York's water is certain. Surely Governor Cuomo must listen to the science and roundly reject this industrial proposal. We can develop more jobs and energy by announcing that New York aims to lead the world in renewable energy development."
 
State Sen. Tony Avella, Ranking Minority Member of the Senate Environmental Conservation Committee and author of a Senate bill banning hydrofracking (S.4220), stated, "With reports indicating that a decision on allowing hydrofracking in New York State is expected very soon, it is more important than ever to rise up and make our voices heard—hydrofracking is an extremely dangerous drilling practice and cannot be allowed in this State. Residents in other states that have allowed hydrofracking have paid too high a price, with contaminated water, increased seismic activity, crumbling infrastructure and lower property values. New York must learn from the disastrous effects of what hydrofracking has done in neighboring states like Pennsylvania and take the lead in banning this dangerous practice. The battle over hydrofracking has reached a climax and with the health and safety of millions of New Yorkers on the line, it is a battle that we cannot afford to lose."
 
Visit EcoWatch's FRACKING page for more related news on this topic.
--------
[i] Olson, Laura. "Chesapeake says Bradford County fluid and gas leak is under control." Pittsburgh Post-Gazette. April 22, 2011; Aaron, G. Jeffrey. "Pa. fracking blowout spews fluid onto state forest lands." The Ithaca Journal. January 25, 2011; Warco, Kathie O. "Fracking truck runs off road; contents spill." Observer-Reporter (Washington and Greene Counties, Pennsylvania). October 21, 2010; York, Kate and Brad Bauer. "Fracking wastewater leaked onto Ohio roads." The Marietta Times (Ohio). December 24, 2011; "Waste from Marcellus shale drilling in Cross Creek Park kills fish." Pittsburgh Post-Gazette. June 5, 2009; Whong, Jason. "Police probe fracking fluid spill in Bradford County." Star-Gazette (Elmira, New York). January 11, 2012; Maykuth, Andrew. "Pa. suspends gas drilling at Marcellus rupture site." The Philadelphia Inquirer. June 7, 2010; Schneyer, Joshua and Selam Gebrekidan. "Denbury plugs North Dakota oil well leak." Reuters. September 3, 2010; Winter, Deena. "Welcome to boomtown: oil production raises health concerns." Great Plains Examiner (Bismarck, North Dakota). January 10, 2012.
[ii] "Tests: Pa. gas drilling town's water still fouled." Associated Press. October 15, 2011; Lustgarten, Abrahm. "So, is Dimock's water really safe to drink?" ProPublica. March 20, 2012; Osborn, Stephen G. et al. "Methane contamination of drinking water accompanying gas-well drilling and hydraulic fracturing." Proceedings of the National Academy of Sciences, Vol. 108, No. 20. May 17, 2011 at 8172 to 8173; Urbina, Ian. "A tainted water well, and concern there may be more." The New York Times. August 3, 2011; United States Environmental Protection Agency, Office of Research and Development, National Risk Management Research Laboratory. "Investigation of Ground Water Contamination near Pavillion, Wyoming." Draft. (EPA 600/R-00/000.) December 2011 at xi and xiii; Pennsylvania Department of Environmental Protection. [Press Release]. "DEP reaches agreement with Cabot to prevent gas migration, restore water supplies in Dimock Township." November 4, 2009.
[iii] McKenzie, Lisa M. et al. "Human health risk assessment of air emissions from development of unconventional natural gas resources." Science of the Total Environment, vol. 424. May 2012 at 79 to 87.; Bamberger, Michelle and Robert E. Oswald. "Impacts of gas drilling on human and animal health." New Solutions, Scientific Solutions, vol. 22, iss. 1. January 2012 at 51 to 77; Lustgarten, Abrahm and Nicholas Kusnetz. "Science lags as health problems emerge near gas fields." ProPublica. September 16, 2011; Wolf Eagle Environmental. "Town of DISH, Texas Ambient Air Monitoring Analysis: Final Report." September 15, 2009 at 6; Steingraber, Sandra. Ithaca College. Testimony on Health Impacts of Hydraulic Fracturing Techniques. Assembly Standing Committee on Environmental Conservation and Health. New York State Assembly. May 26, 2011 at 11, 12, 18 and 19; Colborn, Theo et al. "Natural Gas Operations from a Public Health Perspective." International Journal of Human and Ecological Risk Assessment, Vol. 17, Iss. 5. September 2011 at 1039 to 1056.
[iv] Reppert, Julie. "Collision spills fracking fluid on state route."  Williamsport Sun-Gazette (Pennsylvania). December 27, 2011; Efstathiou, Jim. "Taxpayers pay as fracking trucks overwhelm rural cow paths." Bloomberg News. May 15, 2012.
EcoWatch Daily Newsletter
Recent Stories from EcoWatch