1,000 March at Largest Fracking Protest in UK History
Mar. 10, 2014 12:58PM EST
Energy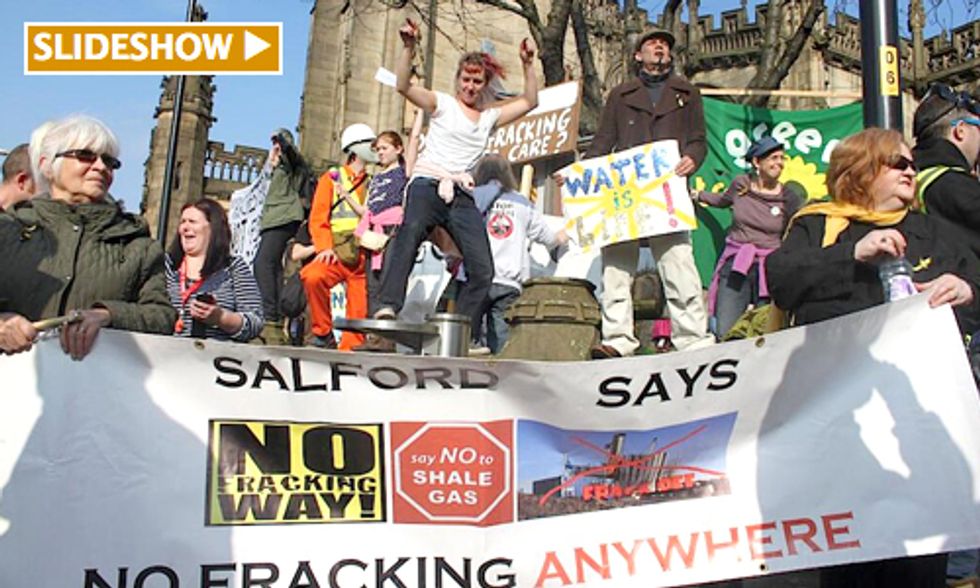 Yesterday, hundreds of people gathered in Piccadilly Gardens and marched through Manchester, England for one of the largest anti-fracking rallies in UK history. Police estimated nearly 1,000 protesters attended the march, which concluded peacefully without arrest or incident.
Martin Porter, a spokesman for the Barton Moss camp and a member of Frack Free Greater Manchester, told the Manchester Evening News the purpose of the march was to send a clear message to the government and energy companies that the vast majority of Britons oppose fracking,
A recent survey by the Manchester Evening News found that 73 percent of Greater Manchester residents are opposed to the controversial gas extraction technique.
Fracking has become a high-profile issue for the region after energy firm IGas began carrying out exploratory drilling to shale gas reserves beneath Barton Moss in Eccles, Salford. Barton Moss is widely seen as the new frontline in the battle against fracking in the UK, and last November a "Barton Moss Protection Camp" was erected at the site, where activists have been camped out ever since.
Today, a judge from the High Court in Manchester ruled that the protestors at the Barton Moss Camp have until midday Tuesday to remove themselves, following a possession order submitted by landowners Peel Investments.
Porter told the Manchester Evening News yesterday that the protesters have vowed to continue their campaign even if the judge rules to evict them.
"If we are ordered to evict we will leave with not so much as a piece of rubbish left behind but the campaign will go on," said Porter. "It may be the camp moves somewhere else, perhaps down the road."
Below, a video of the rally from RT:
Visit EcoWatch's FRACKING page for more related news on this topic.

EcoWatch Daily Newsletter
Recent Stories from EcoWatch