1,000+ Californians Protest Keystone XL at President Obama's Fundraiser in San Francisco
Apr. 04, 2013 07:44AM EST
Energy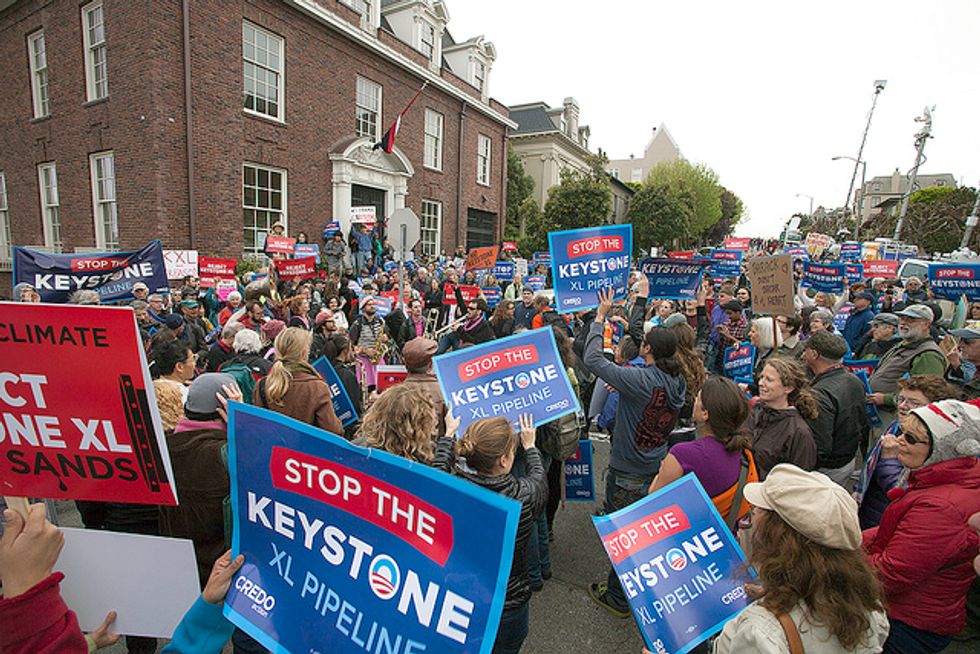 One thousand people showed up at President Obama's Democratic Congressional Campaign Committee fundraiser yesterday in San Francisco to protest against the Keystone XL pipeline that will accelerate climate change and endanger the public health. CREDO and California activists sent a message to the president that if he plans to keep his inaugural promise to fight climate change—he must reject the Keystone XL pipeline. The protest was held just days after an Exxon Mobil tar sands oil pipeline burst in Mayflower, Arkansas, threatening the public health of the entire community.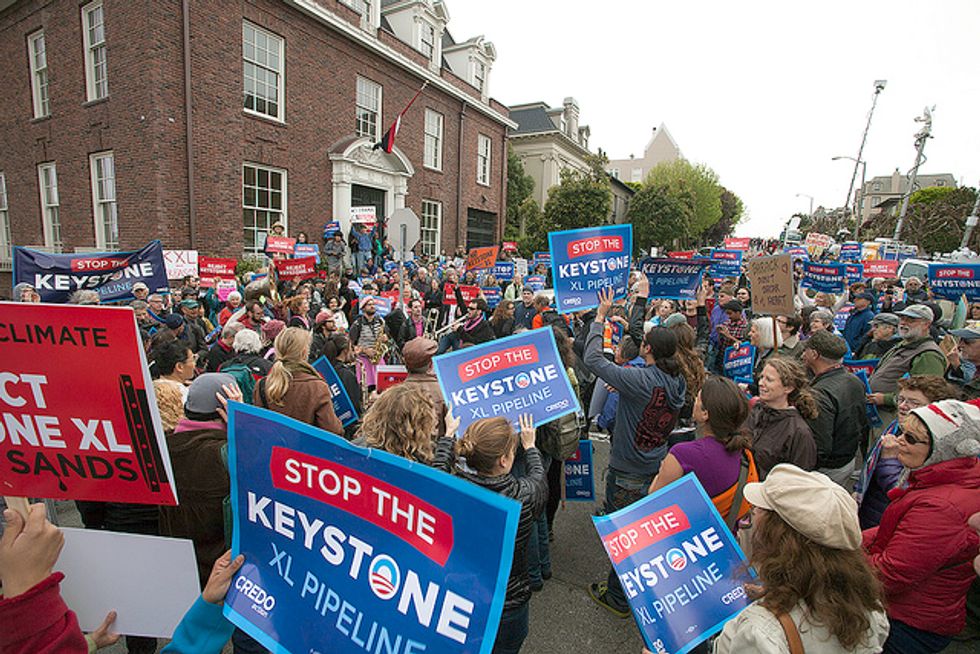 "The American people want President Obama to stand on the right side of history and take the real action he promised on climate change by rejecting the Keystone XL pipeline," said Becky Bond, political director of CREDO. "The only oil Americans will ever see from the pipeline that benefits foreign oil companies is the dirty tar sands crude that spills from it. More than 1,000 Obama volunteers, voters and donors turned out in San Francisco to remind our president that his legacy will be judged harshly if he approves Keystone XL. And we have more than 50,000 more Americans from every state of the union willing to risk arrest in peaceful civil disobedience to stop him making the most catastrophic decision of his presidency."
The protest was organized by California-based progressive activist organization CREDO, which has more than three million members nationwide, along with 350.org, Friends of the Earth, Sierra Club and other groups.
CREDO also launched a call to activists to pledge to risk arrest in an act of civil disobedience if President Obama moves forward with a plan to approve the Keystone XL pipeline. More than 53,000 people have signed the pledge to risk arrest in peaceful dignified civil disobedience in their local communities, in front of OFA meetings, State Department offices, TransCanada's corporate lobbies, banks that are financing tar sands oil development, areas ravaged by Hurricane Sandy and along the pipeline route.
The proposed Keystone XL pipeline will accelerate climate change by speeding up tar sands development and exporting dirty tar sands oil from Canada to foreign countries. While there has been a lot of misinformation peddled by Canadian oil giant TransCanada, Keystone XL would threaten the public health of communities along the route and would only create 35 permanent jobs. There is also no evidence that the pipeline will reduce gas prices as TransCanada has claimed, and an oil economist contends that the pipeline will increase gas prices domestically.
Visit EcoWatch's KEYSTONE XL page for more related news on this topic.
——-
EcoWatch Daily Newsletter
Related Articles from EcoWatch
Recent Stories from EcoWatch