Yellowstone Sends 100 Wild Buffalo to Slaughter
By Stephany Seay
Addressing our relationship with the buffalo, Buffalo Field Campaign co-founder Lakota Elder Rosalie Littler Thunder once said, "human beings have forgotten their purpose." Indeed, those who work for Yellowstone National Park have certainly forgotten theirs: to preserve [wild buffalo], unimpaired, for present and future generations."
One hundred and fifty of America's last wild buffalo were certainly "impaired" this week, having endured the hells of Yellowstone's Stephens Creek capture facility. For some, this nightmare journey is still underway.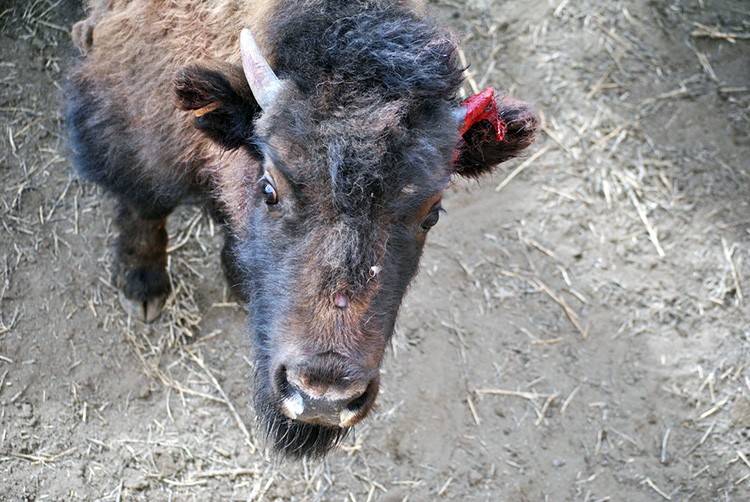 On Tuesday and Wednesday, in response to a public access lawsuit, Yellowstone National Park granted a media tour of their Stephens Creek trap. Mike Mease and I attended on behalf of the Buffalo Field Campaign. What we saw will give us nightmares, but it is critical for us to be here to get a brief glimpse of what goes on in this area Yellowstone hides from the public.
Captive buffalo were run through the gauntlet of a fortified livestock corral, "worked" in a squeeze chute called the "Silencer," where their blood was drawn, their teeth were checked for age and where they were weighed, tagged and "released" to flee down a long, dusty corridor where they were separated by age and sex and forever torn from their families. As you read this they are in the process of being shipped to slaughter.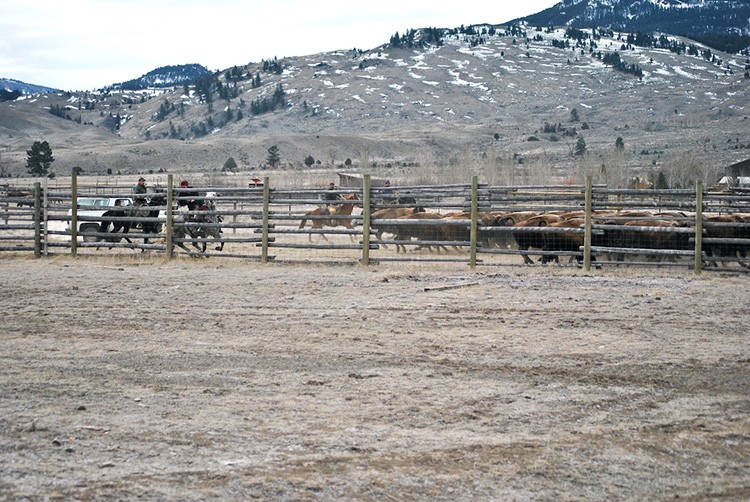 Tuesday morning, beginning at the break of dawn, 75 frightened and confused wild buffalo were run through this house of horrors; early Wednesday morning 30 female buffalo from this group were crammed onto two livestock trailers hired by the InterTribal Buffalo Council and shipped to the slaughterhouse. Later that same morning, the remaining 75 buffalo endured the same mistreatment. On Thursday morning, 63 more buffalo went to slaughter, with another 75 calves and yearlings are being held "just in case" Yellowstone's 50 bison quarantine plan is approved.
The noise in the trap was deafening. Buffalo were slamming against the walls, ramming into each other and bellowing in fear or to find family members. The sounds they made with their voices and their bodies took over everything. They were crammed into the trap's "bull pen," where park wranglers on catwalks—silent for the media tour, but normally "yipping" and hollering—jabbed and prodded them from above, forcing them to move to desired locations and where pushed into "the Silencer."
This squeeze chute is Yellowstone's new machine which they claim to be more humane, but tell that to the wee calf we saw who had both of her horns broken off in that "kinder, gentler" apparatus. Every buffalo put up the fight of their lives, like the warriors they are. The little calves gave extra effort to escape with tenacious determination. They would jump, buck, thrust, kick and rear up, trying everything they could to break free. But they can't. Sometimes they would jump too far, too fast and the squeeze chute would close on their mid section or their horns. They were so scared and tried so hard to get out. Their tails were curled into "nines"—the most unmistakable sign that a buffalo is in serious distress.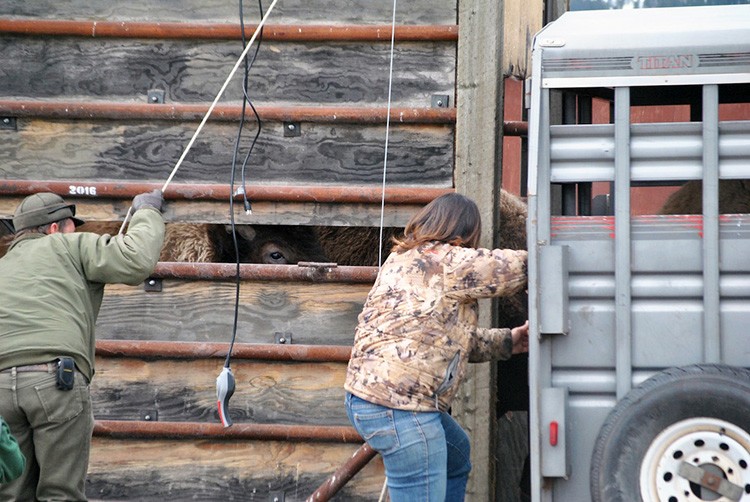 on Wednesday morning by the InterTribal Buffalo Council. Approximately seventy more will suffer the same fate this morning. Photos credit: Stephany Seay / Buffalo Field Campaign.
From the squeeze chute, they were funneled down a corridor and into a sorting pen where they joined others of the same age and/or sex. During the media tour, we were only allowed up on the catwalks one at a time, briefly. We were only allowed to see into two of the sorting pens, though there were many more. Of the two we saw, the buffalo were looking up at us, as if asking why? What did I do wrong? Where's my mom? Where's my baby?
Through tears and promises, Mike and I talked to them. We told them we loved them, that not all humans are so mindless and cruel, that we and many others are fighting and praying for them. It was awful. They were banging around, running in circles, standing there looking forlorn. All we could do for them was document, promise their story would be told in our never-ending effort to cease this slaughter once and for all.
Our hearts are bruised and broken and what little we were allowed to see showed how important it is for us to get full access. This media tour was a token gesture, a mockery of real access.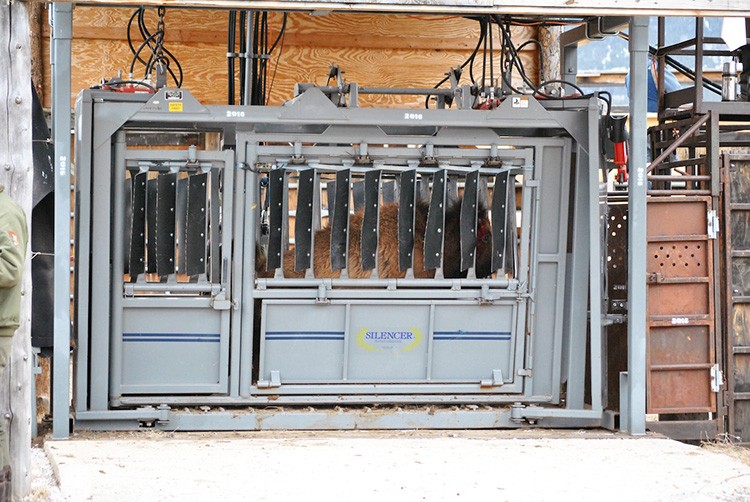 To make a false impression on the media and members of the public, the park service trap wanglers tapered their vulgar behavior, which we know from years of viewing and hearing activities at the trap from over a mile away is thick with cowboy culture. The park rangers, biologists and other employees hid their humanity. The buffalo were just objects moving through a process. They showed neither emotion, relationship with the buffalo, nor remorse for the atrocities they were committing.
And how could they? If they let themselves feel, they would not be able to do what they do to these sacred beings. It was a well-oiled government buffalo slaughtering machine. What we were shown was not the truth of how these capture operations take place when out of public view. They had their behavior in check as they put on a show for the media. But the buffalo are honest. They were the only ones telling the truth as the park service shelved compassion and spun their lies to serve industry and intolerance. The audio coming from the buffalo, imprisoned and violated in the trap, was the stuff of nightmares. No matter how well park employees talk themselves into thinking what they are doing is beneficial, the buffalo tell a different truth. Their lives are as important to them as yours or mine is to us.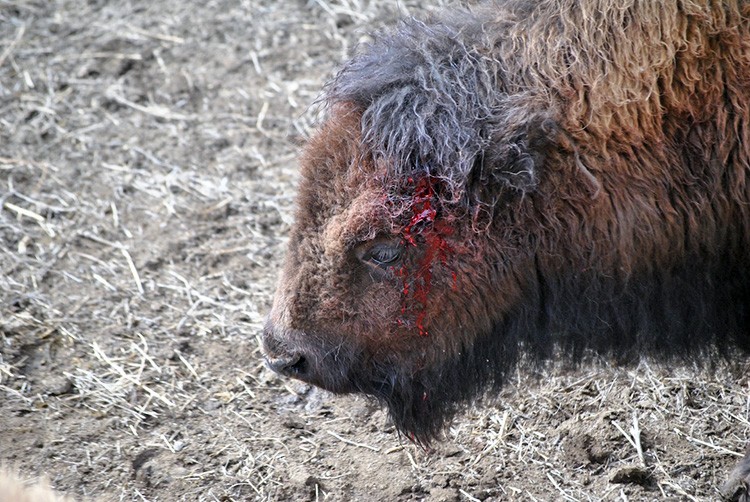 We will be haunted forever by this experience, but our pain is nothing compared to what the buffalo are going through. There is no such thing as "humanely" trapping, tormenting, tearing families apart and shipping buffalo to slaughter. Science does not supports this. Public opinion doesn't support this. The park's own mission and mandate runs contrary to these cruel and unnecessary actions.
But this will not last. The trap walls will come down.
YOU MIGHT ALSO LIKE
Grizzly Bears at Risk of Being Hunted for the First Time in Decades
One of the Lucky Ones: Seal Pup Released Back Into the Ocean After Severe Injuries From Marine Debris
Katahdin Woods and Waters. National Parks Conservation Association.
Looks like you'll have to trust your map if you want to find the newly designated Katahdin Woods and Waters National Monument in Maine.
Gov. Paul LePage has refused to put up any official signs along the four main roads to the 87,500-acre preserve, which is on the list of 27 national monuments under Interior Sec. Ryan Zinke's review.
Keep reading...
Show less
Keep reading...
Show less
More than 58 percent of Swiss voters supported a measure to phase out nuclear power in favor of renewable energy.
The plan provides billions in subsidies for renewable energy, bans the construction of new nuclear plants and decommissions Switzerland's five aging reactors. There is no clear date when the plants will close.

Keep reading...
Show less
iStock
By Alex Kirby
An ambitious scientific expedition is due to start work on May 22 on Bolivia's second-highest mountain, Illimani. The researchers plan to drill three ice cores from the Illimani glacier, and to store two of them in Antarctica as the start of the world's first ice archive.
Keep reading...
Show less
CC-BY-SA-2.5 and GNU FDL
Although not on most people's radar here, New York is one step closer to becoming the first state to have genetically modified, non-sterile insects released outside without cages.

Keep reading...
Show less
Photo credit: Michael Fujiwara/YouTube
The viral video of a young girl snatched off a Richmond, British Columbia dock by a sea lion is another reminder that people shouldn't get too close to wild animals.
Port officials in Canada have sharply criticized the family for putting themselves at risk for feeding the large animal, especially since there are several signs in the area warning people not to do so.
Keep reading...
Show less
Bears Ears National Monument. Tim Peterson
An anti-public lands official in Utah said Interior Sec. Ryan Zinke has already made up his mind to repeal Bears Ears National Monument, a move experts say could be against the law.
Keep reading...
Show less
The Crop Trust
Flooding breached a supposedly impregnable Arctic "doomsday" vault containing a collection of seeds stored for an apocalypse scenario last week, after warmer-than-average temperatures caused a layer of permafrost to thaw.
Keep reading...
Show less