Will Obama Keep His Promise and Announce a Moratorium on Mountaintop Removal?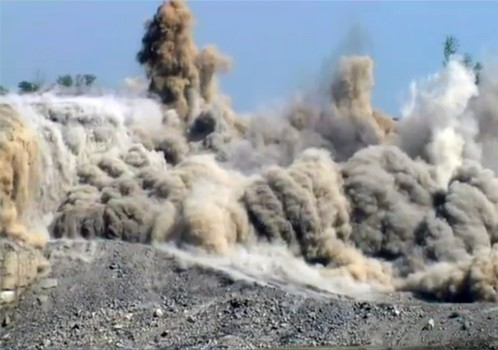 As the ravages of mountaintop removal coal mining—including the re-emerging scandal of reckless black lung policies on strip miners—continue to mount despite the shift of coal production to the heartland and western Power River Basin—President Obama has an election-year opportunity to declare an armistice in the polarized Appalachian coalfields, mend a 30-year mining policy of betrayal, and call an end to the most divisive and egregious human rights and environmental violation sanctioned by our federal government.
There is no two without three, as the saying goes: On the heels of recognizing the civil rights of gay marriage and deferring prosecution of undocumented DREAM Act youth, Obama should keep his 2008 campaign promise, travel to Appalachia and publicly announce a timeline to enact a mountaintop removal moratorium and launch a green jobs coalfield regeneration fund.
Let's be real: With faux West Virginia Democrats like Sen. Joe Manchin and Gov. Earl Ray Tomblin jumping ship, and a prison inmate giving the president a run for his money in the Democratic primaries, Obama has nothing to lose and everything to gain by bringing the Appalachian coalfields of West Virginia, eastern Kentucky, southwestern Virginia and eastern Tennessee into a new era of clean energy and sustainable economic development.
Fresh from his recent road to Damascus awakening on the stranglehold of Big Coal, Sen. Jay Rockefeller (WV-D) might even host the President's announcement.
The venerable West Virginia statesman Ken Hechler once called it a "Truman moment" for Obama.
And it should happen on August 3, the anniversary of the Surface Mining Control and Reclamation Act, President Jimmy Carter's disastrous compromise that has led to a 40-year regulatory nightmare of federally sanctioned mountaintop removal. As I noted a few years ago:
August 3 is not simply the anniversary of a benign Act; it is a sobering cautionary tale for today's Obama administration and young environmentalists of the catastrophic effects of well-meaning liberal Democrats who engage in compromises with an untenable and ruthless coal industry.
On August 3, 1977, surrounded in the White House Rose Garden by beleaguered coalfield residents and environmentalists who had waged a ten-year campaign to abolish strip-mining, President Jimmy Carter signed the Surface Mining Control and Reclamation Act with great fanfare. President Carter may have attempted to put on a good face, but he admitted to the 300 guests, according to the New York Times, "in many ways, this has been a disappointing effort." Calling it a "watered down" bill, Carter added, "I'm not completely satisfied with the legislation. I would prefer to have a stricter strip mining bill."

"The President's other main objection to the bill," wrote the New York Times, "is that it allows the mining companies to cut off the tops of Appalachian mountains to reach entire seams of coal."
Outraged by this duplicitous compromise to grant federal sanctioning of mountaintop removal mining, an "Appalachian Coalition" of coalfield residents and environmental groups called the SMCRA a "blatant travesty."
In the meantime, the Appalachian Communities Health Emergency Act citizens movement by Appalachian coal mining communities to pass a law in Congress for a mountaintop removal mortatorium continues to gain ground. Check out their new PSA by On Coal River filmmaker Adams Wood:
iStock
By Alex Kirby
An ambitious scientific expedition is due to start work on May 22 on Bolivia's second-highest mountain, Illimani. The researchers plan to drill three ice cores from the Illimani glacier, and to store two of them in Antarctica as the start of the world's first ice archive.
Keep reading...
Show less
More than 58 percent of Swiss voters supported a measure to phase out nuclear power in favor of renewable energy.
The plan provides billions in subsidies for renewable energy, bans the construction of new nuclear plants and decommissions Switzerland's five aging reactors. There is no clear date when the plants will close.

Keep reading...
Show less
The Crop Trust
Flooding breached a supposedly impregnable Arctic "doomsday" vault containing a collection of seeds stored for an apocalypse scenario last week, after warmer-than-average temperatures caused a layer of permafrost to thaw.
Keep reading...
Show less
The edge of the Filchner-Ronne ice shelf in the Weddell Sea. Ralph Timmermann/AWI
By Tim Radford
German scientists have worked out the process that could destroy an Antarctic ice shelf the size of Iraq.
Keep reading...
Show less
An adult 17-year cicada and two nymph exoskeletons. Joel Duff
Cicadas cropping up early in the mid-Atlantic region may be responding to climate change, scientists hypothesize.
Keep reading...
Show less
May. 21, 2017 01:11PM EST
Unsplash
If you want to see a solution to the climate crisis in your lifetime, they might be the two most important words you hear this year: carbon pricing.
Keep reading...
Show less
May. 21, 2017 01:01PM EST
Methane released from frozen permafrost trapped as bubbles within ice. NASA
Japan and China have successfully extracted methane hydrate—ice crystals with natural methane gas locked inside—from the ocean floor near their coastlines.
Commercial development of this frozen fossil fuel is considered by many countries as a key to energy security. However, releasing this massive methane monster is a potential environmental disaster.
Keep reading...
Show less
Owen Buggy
By Sabrina Imbler
The Kodiak Queen had a long, storied life. One of five vessels to survive the Dec. 7, 1941, attack on Pearl Harbor, the ship later traveled up north to serve as an Alaska king crab vessel and salmon tender.
Keep reading...
Show less