Politics
15 February 2016
Watch John Oliver Slam Republicans for Attempting to Block Scalia and Access to the Ballot Box
HBO's John Oliver was back Sunday night with his first new episode of Last Week Tonight and he wasted no time going after the Republicans for refusing to consider any nominations to replace Supreme Court Justice Antonin Scalia and attempting to block access to the ballot box with restrictive voter ID laws.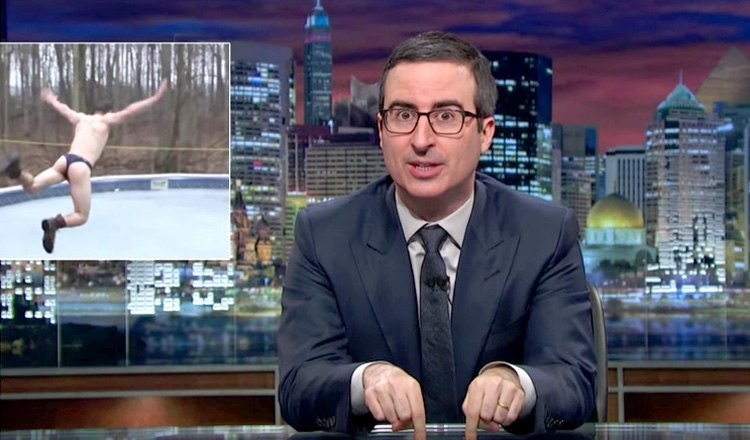 John Oliver Oliver explains that voting is "the cornerstone of American democracy—the unshakeable principle that everyone should have an equal vote, even idiots."
Oliver called Scalia's death "the end of an era on the Supreme Court," and noted that "There is now a huge vacancy on the Supreme Court that needs to be filled, or if you listened to the Republicans in the last 24 hours—not."
He shared a clip from Saturday night's GOP presidential debate showing Ted Cruz saying, "We're not gonna give up the U.S. Supreme Court for a generation by allowing Barack Obama to make one more liberal appointee," and Donald Trump spouting, "I think it's up to Mitch McConnell and everybody else to stop it, it's called delay, delay, delay."
Oliver's response was, "Well, that does not bode well because Mitch McConnell is actually pretty good at delaying things for people—whether it's legislation, court appointments or orgasms."
Oliver then discussed the "strange, unwritten rule of the Senate that is being cited to justify this behavior" known as the "Thurmond Rule." In a clip, a newscaster explains that "There is a rule in the Senate, it's an informal rule, called the Thurmond Rule. The rule that Strom Thurmond put forward was no president in the last six months of their presidency should be able to appoint a judge that has a lifetime appointment."
Watch here to see what Oliver thinks of the Thurmond Rule:
Oliver then went on to his main story for the night, voting. Oliver explains that voting is "the cornerstone of American democracy—the unshakeable principle that everyone should have an equal vote, even idiots."
He explains that "in recent years some state have made voting easier ... but sadly others have gone in the opposite direction." And, that "depending on who you are and where you live, you might face new obstacles to voting this November thanks to, among other things, the Supreme Court decision to weaken the Voting Rights Act."
Watch this in-depth segment where Oliver explains which states are working the hardest to block access to the ballot box:
YOU MIGHT ALSO LIKE
Epic Battle Begins Over Scalia's Vacant Supreme Court Seat
Mark Ruffalo: There's No Fracking That Can Be Done Safely
150,000 Penguins Die After Huge Iceberg Blocks Route to Sea
Organic Farmer Dealt Final Blow in Landmark Lawsuit Over Monsanto's GMO Contamination
Katahdin Woods and Waters. National Parks Conservation Association.
Looks like you'll have to trust your map if you want to find the newly designated Katahdin Woods and Waters National Monument in Maine.
Gov. Paul LePage has refused to put up any official signs along the four main roads to the 87,500-acre preserve, which is on the list of 27 national monuments under Interior Sec. Ryan Zinke's review.
Keep reading...
Show less
Keep reading...
Show less
More than 58 percent of Swiss voters supported a measure to phase out nuclear power in favor of renewable energy.
The plan provides billions in subsidies for renewable energy, bans the construction of new nuclear plants and decommissions Switzerland's five aging reactors. There is no clear date when the plants will close.

Keep reading...
Show less
iStock
By Alex Kirby
An ambitious scientific expedition is due to start work on May 22 on Bolivia's second-highest mountain, Illimani. The researchers plan to drill three ice cores from the Illimani glacier, and to store two of them in Antarctica as the start of the world's first ice archive.
Keep reading...
Show less
CC-BY-SA-2.5 and GNU FDL
Although not on most people's radar here, New York is one step closer to becoming the first state to have genetically modified, non-sterile insects released outside without cages.

Keep reading...
Show less
Photo credit: Michael Fujiwara/YouTube
The viral video of a young girl snatched off a Richmond, British Columbia dock by a sea lion is another reminder that people shouldn't get too close to wild animals.
Port officials in Canada have sharply criticized the family for putting themselves at risk for feeding the large animal, especially since there are several signs in the area warning people not to do so.
Keep reading...
Show less
Bears Ears National Monument. Tim Peterson
An anti-public lands official in Utah said Interior Sec. Ryan Zinke has already made up his mind to repeal Bears Ears National Monument, a move experts say could be against the law.
Keep reading...
Show less
The Crop Trust
Flooding breached a supposedly impregnable Arctic "doomsday" vault containing a collection of seeds stored for an apocalypse scenario last week, after warmer-than-average temperatures caused a layer of permafrost to thaw.
Keep reading...
Show less