U.S. Carbon Emissions From Fossil Fuels Grew in 2013
By Yanna Antypas and Tyson Brown
Once all data are in, energy-related carbon dioxide (CO2) emissions in 2013 are expected to be roughly 2 percent above the 2012 level, largely because of a small increase in coal consumption in the electric power sector. Coal has regained some market share from natural gas since a low in April 2012.
However, the impact on overall emissions trends remains fairly small.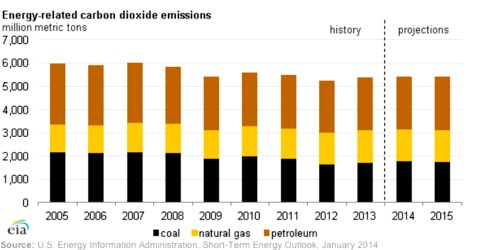 Emissions in 2013 were slightly more than 10 percent below 2005 levels, a significant contribution towards the goal of a 17 percent reduction in emissions from the 2005 level by 2020 that was adopted by the current Administration. This level of reduction is expected to continue through 2015, according to EIA's most recent Short-Term Energy Outlook.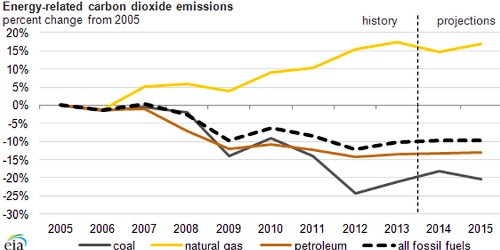 CO2 emissions from energy activities declined four out of six years since their 2007 peak and were historically low (12 percent below the 2005 level) in 2012. From 2005 to 2013, the key energy-economic drivers of a changing U.S. energy landscape included:
Weak economic growth in recent years, dampening growth in energy demand compared to pre-recession expectations
Continuously improving energy efficiency across the economy, including buildings and transportation
High energy prices over the past four years, with the exception of natural gas, since about 2010
An abundant and inexpensive supply of natural gas, resulting from the widespread use of new production technologies for shale gas
Power sector decarbonization since 2010, as natural gas and renewables displaced coal
Visit EcoWatch's ENERGY page for more related news on this topic.

iStock
By Alex Kirby
An ambitious scientific expedition is due to start work on May 22 on Bolivia's second-highest mountain, Illimani. The researchers plan to drill three ice cores from the Illimani glacier, and to store two of them in Antarctica as the start of the world's first ice archive.
Keep reading...
Show less
More than 58 percent of Swiss voters supported a measure to phase out nuclear power in favor of renewable energy.
The plan provides billions in subsidies for renewable energy, bans the construction of new nuclear plants and decommissions Switzerland's five aging reactors. There is no clear date when the plants will close.

Keep reading...
Show less
The Crop Trust
Flooding breached a supposedly impregnable Arctic "doomsday" vault containing a collection of seeds stored for an apocalypse scenario last week, after warmer-than-average temperatures caused a layer of permafrost to thaw.
Keep reading...
Show less
The edge of the Filchner-Ronne ice shelf in the Weddell Sea. Ralph Timmermann/AWI
By Tim Radford
German scientists have worked out the process that could destroy an Antarctic ice shelf the size of Iraq.
Keep reading...
Show less
An adult 17-year cicada and two nymph exoskeletons. Joel Duff
Cicadas cropping up early in the mid-Atlantic region may be responding to climate change, scientists hypothesize.
Keep reading...
Show less
May. 21, 2017 01:11PM EST
Unsplash
If you want to see a solution to the climate crisis in your lifetime, they might be the two most important words you hear this year: carbon pricing.
Keep reading...
Show less
May. 21, 2017 01:01PM EST
Methane released from frozen permafrost trapped as bubbles within ice. NASA
Japan and China have successfully extracted methane hydrate—ice crystals with natural methane gas locked inside—from the ocean floor near their coastlines.
Commercial development of this frozen fossil fuel is considered by many countries as a key to energy security. However, releasing this massive methane monster is a potential environmental disaster.
Keep reading...
Show less
Owen Buggy
By Sabrina Imbler
The Kodiak Queen had a long, storied life. One of five vessels to survive the Dec. 7, 1941, attack on Pearl Harbor, the ship later traveled up north to serve as an Alaska king crab vessel and salmon tender.
Keep reading...
Show less