They're Back: 17-Year Cicadas to Blanket Northeastern U.S.
Roughly a billion cicadas will soon take over parts of Ohio, West Virginia, Virginia, Pennsylvania, Maryland and New York, filling the air with their raucous mating call.
Brood V cicadas, just one of type of 17-year cicada, have already made their debut in Northeast Ohio, according to Cleveland.com. While Ohio will definitely see cicadas in 2016, other states may have a year or two of waiting, according to a U.S. Department of Agriculture (USDA) Forest Service map. Most of western Pennsylvania, for example, has three more years before the cicadas take over its counties, CBS Pittsburgh reported.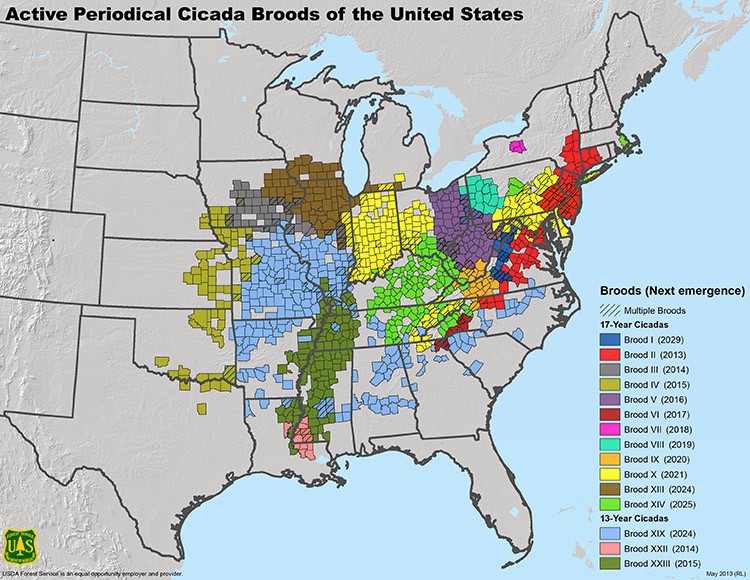 Photo credit: USDA Forest Service
Cicadas may be a nuisance to humans, and a terror for those who aren't big fans of flying bugs, but their emergence is actually beneficial to the environment. Laying their eggs in the trees provides a natural pruning that increases tree growth—though, the process can damage young trees. (To prevent this, simply cover the saplings with netting and they should survive, Jim Fredericks, chief entomologist with the National Pest Management Association, told U.S. News and World Report.) Cicadas' burrows aerate the soil and their decaying bodies provide nutrients.
The invasion only lasts six weeks. Once the baby cicadas, also called nymphs, have hatched from their eggs in the trees, they'll fall to the ground and burrow into the soil, not emerging for another 17 years. Underground they survive off moisture from tree roots. Cicadas don't eat solid food.
Speaking of food. The adult cicadas are a gluten-free, low-fat, low-carb source of protein. They're a favorite treat of dogs and cats. They're "like Hershey's Kisses falling from the sky" for our four-legged companions, Gene Kritsky, a cicada expert at Cincinnati's College of Mount St. Joseph, told U.S. News and World Report.
Humans can eat them, too. American Indians used cicadas as a food source and several countries such as China still eat them served deep-fried. Many Americans see the cicada invasion as chance for a culinary experiment as well.
The Rising Creek Bakery in Mount Morris, Pennsylvania, is making special cookies and custard to mark the 17-year occasion. Bakers freeze cicadas, remove their wings and coat them in sugar before placing them on top of a chocolate chip cookie or custard with caramel sauce, CBS Pittsburgh reported.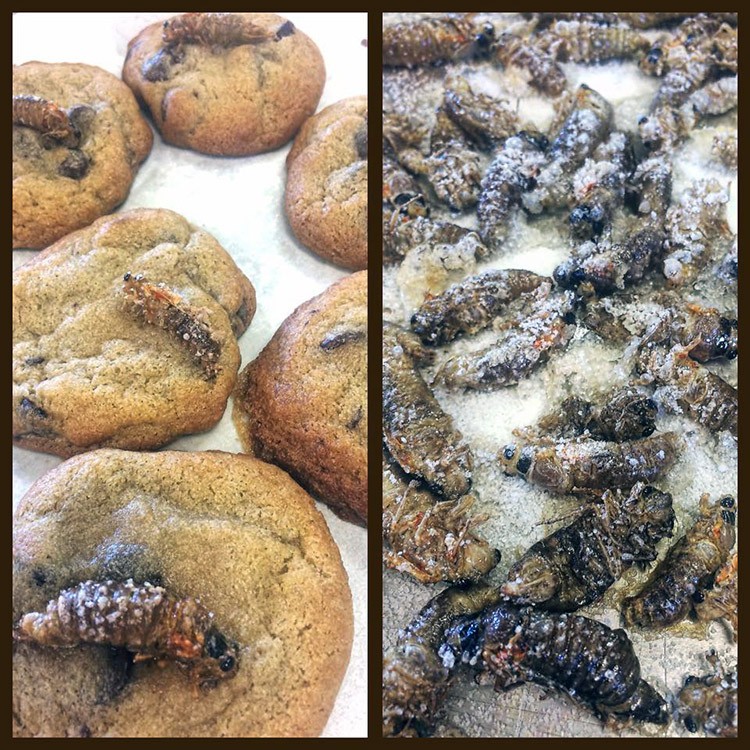 Photo credit: Rising Creek Bakery, Facebook
Another Pennsylvanian—Phil Enck, chef instructor and assistant professor at the Art Institute of Pittsburg—has prepared cicadas in multiple ways since the early 2000s. The first recipe he attempted was inspired by a Charleston shrimp and grits recipe, WESA, Pittsburgh's NPR member station, reported.
"We ground some of them up and we served some of them whole and once you get past the aesthetic of it, it was quite good," he told WESA. "The cicada itself kind of has the texture of a boiled peanut."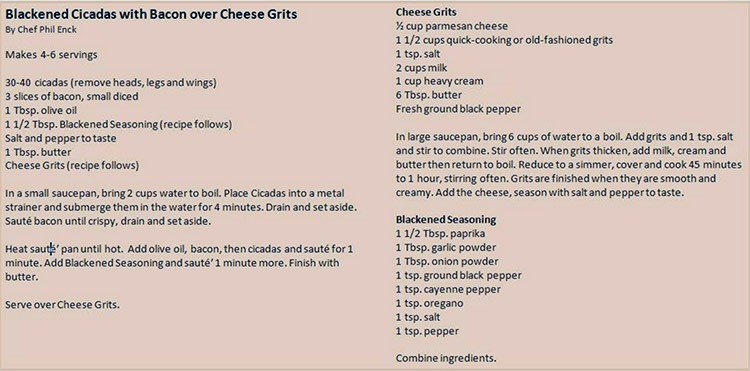 Recipe by Phil Enck
Recipes for chocolate-covered cicadas, crispy wok tossed cicadas, cicada pizza and cicada cookies are available on Cleveland.com.
If your mouth isn't watering at the thought of boiled or baked cicadas, don't worry. Here are some non-food related cicada facts for you to enjoy:
Cicadas, though often referred to as locusts, aren't locusts. Real locusts look like grasshoppers.
Only the males make the infamous cicada sound. They do so by rapidly vibrating drum-like tymbals on the sides of their abdomen.
Be aware you may get a few visitors if you're using a power tool or lawn mower. Cicadas can confuse the machine's noise for other cicadas.
Cicadas have five eyes.
"Honey dew" or "cicada rain" is really cicada urine.
They are cold-blooded, using their dark skin to absorb heat from the sun.
The 13-year and 17-year cicadas emerge at the same time every 221 years.
Raw cicadas taste like cold canned asparagus.
Cicadas don't bite or sting and aren't poisonous.
Chris Simon, a professor of ecology and evolutionary biology at the University of Connecticut–Storrs, talked to NPR's Jeremy Hobson on Here & Now about the behavior and history of Brood V cicadas. Listen here:
iStock
By Alex Kirby
An ambitious scientific expedition is due to start work on May 22 on Bolivia's second-highest mountain, Illimani. The researchers plan to drill three ice cores from the Illimani glacier, and to store two of them in Antarctica as the start of the world's first ice archive.
Keep reading...
Show less
More than 58 percent of Swiss voters supported a measure to phase out nuclear power in favor of renewable energy.
The plan provides billions in subsidies for renewable energy, bans the construction of new nuclear plants and decommissions Switzerland's five aging reactors. There is no clear date when the plants will close.

Keep reading...
Show less
The Crop Trust
Flooding breached a supposedly impregnable Arctic "doomsday" vault containing a collection of seeds stored for an apocalypse scenario last week, after warmer-than-average temperatures caused a layer of permafrost to thaw.
Keep reading...
Show less
The edge of the Filchner-Ronne ice shelf in the Weddell Sea. Ralph Timmermann/AWI
By Tim Radford
German scientists have worked out the process that could destroy an Antarctic ice shelf the size of Iraq.
Keep reading...
Show less
An adult 17-year cicada and two nymph exoskeletons. Joel Duff
Cicadas cropping up early in the mid-Atlantic region may be responding to climate change, scientists hypothesize.
Keep reading...
Show less
May. 21, 2017 01:11PM EST
Unsplash
If you want to see a solution to the climate crisis in your lifetime, they might be the two most important words you hear this year: carbon pricing.
Keep reading...
Show less
May. 21, 2017 01:01PM EST
Methane released from frozen permafrost trapped as bubbles within ice. NASA
Japan and China have successfully extracted methane hydrate—ice crystals with natural methane gas locked inside—from the ocean floor near their coastlines.
Commercial development of this frozen fossil fuel is considered by many countries as a key to energy security. However, releasing this massive methane monster is a potential environmental disaster.
Keep reading...
Show less
Owen Buggy
By Sabrina Imbler
The Kodiak Queen had a long, storied life. One of five vessels to survive the Dec. 7, 1941, attack on Pearl Harbor, the ship later traveled up north to serve as an Alaska king crab vessel and salmon tender.
Keep reading...
Show less